We research, test and evaluate outdoor gear based on a number of factors, including our writers' experience and expertise, trusted user reviews and more. We may earn a commission when you make a purchase through our links. See our editorial policy to learn more.
Was this article helpful?
---
Bulky jackets are a relic of the past. Who needs them? We want fluff that stuffs, a jacket with a stuff sack to pack it!
Lucky for us, there are plenty of excellent packable jackets to choose from — FYI: the Arc'teryx Cerium SL and The North Face Summit L3 are our top-rated picks.
The modern ultralight movement has inspired a veritable treasure trove of lightweight, compressible outdoor gear that can be shoved into tiny backpack pockets and clipped to a climber's harness.
The best packable down jackets and synthetic jackets combine their impressive compressibility with warm insulation, weather-resistant outer shells, and a suite of convenient features.
After scrutinizing dozens of packable down and synthetic jackets, we've put together a list of the best to help you find your next dream jacket.
We separated the down and synthetic jackets into their own categories so that you can easily hone in on your favorite style. Whether you're a hiker, climber, or a latte-sipping fireside glamper, there's a perfect packable jacket for you.
Quick Guide
The Best Packable Down Jackets
The Best Packable Synthetic Jackets
The Best Packable Down Jackets
Down jackets spearheaded the move toward lightweight, packable outdoor gear. They've improved over the years by becoming lighter, warmer, and more compressible.
Responsibly sourced down has now become a standard across the industry, and its quality as insulation hasn't wavered. Be aware that down does vary in fill power, and some brands use hydrophobic-coated down for better foul-weather resistance. What type of down jacket do you need?
Most Compressible Packable Down Jacket
Arc'teryx Cerium SL Hoodie
Weight: 8.4 ounces
Fill Power: 850 goose down
The Arc'teryx Cerium SL Hoodie is an ultralight jacket that's ultra compressible for ultimate in packability. Dramatic verbiage aside, this jacket is about as packable as a jacket can get.
There is a bit of a sacrifice to consider when compared to some of the heavier jackets on this list, however. The Cerium isn't quite as warm or weatherproof as most other packable down jackets, but it does come with an adjustable drawcord at the hood and hem, enabling you to lock in your heat when you need it most. It's also quite wind-resistant.
Lacking hydrophobic properties, the 850-fill goose down can't handle getting wet, and the jacket's amazingly light weight is partially due to the fact that Arc'teryx reduced the size of the baffles, resulting in less room to stuff more down for extra warmth.
It's still a warm jacket, though. Arc'teryx suggests that the Cerium SL Hoodie is best worn as a mid-layer, but I'd venture to say that it'll serve great as an outer layer in most situations, especially if you're being active. It'd be wise to have an outer shell handy if a storm kicks up, though.
Check Amazon Price – Men's Check Amazon Price – Women's
Most Well-Rounded Packable Down Jacket
The North Face Summit L3 Hoodie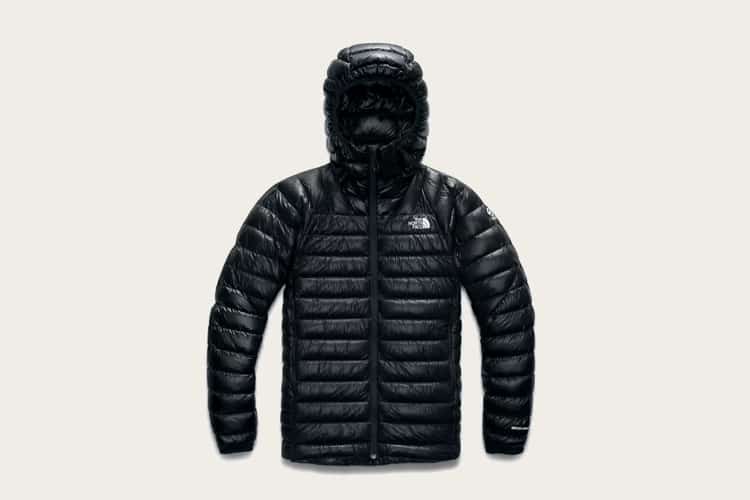 Weight: 13.8 ounces
Fill Power: 800 goose down
After receiving a minor facelift in 2019, The North Face Summit L3 Hoodie has become one of the most well-rounded, albeit one of the more expensive, jackets on our list.
The updated pocket practicality and simplified hem cord may not sound like noteworthy upgrades, but when you've got a product that's only a half-step away from perfection there's no need for a major redesign.
The jacket's sewn-through baffles are stuffed with 800-fill hydrophobic goose down that provides excellent insulation and astounding compressibility. Once it has been squashed flat, the jacket can be stored in either the included stuff sack or the jacket's own left side hand warmer pocket.
The North Face created the Responsible Down Standard to ensure that their down was not harvested from animals that suffered unnecessary harm. This system is now used across the industry to trace the origins of down and protect the animals through accountability.
With a hem that drops well below the waist, this is a uniquely fitting down jacket that is made extra warm by the added length it provides. That additional length does add more material, which makes the Summit L3 Hoodie a bit less packable than most.
Check REI Price – Men's Check REI Price – Women's
Best Value Packable Down Jacket
REI Co-op 850 Magma 2.0
Weight: 13.75 ounces
Fill Power: 850 goose down
High quality at a budget-friendly price, the REI Co-op 850 Magma 2.0 holds its own against the top products in this category while maintaining a low price point. Coin conscience consumers need to look no further.
The Pertex mini-ripstop nylon exterior is as durable, water-resistant, and soft to the touch as you could ever hope for in a lightweight down jacket. You'll feel well protected against light rain and wind, and cozy too.
The large, well-insulated hood is our favorite part of this jacket. We like the bit of brim and solid neck protection this hood provides.
Though a bit too heavy to be considered ultralight, and not quite as warm as the premier jackets on this list, the Magma is a capable down jacket that covers all the bases at a very competitive price point. It's all that most people will ever need.
Check REI Price – Men's Check REI Price – Women's
Best of the Rest
Canada Goose Hybridge Lite
Weight: 12.9 ounces
Fill Power: 800 goose down
Feature-laden and unbelievably breathable, the Canada Goose Hybridge Lite jacket is the best packable down jacket for active cold-weather athletes who work up a sweat even on frigid winter days.
A steep price tag and the lack of overall warmth keep this jacket from taking our top overall pick, but if you've got the cash, this is one of the most premium down jackets on the market today.
Tensile-Tech inserts on the sides of this jacket are what makes it extremely breathable and versatile. This is where your warmth escapes as well, so it's a bit of a give and take. These strips also make the jacket much more flexible.
Feathered Friends Eos
Weight: 13 ounces
Fill Power: 900+ goose down
Packed with a supremely lightweight, lofty, and compressible 900+ down fill power, the Feathered Friends Eos is among the most packable down jackets on the market today.
The included bright yellow stuff sack comes with a thin nylon handle that can be carried or clipped as needed. Once unpacked, the high power down lofts back up to full fluff mode in no time.
To keep packability high, the Feathered Friends Eos keeps the features to a minimum. Two handwarmer pockets come with functional zippers but lack any fleece or extra comforts. Likewise, there is a drawstring for the hem to lock in the heat, but that same feature is lacking on the cuffs and hood.
Ultimately the Feathered Friend Eos has one of the best warmth-to-weight ratios among its peers, and it's one of the most packable jackets you can buy. However, climbers and bicyclists, or anyone who frequently uses helmets, should look elsewhere as the snugly-fitting hood is not adjustable.
Check Current Price – Men's Check Current Price – Women's
Mountain Hardwear Ghost Whisperer 2
Weight: 9.2 ounces
Fill Power: 800 goose down
A classic in the ultralight down jacket category, the Mountain Hardwear Ghost Whisperer 2 has recently received a slight update. The latest generation of this tried-and-true jacket got rid of the hydrophobic coating on the down and dropped in price.
The hardy (for ultralight) 10D nylon ripstop fabric is more durable than what you'll find on some other ultralight jackets, and it does a fair job at brushing off light rain. You won't have to worry about getting the down insulation wet during short spats of foul weather.
Ultimately, this jacket is more compressible and packable than most. You might find it to be a hair bulkier than a competitor like the Arc'teryx Cerium SL Hoodie, but it'll literally be a hair's difference between the two.
Check Amazon Price – Men's Check Amazon Price – Women's
The North Face Sierra Peak Hoodie
Weight: 12.1 ounces
Fill Power: 800 goose down
The North Face Sierra Peak Hoodie looks warm because it is warm. This ultralight down jacket features large baffles which can fit more of the fluff we like so much.
To keep you even warmer, the exterior WindWall fabric has been made completely windproof, and the hood has an elastic drawcord enclosure to lock your heat in. Unfortunately, the cuffs and hem don't get the same treatment and will serve as escape vents for your precious warmth.
FlashDry DWR on the exterior will help keep your down dry during sudden storms. The down's not hydrophobic, though, so bring a rain shell when you expect foul weather.
This jacket packs down into its own left-side pocket which features a loop that can be clipped to your backpack carabiner or a climbing harness. You could pack it even smaller if you can acquire a tiny stuff sack for it.
Outdoor Research Illuminate Hoodie
Weight: 12.5 ounces
Fill Power: 800 goose down
The Outdoor Research Illuminate Hoodie is another fantastic value option for those looking to save a few bucks. Outdoor Research designed this down jacket as a slim-fitting mid-layer, deciding to reduce the overall fluff to keep the bulk down.
Because of its understuffed baffles, the Illuminate Hoodie compresses admirably and layers well underneath the likes of rain shells and heavy outerwear garments. This isn't the warmest jacket on the market, but it wasn't meant to be.
The Illuminate Hoodie stores away into its own pocket which features a convenient loop for carabiners. Fleece-lined handwarmer pockets add a bit of unexpected luxury to this inexpensive jacket.
Check Amazon Price – Men's Check Amazon Price – Women's
Patagonia Down Sweater
Weight: 15.8 ounces
Fill Power: 800 goose down
The Patagonia Down Sweater is a functional down jacket that's a far stretch away from the lightest or most compressible jackets on our list. It gets the job done at a fair price point, but we'd say it's better for wearing around town than on a backcountry trail or while rock climbing.
For a solid day-to-day down jacket, it's hard to find better than the Patagonia Down Sweater. It's comfortably loose fit allows for a wide range of motion, and we think it's one of the best-looking packable down jackets available.
We discussed Patagonia's impeccable quality, and spoke more about their Down Sweater and other products, in an article detailing the company and their gear.
Check REI Price – Men's Check REI Price – Women's
Sierra Designs Whitney Hoodie
Weight: 14 ounces
Fill Power: 800 goose down
Respectable wet-weather protection at a budget price, the Sierra Designs Whitney Hoodie is a standout for its strong DWR 30D Shadow Rip Polyester shell and its hydrophobic DriDown.
This won't replace your rain jacket, but it'll withstand a storm better than most other down jackets. Water will bead on the surface, and what moisture does break through the outer shell will be pushed aside by the water-resistant down.
The Sierra Designs Whitney Hoodie also features an array of great features, including an interior kangaroo pocket and a raised insulated collar. It's not the most compressible, but it does pack away into its own zippered pocket.
Check Amazon Price – Men's Check Amazon Price – Women's
The Best Packable Synthetic Jackets
Synthetically insulated jackets were once heavy and bulky, but no more! Modern synthetic insulation is rivaling the warmth and compressibility of down, all while retaining its inherent wet weather advantages.
Unlike natural down, synthetic insulation doesn't care if it gets wet— it's going to insulate you just the same. The packable synthetic jackets listed below are as light and packable as the best down jackets. Read below to see if a synthetic jacket is for you.
Most Compressible Packable Synthetic Jacket
Patagonia Micro Puff
Weight: 9.3 ounces
Insulation: 65 g PlumaFill
The Patagonia Micro Puff is constructed of a thin yet surprisingly durable Pertex Quantum GL shell that is stuffed with Patagonia's latest synthetic insulation technology called PlumaFill.
Patagonia's proprietary PlumaFill insulation has raised the bar for synthetic insulations. The long fibrous strands don't shift around and clump like wet balls of down, and in fact retain their amazing insulation properties no matter how wet they get.
This jacket is astoundingly lightweight and compressible— you have to feel it to believe it. This, in combination with its weather-resistant properties, makes it our favorite synthetic packable jacket.
Like other great packable jackets, this one also stuffs into its own pocket and features a carabiner loop. It packs down incredibly small, and when unfurled can be carried away by a light breeze. Try not to lose it!
Check REI Price – Men's Check REI Price – Women's
Most Well-Rounded Packable Synthetic Jacket
Rab Xenon
Weight: 12.7 ounces
Insulation: 60g Stratus
Recently updated with a new Atmos shell and proprietary Stratus insulation, the refreshed Rab Xenon is more weather resistant and less absorptive than it has ever been. The Rab Xenon also packs down small into its own pocket.
This is the perhaps the best foul-weather jacket in its segment. The new Atmos shell is essentially windproof, and it does a great job of repelling heavy rain. Breathability is reduced, though, so expect to sweat if you hike hard.
PrimaLoft, an industry-standard synthetic insulation for the last decade, has now been replaced in the Rab Xenon by the company's own Stratus insulation. The new Stratus is just as warm as the time-tested insulation, but it's much better at shedding moisture.
Check Amazon Price – Men's Check Amazon Price – Women's
Best Value Packable Synthetic Jacket
Patagonia Nano Puff
Weight: 12.8 ounces
Insulation: 60 g PrimaLoft Gold
Patagonia's old standard, the Nano Puff, is still a fantastic synthetic down jacket despite being succeeded by its Micro Puff cousin.
The Nano Puff is perhaps the most well known synthetically insulated outdoor jacket of all time, and it's one of the best selling pieces of outdoor apparel ever. Nowadays it is a touch heavier and less warm than the majority of the competition, but we're talking minuscule differences here.
The best part of the Nano Puff is that is still comes backed by Patagonia's ironclad guarantee. We detailed the differences between the nano puff and micro puff in our Patagonia Jacket Battle.
Check REI Price – Men's Check REI Price – Women's
Best of the Rest
Rab Nimbus
Weight: 17.8 ounces
Insulation: Cirrus 3M Featherless Fibre
As the heaviest and one of the warmest jackets on our list, you wouldn't expect the Rab Nimbus to be very packable, but it is, in fact, one among the most compressible jackets available.
That's not to say that it packs down smaller than everything else, but, for its size, it does pack down quite well into its own zippered hand pocket.
The Nimbus was designed to be an outer-layer jacket. Fit and style suffer a bit to make room for base and mid layers to fit underneath the Nimbus. It works well in conjunction with bulky clothing, and it is surprisingly wet weather-resistant, but it won't win any fashion contests.
Mountain Hardware Kor Strata
Weight: 12.8 ounces
Insulation: 50 g Primaloft Gold Active
The Mountain Hardware Kor Strata is a breathable mid-layer that lacks in warmth but excels as an activewear garment in an athletic person's outdoor arsenal.
The Kor Strata doesn't look like most other insulated jackets because it's not puffy and strewn with baffles. It is a jacket designed for cold-weather trail runners, high-speed backpackers, and backcountry skiers. This jacket is meant for those who sweat, and it's going to do its darndest to keep your skin dry.
Inside, the Primaloft Gold Active insulation was engineered for maximum breathability. Down and most synthetic insulations excel in heat retention at the sacrifice of ventilation, but not so with the Kor Strata.
Find More Top-Rated Jackets
Sign up for our free email to join thousands of readers getting epic travel, hiking, camping and gear ideas every week.
Was this article helpful?
---