Boston stands as the beating heart of New England, and the city's surrounding landscapes have inspired some of America's most profound poetry – perfect for a hike.
History and nature have commingled in Boston to create a unique American identity. Perhaps even the America identity. There's something special about this place, and if you've ever spent some time here I'm sure you've felt it.
It's hard to put a finger on Boston, really. Instead of clashing with one another, history and modernity seem to fold perfectly into a unified piece around the city, like patches sewn together to make a cozy quilt.
The trails around Boston are the thread that binds those patches together.
Interpretive trails remind us of the area's rich history, nature trails show us what inspired the legendary works of naturalists like Emerson and Thoreau, and scenic mountain viewpoints provide panoramic vistas that showcase the evolving city from above.
Best Hikes Near Boston
Continue reading for our list of the top 15 trails in the Boston area.
1. Walden Pond Path
Why you should go: The culmination of New England's beauty is evident at Walden Pond, according to Thoreau.
Distance: 1.8 miles
Elevation Gain: 44 feet
Difficulty: Easy
Known as the place where naturalist author Henry David Thoreau decided to spend years of his life living alone, and living deliberately, Walden Pond is an iconic outdoor location for those interested in American history, outdoor living, poetry, minimalism, transcendentalism, and so much more.
Not only does this trail circumnavigate the pond and pass by Henry David Thoreau's cabin site, it also graces several beaches and prime fishing locations.
Each season brings a new experience to the pond. The chill of winter can freeze the lake and dump feet of snow on the trail. Spring brings about chipmunks and green fauna. Summertime is for the swimmers, and autumn is bright with New England's fabled changing of the leaves.
Related Read: 5 Best Day Trips From Boston for Scenic New England Getaways
2. The Freedom Trail
Why you should go: Dive into American history and take in all of downtown Boston in a single swoop.
Distance: 2.5 miles
Elevation Gain: 316 feet
Difficulty: Easy
The Freedom Trail is perhaps the most special hike on this list, and in all of the Greater Boston Area. This path is largely marked with red brick and golden markers along its inner-city length.
Cutting right through downtown Boston, this urban trail passes by 16 notable historic locations including iconic Boston destinations such as Paul Revere's House, the USS Constitution, and Faneuil Hall.
Visitors can walk The Freedom Trail by following the red brick path and utilizing a trail map, but there are plenty of informational tours to choose from for those who want a more interactive and educational experience.
A journey along The Freedom Trail will provide you with a proper Boston experience. It's a hike you'll never forget, and you're sure to walk away from it with a souvenir or two.
Related read: 8 Unique Places to Stay Near Boston When You Need to Get Away
3. Breakheart Reservation Loop
Why you should go: Walk around serene lakes and through an ancient forest, all within minutes of the city.
Distance: 2 miles
Elevation Gain: 144 feet
Difficulty: Easy
Breakheart Reservation offers a glimpse of old-world nature just outside of Beantown, which is as close as you'll get to loping around The Shire with hobbits anywhere near the Boston metro area.
The easy-does-it Breakheart Reservation Loop travels across a wide variety of paths as it meanders its way near a number of lakes and ponds. A paved trail gives way to dirt as it veers off into the forest where wooden boardwalks and ancient stone walkways keep your feet high and dry above the muddy meadows.
Numerous spurs and adjoining loops can be explored further for those seeking a longer route. Minor amounts of rock crawling will take you to views above the reservation's lakes with glimpses of John Hancock Tower in the distance.
Related Read: 12 Magical Glamping Destinations in New England
4. Ipswich River Wildlife Sanctuary Trail
Why you should go: Interact with local wildlife and explore the rockery caves.
Distance: 4 miles
Elevation Gain: 183 feet
Difficulty: Easy
As the name implies, there is plenty of wildlife to be found at the Ipswich River Wildlife Sanctuary. This animal-friendly place is loaded with wild creatures that don't mind a little bit of human interaction.
Deer, turtles, and birds are commonly seen among the trails and waterways along the river's edge. The chickadees here are notorious for eating the food right out of your hands, so be sure to grab some sunflower seeds or other bird-friendly snacks before you hit the trail.
Kids will have fun interacting with the wildlife and exploring the natural wonders of the sanctuary. Over 12 miles of interconnected trails form a number of loops worth exploring, allowing you to tailor your own journey.
There's plenty to see at the sanctuary. From the observation tower you can catch a glimpse of it all from on high, but hiking to the vernal pool and through the rockery caves makes for a fun adventure.
5. Long Trail Loop
Why you should go: Fun in the sun — or rather, in the shade. Keep cool on this forested trail and take a dip in the reservoir.
Distance: 3.1 miles
Elevation Gain: 262 feet
Difficulty: Easy
Long Trail Loop wraps around the heart of Hopkinton State Park. The trail passes by the shore of Hopkinton Reservoir, historic stone structures, and acres of young forest.
This trail serves as an excellent summer respite. The flat, shade-covered trail is a joy to walk even on the hottest of summer days, and the adjacent reservoir makes for some great swimming holes.
The area is filled with wildlife including croaking toads, grazing deer, and birds galore. Seasonal fireflies appear in abundance throughout these woods, lighting up the night in spectacular fashion.
Related Read: What to See on a New York to Boston Road Trip Filled With History
6. Halibut Point Trail
Why you should go: If the historic quarry doesn't pique your interest, the Atlantic shoreline surely will.
Distance: 1.6 miles
Elevation Gain: 121 feet
Difficulty: Easy
The Halibut Point Trail guides visitors on an interpretive walk that highlights Cape Anne's granite industry. This beautiful hike will take you along through the woods to a deep, water-filled quarry, then you'll loop over to the shoreline where you can relax to the metronome of the crashing waves.
Remnants of the long-defunct quarry still remain, and notable points of interest are explained by signage and visitor brochures.
The Atlantic ocean vista is well worth the hike alone. There are fantastic tidepools on the beach to investigate, and the clear shoreline leads to distant horizons in the south and north where New Hampshire islands and Maine mountains are visible on sunny days.
7. Hedge Drive Loop In Maudslay State Park
Why you should go: Beautiful flower beds, ornamental trees, and lush pastures adjacent to the Merrimack River.
Distance: 1.7 miles
Elevation Gain: 82 feet
Difficulty: Easy
Maudslay State Park is situated at the conjunction of the Merrimack River and Artichoke Reservoir. This space was once privately owned by the Moseley Family, but has since been gifted to the public.
Wildflowers line the trails and fill the pastures on the ground, as do ornamental trees and landscaped flower gardens which were planted by the original owners of the estate. Maudslay State Park is often a setting for weddings and other celebrations because of its inherent beauty.
Large pines and oak trees grant a sense of solitude on the trail. The forest doesn't last long, though, as riverside gardens and hilltop pastures are just around the bend.
8. Mount Auburn Cemetery Trail
Why you should go: The beautiful landscapes and historic cemetery gardens hold mystery and wonder at every turn.
Distance: 3.3 miles
Elevation Gain: 177 feet
Difficulty: Easy
The rolling hills of Mount Auburn Cemetery are adorned with landscaped gardens and beautiful stone monuments. The grounds are celebrated as both a historic burial grounds for many early American historical figures and for its role as an arboretum.
It goes without saying that visitors should be respectful of the trails in which they tread, but that is doubly implied here on these hallowed grounds. The cemetery is rich with beautiful scenery, but it is also a burial ground which is still in use.
There is a lookout tower which overlooks the entire cemetery, and scenic lakes to visit. The exquisite gravestones and cemetery architecture will linger in your thoughts long after you leave this place.
9. Great Blue Hill Loop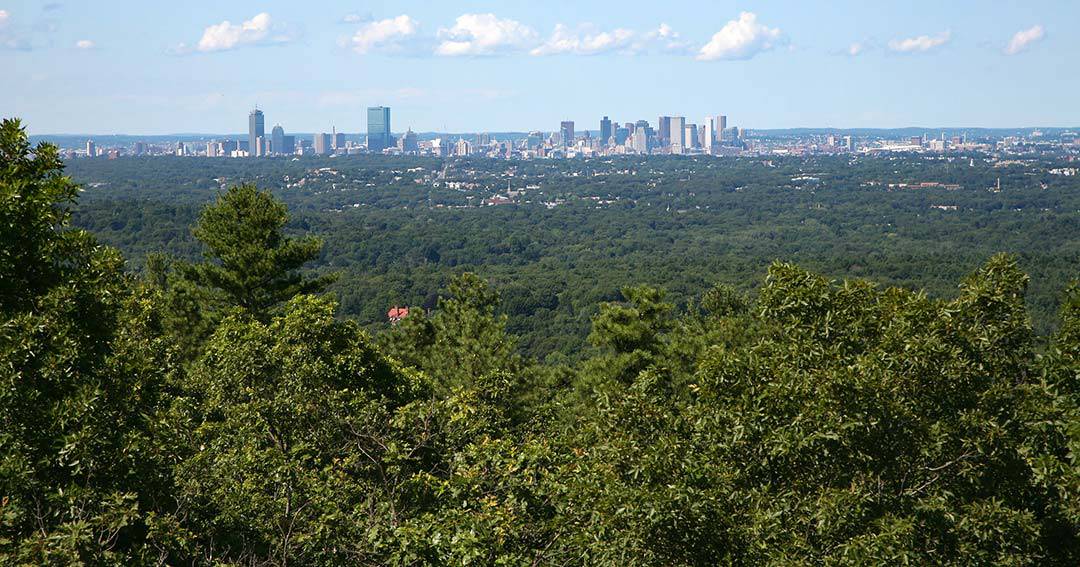 Why you should go: Stand tall above downtown Boston with picturesque views from Eliot Tower.
Distance: 2.7 miles
Elevation Gain: 702 feet
Difficulty: Moderate
Steeped in history, Great Blue Hill was named by European settlers who took notice of the blue hue given off by the hill's exposed granite surface. Before this, the hill was known as Massachuesett, a name given to the hill by Native Americans which later was used to name the state we know today.
This is the tallest piece of land in the immediate Boston area, despite its relatively diminutive 640-foot elevation. Splendid views of the Boston Metro Area await hikers at the peak where Eliot Tower rises above the forest, providing awesome photo opportunities.
The Great Blue Hill Loop takes hikers along the Blue Hills Skyline Trail, a path which extends beyond the loop, crossing the entire expanse of the Blue Hills Reservation. This is a wildly popular trail, so you can expect to encounter many hikers and mountain bikers during your trek.
10. Ward Trail Loop
Why you should go: Grassy hills worth scaling and marshy bogs worth exploring.
Distance: 3.6 miles
Elevation Gain: 380 feet
Difficulty: Moderate
Featuring hills and dales aplenty — for the Boston area, at least — Ward Reservation hosts a beautiful array of landscapes within its modest boundaries.
The Ward Trail Loop is a joining of the three main trails in this park: the Ward Trail, Vetter Trail, and Bog Trail. Many other trails veer off from these three into other areas of the park.
Holt Hill and Boston Hill are high points along the trail which serve as great vantage points to view the swamps and meadows which reside below. The loop trail also cuts through sections of the marshland, so summertime visitors should be prepared to encounter armies of bugs.
11. Harold Parker Loop Trail
Why you should go: A scenic walk with interesting rocky outcroppings and a wealth of water features.
Distance: 16.6 miles
Elevation Gain: 810 feet
Difficulty: Moderate
Set outside the quaint town of Andover, Harold Parker State Forest features ponds, swamps, and rolling hills common to the Massachusetts landscape, but it's also home to glacial anomalies, wild rock formations, and remnants of 18th-century farming and milling operations.
With such an abundance of landscapes to explore, it's no wonder the Harold Parker Loop Trail stretches over 16 miles in length. There's a lot to see!
But the exploration doesn't end there. Sure, there's plenty to see in the park, and there are ample camping opportunities to help make it a multi-day adventure, but Harold Parker State Forest butts up against a number of other recreation parks, extending both forest and trail for many more miles.
12. Lynn Woods Reservation Loop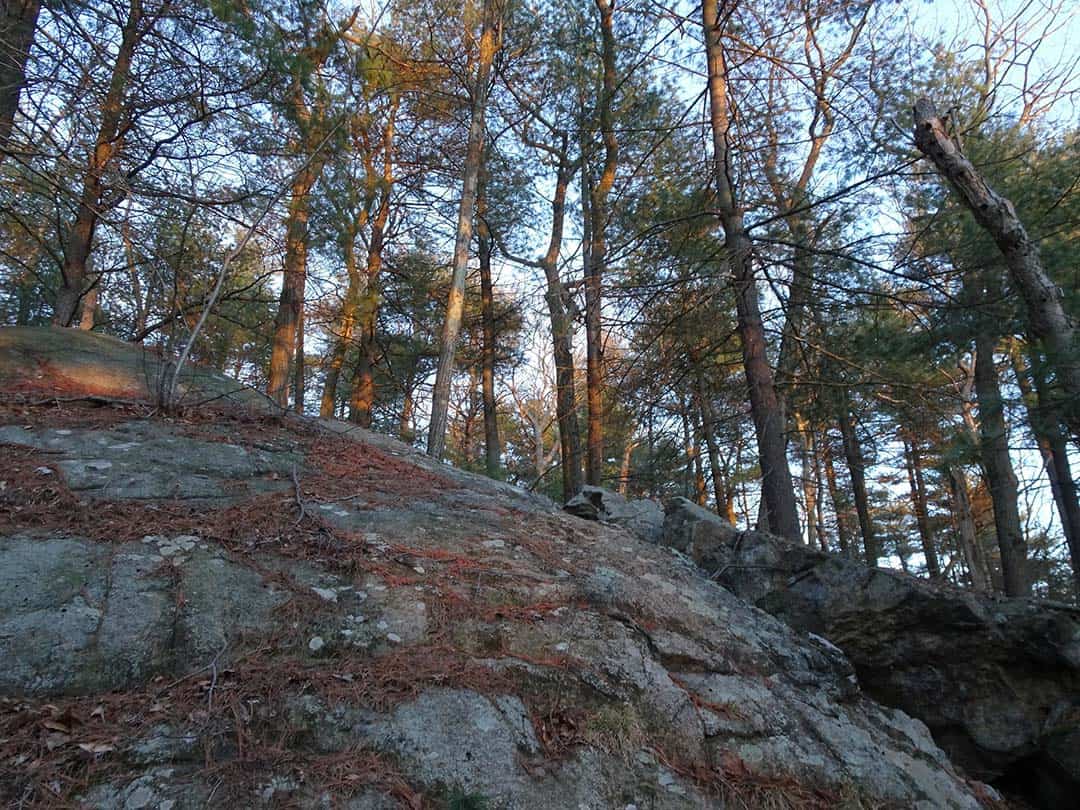 Why you should go: Huge boulders and erratic glacial formations. As my wife would say, "Look at those rocks!"
Distance: 4.4 miles
Elevation Gain: 305 feet
Difficulty: Moderate
If you like crazy rock formations, Lynn Woods Reservation showcases some of the most extreme boulders and glacial erratics in the area.
This loop will take you around the edges of the reservation's heart which lies, almost as an island, in the center of three large reservoirs — one of which is the renowned Walden Pond.
A multitude of interesting terrains grace this place, making for an interesting hike and new wonders at every turn. Hikers will want to look for notable points of interest such as the Dungeon Rock underground tunnel, Pirate Boulder, and Stone Tower.
13. Wachusett Summit Loop
Why you should go: Choose your own adventure on your way to Wachusett Mountain's peak.
Distance: 4.9 miles
Elevation Gain: 1151 feet
Difficulty: Moderate
The Wachusett Summit Loop is comprised of several trails which are part of an interconnected network of paths that branch off to numerous parking lots throughout Wachusett Mountain State Reservation.
Due to the tightly woven web of trails, you can use this loop as a foundation on which to build your own Wachusett Mountain adventure. Pick a route that's shorter or longer, depending upon the journey you wish to undertake.
Whatever paths you choose you'll find many interesting sights along your route including the park's educational visitor center, Balance Rock, Echo Lake, and the panoramic viewing platform at the mountain's peak.
On clear days you can spot downtown Boston in the distance from the summit.
14. Noanet Peak Loop Trail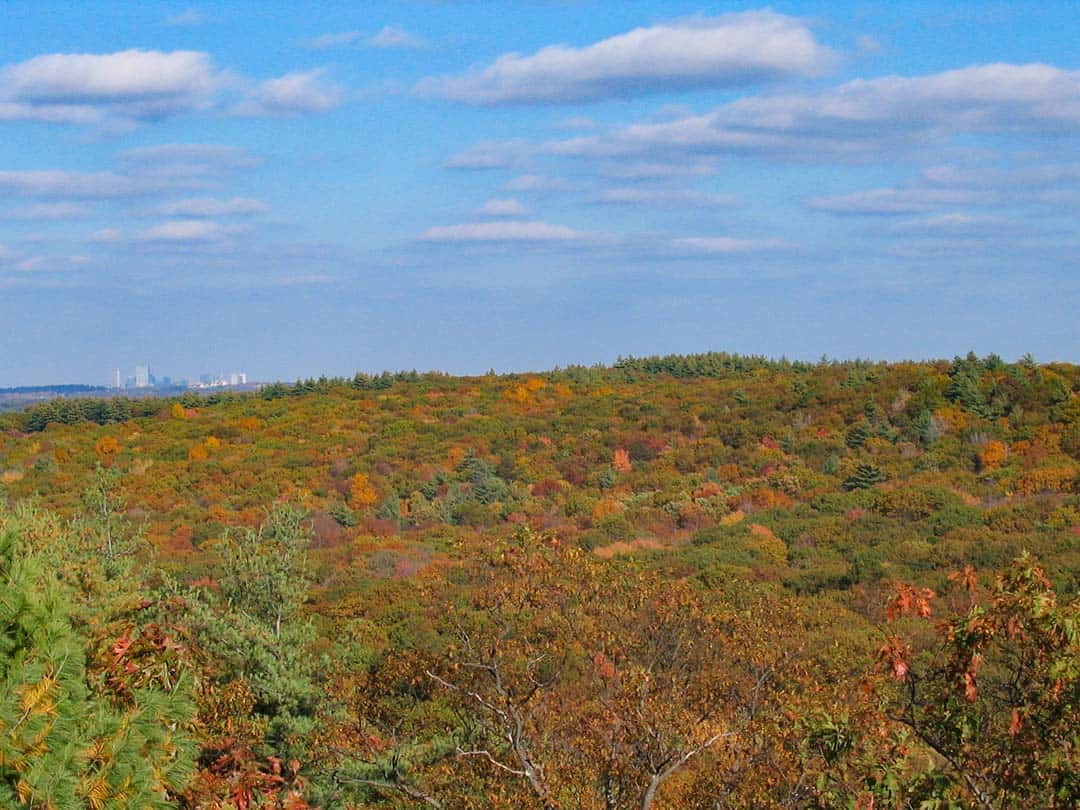 Why you should go: Well-marked and maintained trails through a lively New England forest.
Distance: 3.2 miles
Elevation Gain: 492 feet
Difficulty: Moderate
The family-friendly Noanet Woodlands are wonderfully well-maintained, making for a number of hikes the whole family can enjoy. Bright, colorful blazes mark the individual trails which themselves are wide and comfortably graded.
Noanet Woodlands is also dog-friendly. This is one of the few places in the area where dogs are allowed off leash on the trails.
The woods echo with birdsongs, the ponds croak with toads, and the tall pines whisper in the wind. Dog barks and children's laughter also add to the forest's din, creating an atmosphere that is all its own.
15. Mount Monadnock Lollipop Loop
Why you should go: Experience one of the most sought-after mountaintop views in the world.
Distance: 3.7 miles
Elevation Gain: 1,768 feet
Difficulty: Difficult
Though it'll take two hours of driving to reach Mount Monadnock from Boston, we'd be remiss if we neglected to include this mountain from our list.
Reputed as one of the most-hiked mountains in the world and storied in the works of Ralph Waldo Emerson and Henry David Thoreau, there's certainly some special about this place. "Monadnock" stands as one of Emerson's most famous poems.
"Monadnock is a mountain strong, Tall and good my kind among; But well I know, no mountain can, Zion or Meru, measure with man."
Mount Monadnock rises high above any other mountain in its vicinity, and its barren, rocky peak sets the stage for sweeping views in all directions.
The Monadnock Lollipop Loop begins at the Poole Reservoir. Hikers will take the White Dot Trail all the way to the mountain's famed peak, and can return most of the route on the White Cross Trail to make it more than a simple out-and-back.
Find More Incredible Trails
Sign up for the Territory Supply Newsletter and join thousands of readers getting epic travel ideas every week.
---