Tennessee may be best known for its country music, but nature lovers can experience a different side of the state with a visit to one of its many beautiful swimming holes.
When you think of Tennessee's landscape, the rolling Great Smoky Mountains likely come to mind. And why wouldn't they? The Smokies are an iconic American destination, home to a trove of exciting things to do, like white water rafting, hiking, mountain biking, and more.
But Tennesseans know that the state's natural splendor doesn't stop at the Smokies. Tennessee is also home to countless crystal-clear swimming holes that offer a fabulous way to pass the time, especially on a hot summer's day. Some of the state's most beautiful natural pools are created by waterfalls, nestled along riverways, or formed from historic quarries.
So, if you're looking for a new experience or a way to beat the heat, these noteworthy swimming holes in Tennessee will help you do just that.
1. North Chick Blue Hole
View this post on Instagram
Nearest town: Soddy-Daisy
Hike to swimming hole: 1.1 miles
North Chickamauga Creek Gorge, better known as North Chick Blue Hole, is up there as one of the state's most popular swimming holes. Situated an easy 20-minute drive from Chattanooga, many visitors relax amongst the peaceful surroundings and bright blue waters.
The best way to reach the swimming hole is from the Montlake Road parking lot. From there, you'll hike through the local forest that stretches between Walden's Ridge. Along the way, you'll pass numerous spots where you can swim, but the biggest and best swimming hole is about a mile down the trail. Once there, you can jump off boulders, rope swing into the water, and soak up some southern sunshine.
2. Fall Creek Falls
Nearest town: Spencer
Hike to swimming hole: Near parking area
Not far from the Fall Creek Falls State Park campground lies the impressive Fall Creek Falls. Measuring a whopping 256 feet tall, this beauty provides an Insta-worthy place to go swimming in the summer, thanks to its seven-foot-deep pool at the base of the waterfall. A rope swing and giant boulders on the water's edge offer a place to jump in.
If the basin of Fall Creek Falls is busy, head over to the park's other swimming hole, formed by the 85-foot Cane Creek Falls. This park is also home to an in-ground swimming pool, an exciting canopy course, and miles of hiking trails that lead to impressive overlooks.
3. The Narrows
View this post on Instagram
Nearest town: Kingston Springs
Hike to swimming hole: .15 mile
When the weather's warm, many people venture to Harpeth River State Park to enjoy a refreshing dip in the Harpeth River. Known for its rocky shoreline, the waters are calm enough for young swimmers and beginners interested in trying their hand at kayaking and tubing.
Hikers were once able to reach a swimming hole with a cascading waterfall through a 100+-year-old tunnel known as the Patterson Forge Tunnel. Unfortunately, parts of the tunnel have collapsed in recent years and it's no longer safe to pass. So today, the best swimming spots can be accessed from 1254 Narrows of Harpeth Road or Harris-Street Bridge. The Narrows swimming hole is about a 30-minute drive from Nashville, making it a great day trip destination.
4. Stillhouse Hollow Falls
View this post on Instagram
Nearest town: Summertown
Hike to swimming hole: .7 mile
Stillhouse Hollow Falls is a somewhat hidden gem that features a beautiful 75-foot waterfall that cascades over a craggy cliff face, creating a small pool at its base. This swimming hole isn't massive, but it's large enough to fully submerge and relax in its cooling waters. Dense forests and diverse plant life surround the falls, creating a magical and private grotto.
A well-marked trail leads the way to the falls, featuring boardwalks and bridges that follow and cross a shallow creek. This State Natural Area has very limited parking, so be sure to visit early or on off-peak days and times. You can find this Tennessee swimming hole about 25 minutes from Columbia.
Related Read: 8 Memorable Tennessee Romantic Getaways For Lovebirds
5. Rutledge Falls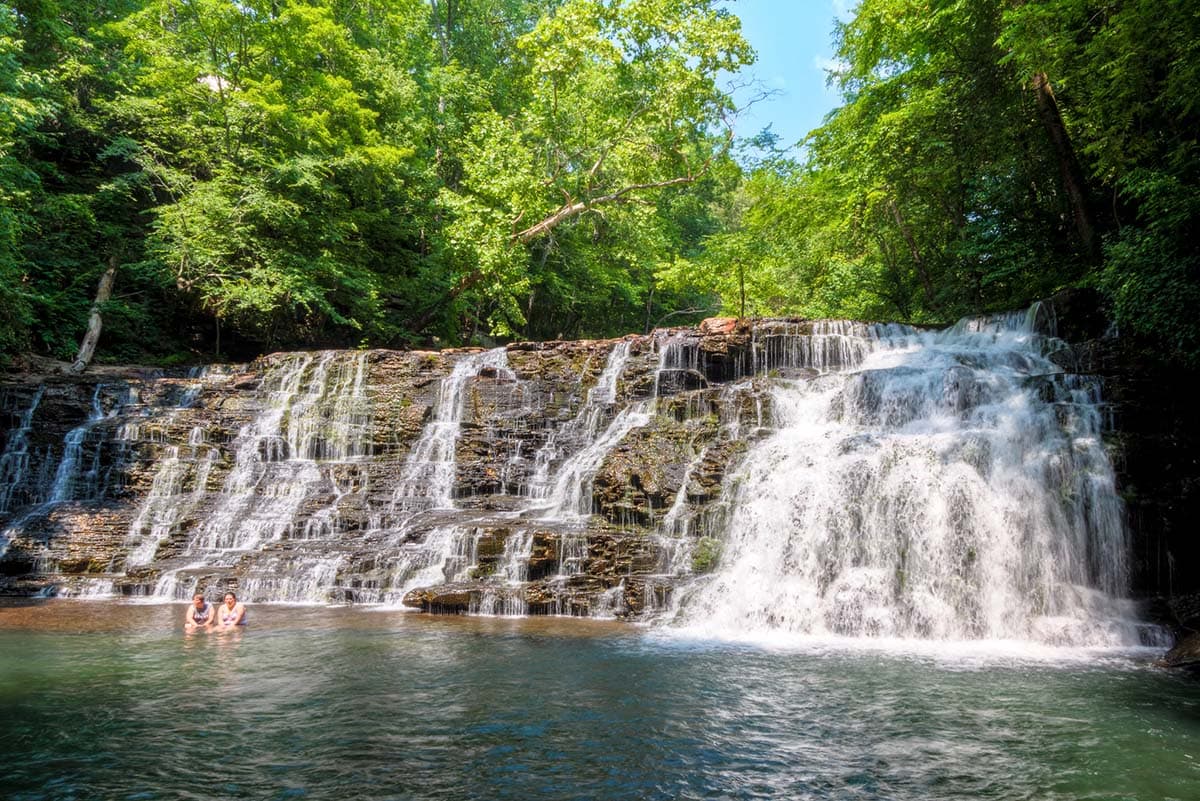 Nearest town: Tullahoma
Hike to swimming hole: .3 mile
Rutledge Falls is a wide waterfall made up of many small cascades that pour into a swimmable basin. The hike to this natural swimming pool is short but features a steep descent to the base of the falls that may prove difficult for some hikers. But the effort is well worth it, with the falls creating an expansive pool that's a favorite among locals.
Those interested in swimming should be warned that the water is frequently described as "ice-cold," making it especially ideal for a swim on extra hot days. Rutledge Falls is located on privately-owned land that's open to the public, so be respectful of the surroundings and signposted hours. This swimming hole is just over an hour from both Nashville and Chattanooga.
6. Cummins Falls State Park
Nearest town: Cookeville
Hike to swimming hole: 1 mile
Those searching for an exciting place to swim in nature should consider a trip to Cummins Falls State Park. The hike to reach the falls features water crossings and scrambling over uneven land that may be slippery. But at the end, hikers are rewarded with a dip in a pool formed by a 75-foot waterfall that first drops into a shallow pool and flows over rocky shelves before plunging into the swimmable waters below.
Because reaching the base of the falls requires a bit of physical endurance, it's not recommended for young kiddos. Access to the swimming hole requires a day-use permit that can be purchased online or at the park visitor center and is subject to availability and weather. If you want to skip the swim, you can hike to the falls without purchasing a day pass, however, access is limited to designated permit-free trails.
7. Fort Dickerson Park Quarry
Nearest town: Knoxville
Hike to swimming hole: Near parking area
Conveniently located five minutes from Knoxville is Fort Dickerson Park Quarry, an epic Tennessee swimming hole for the whole family. This sprawling green space protects the Augusta Quarry, a historic limestone mining area once home to a Union Civil War fort. Over the years, the quarry has become a popular swimming area famous for its blue-green, 350-foot-deep waters and surrounding greenery.
The park features modern recreational facilities like bathrooms, a boardwalk, and designated scenic overlooks, making it a safe and enjoyable space for all. There are even kayak and boat rentals available for added family fun.
8. Ozone Falls
Nearest town: Ozone
Hike to swimming hole: .3 mile
Ozone Falls is an impressive 110-foot waterfall that tumbles over a serene, sandstone enclave. The falls are so beautiful that they were used as a filming location in the 1994 live-action Jungle Book movie.
Your hike begins from the parking area, where your first stop is at the very top of the falls. From there, the trail turns uneven and steep as you descend to the swimming hole, and large boulders make the short hike exciting, although a bit challenging. Before you reach the bottom, you'll pass Gamblers Den, a unique cave on the cliffside. Ozone Falls is just over an hour west of Knoxville and about two hours west of the Great Smoky Mountains National Park.
9. Colditz Cove's Northrup Falls
View this post on Instagram
Nearest town: Allardt
Hike to swimming hole: .7 mile
Colditz Cove State Natural Area is home to Northrup Falls, a 60-foot waterfall immersed in a serene and peaceful hemlock forest. As you make your way to the falls, you'll know you're close once towering bluffs begin to appear and the sound of cascading water hits your ears. The pool isn't particularly deep but has enough water for a refreshing dip. This out-and-back trail is considered easy for most hikers and totals only about 1.5 miles.
While in the area, consider making a second stop at the nearby Gentlemen's Swimming Hole Trail. This beautiful Tennessee swimming hole is part of the Big South Fork National River and Recreation Area, just 20 minutes away in the historic town of Rugby.
More Places to Explore
Get epic travel ideas delivered to your inbox with Weekend Wanderer, our newsletter inspiring thousands of readers every week.
---