We research, evaluate and select travel destinations based on a number of factors, including our writers' experience, user reviews and more. We may earn a commission when you book or purchase through our links. See our editorial policy to learn more.
---
Murphy, North Carolina is a great place for R&R amongst the beauty of the Blue Ridge Mountains and Nantahala National Forest.
Murphy is a charming small town in the heart of Appalachia that offers locals and first-time visitors a great place to unwind in nature. Its prime location surrounded by rolling forested mountains, and near the Georgia border, mean that there are plenty of things to do like white water rafting, mountain ziplining, and hiking.
Aside from the endless list of things to do, there are also plenty of homey cabin rentals in Murphy that offer a cozy home-away-from-home vacation in the Nantahala National Forest. Here are the top picks for cabin rentals in Murphy, North Carolina and the surrounding area.
Related Read: 9 Chic Airbnbs in Charlotte, North Carolina
1. Wolfgang's Den
Why you should stay: A homey cabin with a screened porch, a large deck, and impressive views.
Sleeps: 6
Minimum stay: 3 nights
Rates from: $185/night
Wolfgang's Den is a warm and inviting wooden cabin for six. It boasts a fully-equipped kitchen next to a cozy dining area, where guests can whip up fresh meals at home. Downstairs in the game room, you and your family can battle it out over a game of pool and foosball for a bit of lighthearted competition. In the evenings, sleep off the day's excitement in one of two bedrooms. And for the lucky duo sharing the master bedroom, indulge in the walk-in shower and jacuzzi tub.
This two-bedroom cabin also offers guests plenty of opportunities to enjoy the fresh mountain air and stunning nature views. Encircling the house is a spacious wraparound deck and a covered patio with seating. There's also a fire pit, grill, and fire table for your enjoyment.
Check Availability
Related Read: 10 Unique Places to Stay in North Carolina
2. Eagles Nest Hideaway
Why you should stay: An open floor plan home on15 private acres with an expansive deck and luxury hot tub.
Sleeps: 6
Minimum stay: 2 nights
Rates from: $185/night
Run away to the Eagles Nest Hideaway, where nothing but the mountains and the Nantahala National Forest surrounds you, allowing complete freedom to relax and recharge. The cabin's stand out feature includes its huge deck with panoramic forest views, comfy patio furniture, a fire pit, and a six-person hot tub.
After you've had your fill of the outdoor amenities, head inside to enjoy the home's hardwood floors, wood-burning fireplace, and a well-appointed kitchen. The property also boasts three bedrooms and three bathrooms for six guests, a set-up that allows optimum comfort and privacy for everyone.
Check Availability
Related Read: 10 Can't-Miss Glamping Sites Near Great Smoky Mountains National Park
3. Rustic Murphy Cabin
Why you should stay: A rustic cabin with modern upgrades along the banks of the Nottely River.
Sleeps: 10
Minimum stay: 3 nights
Rates from: $242/night
Become one with nature at this rustic Murphy cabin where luxury amenities meet the private seclusion of the woods. Warm and natural wood meets leather furnishings to create that classic cabin atmosphere. In the kitchen, a large island with granite countertops sets the scene for family game time and meals. A screened-in patio with a fire pit behind the house allows guests to enjoy being outside without attacks from pesky skeeters.
The home lies on the outskirts of Murphy, making it super easy to spend your days in town or out hiking, biking, and rafting. Your group of ten will feel right at home in this four-bedroom, three-bath that has plenty of space for everyone.
Check Availability
Related Read: 11 Most Beautiful Swimming Holes in North Carolina
4. Whiskey Barrel Lodge
Why you should stay: Quaint mountain cabin surrounded by the national forest with a lovely porch and outdoor dining.
Sleeps: 4
Minimum stay: 3 nights
Rates from: $99/night
Named after the kitchen's eye-catching Jack Daniel's barrel island, the Whiskey Barrel Lodge guarantees a fun time in Murphy. Start your stay with an easy check-in process, that's as simple as going straight to the property for the key. Once inside, there are two bedrooms and two bathrooms for your party of four, of which the master has a high-end king Sleep Number bed.
On the ground floor, a well-appointed kitchen, laundry room, and living room offer plenty of entertainment opportunities like board games, books, and DVDs. There's also an excellent porch through the living room that overlooks the Nantahala National Forest and is set up for fresh air lounging.
Check Availability
Related Read: 10 Incredible Glamping Spots Near Asheville, North Carolina
5. The Blue Ridge Mountain Top Cabin
Why you should stay: Chalet-style cabin in Marble, North Carolina with a four-person hot tub and a full-sized ping pong table.
Sleeps: 6
Minimum stay: 3 nights
Rates from: $199/night
The Blue Ridge Mountain Top Cabin is a beautiful cabin rental near Murphy with two bedrooms and three beds to accommodate six guests. The property is perched up in the Appalachians surrounded by panoramic views that can be enjoyed from the living room's massive windows or the well-placed deck.
The home's vaulted ceilings are covered in knotty pine and are accented by white walls that shine with the day's natural light. Enjoy a hot meal in the fully-stocked kitchen or a rousing game of ping pong in the finished basement. Next to the home, a luxury hot tub soothes your tired body after a long day out in nature.
Check Availability
6. Paradise River Retreat
Why you should stay: Sleep down by the river in a uniquely rustic yet homey cabin, minutes from downtown Murphy.
Sleeps: 6
Minimum stay: 2 nights
Rates from: $135/night
Situated on a private wooded lot, the Paradise River Retreat offers guests a stay that's both secluded and conveniently located to town. The Hiwassee River is just steps from the home and provides picturesque views and the calming white noise of flowing water. Be sure to pack your swimsuit and fishing equipment for a bit of kayaking, tubing, and more.
Rustic wood-paneled ceilings are perfectly paired with stone accent walls, bringing the beautiful mountain landscape into the home. Spend quality time relaxing next to the wood-burning fireplace, out on the screened porch, or next to the blazing fire pit outside.
Check Availability
7. Cozy Log Cabin
Why you should stay: Enjoy mountain views from the deck and being close to grocery stores and Harrah's Casino.
Sleeps: 6
Minimum stay: 2 nights
Rates from: $149/night
This cozy cabin in Marble has all of the comforts of home. The three-bedroom property is outfitted with super-fast WiFi and YouTube T.V. for those who need to get some work done or like to unwind on the couch after a busy day.
There's also a well-equipped kitchen that's stocked with the essentials for meal prep plus an electric kettle, french press, and coffee grinder for your morning brew. When the weather is nice, we recommend firing up the charcoal grill for a cookout on the back deck. And when it's cold, a wood-burning fireplace in the living room provides ample warmth.
Check Availability
8. Charlotte's Cabin
Why you should stay: A charming cabin five minutes from the Murphy River Walk with a private pond, fire circle, and porch.
Sleeps: 4
Minimum stay: 2 nights
Rates from: $105/night
At Charlotte's Cabin, you're immediately greeted with a warm welcome of snacks and a complimentary bottle of wine from the hosts. Kick off your stay in Murphy with a toast out on the large screened porch that overlooks the home's private catch-and-release pond and fire pit.
The home's interior is characterized by hardwood floors, an open floor plan, and a stunning fireplace encased by stone that reaches up to the vaulted ceilings. There is a one-bedroom with a pillow-top queen mattress and a queen pull-out bed in the living room. Charlotte's Cabin is a great romantic getaway for two or a family retreat for four.
Check Availability
9. Eagle Point
Why you should stay: Indulge in luxury mountain living and enjoy a bird's eye view of the mountains from a luxurious hot tub.
Sleeps: 4
Minimum stay: 2 nights
Rates from: $170/night
Eagle Point is a two-bedroom, two-bathroom home for four that features some exceptionally relaxing amenities. Inside, a sunny great room with vaulted ceilings and chalet-style windows create a wonderful space to lounge with loved ones. During your downtime, you can snuggle up next to the fireplace and stream a movie on the smart T.V. The kitchen and dining room also provide everything you need for family meals.
From the outdoor deck, take in excellent panoramic views from the comfort of the hot tub. Adirondack chairs, a gas grill, and a table for six are also provided so you can spend all of your time marveling at the beautiful surroundings.
Check Availability
10. Rustic Retreat Too
Why you should stay: A pet-friendly four-bedroom cabin with fabulous mountain views and a large wraparound deck and hot tub.
Sleeps: 8
Minimum stay: 2 nights
Rates from: $250/night
As an excellent family-getaway for eight, the Rustic Retreat Too is a spacious four-bedroom mountain cabin situated a short drive from the Murphy River Walk. On the ground floor, epic long-range views pour into the open living and dining spaces. Tongue and groove pine walls and ceilings exude a rugged charm, as well as artfully placed antler accents and granite countertops.
As lovely as the home's interior is, the outdoor amenities shine at this Murphy cabin rental. A large deck wraps around the entire cabin and features cushioned seating, a grill, a swinging bench, and a dining table. There's even a hot tub and fire pit for your enjoyment too.
Check Availability
11. Fires Creek Cabin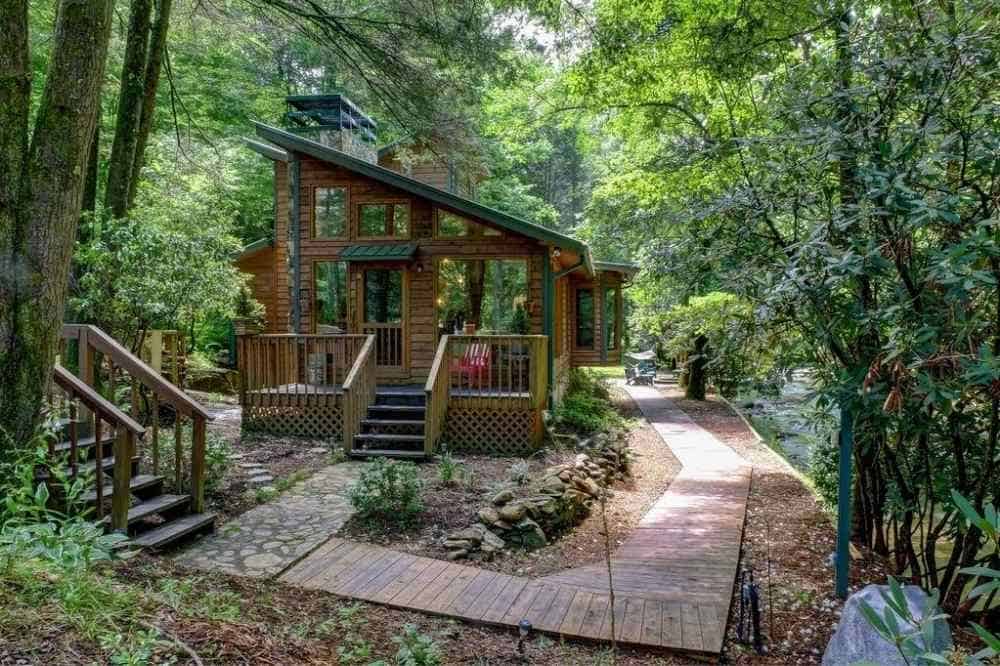 Why you should stay: A fairytale cottage in the woods next to an idyllic creek.
Sleeps: 6
Minimum stay: 2 nights
Pets allowed: no
Fires Creek Cabin is a charming and unique wooden home where you can escape it all just ten minutes from Hayesville. Thickets of trees and a picturesque creek edge along the five-acre yard, with outdoor amenities such as a stone patio, fire pit, hammock, and wooden boardwalk. The creek offers its own list of fun things to do, including swimming, fishing, and tubing.
This two-bedroom accommodates six guests via four beds. The master bedroom features a king bed and private bath. Upstairs, the second bedroom has a queen and a single over double bunk bed. The property's natural springs provide fresh and safe drinking water during your stay.
Check Availability
Plan Your Trip To Murphy, North Carolina
Now that we've tackled the best Murphy North Carolina cabins, here are the top attractions we think you'll love.
Explore More
Get epic travel ideas delivered to your inbox with Weekend Wanderer, our newsletter inspiring more than 10,000 readers every week.
---