Bounded by the Cook Inlet to the west and the Chugach mountains to the east, you don't need to venture far beyond Anchorage's city limits for an epic hike.
As the state's largest city, Anchorage offers a convenient home base for exploring the natural beauty found in southcentral Alaska. From snowy peaks, lush river valleys, and impressive glaciers, the wilderness that surrounds Anchorage is unrivaled. Wildlife viewing opportunities are also limitless around the city, where it's often possible to spot bears, moose, bald eagles, and more!
Those itching to experience Anchorage's great outdoors only have to travel a short 30-minutes to Chugach State Park, a massive sprawl of protected land totaling nearly half a million acres. Chugach is one of the country's largest state parks, offering endless hiking possibilities for locals and visitors alike. Beyond the state park, hikers willing to drive a touch further can embark on beautiful trails through the Chugach National Forest.
Take a hike near Anchorage with any of these insanely beautiful trails that show off just how grand America's Last Frontier is.
1. Flattop Mountain
Why you should go: An iconic Anchorage mountain known as one of the most popular hikes in Alaska.
Difficulty: Hard
Distance: 3.3 miles
Elevation gain: 1,430 feet
The Flattop Mountain Trail is a popular and narby hike only 30-minutes away from downtown. It's part of Chugach State Park, which means you'll need a state park sticker or pay for parking. You can find the trailhead for Flattop at the Glen Alps parking lot, accessible by car or via the Flattop Mountain Shuttle that departs from downtown.
The trail begins with a gentle incline, gradually becoming steeper before reaching a short scramble. Once at the top, hikers are treated to incredible, sweeping mountain views in one direction and a panroamic view of Anchorage in the other. This hike generally takes about 2.5 hours to complete.
2. Portage Pass Trail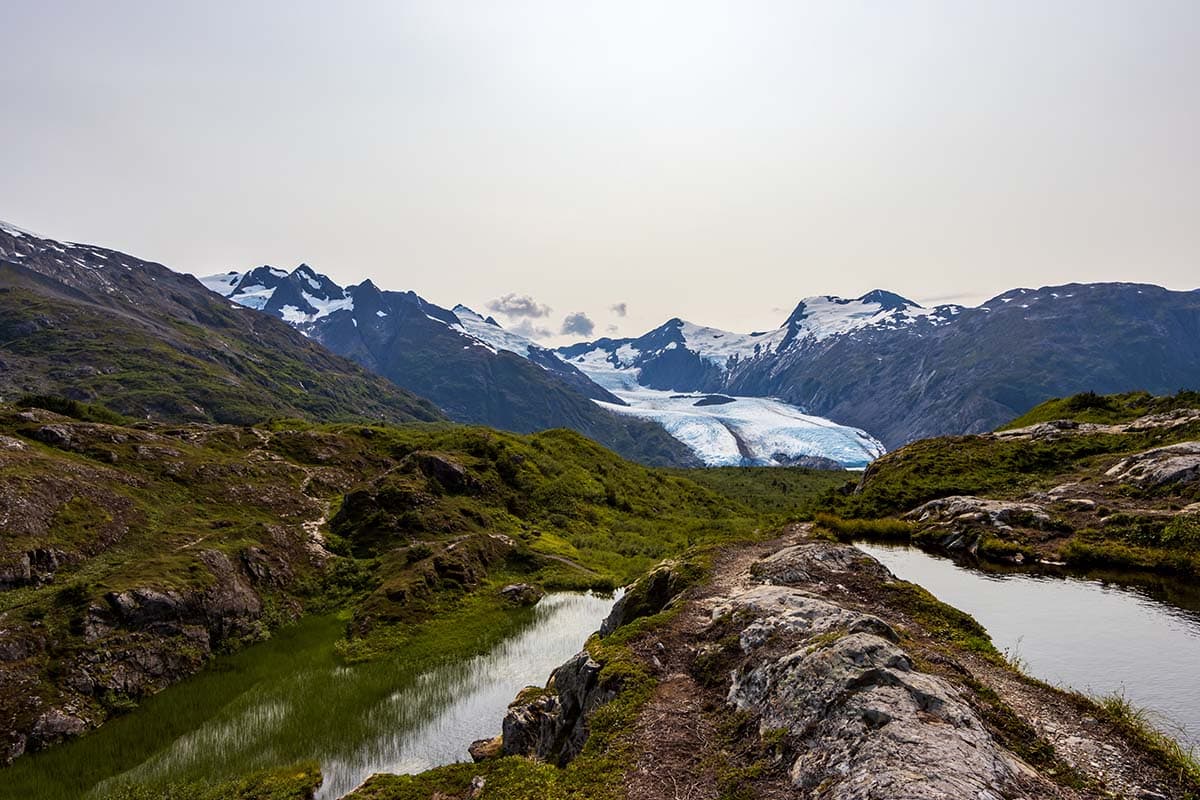 Why you should go: A glacial hike within day-trip distance from Anchorage boasting lakeside views of Portage Glacier.
Difficulty: Moderate
Distance: 4.5 miles
Elevation gain: 1,433 feet
Witnessing a glacier's sheer size and beauty is a must when visiting Alaska since it's one of the last places in North America that has any left, and the Portage Pass Trail is an exciting way to do it. Situated on the other side of the Whittier Tunnel, this glacial hike is nestled within the Chugach National Forest. The trailhead is about an hour and a half drive from Anchorage along a beautiful scenic roadway that follows the Turnagain Arm.
From the trailhead, this hike immediately kicks off with a climb through a forested mountainside that offers partial views of the Prince Edward Sound. Once at the top, you'll descend the other side through tall shrubs and thickets of trees until you reach the shores of Portage Lake, looking out at the stunning Portage Glacier.
3. Byron Glacier Trail
Why you should go: A family-friendly hike to glacial ice you can touch only an hour from Anchorage.
Difficulty: Easy
Distance: 3 miles
Elevation gain: 200 feet
The Byron Glacier Trail is another glacial hike near Anchorage situated just outside of Girdwood. This short but sweet hike offers visitors the rare opportunity to witness a glacier up close. Once you reach the front of the ice, a scramble over a mound of boulders offers an excellent vantage point of the entire glacier. When conditions are right, hikers can actually walk on top of the glacier and see glittering ice caves carved out below, but enter at your own risk!
Not far from trailhead is the Begich Boggs Visitor Center, where you can learn a bit more about Alaska's glacial history. While in the area, be sure to spend some time in Girdwood, a charming resort town known for Girdwood Brewing, the Alyeska Aerial Tram, and Winner Creek Trail.
4. O'Malley Peak Trail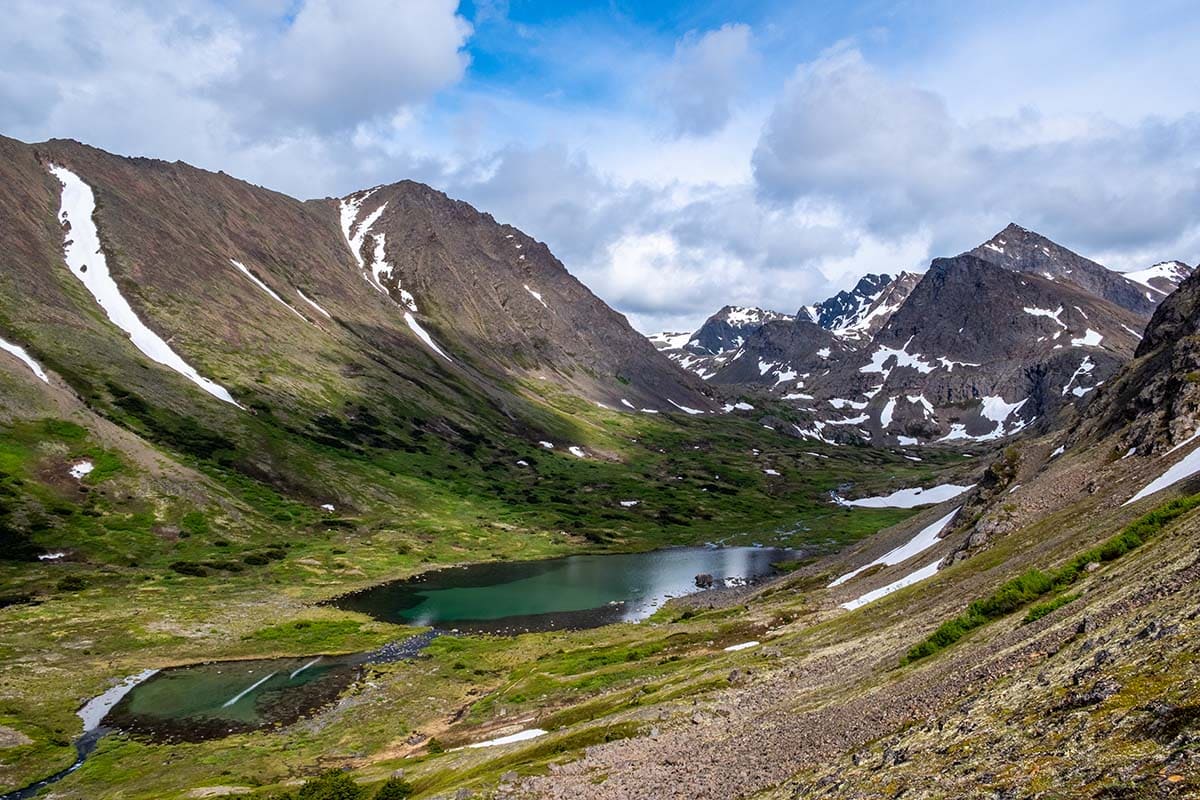 Why you should go: A thrilling ascent to a snowy peak in the Chugach Mountains.
Difficulty: Hard
Distance: 7.7 miles
Elevation gain: 3,300 feet
O'Malley Peak Trail is a challenging out-and-back hike through Anchorage's Front Range. The trail passes through green meadows and over babbling creeks in the summer and pristine snow-covered hillsides in the colder months. But heads up, it does feature a few sections that require a scramble over loose scree before leading to O'Malley Peak. The path overlaps with the Powerline Trail at the start before continuing onward to the base of the mountain. O'Malley is one of 12 peaks in Anchorage that tower above 5,000 feet, making it a worthy bucket list addition.
The trailhead to O'Malley Peak leaves from the Glen Alps lot, the same starting point as Flattop, so parking can fill up quickly on weekends and sunny days. Snow is known to stick around on the trail well into June, and the peak can be very windy, so proper attire is a must. For something less challenging but equally exciting, consider hiking Little O'Malley Peak, a smaller peak about half the distance and half the elevation gain.
5. Crow Pass Trail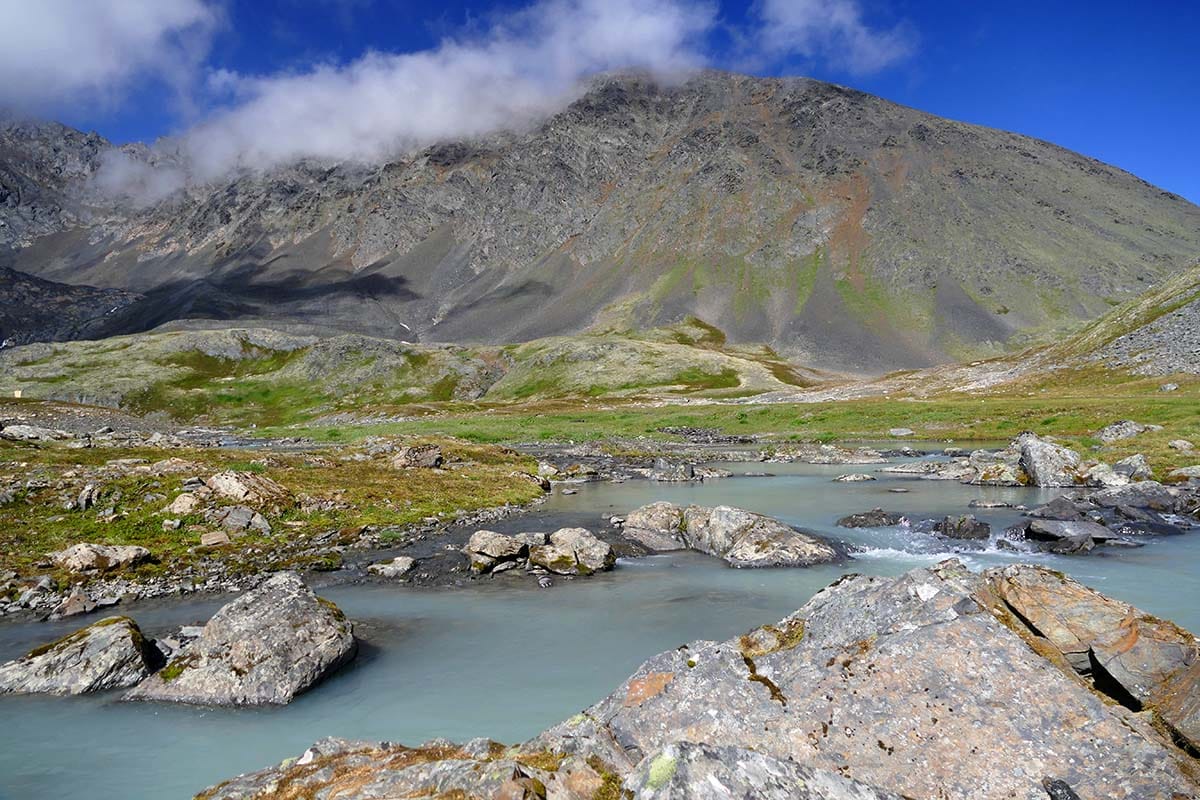 Why you should go: A popular multi-day hike through the Chugach Mountains.
Difficulty: Challenging
Distance: 26 miles
Elevation gain: 3,290 feet
The Crow Pass Trail is an adventure through diverse landscapes between the Eagle River Valley and Girdwood. The trail overlaps with a segment of what was once the original and historic Iditarod Trail, Alaska's famous dog sled race. This beloved hike totals 23 miles and requires 12 hours to complete in a single day.
However, many opt to only hike the first four miles from Girdwood or tackle the route over 2-3 days. Along the trail, there are a few designated camping sites, as well as the famous Cross Pass Cabin, which requires advance reservation. While on your trek, you'll be treated to views of Raven Glacier, grazing mountain goats, and the derelict ruins of the old Monarch Gold Mine that once called the mountains home.
Related Read: 10 Best Hikes in New Zealand for a Fine Day Of Tramping
6. South Fork Valley Trail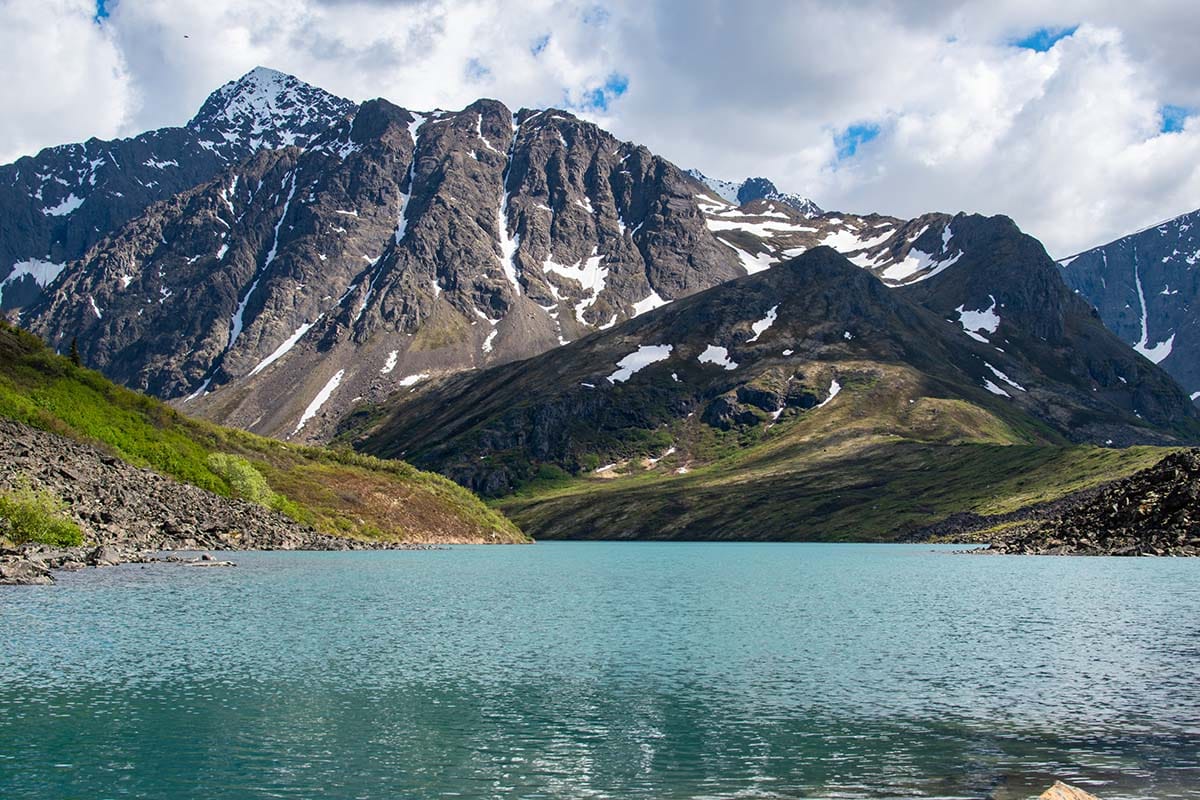 Why you should go: A relatively flat trail that follows Eagle River to a lookout over two colorful lakes that sit side by side.
Difficulty: Moderate
Distance: 11 miles
Elevation gain: 1,560 feet
The South Fork Valley Trail begins from a small parking area in Chugach State Park, about 30 minutes from downtown Anchorage. This unique hike is best known for its unique view of two different colored lakes that lie side by side. Eagle Lake, a milky green glacial lake, and the blue Symphony Lake, fed by runoff, are set in a picturesque valley surrounded by rolling mountains.
Although long, the trail experiences only a gradual incline that's relatively easy and can be completed in about five hours. This trail is best hiked in the summer when wild berries grow ripe for the picking or in the autumn when the local flora turn vibrant shades of reds and oranges, contrasting beautifully against the lake's water.
7. Twin Peaks Trail
Why you should go: A heart-thumping trail where hikers can witness glacial views and the bright blue waters of Eklutna Lake.
Difficulty: Hard
Distance: 8.3 miles
Elevation gain: 4,525 feet
The Twin Peaks Trail is a steep and challenging out-and-back route that's entirely uphill one way, but those fit enough to conquer the climb are rewarded with beautiful views of Eklutna Lake. The lake is fed by a glacier of the same name that sits wedged between the Twin Peaks. The trail begins with switchbacks through the forest before opening up to a sparse mountainside.
Along the way, you'll pass cleared viewpoints where you can admire your progress and the views of Eklutna Lake from above. And if you're lucky, you may catch sight of the mountain goats that frequent the area. A less strenuous way to enjoy the beautiful waters of Eklutna Lake is via the Eklutna Lakeside Trail, an accessible route that follows the lakeshore with minimal elevation gain. Better yet, Eklutna Lake is only about 50 minutes from Anchorage.
8. Williwaw Lakes Trail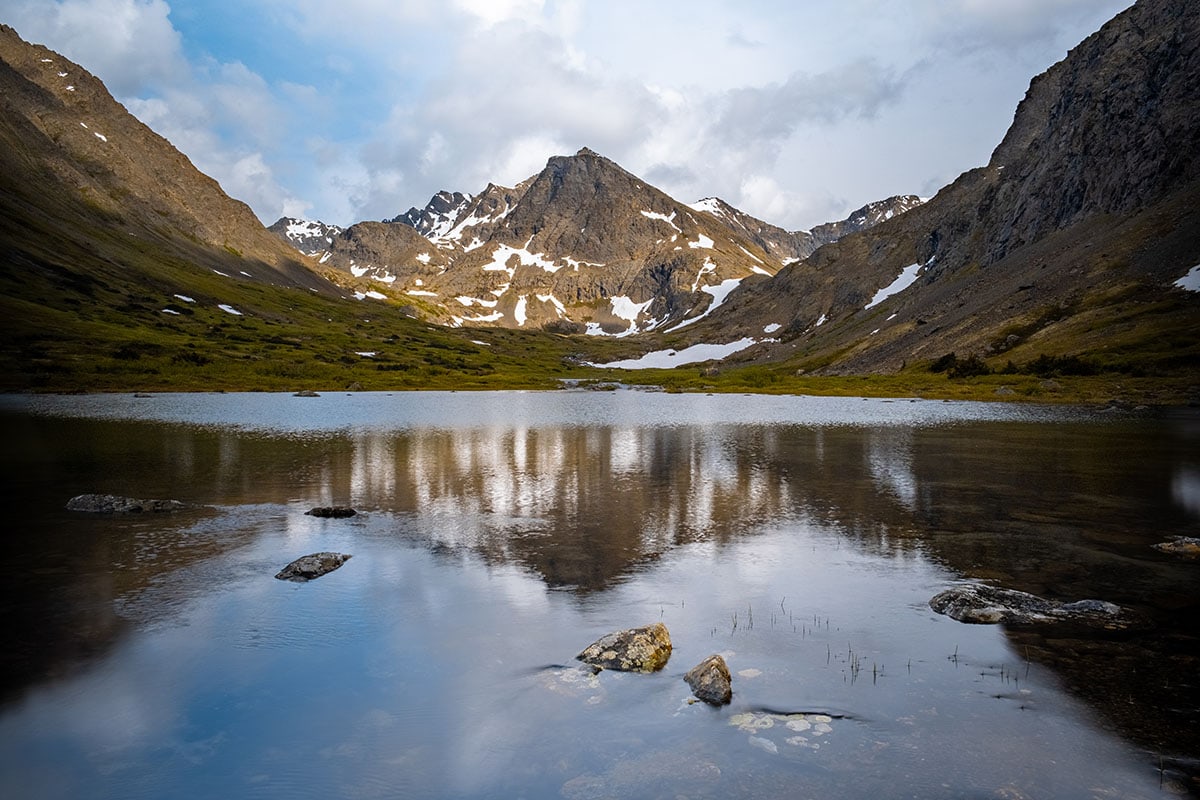 Why you should go: A year-round hike that passes a chain of lakes dotting the base of Mount Williwaw.
Difficulty: Moderate
Distance: 16 miles
Elevation gain: 2,585 feet
The Williwaw Lakes Trail winds past nine little mountain lakes named after the 5,400 feet tall peak that towers over them. This hike is characterized by stretches of boardwalk trails, valley views, and babbling waterways. The journey to Williwaw Lakes isn't particularly strenuous and hikers enjoy gradual gains in elevation.
To reach the Williwaw Lakes Trail, you must first hike a few miles along the Prospect Heights Trailhead before connecting via the Middle Fork Loop. While it's possible to walk the entirety of the trail in a day, Williwaw Lakes offers an excellent backcountry camping experience for those who wish to spend more time in the Alaskan wilderness. In the spring, the trail can be muddy and boggy.
9. Rabbit Lake Trail
Why you should go: A short and easy day hike to an alpine lake not far from downtown Anchorage.
Difficulty: Moderate
Distance: 8.70 miles
Elevation gain: 1,440 feet
Situated at the end of Canyon Road, the Rabbit Lake Trail is a lovely hike suitable for most people. Featuring a relaxing climb up and into a mountain valley, hikers can expect to reach Rabbit Lake in about 1.5 hours. As you make your way to the water's edge, you should be able to spot Flattop and other peaks in the Chugach Range.
What makes Rabbit Lake exceptional is its unique location at the base of North and South Suicide Peaks. This trail is relatively clear and well-maintained, but some sections may be overgrown, attracting bears (so bear spray is recommended!) Best of all, since this trail only requires a few hours to complete, it leaves plenty of time to enjoy Anchorage's other top attractions in the same day.
10. Tony Knowles Coastal Path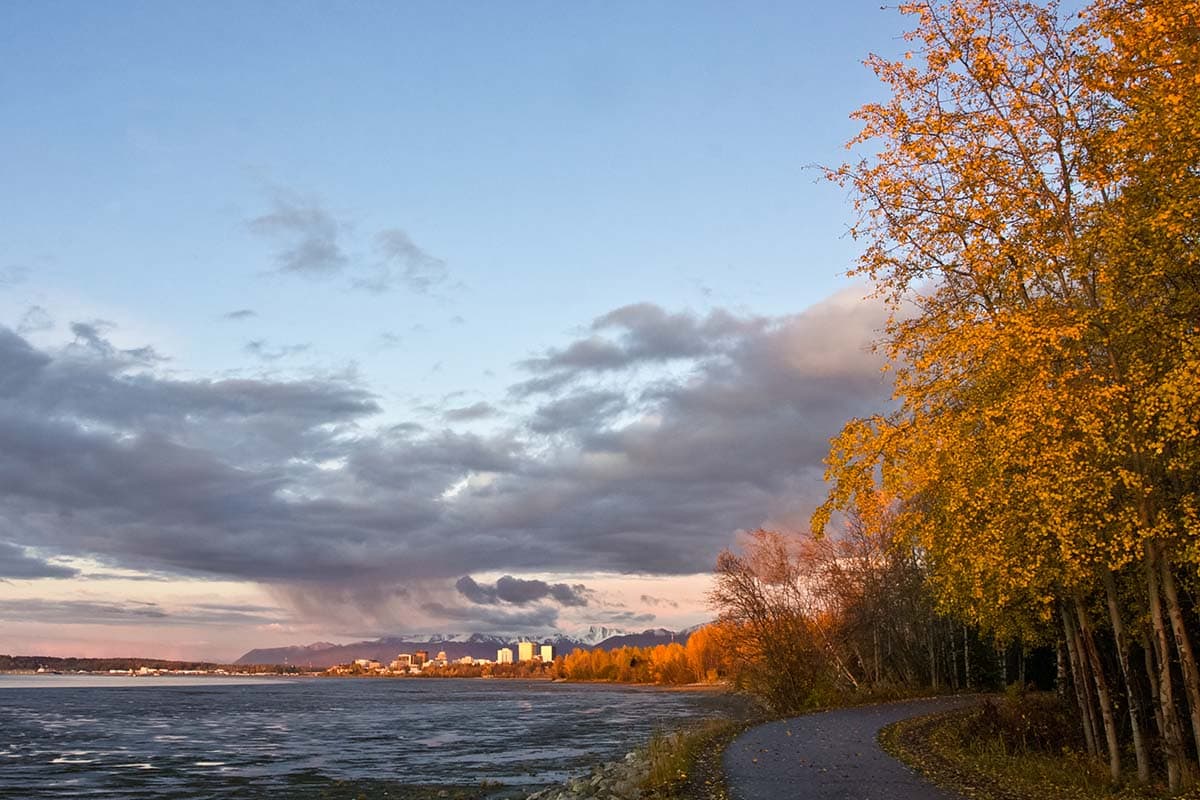 Why you should go: A city trail that follows a branch of Alaska's scenic Cook Inlet, passing popular Anchorage attractions.
Difficulty: Easy
Distance: 19.7 miles
Elevation gain: 1,217 feet
Experience some of Anchorage's popular landmarks with a stroll along the Tony Knowles Coastal Path. Beginning in the heart of the city, this meandering, partially-paved trail leads away from the city streets, ending in Kincaid Park. The path follows the shore of the Knik Arm, a waterway that leads out to the Gulf of Alaska.
A must-stop location along the Coastal Trail is Earthquake Park, an area that was dramatically altered by Anchorage's infamous 1964 earthquake. The Coastal Path is popular with bikers, rollerbladers, and families thanks to its paved portions. Those up for conquering the entire walk should plan to spend about 7 hours from start to finish.
Find Your Next Alaskan Adventure
Get epic travel ideas delivered to your inbox with Weekend Wanderer, our newsletter inspiring thousands of readers every week.
---