We research, evaluate and select travel destinations based on a number of factors, including our writers' experience, user reviews and more. We may earn a commission when you book or purchase through our links. See our editorial policy to learn more.
---
New Jersey has the shore, the city, and so much more — the Garden State is far more than just a New York City suburb.
Sandwiched between New York and Philadelphia, New Jersey has become the butt of many big-city jokes. The truth is, though, that New Jersey is where many of those city folk go to relax and play.
From the boardwalk at Atlantic City to the heights of the Appalachian Trail, New Jersey is packed with awesome places to visit. Vacationers can find tranquility in the pine barrens, seek out sun and amusement at the Jersey Shore, and ski the slopes at Mountain Creek Resort.
New Jersey is also a convenient and relatively inexpensive place to stay when visiting Philly or NYC. There are plenty of Airbnbs near public transit terminals, so it's easy to reach other city's downtown.
As a state, New Jersey isn't that large, so no matter where you stay, you'll be near most of the state's attractions. Some of the best New Jersey Airbnbs are in prime locations ideal for couples, families, and solo travelers. Really, there's only one question left to answer: when do you want to go?
Related Read: 10 Best Cabin Rentals in New Jersey for a Quick Getaway to the Woods
1. Cozy Oceanfront Condo
Why you should stay: Enjoy an immaculate condo overlooking the Atlantic City beach and casinos.
Location: Atlantic City
Sleeps: 4
Minimum stay: 2 nights
Rates from: $88/night
Stay in the heart of Atlantic City's historic boardwalk at this Cozy Oceanfront Condo, where the casino-lined sandy shoreline stretches for miles. You'll be near it all, including the Steel Pier amusement park, the city's top casinos, and the Atlantic City Aquarium.
The view from the condo is simply phenomenal. Wall-to-wall windows line the apartment, opening the entire place to endless views of the southern boardwalk and all the way out to the ocean horizon.
You'll also have access to the building's common areas, which include a sauna, hot tub, game room, and a heated indoor/outdoor pool extending above the New Jersey shoreline. This spot is all about having a good time.
Check Availability
Related Read: 7 Pet-Friendly Hotels in Cape May, New Jersey
2. Dream Lakehouse
Why you should stay: This lakeside retreat is an idyllic escape from the city.
Location: Vernon Township
Sleeps: 8
Minimum stay: 2 nights
Rates from: $304/night
You'll find relaxation and entertainment year-round at the Dream Lakehouse on the shore of Highland Lake. From summer lakeside fun to the winter skiing at the nearby resort, this polished cottage provides immediate access to tons of fun outdoor activities. It's about an hour by car to get to NYC, so it's a great place to stay if you want to spend a day or two in the city.
Featuring a deck and patio that extend out and over the lake water, you and your guests will be able to enjoy the entirety of Highland Lake without ever leaving the cottage. But when you are ready to venture out, kayaks, a pedal boat, a canoe, and a full-sized boat are available for those who wish to take to the open water to explore the lake in its entirety.
Check Availability
Related Read: What to See on a New York to Washington, D.C. Road Trip 
3. Accessible Modern Waterfront House
Why you should stay: A handicap-accessible home near the Pine Barrens and Jersey Shore.
Location: Galloway
Sleeps: 4
Minimum stay: 1 night
Rates from: $169/night
A bold and stylish abode, the Accessible Modern Waterfront House is beset with marble countertops, Art Deco accent pieces, and wheelchair ramps. It's a luxurious modern home in a lovely neighborhood. One could spend an entire afternoon on the private back deck watching wildlife walk by babbling brook that passes through the property.
Aside from ramps, this home also features extra-large doorways and a walk-in shower to accommodate those with disabilities. Beyond those fantastic considerations, the home is the perfect spot for a romantic stay couples of any ability level will absolutely love.
The house is close to the ocean, the vast Pine Barrens, and the glitz and glamour of Atlantic City. It's an excellent hub to explore Southern New Jersey.
Check Availability
4. Historic Waterfall Cabin
Why you should stay: Tranquil serenity amid the birds and the trees.
Location: Vernon Valley
Sleeps: 4
Minimum stay: 1 night
Rates from: $150/night
Formerly a mill house and now a home base for relaxing getaways, the Historic Waterfall Cabin is the perfect choice for both adventure seekers and those who desire a quiet refuge in the woods for a weekend of relaxation. The home even comes with a telescope so you can take advantage of the remote (for New Jersey, anyway) location.
This private cabin is located on a historic property with a wonderfully wild backdrop. You'll find ruins of the old mill that once stood in the area, now overgrown by the deciduous forest and all of its colorful understory.
The town of Vernon Valley itself has plenty of history to explore. This part of northern New Jersey is surprisingly rural and offers plenty to do for outdoor enthusiasts. There are several miles of hiking trails on the property and many, many more in the surrounding area.
Check Availability
5. Uptown Chic
Why you should stay: Direct access to NYC from an affordable studio apartment.
Location: Hoboken
Sleeps: 2
Minimum stay: 3 nights
Rates from: $65/night
The New York City skyline will be right outside your door when you stay in this Uptown Chic studio apartment. This bright and inviting nook is the quintessential home base for couples or individuals who want to explore the NYC metropolitan area.
You'll be located close to the Lincoln Tunnel and North Transit Tunnel, which are primary thoroughfares into the heart of the Big Apple. Hopping on the train or bus from Hoboken into downtown Manhattan couldn't get any easier.
From here, you can set your sights anywhere in Northeast New Jersey or any of NYC's five boroughs – the city is your oyster. It's all accessible by foot or train; that is, unless you plan on seeing the Statue of Liberty up close and in person. But don't worry – area ferries will take you anywhere your feet can't.
Check Availability
6. Fairytale Cottage
Why you should stay: An adorable place to stay near the beach and Asbury Park.
Location: Asbury Park
Sleeps: 4
Minimum stay: 2 nights
Rates from: $69/night
The picturesque Fairytale Cottage is a vibrant and cozy place to stay while you gallivant about famous Asbury Park and the nearby oceanside boardwalk. From this apartment, it takes just a few minutes to hit the beach, as the nearest access point is just six blocks down the road. A set of beach chairs and towels will be waiting for you at the cottage.
For those not in the know, Asbury Park is a small seaside city with a wonderful boardwalk and a world-famous music scene. The live music venues are legendary, especially the infamous Stone Pony, noted for helping give rise to New Jersey rock-and-roll icons like Bruce Springsteen and Bon Jovi.
Check Availability
7. Unique Spanish Villa
Why you should stay: A Spanish-inspired casa near the beach.
Location: Seaside Heights
Sleeps: 6
Minimum stay: 1 night
Rates from: $199/night
Based on looks alone, this Unique Spanish Villa is sure to be an interesting place to stay. If the Spanish architecture and design aren't enough to entice you, perhaps the resident pig named Mr. Richard Parker or the in-home mixed martial arts gym will convince you to stay.
This place is exceeding unique, and guests love it. The residence is beautifully adorned with opulent touches like a stone patio and a vine-entwined pergola. Inside, guests love the decorated with brightly-colored walls, furniture, and decor.
The location is top-notch, especially for those who want to live the full Jersey Shore experience. You'll be on the boardwalk near the local amusement park, all of the wacky beachside shops, and the crashing ocean waves.
Check Availability
8. Private Smart Home
Why you should stay: The state capital and multiple theme parks are only minutes away.
Location: Ewing Township
Sleeps: 4
Minimum stay: 2 nights
Rates from: $70/night
Trenton may not be the first place people think of when they picture a weekend getaway, but there are many reasons why it should be. This Private Smart Home is on the outskirts of the city, which itself is worth at least a day for exploring sights like the outdoor sculpture garden, New Jersey State Museum, and historical homes.
More exciting, however, is the proximity to New Jersey's Six Flags Great Adventure and Pennsylvania's Sesame Place. Six Flags has thrilling roller coasters and a huge water park, so it's a great place to take kids as a treat for the weekend. You'll also only be about 45 minutes from downtown Philladelphia.
Check Availability
9. Cape May Point Cottage
Why you should stay: A cottage on the beach at the cape. What's not to love?
Location: Cape May Point
Sleeps: 5
Minimum stay: 3 nights
Rates from: $300/night
Cape May is one of the most scenic locations in all of New Jersey. And the Cape May Point Cottage is directly adjacent to the public beach access point, making it a super-convenient beach getaway — you can't get closer to the beach. In fact, much of the cottage's yard is buried in beach sand been blown in by the coastal winds.
Cape May juts far out into the open water, acting as a divider to separates the Delaware Bay from the Atlantic Ocean. Summertime demands that you spend your day swimming and tanning at the beach, but it's fantastic year-round. Throughout the rest of the year, the magnificent views – especially during storms – are quite breathtaking, and the fishing is always excellent.
Check Availability
10. Hippy Hut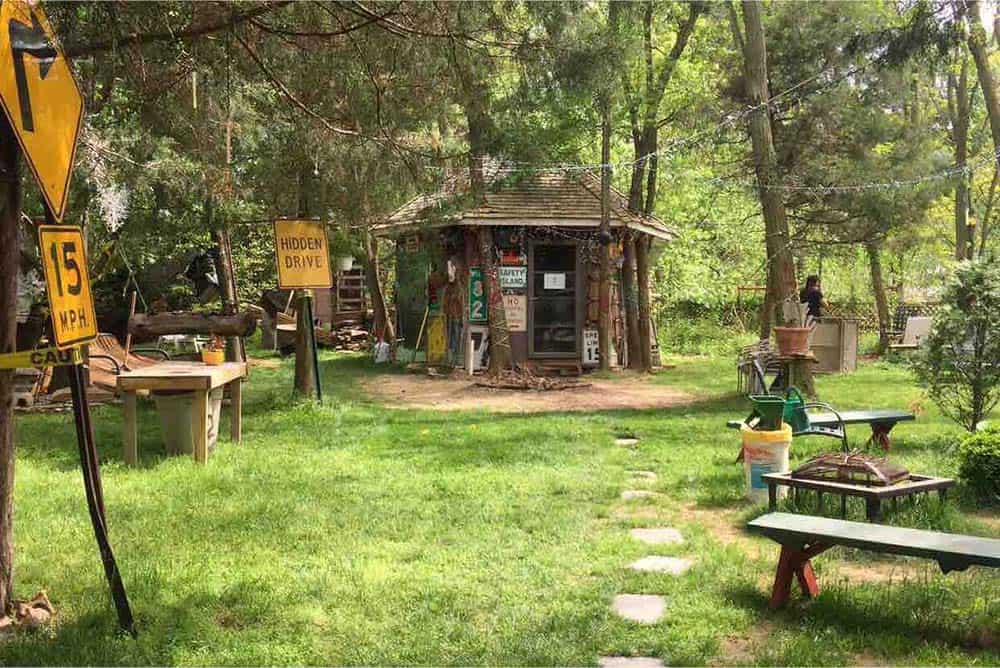 Why you should stay: Laid-back hippie living at its finest.
Location: East Windsor
Sleeps: 4
Minimum stay: 2 nights
Rates from: $110/night
Unforgettable and completely original, the Hippy Hut is sure to leave a lasting impression. It's a destination in and of itself, but it's surrounded by a number of New Jersey attractions. You'll never get bored; there's always something new to discover.
Twinkling lights make this place feel magical all year. The owners fully committed to the hippie lifestyle, adding  features like an outdoor sofa shaped from the earth, a compostable outhouse, a chicken coop with daily fresh eggs for guests, and a wealth of tie-dye decor.
A stay here is like a break from reality. It's super fun and almost feels like staying at a themed hotel – if that hotel had an outhouse and outdoor shower, of course.
Check Availability
Explore More in the Northeast
Sign up for Weekend Wanderer to join thousands of readers getting epic travel and Airbnb ideas every week!
---