We research, evaluate and select travel destinations based on a number of factors, including our writers' experience, user reviews and more. We may earn a commission when you book or purchase through our links. See our editorial policy to learn more.
Was this article helpful?
---
Planning a trip? Go tiny on your next adventure — you may fall in love with the downsized life.
Americans have a reputation for loving the saying "bigger is better," but over the past few years, the U.S. has seen an explosion of interest around the tiny home craze, proving that smaller can actually be sweeter.
And because tiny houses are now more common, travelers can rent thousands of tiny house rentals in the U.S. from California to Connecticut. Once you give tiny living a time, you'll understand why so many people have fallen in love with the cozy minimalism a smaller home provides.
From the east coast to the west and the rolling plains in between, these the best tiny house rentals in the U.S. for your next great American adventure. Although these vacation rentals are small, they certainly don't skimp on personality and style (or luxury!)
Tiny House Rentals in the Northeast and Midwest
1. Beehive Tiny House
Why you should stay: Cottage-style tiny home with lots of amenities backing to Acadia National Park.
Location: Southwest Harbor, Maine
Sleeps: 2
Minimum stay: 1–3 nights
Rates from: $120
The Beehive Tiny House is a great choice for traveling couples who want to sleep surrounded by nature without sacrificing the convenience of home. This custom-built little cabin is located on Mount Desert Island, Maine's largest island, backing to Acadia National Park. It's one of seven units in the Acadia Yurt grounds where guests have access to a communal laundry barn, yoga and wellness center, grills, fire circles, and even a float tank.
This unit's ground floor includes a comfortable living room, kitchenette, and full bathroom with a lofted bedroom. There's also plenty of space relax outside, either on the deck overlooking the woods, or in anywhere else you like across the property's five acres.
Check Availability
Related Read: 13 Vacation Rentals with Indoor Pools Across the U.S.
2. The Oki
Why you should stay: Enjoy access to a heated pool and other community amenities at a light-filled tiny home.
Location: Cairo, New York
Sleeps: 5
Minimum stay: 1 night
Rates from: $358
Immerse yourself in the beauty of nature in this two-story, wooden tiny home in the Catskills of New York dubbed The Oki. The home is one of a few units in A Tiny House Resort, where guests have access to a heated swimming pool shared with just a few homes. Catskill Creek flows to waterfalls along the resort's property, offering guests plenty of hiking and kayaking opportunities.
This tiny home features two lofted bedrooms, one with a queen bed and the other a twin, as well as a sofa bed in the living room. You'll also find a very usable kitchenette, a spacious deck with a dining table, plenty of outdoor seating, and a fire pit. Though it's a tiny home, it feels surprisingly roomy.
Check Availability
Follow 'em: Instagram
Related Read: Have a Big Adventure at These Small Cabin Rentals in the U.S.
3. Tiny Escape NY
Why you should stay: A sunny home with a bright and natural interior on an apple orchard.
Location: Marlboro, New York
Sleeps: 3
Minimum stay: 2 nights
Rates from: $249
Tiny Escape NY is a bright and airy Airbnb Plus tiny home with two bedrooms, a full bathroom, and cozy amenities to make your stay as comfortable as possible. The kitchen is stocked with the basics, including a mini-fridge, microwave, and french press for your morning coffee fix.
Beyond the kitchen, a charming little nook looks out of a large window and is the perfect place to curl up with a book or sip a glass of wine. The whole home has a modern-meets-Bohemian vibe, with details like modern art prints and twinkling lights on the bedroom railing.
This small escape is on 30 acres of farmland surrounded by enchanting vineyards and apple orchards, so there's plenty to do in the area. For worthwhile shopping and dining, head to the small city of Beacon, just 20 minutes away.
Check Availability
Follow 'em: Instagram
4. Shipping Container
Why you should stay: Sleep in a converted shipping container with all of the comforts of home (and a hot tub!)
Location: Dover, Ohio
Sleeps: 4
Minimum stay: 1 night
Rates from: $139
If you appreciate the unique and uncommon, this eclectic shipping container turned tiny home may be right up your alley. Glass doors let the sun shine in and there's an expansive deck for lounging outside. Other features include a cute bedroom, kitchenette, bathroom, fire pit, and a sleeper sofa for two extra guests. Once you're inside, you'll forget it's an old corrugated container.
The home comes with a private hot tub perched on a hilltop surrounded by the wooded hills of Amish country. This cool tiny home rental places you near the Erie Canal, the historic Zoar village, and Atwood and Tappan Lakes, all of which offer plenty of recreation opportunity. The home is pet-friendly and has plenty of land for four-legged travelers to play.
Check Availability
Related Read: 14 Exciting Shipping Container Homes Around the U.S.
Tiny House Rentals in the South
5. Carolina Tiny House
Why you should stay: A cozy home near epic mountain biking trails
Location: Campobello, South Carolina
Sleeps: 5
Minimum stay: 1 night
Rastes from: $61
Sure, there's limited space in this Carolina tiny house, but it's expertly optimized to make great use of the space. The primary bedroom has a queen bed and sliding farm doors for a bit of privacy. Up the wooden staircase, there's a lofted sleeping space with windows and two twin beds.
The kitchenette is outfitted with a large stainless steel sink, a gas range with two burners, a medium-sized fridge, and a microwave. Outside, a cute little patio offers a comfortable place to sit in the sunshine after a day spent out in the South Carolina countryside.
Check Availability
6. Tiny One
Why you should stay: A cozy tiny home 15 minutes from uptown Charlotte, NC.
Location: Charlotte, North Carolina
Sleeps: 2
Minimum stay: 1 night
Rates from: $75
Tucked behind the hospitable hosts' own home, Tiny One is a cute vacation that offers a taste of the tiny life. The house looks like a miniature barn and has a lovely yard with a fire pit, outdoor seating, and a hammock.
The interior has a charming and minimalistic style with sparkling white walls, natural wood touches, and potted plants throughout. There's a kitchenette with a toaster over and mini-fridge, plus a living room with a wall-mounted T.V. and surprisingly large couch. When it's time for bed, head up to the lofted sleeping space where a queen bed promises a good night's rest.
Check Availability
Related Read: 11 Daringly Black Houses You Can Rent on Airbnb
7. The Starling
Why you should stay: Pet-friendly A-frame cabin an hour from the Great Smoky Mountains National Park.
Location: Swannanoa, North Carolina
Sleeps: 3
Minimum stay: 2 nights
Rates from: $85
The Starling is a trendy A-frame cabin perched on a ridge with excellent views of the woods and rolling mountains on the horizon. Three humans and one pup are welcome in this 250-square-foot tiny home with a lofted full-size bed and a 76″ window seat that can comfortably double as single.
This is one of the more rustic tiny house rentals on this list, likely to appeal to travelers seeking something akin to a glamping experience.
The kitchenette has a single butane burner for your cooking needs and a cooler to keep perishables fresh. Guests can take advantage of the outdoor fire pit for cooking, too. There's no indoor bathroom here, but rather, the home comes with an outdoor camp shower and a fully-equipped outhouse just 50 feet from the property.
The Smokies are only an hour's drive away and you can conveniently hike the Rhododendron Ridge Trail from the front door.
Check Availability
8. Designer Tiny Home
Why you should stay: A modern and impeccably clean tiny home rental with a private backyard.
Location: Atlanta, Georgia
Sleeps: 4
Minimum stay: 2 nights
Rates from: $89
Enjoy hotel-level amenities at this designer tiny home with its own fenced-in yard for added privacy from the main property. During your stay, take advantage of good weather with a game of outdoor ping pong, a hearty meal on the massive farm table, or a blazing bonfire in the fire pit.
After a long day exploring Atlanta's nearby attractions like Ponce City Market or Krog Street Market, kick back and relax on the couch before turning in for the night in the fully enclosed bedroom for a bit of solitude. Unlike many homes on this list, there's a full kitchen with an oven rather than just a kitchenette, and there's a second sleeping area for two in the loft.
Check Availability
9. La Petite
Why you should stay: Experience the Texas Hill Country, less than an hour from Austin.
Location: Wimberly, Texas
Sleeps: 2
Minimum stay: 2 nights
Rates from: $145
Le Petite is a stylish tiny home with a modern mid-century aesthetic. Constructed from scratch by a father-son duo, this beautiful home features an open floor plan that allows natural light to flood in. The full kitchen is well stocked with the essentials so you can whip up home-cooked meals while visiting. Up the floating mini staircase, a low profile, comfortable king bed promises comfort through the night.
Outside, there's a wrap-around deck with hip patio furniture, a covered patio with hammock chairs, and a charcoal grill and fire ring for some outdoor fun. Strung gracefully from the trees are fairytale string lights that amp up the cozy factor. Oh, and there's an outdoor shower and private hot tub, too.
Check Availability
10. Tiny House Cottage
Why you should stay: A magical, custom-built Tennessee tiny home 10 minutes from downtown Nashville.
Location: Nashville, Tennessee
Sleeps: 4
Minimum stay: 2 nights
Rates from: $106
This Nashville tiny house cottage is a thoughtfully designed space where comfort was at the heart of every design decision. As you step inside, one of the first things to catch your eye are the pleasant mint green cabinets, bronze accents, and dark finished wood in the kitchenette and throughout the home. Really, it's downright charming.
The home has one queen bed in the lofted bedroom, plus a living room daybed. The home is filled with natural light, and there's even a full-sized vintage bathtub in the bathroom. Outside, there's a small deck and large play area and jungle gym for the kiddos. The host are also generous enough to allow guests to pick veggies from the home's on-site garden; a wonderful benefit for anyone who loves farm-to-table cooking.
Check Availability
11. Historic Bungalow
Why you should stay: A natural oasis hidden in Atlanta with fabulous outdoor amenities.
Location: Atlanta, Georgia
Sleeps: 3
Minimum stay: 1 night
Rates from: $95
For your next visit to Atlanta, consider this historic bungalow with industrial charm and a classic color palette. The whole interior is lovely, but a special highlight are the oak countertops, made from centuries-old repurposed wood.
The home is a short drive away from Cascade Springs Nature Preserve in Greenbrier, Atlanta. Downtown is only 12 minutes away, so you can enjoy both quiet seclusion and city attractions during your stay. There are outdoor amenities shared between a few properties, and the hosts can even arrange an in-home massage for guests seeking a bit of indulgence.
Check Availability
12. Custom-Built Tiny Home
Why you should stay: Find peace and quiet on 23 acres of private land near Lost River State Park.
Location: Mathias, West Virginia
Sleeps: 4
Minimum stay: 2 nights
Rates from: $166
Sporting natural wood elements inside and out, this custom-built tiny home nestled in the great outdoors of West Virginia is in a fantastic location for nature enthusiasts. The popular Lost River State Park is just two miles away, as are other hiking, biking, rafting, and climbing adventures.
This tiny home has a comfortable couch and two bedrooms with plush beds that will feel extra comfortable after a day spent outdoors. There'd a kitchenette in the tiny home, or you can opt to do more camp-style cooking outdoors by the fire pit. The home is dog friendly and spotlessly clean as it was just completed at the end of 2019.
Check Availability
13. The Helm
Why you should stay: A stylish two-story container home in Waco, Texas with a lovely rooftop deck.
Location: Waco, Texas
Sleeps: 6
Minimum stay: 1 night
Rated from: $144
The Helm is such a beautiful piece of architecture that one stay here might convert you to the tiny life indefinitely. Built from two shipping containers, this two-story home is well insulated and paneled in attractive wood siding. Large windowed doors grant entrance to the well-decorated living room complete with a sofa, armchair, and T.V.
The rest of the ground floor consists of an inviting dining space and kitchenette and a cozy bedroom with a queen bed. An outdoor spiral staircase leads up to the top floor where a second bedroom and sun deck with outdoor seating welcomes sun-soaked conversation and meals.
Check Availability
Tiny House Rentals in the West
14. Apple Hollow #3
Why you should stay: Modern tiny house rental on an apple orchard surrounded by a picturesque apple orchard near Bryce and Zion National Park.
Location: Glendale, Utah
Sleeps: 4
Minimum stay: 1 night
Rates from: $189
The Apple Hollow #3 is an impressive modern tiny home offering visitors not only the tranquility of a secluded property in Utah, but also the convenience of close proximity to shops and top attractions. Zion National Park is a quick 25-minute drive away, and Bryce Canyon is only a bit further at 55 minutes.
There's a lovely yard with a fire pit and lawn chairs, and the interior is a clean and attractive space. The primary bedroom has a queen-sized bed and enough space to comfortably walk around. There's also a sleeper sofa in the living that pulls out to a queen bed for two additional guests. The home has a kitchenette with most common appliances, minus a stove.
Check Availability
15. Bay Area Tiny Home
Why you should stay: Gorgeous interior design merged with scenic surroundings at this tiny house rental in Livermore, CA.
Location: Livermore, California
Sleeps: 3
Minimum stay: 1-2 nights
Rates from: $159
Guests love this Bay Area tiny home for its stunning decor and the incredible outdoor space that's quite large by tiny home standards. From the patio, panoramic views of the surrounding hills and vibrant sunsets are all yours. Guests can also enjoy grilling outside and eating dinner on the deck's dining set.
As you step through the door, it's hard to not be immediately taken in by the warm and inviting interior – it's the perfect coupling of rustic and contemporary. The stone fireplace in the living room makes for a lovely place to curl up on the couch while watching a movie with loved ones, or head up to the lofted nook that doubles as a sleeping space with a good book. Though this home feels like it's far out in the rolling hills, it's only a 15-minute drive to the S.F. area's public transportation system, called BART.
Check Availability
16. The Ark
Why you should stay: A tiny home near Zion National Park with a huge outdoor living area and western charm.
Location: Virgin, Utah
Sleeps: 6
Minimum stay: 1-2 nights
Rates from: $338
The Ark is a 365-square-foot home that'll make you forget you're living tiny. Equipped with plenty of sleeping space, no detail or convenience was overlooked at this unique Utah Airbnb. The home's most impressive features are its large bay window with fantastic views, a comfortable loft, onsite laundry, and a large bathroom with a shower and bathtub.
These indoor amenities are just a drop in the bucket compared to what lies outside of the home. Following the house's entire length is a well-furnished patio with an outdoor dining table, plush seating under a wooden sunshade, and a private hot tub for relaxing soaks under the stars.
Check Availability
17. LA Tiny Home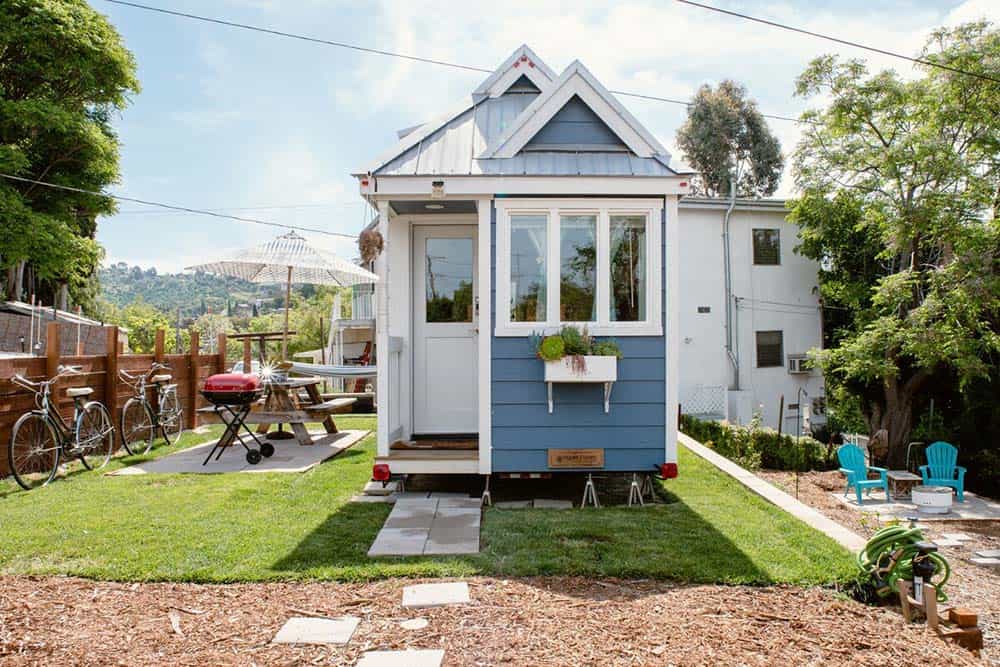 Why you should stay: A quaint home with excellent outdoor amenities in the scenic Mt. Washington neighborhood of L.A.
Location: Los Angeles, California
Sleeps: 2
Minimum stay: long term
Rates from: $63
This L.A. tiny home may be in one of America's most bustling cities, but its lovely location in the historic Mt. Washington neighborhood offers peace without sacrificing proximity to stellar attractions. Within walking distance are popular local eateries and nearby hiking trails, plus it's not too far from public transportation, either.
The yard boasts a cool patio space complete with a picnic table, grill, and a hammock. Inside, you'll find quaint patterns and colors, which can be hard to find in hotels in uber-modern L.A. The lofted bedroom has an actual staircase rather than a difficult ladder, and the kitchen, although tiny, has everything you'd find in a full-size kitchen.
Check Availability
18. TinyCamp
Why you should stay: A luxury unit in a tiny house community with a private deck, hot tub, and canyon views.
Location: Sedona, Arizona
Sleeps: 2
Minimum stay: 2 nights
Rates from: $179
TinyCamp offers guests an opportunity to disconnect and recharge in a luxury home surrounded by the Arizona desert. This wooden tiny house rental features an elevated deck with comfortable seating perfect for enjoying the pleasant weather. It even has a private hot tub for evenings relaxing under the stars.
Throughout the home, wood floors and ceilings are coupled with metallic wallboards and mixed textiles, creating a cool industrial vibe. There's also a full oven, microwave, and mini-fridge, and a queen bed so you can rest of for another day of amazing hiking in Sedona.
Check Availability
19. Corten Steel Tiny Home
Why you should stay: Sleep under the stars in an architecturally unique home near Joshua Tree and an hour from Palm Springs.
Location: Twentynine Palms, California
Sleeps: 6
Minimum stay: 1 night
Rates from: $445
Designed by an architectural graduate from The New School's modern design program, this corten steel tiny home is an off-the-grid desert getaway. Constructed with minimalism in mind, this structure features an open-air primary bedroom where you can sleep under the open sky, looking out at the mountains. This SoCal tiny home may not aesthetically appeal to everyone, but those who do love it will understand the uniqueness of spending a night in a building like this.
The property is also equipped with two hammocks, outdoor seating around a fire pit, and a grill. Its location in Twentynine Palms, home of Joshua Tree National Park, offers convenient access to many local artisan shops and hip eateries. If you're arriving from L.A., the hosts offer rides and 24/7 concierge service for an additional fee.
Check Availability
20. Micro Loft
Why you should stay: A delightful mini-home 10 minutes by bike from downtown Portland.
Location: Portland, Oregon
Sleeps: 4
Minimum stay: 2 nights
Rastes from: $84
The Micro Loft may be mini, but it's certainly big on personality. Unlike many tiny homes, this rental doesn't have columns or supports to hold the loft, resulting in an open ground floor that feels much bigger than it actually is. There's only oone bedroom, but you can fit two additional guests on the couch in the living room. You'll find that this tiny house rental's full kitchen has the essentials, including coffee supplies.
The bathroom is average sized, but comes with toiletries and a rather luxurious rain shower. When you want to hang out outdoors, head to the patio and grill dinner outside. You could even throw down a blanket and picnic next to the home's garden if you're feeling especially in touch with nature.
Check Availability
Explore More Vacation Rentals
Sign up for our free email to join thousands of readers getting epic travel, hiking, and camping ideas every month.
Was this article helpful?
---