The Inner Basin Trail is one of the premier hikes on the San Francisco Peaks.
Traversing one of the most incredible aspen groves on the mountain, it's also the only place in Arizona where you can be surrounded on all sides by high peaks topping out between 11,000 and 12,000 feet above sea level.
The route starts at Lockett Meadow, perhaps the most beautiful of the car-accessible locales on the Peaks. This is a choose-your-own-adventure type of trail, with multiple turn-around points along the way and the option to extend your hike to epic destinations beyond the trail's terminus.
Hikers and mountain bikers alike enjoy the Inner Basin as one of the coolest (figuratively and literally) places in Arizona to enjoy mountain views and jaw-dropping stretches of quaking aspen forests. This is a popular area, so expect weekend crowds in summer and absolute insanity in the fall. Get there early.
Related Read: 12 Best Hikes in Arizona, From Desert to Tundra
Trail Details: Inner Basin Trail
| Details | Inner Basin Trail |
| --- | --- |
| Distance | 8.6 miles |
| Difficulty | Moderate |
| Duration | 4 hours |
| Trail Type | Out and back |
| Starting Elevation | 8,630 feet |
| Elevation Gain | 2,440 feet |
| Seasons | Late spring, summer, fall |
| ADA Accessibility | No |
| Dogs | Allowed on leash |
| Trail Map | Emmitt Barks Cartography |
| Nearest Amenities | Flagstaff, AZ |
| Directions to Trailhead | Google Maps |
| Parking | Free |
| Road Conditions | Coconino National Forest Road Alerts |
| Attractions | Aspen forest, mountain views, peak bagging |
| Activities | Hiking, mountain biking |
Leave No Trace
Please remember to follow Leave No Trace ethics when hiking — as they say, "leave only footprints, take only pictures." Our public lands take a lot of use and abuse from our recreation, and it's the responsibility of all of us to help keep our trails pristine for years to come.
When hiking the Inner Basin Trail, please do not carve on the aspen trees. This type of vandalism is multiplying rapidly in many of the aspen groves, leaving fewer and fewer trees in their natural state.
Also, please do not "cut" the switchbacks on the trail. When hikers take these shortcuts over and over again, vegetation is destroyed over time. This can eventually cause the trail structure to give out, creating erosion problems and making costly work for our already underfunded and overtasked trail crews.
The Hike
The Inner Basin Trail starts out pleasantly enough, climbing at a moderate grade into mixed ponderosa pine and aspen forest. The trail soon joins the edge of the Schultz Fire burn and follows along it for a quarter mile. The blaze was nearly a decade ago, so you can see the new-growth aspen trees already well into regeneration.
After passing the blaze, the trail steadily climbs for another half mile before entering the most spectacular stretch of aspen forest on the San Francisco Peaks. In a few broad switchbacks, the trail climbs for .75 miles under a dense aspen canopy.  Passing through this grove is indeed a profound experience.
Many visitors turn around at the grove, which creates a roughly 3.5-mile roundtrip hike – but there's much more to see if you have the time and motivation.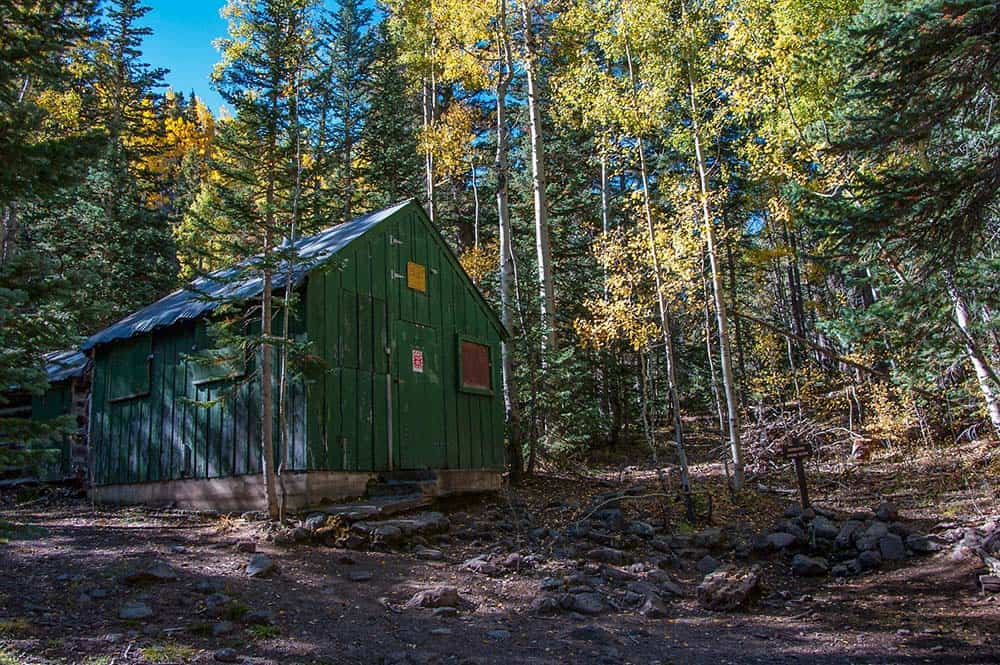 Once out of the epic aspen grove, the trail leads out onto gentler Waterline Road. Turn right onto this wide and well-graded dirt road (it's used by the City of Flagstaff to access the pumphouses you'll eventually encounter.) About a half-mile up the road, the Inner Basin Trail splits off from Waterline Road at a pair of old shacks; watch for trail signage directing you to turn left.
The trail continues uphill as a fairly smooth dirt road, and you'll soon come across the first pumphouse – a well contributing to Flagstaff's municipal water supply. You'll likely hear the whirl of the pump as you pass by.
As you slog uphill for the next mile, the forest slowly starts to open up. Passing a bend to the right, the road enters a grand meadow in the heart of the Inner Basin. Another pumphouse marks the center of the meadow, with a small wooden shelter placed nearby in case you need to ride out a thunderstorm or get out of the wind on a blustery day.
Be sure to enjoy the panoramic view here as this meadow is the only place in Arizona where you're completely surrounded by 11,000- and 12,000-foot-high peaks. I like to call it Arizona's own little slice of Colorado.
These peaks – Humphreys Peak, Agassiz Peak, Fremont Peak, Doyle Peak, Abineau Peak, and Rees Peak –are the six highest points in the state.
This meadow is the second popular turnaround point, making for a 5.5-mile roundtrip hike with around 1,100 feet of elevation gain. Otherwise, the trail continues uphill, on to more fantastic high-country terrain.
Leaving the meadow, the trail re-enters the forest, lazily winding upward for about a mile through some dense stretches of mixed conifers. For the last quarter of a mile, the trail aggressively switchbacks up a steep slope to its terminus at the Weatherford Trail, nearly 11,000 feet above sea level.
This trail junction is a rather nondescript locale, so if you've made it this far, you'll likely want to set your sights on Fremont Saddle as your destination, which is a little less than a mile uphill after turning right onto the Weatherford Trail. Fremont Saddle is often misnamed on maps as Doyle Saddle, so be sure to navigate with the accurate Emmitt Barks Flagstaff Trails map to avoid confusion.
Doyle Saddle another nice destination about a mile down the Weatherford Trail if you turn left at the junction – but I think Fremont Saddle has a better view.
If you're a supremely fit and adventurous hiker, you may also consider making a summit bid on Humphreys Peak, the highest point in Arizona. From the Inner Basin Trailhead to the Humphreys summit, it's a very challenging 15-mile roundtrip hike with over 4,500 feet of elevation gain.
See the backpacking section at the bottom of this page for additional details.
When To Visit
The road may open early or late depending on the lingering spring snow pack and whether it's an early winter, but in general, late May to mid-October is the best time to visit.
June, July, and August are the best times to see wildflowers, while late September to mid-October is the window for the aspens to put on their autumn show.
Monsoon season typically runs late June to mid-September, which can make thunderstorms a threat most afternoons. Always carry rain gear in the summer months, even if you arrive to clear skies in the morning. If using the Inner Basin Trail to access the high peaks or the upper sections of the Weatherford Trail, be sure to get below the treeline by noon to minimize lightning danger.
If hiking early in the season, be aware of the potential for snow on the trails, which creates immense slip and fall danger if you venture onto the Weatherford Trail's "Big Z" switchback.
On summer weekends, the parking lot can fill up before 9 a.m., so plan to arrive before then if at all possible. In fall, this area is so popular that the Forest Service is forced to regulate the number of cars allowed up the final stretch to Lockett Meadow. So be prepared to wait in traffic and deal with a crowd. Even non-morning people will want to start early.
Directions to Inner Basin Trailhead
From the Flagstaff Mall, drive north on Highway 89 for 11.5 miles. Turn left onto FR 552 (dirt road on the opposite side of the highway from the entrance to Sunset Crater Volcano National Monument).
After a half mile, approach a T-intersection and turn right to continue on FR 552 toward Lockett Meadow. After 1.2 miles, turn right at the signed turnoff for Lockett Meadow to continue on FR 552. The road gets rough in places at this point, but a sedan can safely make it with slow, careful driving.
After 2.9 miles, bear right into Lockett Meadow Campground. Don't be alarmed by the sign for day-use fees (that's for day-use within the campground.) Continue to the signed and free-to-use trailhead parking area.
Area Tips and Resources
Backpacking: While camping is not allowed in the Inner Basin, it is legal to camp along the Weatherford Trail at either Fremont Saddle (.8 miles southwest of the Inner Basin-Weatherford trail junction) or Doyle Saddle (one mile east of the Inner Basin-Weatherford trail junction.) Keep in mind there are no water sources near these campsites, so you must pack in all of your water. Also note that the notations for Fremont Saddle and Doyle Saddle were accidentally switched on USGS topo maps decades ago — an error often still reflected on digital maps today. Fremont Saddle is the high pass between Agassiz Peak and Fremont Peak, while Doyle Saddle is located between Fremont Peak and Doyle Peak.
Camping: The most accessible camping is directly adjacent to the trailhead at Locket Meadow Campground. This 17-site campground is first-come, first-served and fills up quickly on weekends. There's plenty of dispersed camping available along FR 522 on the drive in and along the network of dirt roads in the area. Also consider the Bonito Campground, located across the highway near Sunset Crater Volcano National Monument.
Rent a Cabin: There are plenty of cabins rentals in the Flagstaff area to choose from.
Other Nearby Hikes: Check out this guide to the best hikes near Flagstaff.
Explore More of The Grand Canyon State
Sign up for our free email to join thousands of readers getting epic travel, hiking, camping and gear ideas every week.
---