We research, evaluate and select travel destinations based on a number of factors, including our writers' experience, user reviews and more. We may earn a commission when you book or purchase through our links. See our editorial policy to learn more.
---
Why stay at a regular ol' home when you can stay in a dome home?
Compared to the boxy houses full of corners that we're used to, geodesic dome homes may seem like something from the future — or even out of this world. In addition to simply looking cool, they've gotten a lot of praise for being structurally strong, energy-efficient buildings.
While you may not have the chance to live in a dome home yourself yet, there are plenty across the country that you can stay in for a memorable getaway. The great thing is, the diversity in their design, architecture, and location show all the amazing possibilities when it comes to domes.
From a luxurious escape in the middle of the desert to a modern, multilevel space overlooking a lake, these are the coolest dome home rentals in the U.S.
Related Read: 12 Earthship Rentals for a Unique & Sustainable Getaway
1. My Sedona Place
Why you should stay: A comfortable home where you can look out onto the red rocks and have easy access to hiking and biking trails.
Nearest town: Sedona, Arizona
Sleeps: 7
Minimum stay: 2 nights
Rates from: $175/night
As far as dome homes go, My Sedona Place looks closer to a normal, suburban-style house except, of course, for its unusual shape. Inside the bright, airy space, the homey feeling continues with the mismatched furniture and checkered floors. While lying in bed in the master bedroom, you can look out of the skylight to all the stars. From outside, you can enjoy views of Cathedral Rock and Thunder Mountain.
You won't have to worry about any neighbors (except perhaps for some deer and javelinas) since you're in a secluded residential area. For recreation, venture along one of the nearby trails through Carroll Canyon, or to Cathedral Rock and Buddha Beach.
Check Availability
Related Read: 11 Unique Places to Stay in Utah for the Perfect Getaway
2. Dome Sweet Dome
Why you should stay: Right next to a preserve, this funky dome comes along with far-reaching views of the mountains.
Nearest town: Phoenix, Arizona
Sleeps: 2
Minimum stay: 2 nights
Rates from: $110/night
Since Dome Sweet Dome is located on a mountainside property, you'll get incredible views of your surroundings from the large, upper deck. Definitely make sure you catch at least one sunset while out here! Underneath the deck is another seating area and grill for when you're in the mood for a barbecue.
Indoors, pops of bright colors throughout the space make it even more inviting. Outdoors, you're just steps away from hiking and biking trails in the Phoenix Mountain Preserve.
The property also includes another dome and a tower, which you might consider renting out as well if you're traveling in a bigger group.
Check Availability
Related Read: 15 Amazing Airbnb Monthly Rentals Around the U.S.
3. The Geodome
Why you should stay: This tastefully designed, trilevel dome looks like something out of science fiction while offering great lake vistas.
Nearest town: Leander, Texas
Sleeps: 14
Minimum stay: 2 nights
Rates from: $799/night
They say everything is bigger in Texas, and when it comes to dome homes that seems to be the case too. With three levels, the Geodome can fit 14 guests across its five bedrooms and two family spaces. While there are three full baths, the lucky ones in the master suite get access to a luxury soaking tub.
One of the many highlights of this attractive stay is the cozy observation tower loft library, which has 360-degree views of Lake Travis. Another highlight? The wraparound deck, which is yet another place to appreciate the surrounding nature.
Check Availability
Related Read: 11 Daringly Black Houses You Can Rent on Airbnb
4. Dharma Dome
Why you should stay: This modern dome serves as a tranquil place to recharge with the added benefit of being next to a state park preserve.
Nearest town: Kerhonkson, New York
Sleeps: 2
Minimum stay: 2 nights
Rates from: $271/night
The outside of the Dharma Dome doesn't really reflect how bright, airy, and modern the interior is. Since it has a 20-foot ceiling, this stay, which is decorated in lots of soothing muted tones, is filled with plenty of natural light.
If things get a bit crisp outside, you can get cozy inside with the wood-burning fireplace. On the other hand, if it's on the warmer side, you can enjoy the outdoor shower. Whatever the weather might be, the deck is a nice place to relax and take in the views of the pond. There are also plenty of hiking possibilities in the neighboring Minnewaska State Park.
Check Availability
Related Read: 12 Charming Barndominiums for Your Next Rural Getaway
5. Unique Dome Home
Why you should stay: Beautiful accommodations in the Hudson Valley that' are surrounded by trees and come with uncommon amenities like a piano and hot tub.
Nearest town: New Paltz, New York
Sleeps: 6
Minimum stay: 3 nights
Rates from: N/A
This unique dome home looks a little like a UFO that decided to land in the forest. The stay's tall, wood-paneled walls give the interior a cozy touch while the minimalist furnishings make the space feel warm and welcoming.
Some things this dome home has that aren't so common: a baby grand piano (hopefully someone on your trip can play a bit!), hot tub, and outdoor tent with heater. During your stay, you can also meander through the 28 acres of private woods. For more to see and do, visit the nearby Mohonk Preserve.
Check Availability
6. Geodesic Dome in the Woods
Why you should stay: Unplug at this space close to the woods where the experience feels a bit more like camping.
Nearest town: Bethlehem, Connecticut
Sleeps: 2
Minimum stay: 2 nights
Rates from: $49/night
If you truly want to leave your modern life behind, head to this geodesic dome, which has no electricity, heat, or air conditioning. What you do have is a quaint place with access to 65 acres of farmland where you can slow down and reconnect with nature. Wondering about the bathroom? There are some for you to use in the main house nearby.
Speaking of the farmland, you're welcome to tour and even help out at the organic farm if you like, and depending on the season, you may get some fresh organic produce from the hosts as well.
Check Availability
Related Read: Have a Big Adventure at These Small Cabin Rentals in the U.S.
7. Mini Dome
Why you should stay: You're in the vicinity of three different ski resorts at this cozy dome home next to a scenic reservoir.
Nearest town: Huntsville, Utah
Sleeps: 3
Minimum stay: 1 night
Rates from: $145/night
This mini dome is a little bit cute cottage and a little bit cozy cabin. The wood-paneled walls, charming decor, and other unique touches like a little gas stove come together to make this an inviting place to hole up for a while.
Don't try to get too much work done while you're here since the WiFi connection isn't always the best. But who needs laptops when you have three different ski resorts within thirty minutes' driving distance? You can also appreciate your surroundings right from outside your door thanks to the great views of Pineview Reservoir.
Check Availability
8. Hawkeye House
Why you should stay: It's off-the-grid luxury at this thoughtfully designed dome surrounded by high desert.
Nearest town: Yucca Valley, California
Sleeps: 6
Minimum stay: 1 night
Rates from: $350/night
Hawkeye Dome beautifully combines minimalist, modern design with a touch of 60s funk. Since the property is off the grid, power comes from sustainable solar panels and batteries. You're not too far away from civilization though, since it's less than a 10-minute drive to the highway where you'll find restaurants and shops.
Speaking of what's nearby: There are hiking trails aplenty in your immediate surroundings, and you're free to wander the 112-acre property. When you come home, the cedar hot tub is waiting for you.
Check Availability
9. Redwood Dome
Why you should stay: With its special amenities and choice location, this heavenly sanctuary makes for a perfect nature retreat.
Nearest town: Cazadero, California
Sleeps: 2
Minimum stay: 2 nights
Rates from: $341/night
Nestled among the trees, the brightly decorated Redwood Dome is a lovely oasis in the woods. At this property, you'll find two decks (one upper and one lower) from where you can look out onto the redwoods, stargaze, or enjoy an alfresco meal.
During your stay, relax for a while in the hydrotherapy hot tub and enjoy movie night with the 92-inch, HD projector, which can connect to Netflix. If you need to get some work done, there's a little writer's nook for you to use (plus high-speed internet).
Location-wise, the Redwood Dome is close to hiking trails and wineries, and just 15 minutes away from the Sonoma Coast.
Check Availability
10. Palm Springs Dome Home
Why you should stay: Enjoy 360-degree views of the desert and mountains at this home with cool, contemporary touches.
Nearest town: Palm Springs, California
Sleeps: 6
Minimum stay: 1 night
Rates from: $332/night
Situated on a five-acre hill, this dome home offers all-around views of the Coachella Valley, San Jacinto Mountain Range, and Joshua Tree National Park. Since the stay is outfitted with stylish, large windows, you can appreciate your desert surroundings even while lounging about inside.
You may very well feel like staying put at the property given its attractive, mod interior and amenities like Netflix. There's also a large, covered patio dining area. But if you feel like venturing out, you're just a 15-minute drive to downtown Palm Springs and around 40 minutes to Joshua Tree National Park.
Check Availability
11. The Abracadabra Dome
Why you should stay: This stay in the Mojave is a place to let your mind rest and your creativity run wild. Plus, there are additional guest experiences available.
Nearest town: Landers, California
Sleeps: 4
Minimum stay: 2 nights
Rates from: $200/night
Feel the magic of the high desert at the Abracadabra Dome. Each area of this chic, lovingly designed stay feels like a welcome respite.
When it comes to entertainment at the house, you have plenty to choose from between the TV that has access to streaming services like Netflix and HBO, the record player, and the library collection. You can also request one of the additional services offered to guests, including yoga sessions, in-home massages, reiki and sound baths, and a private chef.
If you're in search of more to do, the Abracadabra Dome is just five minutes from Integratron where you can partake in a sound bath.
Check Availability
Related Read: The 15 Coolest Airbnbs with Pools in the United States
12. Suttons Bay Dome Home
Why you should stay: Wineries, beaches, and boutiques are all nearby if you stay at this dome home on a Michigan peninsula.
Nearest town: Suttons Bay, Michigan
Sleeps: 4
Minimum stay: 2 nights
Rates from: $225/night
This dome home is located on an elevated property on the Leelanau Peninsula, meaning you get views out onto the water. If you can manage to wake up early enough, you won't regret catching one of the beautiful sunrises over the bay.
While you're here, enjoy a meal out on your private patio, or look at the stars as you sit around the fire pit. You won't have to go far from the property to find more to explore. The home is just one mile from the TART Bike Trail, there are six different wineries within a four-mile distance, and there are multiple beaches close by.
Check Availability
13. The Overlook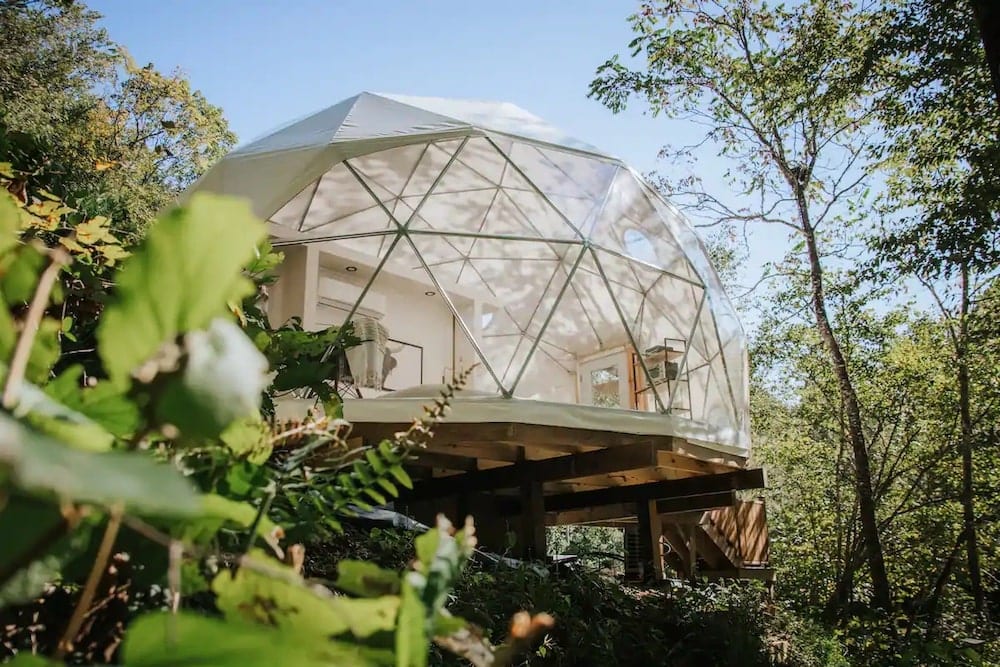 Why you should stay: This attractive dome in the woods is great for a couples retreat.
Nearest town: Hendersonville, North Carolina
Sleeps: 2
Minimum stay: 2 nights
Rates from: $259/night
The star feature of the Overlook is that a whole side of the structure is made of windows, so you can really feel one with nature. Don't worry about your privacy though; the other dome structure on the property is located in such a way that you can still enjoy your separate space.
While here, you have access to an outdoor living area with a firepit. Heads up: There are no pets and no kids allowed at the property, and there's no cable WiFi. That means it's all about quality time with your chosen travel companion. Hello, romantic getaway!
Check Availability
Additional Read: 13 Vacation Rentals with Indoor Pools Across the U.S.
Find Your Next Getaway
Sign up for Weekend Wanderer to join thousands of readers getting epic travel and gear ideas every week.
---