Territory Supply is reader-supported and may earn a commission when you book or purchase using our links. See our editorial process to learn more. Editor's note: traveling is tricky these days, but we're here to inspire future adventures, whenever you're ready for them. If you are traveling, be sure to check local COVID-19 guidelines before making plans.
---
A city that's always ahead of the trends, Palm Springs is a desert oasis in southern California famous for sun, luxury, and natural hot springs.
Also known for its impeccable design and mid-century architecture, Palm Springs is challenging yet effortlessly easy. It's a destination where seemingly all of the Airbnb rentals are stylish, and the long list of options can leave your head spinning with indecision.
However, you can rest easy knowing you're nearly guaranteed to end up with an incredibly unique Palm Springs booking.
Each of our recommended Airbnbs and VRBOs features a swimming pool and fabulous outdoor seating area so you can fully take advantage of the famous desert sunshine. Take your pick from local neighborhoods like El Mirador, Movie Colony East, Vista Norte and more – all super close to downtown.
Here are 12 our favorite unique Palm Springs Airbnb rentals for relaxing desert vacations.
1. Palm Springs Paradise
Why you should stay: Find modern paradise at this luxurious home featuring a swimming pool and putting green.
Sleeps: 6
Minimum stay: 3 nights
Pets allowed: no
This Palm Springs Airbnb rental has so many incredible outdoor amenities that you could happily stay at home your entire trip! Start by upping your golf game on the private putting green before cooling off with a nice dip in the swimming pool just a few feet away.
As the sun sets and the desert gets cool, crank up the jets of the hot tub and light up the BBQ for an evening of good food and relaxation. This home is perfect for a group of up to six looking to unwind in a trendy destination.
Check Availability
2. Casa Resorale
Why you should stay: A pet-friendly, ornate Airbnb that takes inspiration from Spanish-design and rocks a hot tub and swimming pool.
Sleeps: 6
Minimum stay: 3-4 nights
Pets allowed: yes
Casa Resorale diverts from the classic Palm Springs mid-century modern vibes and delivers an eclectic mix of warm exposed wooden beams, hardwood floors, and Spanish accents throughout the home.
There are three bedrooms, three baths, and a cozy living room with a gas fireplace to host six guests comfortably.
Located in the Movie Colony East neighborhood, you'll be just under a mile from the heart of the action. And when you're not out exploring the local sights, sit back under the covered patio or tan poolside.
Check Availability
3. Pink Amigo
Why you should stay: A vibrant and trendy home featured in a local design magazine, located close to downtown.
Sleeps: 4
Minimum stay: 2-5 nights
Pets allowed: yes
The Pink Amigo is the very definition of chic and stylish. Black flooring and white ceilings act as a backdrop in which pops of pink, Art Deco decor, and patterned wallpaper draw in your gaze.
Perfect for a group of four, the backyard is well equipped for fun in the sun and a dip in the pool. Downtown is less than a mile away from the property, so you can happily walk to nearby convenience stores, cafes, restaurants, and even the local casino.
Check Availability
4. Azure Oasis
Why you should stay: Resort-style home with private heated pool, waterfall hot tub, and a fire pit lounge.
Sleeps: 6
Minimum stay: 3-7 nights
Pets allowed: no
Find five-star amenities and comfort at Azure Oasis, a Palm Springs Airbnb rental near the world-famous Palm Canyon Drive in Vista Norte. All three bedrooms are equipped with plush hotel-style mattresses and flatscreen Smart TVs for a comfortable night's rest.
The deluxe Master Suite and bathroom both have easy access to the outdoor heated pool and waterfall spa. You'll also find a fire pit lounge, BBQ grill, and both covered and open patio seating for outdoor fun.
Check Availability
5. Meiselman Mid-Century Modern
Why you should stay: Live like a movie star in this stunning mid-century home designed and built by the area's prominent developer Jack Meiselman.
Sleeps: 6
Minimum stay: 3 nights
Pets allowed: no
This Meiselman mid-century modern home will immediately make you feel like you've just arrived at a movie set. The home's most unique and prominent feature is the sliding glass wall, opening up the living room to the sunshine outside.
After you've had your fill of swimming and soaking in the pool and hot tub, rinse off in the outdoor shower and head inside to chill amongst bright and airy decor. This three-bedroom sleeps up to six lucky guests.
Check Availability
6. The Cascades Retreat
Why you should stay: A unique home with luxury amenities and ties to famous architects.
Sleeps: 6
Minimum stay: 2-4 nights
Pets allowed: no
The Cascades Retreat is a 1959 Donald Wexler design that's been recently updated and redesigned by Christopher Kennedy – two of Palm Spring's most notable names when it comes to mid-century modern design.
You're immediately greeted with a glimpse of the property's artful design as you walk through the entryway enclosed by walls of glass and a cascading water fountain.
The retreat has 2,900 square feet of living space spread amongst the bright sunroom, large living room, and brand new kitchen that opens into the dining room. And we can't forget to mention the fabulous outdoor pool, hot tub, and fire pit combo behind the home, a standard in many Palm Springs homes.
Check Availability
7. The Haute House
Why you should stay: Exquisitely designed mid-century Alexander home with sweeping mountain views from the swimming pool.
Sleeps: 6
Minimum stay: 3-7 nights
Pets allowed: yes
The Haute House is a stunning home that flaunts a unique and eye-catching asymmetrical butterfly roof – a design aesthetic highly coveted in this region. In the entryway, dramatic pieces of art capture your attention and bring the space to life.
As you make your way to the gourmet kitchen and dining room, an expansive panel of floor to ceiling windows let in the epic mountain views and make the space feel even bigger than it already is. Each of the three bedrooms has its own bathroom for ultimate privacy for all guests.
Check Availability
8. El Mirador Compound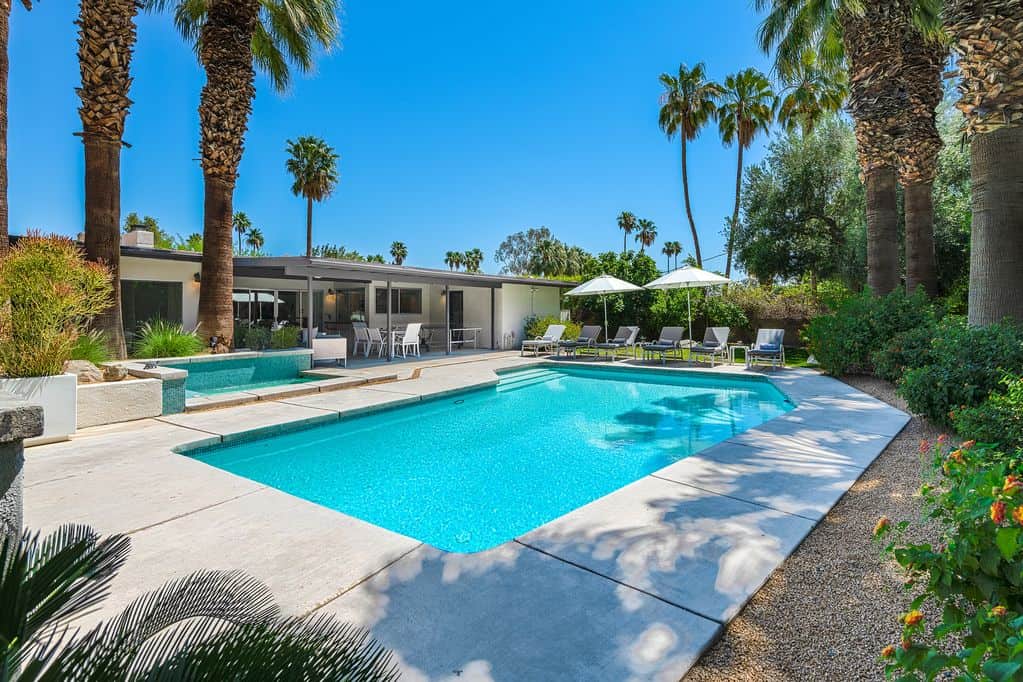 Why you should stay: Relax on a third of an acre of palms in El Mirador and enjoy the saltwater pool and desert mountain views.
Sleeps: 8
Minimum stay: 3 nights
Pets allowed: no
Named for the neighborhood in which it lies, El Mirador compound puts you up close and personal with the vibrant nightlife and shopping scene of downtown Palm Springs. The international airport is also just minutes away by car, making your travel all the easier.
There are four bedrooms for eight guests, and the interior is spotlessly clean, and accented with cool art and modern furniture. Prepare exquisite meals in the gourmet kitchen recently updated with stainless appliances, a Viking gas range, and a wine chiller for my fellow winos.
Check Availability
9. Rockette Ranch
Why you should stay: A recently renovated home with a fantastic outdoor living space and a swimming pool for days in the sun. 
Sleeps: 4
Minimum stay: 5 nights
Pets allowed: no
Located in El Mirador, the Rockette Ranch is a delightful home away from home two-bedroom VRBO rental. The tall windows and vaulted ceiling allow natural light to pour inside the house, fostering a cheerful atmosphere.
In the backyard, sit and relax poolside on the open or covered patio spaces and cook some grub on the BBQ. From the heated pool and hot tub, view impressive mountain peaks standing tall in the distance.
Check Availability
10. Mid-Century Condo
Why you should stay: Brand new, one-bedroom condo perfect for a romantic getaway for two to Palm Springs.
Sleeps: 2
Minimum stay: 2-4 nights
Pets allowed: yes
Enjoy a romantic getaway for two in this mid-century condo situated in Sun Rise Park. The apartment is part of a 9-unit complex that includes an outdoor swimming pool and seating area for residents and guests.
The living room has a full wall of windows showcasing the often sunny Palm Springs weather, as well as the magnificent mountain views. We love this stay as an affordable option for a traveling duo.
Check Availability
11. Casa El Mirador
Why you should stay: A modern ranch-style home within walking distance of downtown Palm Springs.
Sleeps: 6
Minimum stay: 3-6 nights
Pets allowed: yes
Casa El Mirador is a modern ranch home just a few blocks away from Ruth Hardy Park, in the Movie Colony East Neighborhood. It's been recently renovated and newly furnished so you can rest assured everything is clean and in excellent condition.
Chill by the resort-style pool and hot tub, or head downtown to enjoy the best local golf courses, casinos, shopping, and eateries. This three-bedroom, two-bath is also pet-friendly, so everyone in the family can enjoy a quiet and comfortable Palm Springs escape.
Check Availability
Plan Your Trip to Palm Springs, California
There's truly something for everyone to do in Palm Springs. Whether you're a nature buff itching to visit some of the region's coolest desert hikes, or you're ready to get pampered at the city's highest-rated spas, we've got you covered.
Here are some of the best things to do in Palm Springs to kickstart your travel planning.
Explore More of California
Sign up for our free email to join thousands of readers getting epic travel, hiking, camping and gear ideas every week.
---