Venture to the U.S.'s subarctic region to witness the fleeting beauty of Alaska's magnificent glaciers.
Alaska is home to approximately 100,000 glaciers, some of which can only be seen by water or air. In fact, going on a glacier cruise or taking to the skies on an aircraft tour is undoubtedly one of the most exciting experiences to have in Alaska.
But there's something extra special about hiking through the Alaskan wilderness and being rewarded with icy views. Conveniently, there are a handful of exhilarating hikes scattered around The Last Frontier, where you can marvel at the glacial ice from lookouts or up close.
Before embarking on a glacier hike in Alaska, it's necessary to prepare with essential safety tips. Hikers should take precautions for bears and local wildlife, avalanche warnings, and the buzzing presence of the Alaskan state bird (mosquitos). Don't forget your bug spray! Additionally, glaciers and ice caves can be dangerous due to unpredictable ice falls and shifting.
Unfortunately, the world's glaciers are melting at an alarming rate, so if seeing them is a top priority, you should do so sooner than later. This list shares some of the most beautiful glacier hikes in Alaska, so you can admire these icy wonders before they're gone.
1. Exit Glacier via Glacier Overlook Trail
Why you should go: A massive glacier that showcases the ice's retreating history.
Nearest town: Seward
Difficulty: Easy to moderate
Distance: 2 miles
Elevation gain: 308 feet
Exit Glacier is a famous landmark in Alaska, thanks to its easily accessible location in Kenai Fjords National Park. It's one of four glaciers apart of the impressive Harding Icefield, a vast sheet of ice in the Kenai Mountains.
While visitors could once walk up to the edge of Exit Glacier, the ice has reportedly receded more than 2,000 feet in just two decades. In recognition of its decreasing size, markers along the trail denote how much the glacier has melted over the years.
One of the best ways to see Exit Glacier is via the Glacier Overlook Trail. This reasonably easy hike takes you through cottonwood trees to an open vista, where you can see the ice from afar.
The trail is relatively flat other than a small climb on the way to the Exit Glacier Overlook. In the same area, other routes show off the glacier's beauty. For something short and sweet, consider the Glacier View Loop Trail or the Harding Icefield Trail for a longer, more challenging adventure.
Related read: 8 of the Most Beautiful National Parks in the U.S.
2. Portage Glacier via Portage Pass Trail
Why you should go: A sheet of ice spilling into Portage Lake in the Chugach National Forest.
Nearest town: Whittier
Difficulty: Moderate
Distance: 4.5 miles
Elevation gain: 1,433 feet
The Portage Pass Trail is a heart-pumping route that'll have you hiking uphill both ways. At the start of the trail, an initial climb of 750 feet tests your endurance before slowly meandering down towards Portage Lake.
At the lake's edge, you're treated to views of Portage Glacier nestled between mountains. In the summer, the vibrant magenta blooms of Alaskan fireweed stand in beautiful contrast to the glacier's icy blue.
To reach the trailhead, you must pass through the one-way Whittier Tunnel, which requires a $13 toll per car and changes traffic direction on a timed schedule. After you've hiked Portage Pass, take a drive through Whittier to see Prince William Sound and enjoy the area's small-town charm.
Whittier is a unique city in Alaska where most residents live in the same building and is about an hour and 15 minutes by car from Anchorage.
Related Read: 10 Best Hikes Near Anchorage, Alaska for an Epic Day in Nature
3. Byron Glacier via Byron Glacier Trail
Why you should go: An out-and-back glacier hike featuring a seasonal ice cave only an hour from Anchorage.
Nearest town: Girdwood
Difficulty: Easy
Distance: 2 miles
Elevation gain: 200 feet
Byron Glacier Trail is a unique hike where visitors can reach out and touch the crystal ice. The beginning of this relatively flat trail leads from the parking lot to the glacier through lush vegetation.
Along the way, the sights and sounds of a babbling creek fill the air. Once you reach the ice, you can scramble over rocks to get to the back portion of the glacier if desired. This hike only takes about 60-90 minutes to complete.
The glacier is particularly famous in the winter as a spectacular ice cave usually forms. After your hike, pop into nearby Girdwood Brewing for a craft brew. Or, if you have the energy to burn, the trailhead to see Portage Glacier is only a 20-minute drive away, allowing you to cross two glaciers off your list in one day.
Related read: 11 Best Resorts in Alaska for Unbeatable Outdoor Adventures
4. Matanuska Glacier via guided tour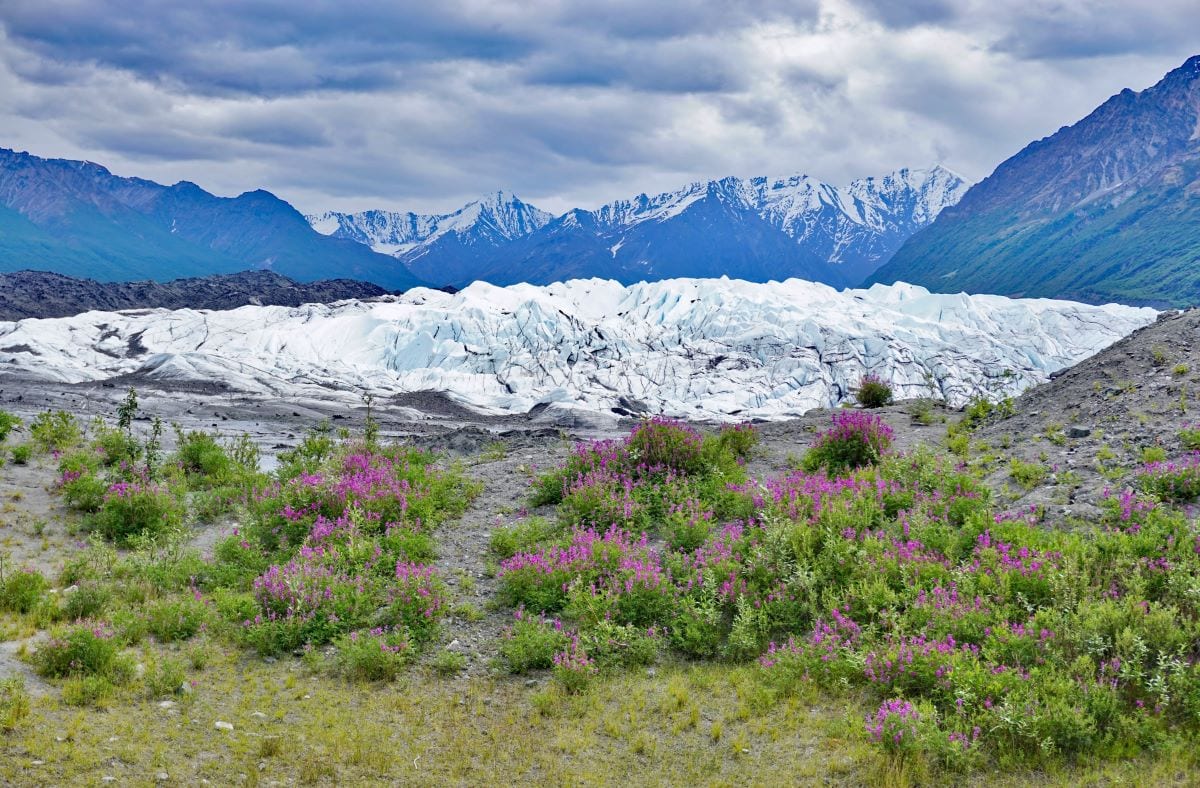 Why you should go: A private hiking experience that's accessible only by guided tour where you can see glacial ice up close.
Nearest town: Sutton
Difficulty: Easy
Distance: 1.6 miles
Elevation gain: 141 feet
Tucked away about two hours north of Anchorage lies the Matanuska Glacier. This beautiful sheet of ice is the largest glacier in the United States that can be reached by car. To hike to Matanuska Glacier, you must be part of a guided glacier tour that runs four times daily. The tour includes all necessary equipment, such as poles and crampons.
On the guided hike, you'll be led to the terminus of the glacier, where you'll be wowed by dramatic ice features that tower above you. When conditions are right, hikers can even walk on top of the glacier and drink the glacial water. Surrounding this valley glacier are the stunning peaks of the Talkeetna and Chugach Mountains.
5. Raven Glacier via Crow Pass Trail
Why you should go: A challenging glacial hike along one of Alaska's famous trails through the Chugach Mountains.
Nearest town: Girdwood
Difficulty: Hard
Distance: 8 miles
Elevation gain: 2,000 feet
The Crow Pass Trail is a famous 23-mile-long hike that stretches from Girdwood to Eagle River Valley, where you can catch sight of Raven Glacier.
However, you don't need to hike the entire trail to see the ice. Instead, hikers can marvel at the beauty of Raven Glacier about 4 miles into the Crow Pass hike from the Girdwood side. The glacier descends through the surrounding mountains, nearly reaching the trail.
The Crow Pass Trail is a strenuous hike because of its steep elevation gain, even during the beginning portion of the trail. Along the way, you'll see the lone A-Frame Cross Pass Cabin framed beautifully by the surrounding mountains and Crystal Lake. Keep your eyes peeled for grazing mountain goats and abandoned mining equipment.
Related read: The Best Time To Visit Alaska: A Year-Round Planning Guide
6. Mendenhall Glacier via West Glacier Trail
Why you should go: An out-and-back trail that leads to an incredible glacier overlook.
Nearest town: Juneau
Difficulty: Moderate
Distance:7 miles
Elevation gain: 567 feet
The West Glacier Trail is a wonderful way to enjoy the scenic beauty of the Alaskan panhandle. This trail goes through the Tongass National Forest and leads to an overlook where you can see the Mendenhall Glacier at a distance. But be careful to stay on the trail.
As tempting as it may be to bushwack closer to the glacier, hikers who do so can destroy fragile vegetation. Not to mention, the Forest Service must dispatch several rescue efforts every year for hikers who get lost or injured after straying from the path.
There are many other ways to experience the glacier's beauty, including easier and much shorter trails that depart from the nearby Mendenhall Glacier Visitor Center. Mendenhall Glacier is easy to reach for those visiting Juneau and is conveniently a 15-minute drive from the city center.
7. Castner Glacier via Castner Glacier Trail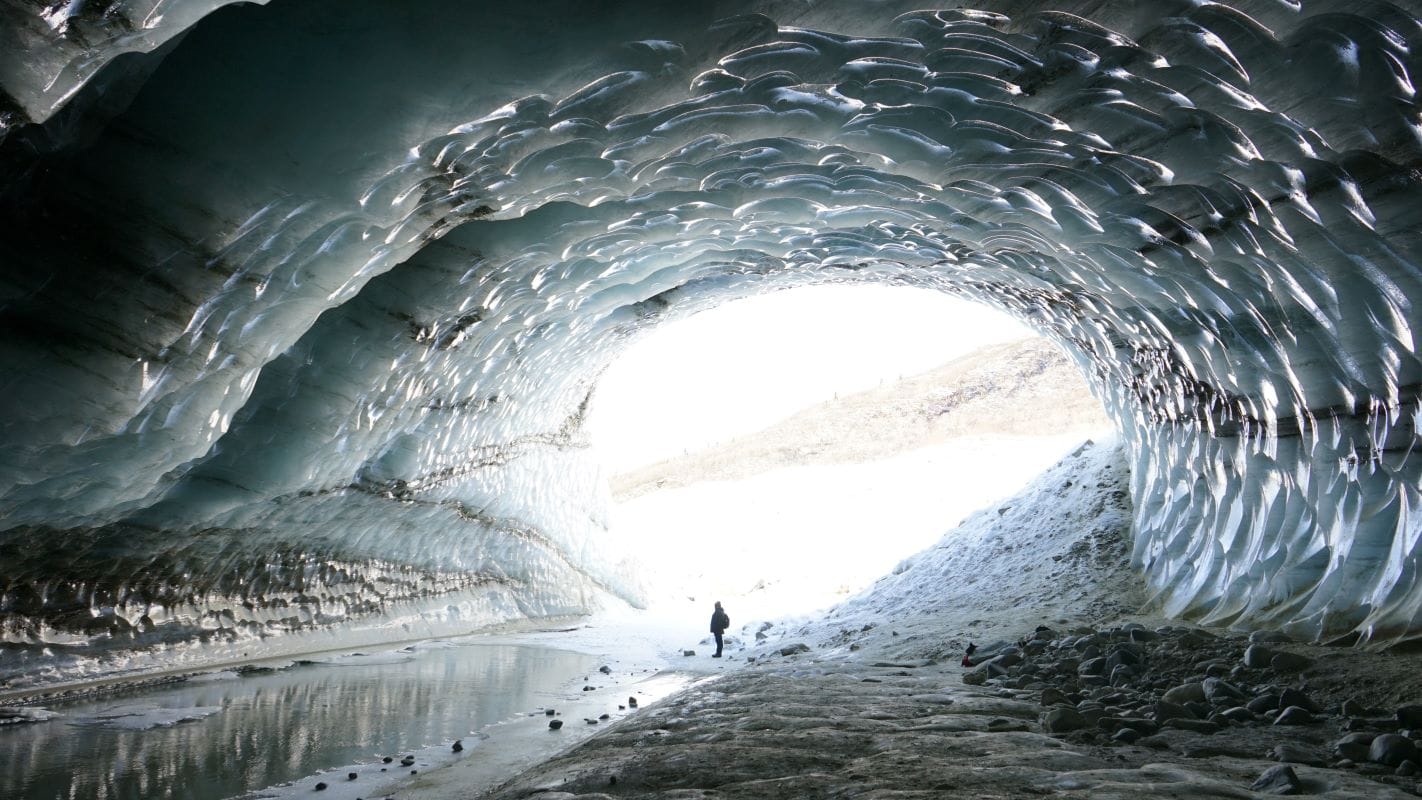 Why you should go: A backcountry trail along a creek that leads to an ice cave.
Nearest town: Fort Greely
Difficulty: Moderate
Distance:2.6 miles
Elevation gain: 426 feet
Although situated in one of the coldest parts of Alaska, Castner Glacier is a natural landmark worth seeing. Best reached via the unmaintained and unmarked Castner Glacier Trail, this moderate hike is best for those with a bit of hiking experience and good physical fitness.
To reach the glacier terminus, you must follow Castner Creek to an ascent through a canyon. From here, you'll begin to catch sight of the ice. Castner Glacier is particularly popular thanks to its striking ice cave.
However, rainy weather can cause the creek to flow too high, making the hike impassable. All around the glacier, enjoy snow-peaked mountain views on the horizon.
Related read: 7 Phenomenal National Parks in the Pacific Northwest
8. Herbert Glacier via Herbert Glacier Trail
Why you should go: A forested trail that's well-maintained with glacier views from across a floodplain.
Nearest town: Juneau
Difficulty: Easy
Distance: 9.1 miles
Elevation gain: 401 feet
Herbert Glacier Trail is an out-and-back hike that's long but easy. The trail goes through the Tongass National Forest, where mature hemlock and spruce trees scent the air.
Along the way, the forest opens to an incredible view of the glacier below. When the surrounding water level is low, there are some areas where it's possible to scramble closer to the ice.
This hike is excellent for all seasons and is particularly popular for biking and snowshoeing. Summer brings juicy Alaskan blueberries that hikers can nibble on their way to the glacier viewpoint. The trailhead isn't well marked from the road but is located near mile marker 28 on Glacier Highway, about 35 minutes from Juneau.
Find Your Next Alaskan Adventure
Get epic travel ideas delivered to your inbox with Weekend Wanderer, our newsletter inspiring thousands of readers every week.
---