Renowned for coffee shops on every corner, a 1962 World's Fair architectural wonder, flying fish, and lush, urban greenery, Seattle has a lot to offer — and it doesn't have to break your budget.
Visitors will love that Seattle has a wealth of outdoorsy activities, offering beautiful scenery and great exercise, all while being completely free. Thanks to the city's progressive policies, it also has tons of cultural and experiential offerings free of cost as well.
If you're planning a trip to the Emerald City (and don't want to go broke doing it), check out these 9 activities that will have you exploring the city without costing a dime!
1. Rent a Boat on Lake Union
View this post on Instagram
The Center for Wooden Boats on the shores of Lake Union offers a Public Peapod Program, which lets visitors embark in a rowboat for one hour — totally for free. This is a wonderful way to get on the water and see the wide range of floating vessels that make up life in the city, from seaplanes to houseboats. You might even see a hot tub boat!
Available from Wednesday to Sunday from 11 am to 7 pm with a reservation. On Saturdays from 10 am to 2 pm, the center offers Kid's Toy Boat Building, a free activity with a $5 suggested donation.
2. Shop Without Shopping
It may sound strange to claim a free experience in a retail store, but a few Seattle stores offer an Only in Seattle experience that doesn't require you to open your wallet (even though you may want to.)
Ye Olde Curiosity Shop is a true Seattle original. The curio and souvenir shop opened in 1899, long before the Space Needle, Washington ferries, or grunge music existed. Take an hour to explore this free museum of kitsch, filled with natural oddities, mummies, taxidermy treasures, and manmade wonders.
Archie McPhee is another must-visit shop, known for its fun novelty items. Think miniature hand "handerpants," Bigfoot scarves, cult figure bobbleheads, and unicorn face masks. If it's not funny, weird, offbeat, or wacky, you won't find it here, and that's a wonderful thing.
3. Have a Bonfire
The beachfront park of Golden Gardens is not only one of the best places in Seattle to catch a sunset, but it is also one of the few places in the city that allows open fires. Stake out a designated fire pit, throw on a blanket, lay out your picnic, and enjoy the views of Puget Sound and Olympic Mountain.
If visiting during the day, this is still a great spot to snap some excellent Insta-worthy pictures of the skyline and mountains.
4. Walk Through a Park
Moisture (some might say excessive) has blessed the Emerald City with an abundance of urban greenery, many of which offer fun and unique experiences. The most well-known is Kerry Park, with unbeatable views of the city skyline, including the Space Needle.
Gas Works Park is another favorite destination, built upon the rusty remnants of a coal gasification plant. Climb up its biggest hill to get a stellar view of the Duck Dodge, a sailboat race that happens every Tuesday night from May to September.
Wander among Seattle's classic trees – western red cedars, Douglas firs, and western hemlocks – at Discovery Park, Seattle's largest urban park. Its 534 acres are perched on a rugged coastal bluff with views of Puget Sound. It's perfect for a hike, bike, or stroll.
In the spring, Washington Park Arboretum's Azalea Way bursts into pink and orange hues when the azaleas and rhododendrons bloom. The park features several gardens, over 5,500 species of plants, a wetlands nature trail, and 200 acres of forested canopy laced with paths.
5. Peruse the Pike Place Market
Yes, it can get crowded, and yes, it is touristy, but the popularity of this Seattle gem is justified. Located just off Puget Sound in Downtown Seattle, the Pike Place Market is one of the oldest surviving farmer's markets in the country and arguably the soul of the city.
The market district is a sprawling 11 acres across several city blocks, going several stories deep in some spots, housing a wide variety of vendors. Watch donuts being made at the Daily Dozen Doughnut Company, salmon being thrown at Pike Place Fish, cheese being stirred and curdled at Beecher's Handmade Cheese, and buskers playing music. While looking is free, it might be hard not to open your wallet here.
6. Marvel at Modern Architecture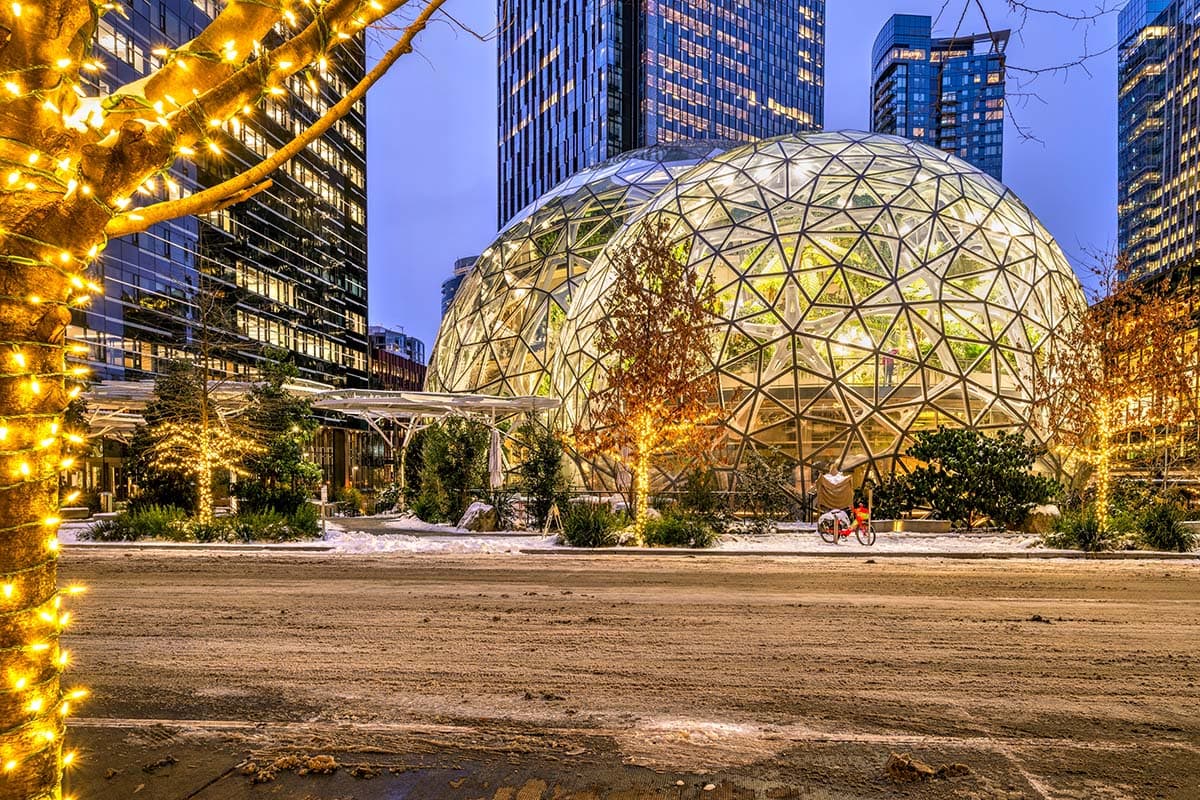 From Queen Anne-style homes to visionary skyscrapers, Seattle contains a catalog's worth of architectural styles. On the modern side, two places worth touring include Seattle's Central Library in Downtown and the Amazon Spheres in South Lake Union.
The library is an 11-story glass-clad ode to the future and is free to wander. Check out the floating platforms, innovative "Books Spiral" and the blood-red interior of the Red Hall. The Amazon Spheres opened in 2018 and features two orbs protecting an internal atrium (called the "Understory") where a small exhibit explains its sci-fi-inspired architecture. Tours are available online on some weekends.
7. Get a Dose of Art
There's no need to pay for art in Seattle thanks to all the cool public works on view. Start with a walk through the Seattle Art Museum's Olympic Sculpture Park featuring works from Richard Serra, Alexander Calder, and Louise Bourgeois (paired with stellar views across Puget Sound to the Olympic Mountains.) Be sure to check out Mark Dion's Neukom Vivarium (a living nurse log) for an educational look at Northwest forests.
The Frey Art Museum is Seattle's only free art museum. You'll find late-nineteenth and early-twentieth-century European art expanded to include a wide-ranging collection of contemporary pieces. Free tours are available on the second Saturday and second Sunday of each month at 1 pm.
The Fremont neighborhood is an open art gallery with over 50 pieces of art scattered throughout its streets. Some of its most famous works include the Fremont Troll and Lenin sculptures.
8. Take a Free Seattle Walking Tour
View this post on Instagram
Learn about the Emerald City on a two-hour pay-what-you-feel walking tour. Hosted since 2012, you can choose from the Seattle 101 walk, which takes you through Pioneer Square, the waterfront, and downtown, or the Market Experience, which explores the Pike Place Market.
Space is limited and reservations are required, but this is hands down the best way to get insider knowledge of the city…without paying a dime!
9. Stroll Through Some Famous Graveyards
Seattle has several historic cemeteries that happen to also be lovely spots to enjoy the natural beauty of the city. A fun way to tour them is through the gravesites of Seattle's forefathers and famous residents. Y
ou can leave a picture at Jimi Hendrix's headstone and honor the martial art mastery of Bruce and Brandon Lee. Even John W. Nordstrom, of department store fame, is remembered with a family headstone.
Explore More
Get epic travel ideas delivered to your inbox with Weekend Wanderer, our newsletter inspiring thousands of readers every week.
---