Forget bland wood paneling: today's RV remodels and makeovers are bringing stylish, modern interior design to the open road.
When travel trailers became an icon of American leisure some 90 years ago, road-trippers embraced them with a hearty DIY spirit.
Magazines like Popular Mechanics offered homemade plans and tutorials to build your own trailer, and with more Americans having garages full of work space and tools, it was easier than ever to customize the perfect camper.
Some things don't go out of fashion, including the fact that you don't need to settle for ugly, outdated or kitschy RV decor that doesn't suit your style.
Today's RV owners have more resources at their fingertips than Popular Mechanics could ever offer back in the day, and Instagram is a great place to find modern and often easy-to-implement RV remodel ideas.
Here's a look at 20 of our favorite RV renovation Instagram accounts from folks around the country who've remodeled everything from small vintage trailers to large fifth-wheel trailers that redefine what campers have to look – and live – like.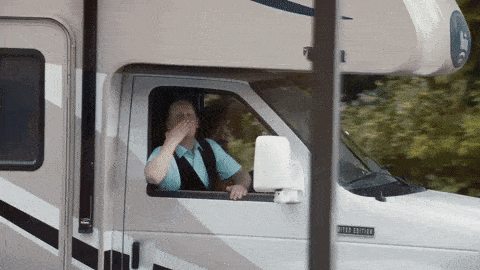 1. @TheRvPTs
Courtney and Drew McGee are traveling physical therapists who began full-time RV living in November 2018 after several months of intense and impressive RV remodeling.
Today, they travel the country with their two animals Dempsey and Dany, and their Instagram feed is a refreshing mix of before-and-after RV shots, travel scenes and of course, animals. They've recently moved into a new trailer, but there's still a ton of updates, projects and ideas you'll find throughout their IG.
For more details on their journey, you can read Courtney's story on becoming a travel PT.
2. @shelbyadrift
Shelby and her husband Adam began RV life as a way to be together more often. Adam's military work required them to move often, and living in an RV allowed Shelby to have a mobile home that moved with her husband as needed.
Her Instagram account features beautiful interior shots of her fifth wheel, picturesque travel scenes and more. Her boho-chic RV remodel has been featured on sites like Mountain Modern Life.
3. LeeAnn Mathus
LeeAnn Mathus lives with her boyfriend and three dogs in a 188-foot renovated fifth wheel in Oregon.
Her Instagram account includes a peek into her trailer, what she describes as boho "glam with botanical elements." It's one of the best renovations we've seen on IG, and the fact that she does it with three dogs in tow is all the more impressive.
4. Karlee + Weston
5. Katie Musicco
"Life is short," says Katie Musicco. "I believe in making it count, keeping it real and hugging as many dogs as possible."
Making it count likely includes perfecting the art of the RV lifestyle, which is just one of Katie's many talents. Aside from beautiful #rvreno shots, you'll get a little health, wellness and fitness content on her Instagram account as well.
6. @ems_traveldiary
Emily is a travel nurse who isn't tied down to her renovated boho trailer: in addition to camp life shots, she posts travel content from around the world.
It would be easy to mistake Emily's renovated trailer for a chic urban condo, but she manages to pack all of it in a cozy and comfortable tiny living space that's easy to move with her lifestyle.
7. RVFixerupper
Interior designers Steve & Trina Sholin of Phoenix showcase their best work on this Instagram account, which offers some of the most stunning before and after takes on social media.
After browsing through their feed, you'll be convinced that RV renovations come easy (not the case), but that's just a testament to how well their designs come together at the end of the project.
8. Mountain Modern Life
Katie and Eric of Mountain Modern Life help folks "create the environment" they want to live in, and if you can't find design and decor inspiration here, we can't help ya.
Along with their own RV remodeling journey, they feature and interview others going through the same process, so there's a ton of variety in their Instagram photos and links.
9. Pleading the Fifth Wheel
Not only do Dylan and Renee (and Griffin) possibly have the best named RV renovation Instagram, they also offer inspiration and design ideas to match.
Along with their remodeled 350-foot fifth wheel, they've also worked on renovating an R-Pod; between both campers, there's no shortage of inspiring decor brainstorming to be had here.
10. Good on Wheels
Tiffany and Caleb are a lot of things, including full-time RVers and the founders of @vowofgiving, where they're building a platform to help couples and wedding vendors raise money for charities.
Their own wedding raised more than $200,000 for five different charities, so as much as we dig their RV lifestyle content, they're doing more than just looking good – they're making a positive dent in the world.
11. The Roamin 30's
Heather at The Roamin 30's offers a healthy mix of RV projects and personal inspiration, and we're not mad about it.
Her wood-heavy RV remodel features clean white paint, a stellar use of plants and a cute dog named Pax, who has about 5 times the number of followers I have. You'll be even more impressed to learn this RV reno was the first time Heather picked up a power tool in earnest.
12. @simplecatlady
Bethany is the cat lady behind Simple Cat Lady, and since 2016 she's downsized her home several times, from a 2,000-square-foot lake house to a 37-foot travel trailer.
Her Instagram account and blog are about living simply, enjoying what you have (including cats), spending efficiently and finding ways to make your RV all your own.
13. Modern RV Interiors
Aside from Elise Sanchez's inspirational RV reno posts on Instagram, her email newsletter offers helpful tips and advice on remodeling your own trailers.
Her trailer designs and decor embody light, bright tones and tasteful splashes of color that bring out the spaces – not the limitations – of the RVs she works on.
14. @fifth_wheel_living
Kir's tiny house living takes place in a renovated fifth wheel, and here's why. Their space is thoughtfully designed and often changes depending on the family's priorities.
If her account does anything for us, it shows exactly how much you can do with a trailer's slideouts. Don't settle for the factory-standard couch: make it different and make it home.
15. The Flipping Nomad
Cortni walks the talk: she's been a full-time RVer for more than 5 years, and documents the journey on her main Instagram, and her blog.
She specializes in creating and implementing RV remodels and designs "by full timers for full timers," which is another way of saying she knows what she's doing. Her social media offers plenty of renovation ideas, and RVers looking to have the job done for them can check out her custom RV design services.
16. The Happy Hideout
Justin and Chelsie Maury are a military couple with four kids, and their family-friendly RV remodel named Harry is the focus of their Instagram account.
They made the decision to live in an RV full-time in just a matter of weeks, but you can tell from their feed the move's worked well for them. They prove that even with kids, a complete RV remodel is practical and enjoyable.
17. Twinning in our Fifth Wheel
April and her family of 5 make the most of their fifth wheel based in Sacramento, and her before and after pics show just how far they've all come.
According to April, the best part of RV life and remodeling is the freedom that comes with owning less and experiencing more. The worst part? Weak water pressure, of course.
18. Renovating Rutters
Lee and Candace Rutter are expert RV flippers who homeschool two of their three children. Between kids, RV remodels and life, their Instagram feed offers brilliant ideas, design themes and more.
Check out their stories for behind-the-scenes info on their favorite tools of the RV flipping game and other useful advice.
19. Wilson Grand Adventures
20. Lisa Rice
Lisa Rice, as they say online, has "niched down" in the RV remodel world, focusing only on tent trailers (pop ups). She fell in love with their compact layouts and now remodels and flips them in Oregon.
Her feed and blog prove that you don't need much space to make an impact with a remodel, and Lisa loves the challenge of making big changes in little spaces.
Life on the Road
For more open road inspiration, check out our favorite small travel trailers, DIY teardrop camper kits or hit the open road with our favorite road trips from Phoenix. You can also find great camping gear and ideas for wherever you set up shop.
---