You don't need to wait for Valentine's Day or an anniversary for an excuse to plan a romantic getaway.
Any time of year is a good time to appreciate that special someone in your life, and what better way to celebrate your love than with a romantic getaway? All you need is a cozy spot designed with comfort in mind, beautiful surroundings, and some quality alone time. And a bottle of wine never hurts.
The great thing is that beauty and comfort come in many forms when it comes to architecture and landscapes, so you can plan a romantic getaway anywhere from the desert to the arctic. The definition of romantic depends on what it is you and your travel partner love the most, whether it's stunning mountains, lush forests, or wide-open desert.
If you're dreaming up the perfect place to celebrate an anniversary, rekindle a relationship, or simply surprise your partner, here are some of the best romantic getaways on Airbnb from across the country.
Related Read: 15 Amazing Airbnb Monthly Rentals Around the U.S.
1. Whisper Rock Ranch
Why you should stay: This ultra-lux private oasis is a chic, off-grid stay in the desert.
Nearest town: Pioneertown, CA
Sleeps: 4
Minimum stay: 1 night
Rates from: $1,200/night
With its magical, otherworldly landscape, Joshua Tree makes for a stunning romantic destination. And Whisper Rock Ranch, next door to the national park, offers the perfect home base for romantics.
You'll enjoy solitude at this romantic Airbnb getaway as you're the only home on the property, surrounded by 20 acres of beautiful desert off-the-grid. Guests can spend time soaking up 360-degree views of the landscape from the wraparound deck or even from bed, thanks to the massive wall-to-wall windows. If you really want to dial up the romance, take a dip in the heated jacuzzi, enjoy the sauna, or grab the telescope to do some stargazing.
This stay isn't cheap, but if you can afford it, it's one luxurious stay you and your partner won't soon forget.
Check Availability
Follow 'em: @whisper_rock_ranch
2. The Cozy Lookout Tower
Why you should stay: Enjoy nearly unlimited outdoor recreation steps away from this unique three-story stay.
Nearest town: Terrebonne, OR
Sleeps: 4
Minimum stay: 2 nights
Rates from: $299/night
Designed to model a forest service fire lookout tower, the Cozy Lookout Tower is a tranquil retreat where you and that special someone can have all of the property's five acres to yourself.
You'd expect some pretty nice views if you're going to stay in a tower, and you won't be disappointed here. From the living area and kitchen space, you'll get views in every direction of the Cascade Mountains. Needless to say, the sunrises and sunsets from here are gorgeous.
While it's very tempting to just stay cuddled up at the tower, enjoying the outdoor hot tub and upper deck, there are plenty of couples' excursions in the area, including fishing in the Deschutes River and hiking at Smith Rock State Park. Climbing, wineries, and floating are also solid options.
Check Availability
3. The Equestrian Suite at Lambs Hill
Why you should stay: Rustic luxury accessible by public transportation from NYC.
Nearest town: Beacon, NY
Sleeps: 2
Minimum stay: 2 nights
Rates from: $500/night
On an elevated spot in the Hudson Valley, the Equestrian Suite at Lamb Hills is a charming and luxurious suite that looks worthy of a postcard. The only neighbors you'll have to worry about here are the two miniature donkeys and two Icelandic horses who live in the barn below.
You and your partner will have more than enough space in the outdoor tub, which can actually fit seven. You can also cook up a romantic breakfast in bed since the hosts provide farm-fresh eggs.
When you manage to leave your little hideaway, walk to nearby hiking trails or head to town for some cute boutique shopping. This is one of the best romantic getaways on Airbnb if you live in NYC as Beacon is on the Hudson River Metro-North line.
Check Availability
4. Lake Cottage at Meemo's Farm
Why you should stay: Pamper yourself and your loved one at this lakeside lodge with top-rate amenities.
Nearest town: Hersey, MI
Sleeps: 4
Minimum stay: 2 nights
Rates from: $300/night
It's romance indoors and out at the lake cottage at Meemo's Farm. The bathroom feels like a spa, with a river rock shower and its roomy tub. Then there's the fact that you have not just an indoor fireplace, but also an outdoor one where you can snuggle up and enjoy the views of the lake. Another place couples will surely enjoy? The private hot tub on the veranda.
If your idea of romance involves an adrenaline rush, check out the ATV and snowmobile tours offered on the property. They have bikes and snowshoes available as well.
Check Availability
5. Lofty Lodge Treehouse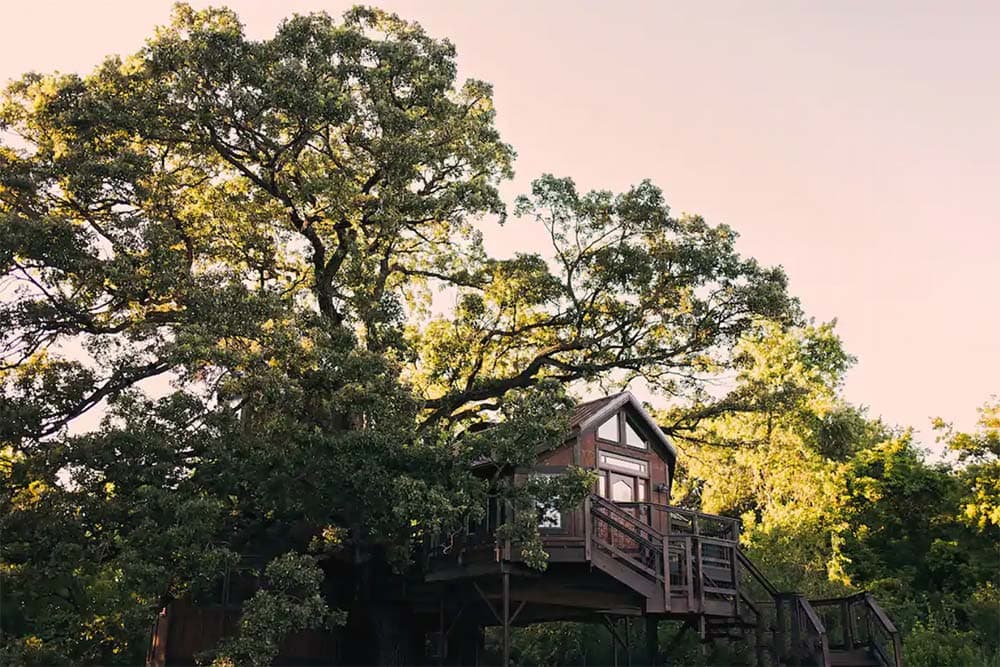 Why you should stay: Escape to this enchanting treehouse on a farm on the Mississippi River.
Nearest town: Cottage Grove, MN
Sleeps: 4
Minimum stay: 1 night
Rates from: $297/night
This stay proves treehouses aren't just for kids. With wood accents and rustic touches, the interior of this romantic treehouse getaway on Airbnb feels like a mix of old-world glamour and a country cabin.
If it's just you and one other person holing up there, you'll have more than enough room to spread out given the quirky layout (there's even a secret room!) Most likely, though, you'll want to stay close together, cozying up in the jacuzzi or by one of the two fireplaces.
There's plenty of outdoor recreation nearby, from skiing to hiking to fishing at spots like Afton Alps Resort and Cottage Grove Ravine Regional Park.
Check Availability
6. Ridgetop Escape
Why you should stay: Hilltop cottage in a fabulous NorCal town with sea views, redwoods, wineries, and more.
Nearest town: Albion, CA
Sleeps: 3
Minimum stay: 2 nights
Rates from: $321/night
You and your partner will be spoiled for surroundings at this ridgetop escape. From the deck of this romantic getaway, you'll have views of both the river and ocean. You're also not far from the redwood forests in case you're in the mood for a romantic stroll.
Everything in this comfortable stay seems designed for two, from the antique dining table by the window to the breakfast bar. You two will also love the fact that you can swing open the french doors from your bedroom to immediately hop into the private hot tub.
Oh, and if you love pinots, go for a wine tasting at one of the many spots around Anderson Valley. They make some of the best reds in the country. And you'll find excellent restaurants in nearby Mendocino.
Check Availability
7. Red Rocks Oasis
Why you should stay: Feel on top of the world at this castle-like stay atop a Colorado ridge line.
Location: Idledale, CO
Sleeps: 2
Minimum stay: 1 night
Rates from: $375/night
Called a "red rocks oasis," this attractive, stone guesthouse is next to the host's main home. But don't worry — your space is detached and has its own entrance so privacy won't be a problem. And even better about the location is that it's literally on a mountaintop, so count on taking in some impressive views from the many outdoor seating areas.
During the day, check out the private hiking trails on the property and in the evenings, enjoy the sunset from the hot tub. When the last rays of light are gone, make a fire and relax out by the fire pit.
If you're coming during the winter, you'll want a 4WD vehicle (it's at the top of a mountain, after all). But this beautiful romantic getaway is only 25 minutes or so from Denver, so even during winter snow it's an easy escape from the city.
Check Availability
8. Garden Studio
Why you should stay: Resort-worthy red rock views and on-site spa experiences.
Location: Sedona, AZ
Sleeps: 2
Minimum stay: 2 nights
Rates from: $485/night
This garden studio is the best romantic getaway bookable on Airbnb if you're a history buff. It was designed by one of Arizona's most famous architects and has had a few famous owners, including the Wrigley family.
One of the best things about this relaxing stay is its resort vibe. During your stay, let yourself unwind and take advantage of some of the guest experiences available from the owners. Even couples who aren't normally into pampering will have trouble deciding between the saltwater swimming pool, dry sauna, aromatherapy steam room, hydrotherapy hot tub, on-site reiki sessions, wine tastings, and more. Sedona is believed to be a spiritual vortex, and whether you're into that or not, you're bound to think it's a special place after you stay here for a few nights.
Check Availability
9. Live Oak Treehouse at HoneyTree Farm
Why you should stay: Fairytale treehouse above the rolling green hills of Texas wine country.
Nearest town: Fredericksburg, TX
Sleeps: 2
Minimum stay: 1 night
Rates from: $299/night
Perched above the treetops in the Texas Hill Country, the bright and airy Live Oak Treehouse brings the charm in full force, all the way down to the smallest details. You and your special someone can curl up in the cute book nook, stretch out on the hammock on the deck, or relax in the hot tub on the patio underneath the house.
If you manage to come down from your love nest, you can keep the romantic vibe going with some wine tastings around town. After all, the area is in the heart of the state's wine country, so you'll have plenty of wineries to choose from. If you're there in the summer, consider taking a day trip down for a visit to a swimming hole like Jacob's Well.
Check Availability
10. The Ledge at Lost Cavern
Why you should stay: Avant-garde modern cabin surrounded by forest.
Nearest town: South Bloomingville, OH
Sleeps: 6
Minimum stay: 2 nights
Rates from: $395/night
The Ledge is smack in the middle of verdant forestland, which is probably why it has all-glass walls for appreciating the views. Scattered across the 24-acre property are caves and seasonal waterfalls, making the whole place feel like even more of an enchanting escape for two. If you want a romantic getaway with a mid-century, outdoorsy twist, this is your spot.
The artsy interior features funky couches, a stylish fireplace, and bold wallpaper. Back behind the cabin, you'll find a covered porch with a large hot tub as well as a fire pit. If you're looking for something to do, pop open a bottle of wine and break out one of the living room's board games, or do more exploring along the trails of Hocking Hills State Park.
Check Availability
11. Pamoon
Why you should stay: Mountain retreat with a heated, outdoor soaking tub in the Appalachian Mountains.
Nearest town: Trion, GA
Sleeps: 2
Minimum stay: 2 nights
Rates from: $280/night
While not physically in a tree, staying at Pamoon feels like being in a treehouse thanks to the fact that it's elevated and surrounded by woods — 15 private acres, to be exact. Inside, the rental looks like a modern hotel, complete with very clean and attractive decor.
A highlight for couples of this romantic getaway is the Japanese wooden soaking tub, reached via a wooden walkway. You and your loved one can fully relax (or be a little active) while taking in that fresh forest air. It's also heated year-round, so you don't have to worry about getting too cold if you're planning a weekend getaway.
If you want to hike in the area, check out James H. Floyd State Park or Crockford-Pigeon Mountain Wildlife Management Area.
Check Availability
12. Le Petite Bijou
Why you should stay: Million-dollar views from a cabin with a private dock.
Nearest town: Sandpoint, ID
Sleeps: 4
Minimum stay: 2 nights
Rates from: $275/night
Lake lovers will be in heaven at Le Petite Bijou, a beautiful, romantic getaway on the shores of Lake Pend Oreille.
The home comes with a boat dock, and there's a motorboat you can rent if you want to get out on the water. If you don't want to, no big deal — just lay out in the sunshine on the dock instead. If you'd rather stay on land and simply appreciate the lake views, you can hang out on the swinging day bed on the cool bunkhouse porch.
Another unexpected place you can still take in the lake vistas? From the bed in the lofted area, which is strategically placed to take advantage of the awesome views. From up there, you'll have extreme privacy — it'll be just you and whomever you came with on the property's 4.5 acres.
Check Availability
Find Your Next Romantic Getaway
Sign up for the Weekend Wanderer to join thousands of readers getting epic travel and gear ideas every week.
---