If you love exploring the outdoors, you might have heard of OnX and Gaia GPS, two popular apps that help you navigate and plan your trips.
Both apps offer a wide range of features, including a variety of detailed maps, GPS tracking capability, route planning, tracking, and waypoint marking.
But which one is better for your needs? Over the past couple of months, we took a look at both OnX Backcountry and Gaia GPS to compare the two apps in terms of their mapping capabilities, route-building tools, and other features. We look at the pros and cons of each app to help you decide which one is right for you to help you plan your next outdoor adventure.
Curious about other options? We reviewed Gaia GPS vs AllTrails, too.

Apps At A Glance
Gaia GPS is an older and more established app that was founded in 2008 by a couple of hikers in Berkeley, California. Gaia GPS is a multipurpose app that can be used for hiking, backpacking, hunting, off-roading, biking, boating, skiing, and more.
Launched in 2019, OnX is relatively new to the navigation app scene. Instead of a one-size-fits-all approach, OnX offers a family of apps that cater to different outdoor activities including OnX Hunt, OnX Offroad, OnX Backcountry, and the upcoming OnX Fish. For the purpose of this comparison, we are going to focus on the OnX Backcountry app.
Pricing
The free version of the OnX Backcountry app includes the ability to use satellite, topo, and hybrid maps as your basemap. You can save one offline map, create routes, track your trips, and add limited waypoints.
The Premium Membership ($29.99/yr) includes access to guidebook-quality adventures, featured trails with descriptions and photos, recreation points, and unlimited offline maps.
With Elite ($99.99/yr), you unlock all the Premium features plus property boundaries, landowner names, and lot info (area acres) for the entire United States. OnX Backcountry Elite also includes the Recent Imagery Layer with aerial imagery that's updated every two weeks. You can try the app for free for 7 days before subscribing.
The free version of Gaia GPS includes basic maps and tools (record activities and create routes), or upgrade to a Premium Membership at $39.99/year to access the full map catalog, download maps for offline use, layer maps together, print custom maps, get weather and terrain info, and more. Alternatively, you can get an Outside+ subscription for $59.99/year and enjoy additional benefits across the Outside Network, such as online courses, films, shows, and magazines plus access to the Trailforks catalog. Gaia GPS also offers a free trial for new users.
Here's how the two apps compare:
Map Resources
OnX Backcountry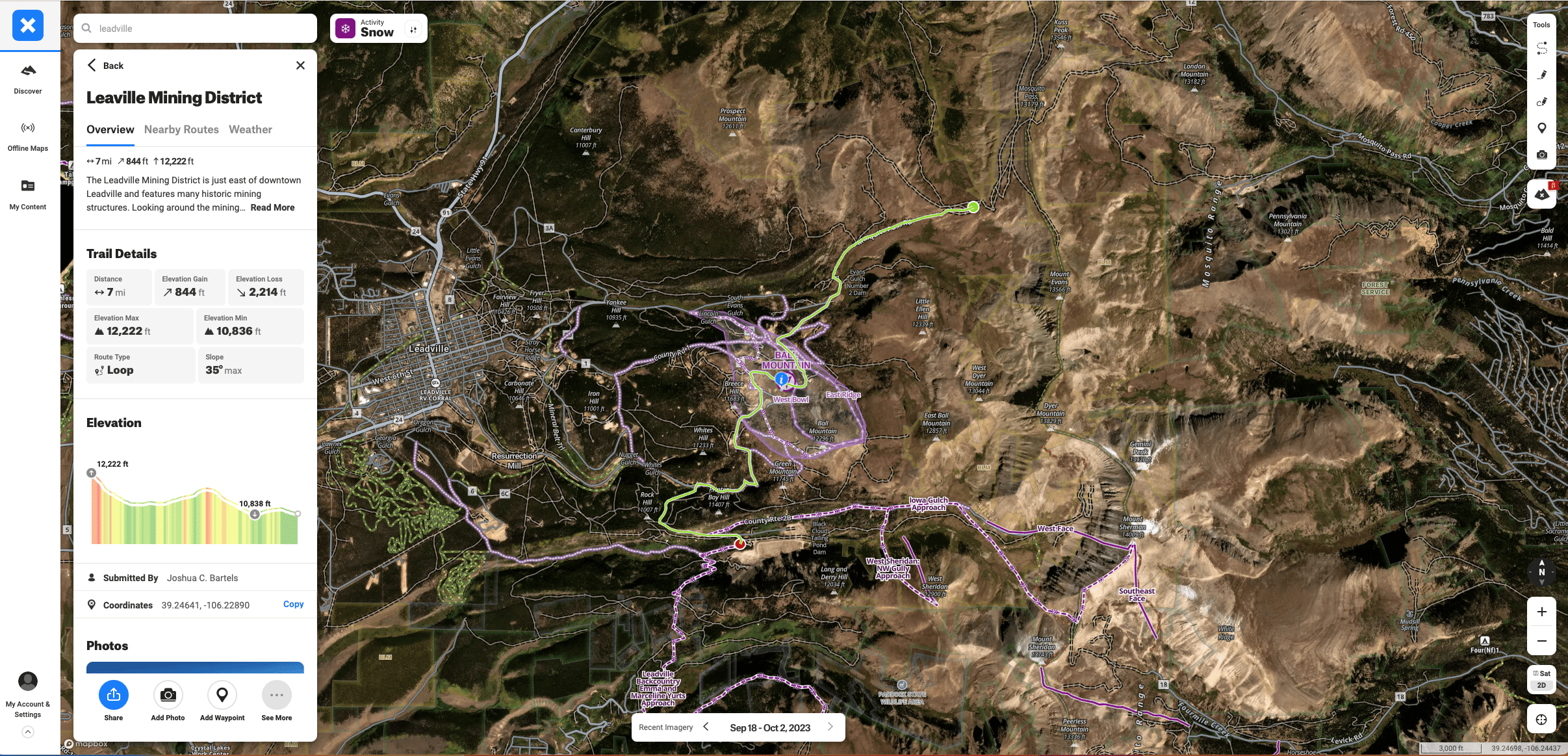 OnX offers satellite, topo, and hybrid maps in both 2D and 3D as your basemaps to start from when planning a route. OnX uses Trail Mode and Snow Mode, two activity choices that allow you to view the additional map layers best suited to your particular pursuits. The Trail Mode layers include trail slope, active and historical wildfires, government land, private land, wildfire smoke, and even air quality. Other layers in Snow Mode include avalanche forecast, slope angle, and slope aspect.
For Elite members who want to check out the current conditions of a particular place, you can toggle on Recent Imagery in the basemap section. While lower resolution than the satellite basemaps, Recent Imagery gives you a good overview of what it looks like in a certain spot and how it has evolved recently. This is super helpful for finding late-season ski turns or to avoid postholing up to your waist when headed out on an early-season backpacking trip.
Gaia GPS
Gaia GPS offers high-resolution topo and satellite basemaps in both 2D and 3D as well. Where Gaia really shines, however, is the additional map layers. You can choose from over 300 worldwide map sources including USGS topos, National Geographic Trails Illustrated maps, and MVUM maps for all 50 states, cell coverage for an area based on your carrier, and hundreds of curated mountain bike trails from Trailforks.The new Gaia Winter map, designed specifically for winter activities, emphasizes terrain, tree cover, and contours, making it easier to navigate in snowy conditions. For those needing detailed planning, you can stack up to 10 sources at once.
Bottom Line: Gaia GPS edges out OnX because of the sheer number of worldwide map layers available.
Offline Capability
OnX Backcountry
OnX Backcountry allows you to download offline maps for any area in the US. Choose the map type (topo or satellite), the map quality (low, medium, or high), and the map size (up to 150 MB per download). Note that 3D map mode is currently unavailable offline for the OnX Backcountry app (available in other OnX apps). You can also download curated adventure guides with expert tips and recommendations.
When offline, open the tracking feature to record your activity and take photos along the way. The map shows your exact location as well as your current orientation (which way you are facing), your time and distance traveled, and gives you a breadcrumb trail as you go—useful in case you need to backtrack at all or should you get lost.
Gaia GPS
Gaia GPS allows you to download offline maps for any area in the world. You can choose the map source (any of the 300+ available), the map quality (low, medium, high, or highest), and the map size (up to 4 GB per download). You can also download offline route data so that you have the ability to create snap-to-trail routes while offline and for those on Android, you have the ability to download 3D maps as well.
Similar to OnX Backcountry, when you activate the tracking feature, you can see tons of stats on your trip (more than in OnX), as well as a breadcrumb trail of your route. You can also add photos as you go.
Bottom Line: Both are quite similar here but Gaia GPS edges out OnX with its more detailed tracking data display.
User Interface
OnX Backcountry
OnX Backcountry features a modern, simple, and intuitive user interface that is easy to use and navigate. The web app sidebar menu gives you access to the main features such as discovering local routes and guides and accessing your offline maps and saved content. A toolbar in the upper right corner lets you build a route, draw a line, measure an area, add a photo, or create a waypoint. The app also has a search function that allows you to find trails, points of interest, coordinates, etc.
One of the cool new features OnX recently added was trail reports. When you click on a specific trail, the latest reports from other users pop up so you can see if the trail is closed, trees are down, or the current state of the trail.
When connected to the internet in both the phone and web app, you receive the latest weather info for a certain point, including sunrise and sunset info—handy when planning a trip in advance or when you are about to set off on a route that requires a hefty level of commitment. Also included in this pop-up box is information on nearby trails and routes, as well as whether the land is private, public, or government owned. OnX seems to have a lot more trails and routes in the database than Gaia GPS, and the detailed guides are a huge bonus.
Gaia GPS
The Gaia GPS user interface is not quite as intuitive and requires a bit of a learning curve to master. The online app has a sidebar menu that gives you access to the main features such as maps and your saved content, in addition to tools for creating content such as routes, waypoints, areas, and importing data. The app also has a search function that allows you to find trails, points of interest, coordinates, etc.
When you click on a certain point on the map, you get basic weather information as well as information on community-generated tracks and photos from other users.
Bottom Line: This is where OnX shines thanks to its modern, easy-to-use interface with all the info you need.
Route Building
When it comes to route building, both Gaia GPS and OnX Backcountry are very similar. Both apps allow you to create color-coded routes with multiple waypoints, using a variety of tools for editing and refining your route such as the snap-to-trail feature, automatically aligning your route to existing trails, and route length and elevation profile preview. Both apps allow you to edit your route offline as well or import gpx files for editing.
OnX Backcountry
When adding a waypoint to our route, we really appreciated the 70+ different image/color options for classification. The note box is also great for adding extra information you might need when out in the backcountry.
All your planned trip content can be nicely organized into folders, including routes, tracks, areas, lines, and waypoints with places to add a bunch of notes you might have gathered from outside sources. The ability to share your route as a link with non-OnX users is great when you want to let someone know your plans in case of an emergency.
Gaia GPS
When creating a route, Gaia GPS enables you to toggle the mode between hiking, biking, driving, or drawing a straight line in order to give you better options related to your planned activity. Some other nice routing features are the ability to navigate back to the start, make an out and back, or simply reverse the route.
While both apps offer legend information to help you interpret the map layers, the Gaia GPS web app supports a feature called Map Legend Spotlight. Whether you're looking for hiking trails, peaks, or hot springs, backcountry skiing, viewpoints, or gas stations, the map legend spotlight will light them up on the map making it easier to plan your routes around.
In terms of sharing, Gaia GPS enables you to share a link or take a snapshot of your route and share it with friends. Another cool feature is that Gaia GPS will give you driving directions from your current location to the start of the route.
Bottom Line: Both are great for route planning but we like the extra detailed features of Gaia GPS such as type of activity and whether the route is a loop or out and back.
Final Thoughts
Both OnX Backcountry and Gaia GPS are great mapping apps for your outdoor adventures, but they have different strengths and weaknesses. Here are some pros and cons:
Gaia GPS
Pros
Multipurpose app
Gaia GPS costs $60 less per year for full access
300+ worldwide map resources
Connects with both Android Auto and Apple CarPlay
Cons
OnX Backcountry
Pros
Intuitive user interface with the most important and most used features and map layers
A large variety of detailed trail and route guides
Lots of information such as weather forecasts and current trail conditions
Recent imagery
Cons
Single activity-focused apps
High cost for Elite membership
USA only
Both OnX Backcountry and Gaia GPS are great apps for outdoor navigation and exploration. However, they have different strengths and weaknesses that may suit different users better. If you are looking for an app that has more trail-specific features and information and a cleaner interface, you might prefer OnX Backcountry. If you are looking for an app that has more map sources and options and more flexibility in downloading offline maps, you might prefer Gaia GPS.
Explore More
Sign up for Weekend Wanderer and join thousands of readers getting epic travel and Airbnb ideas every week.
Was this article helpful?
---