Territory Supply is reader-supported and may earn a commission when you book or purchase using our links. Learn more about our editorial policies here.
---
Located in southwestern Florida, Fort Myers is a popular gateway to a series of picture-perfect islands like Sanibel and Captiva.
Sure, those islands both have lots to do on their own, but you can find all that (and more) by staying put in Fort Myers. It has beautiful, shell-strewn beaches with white sands and cobalt waters, but it also offers plenty to see and do of its own.
While Fort Myers hotels are some of the most expensive in the state, according to a MiamiHotels.org survey, you can often find much better values here by booking a private home. And some of the best airbnbs in Fort Myers are surprisingly affordable.
Whether you want to watch dolphins dance through the surf, witness manatees putting on impromptu performances for human audiences in the waterways, spend your days around a pool, relax on the beautiful sandy beaches, or find something else entirely, one of these fabulous airbnbs in Fort Myers will be perfect for your next sunny escape.
Related: 13 Incredible Airbnbs in Miami, Florida
1. Tropical Florida Mansion
Why you should stay: It's like having your own private resort – just look at that pool.
Location: Fort Myers
Sleeps: 10
Minimum stay: 3 nights
Rates from: $750/night
This home is a vacation destination unto itself, with a lagoon-style pool, waterfall spa, steam room, workout room, mesmerizing gulf views, and 100 feet of river frontage. You can even fish right from your own dock.
Enjoy breathtaking river and sunset views from nearly every vantage point in this 6,000-square-foot mansion. While while it has a fabulous kitchen and outdoor grill, you can request to have a private chef come to whip up a fantastic meal or serve breakfast in bed.
Check Availability
2. Luxury Cosmopolitan Villa
Why you should stay: Endless amenities, ideal location, and mesmerizing views.
Location: Cape Coral
Sleeps: 8
Minimum stay: 4 nights
Rates from: $480/night
This four-bedroom luxury villa comes with a long list of amenities – so many that you may not want to leave at all. And there's really no reason to, although cute little Cape Coral's downtown is fairly close. The rental comes with a pool and spa where you can soak or swim while watching colorful sunrises and sunsets, along with a grill, outdoor kitchen and shower, fishing equipment, bikes, beach gear, pool toys, and much more.
If you'd like to get out on the water and explore, you'll be able to bring your boat (or rent one) and dock it here. It's just a short ride to the pristine white, shell-covered sands on Sanibel Island. There are eight TVs inside, along with all the modern essentials, too. It's also on a primo lot on an intercoastal waterway.
Check Availability
3. Mid-Century Getaway
Why you should stay: Rent your own tropical backyard oasis – and bring a dog, while you're at it.
Location: Fort Myers
Sleeps: 6
Minimum stay: 1 night
Rates from: $278/night
Located in the historic area of Fort Myers close to downtown and lots of restaurants, this mid-century home has a beautifully landscaped backyard that some say feels like a Caribbean vacation. It's totally fenced in, making it one of the best airbnbs in Fort Myers if you plan to travel with your furry best friend. It has a shaded patio area with a hammock and swing along with a gorgeous pool that's ideal for a morning dip or hanging out all afternoon.
While you'll probably be spending most of your time outside, the largest bedroom comes with a fabulous freestanding tub, perfect for a leisurely soak before bed to ensure a great night's sleep.
Check Availability
4. Beachfront Condo
Why you should stay: Have the beach and a pool right at your doorstep, plus a large covered lanai.
Location: Sanibel
Sleeps: 6
Minimum stay: 7 nights
Rates from: $199/night
You can book this beachfront condo with confidence, with full refunds provided up to a day before check-in. But you'll really miss out if you cancel on this cute little rental. It's on Sanibel Island along the sparkling turquoise waters of the Gulf of Mexico, easily reached via the causeway from Fort Myers. The island is renowned for hosting some of the country's most pristine stretches of fine white sands, and lots of shells. In fact, many make their way here all the way from the Caribbean.
A stay here not only provides a gorgeous view, but puts you steps from the surf, sunbathing, and all sorts of fun beach activities. The condo even comes with amenities like beach towels and chairs. If you get tired of the saltwater, the condo is right next to the pool.
Check Availability
5. The River View 1008
Why you should stay: Relax in the water while enjoying amazing views of a much larger body of water.
Location: Cape Coral
Sleeps: 8
Minimum stay: 5 nights
Rates from: $279/night
Enjoy magnificent views looking out to the Caloosahatchee River, a pool, and opportunities for sighting dolphins, manatees, and stingrays by staying at this airbnb. Not only will you have lots to do outside and in the surrounding area, but fantastic amenities await inside, too, including big screen TVs and a game room, complete with a pool table and bar.
"Wonderful home right on the point. Perfect location if you like to get out on the water. We had a boat delivered and spent a couple of days out on the river. The game room was perfect for the teenage boys. I don't think we could have found a more perfect location."
Check Availability
6. The Island Hideaway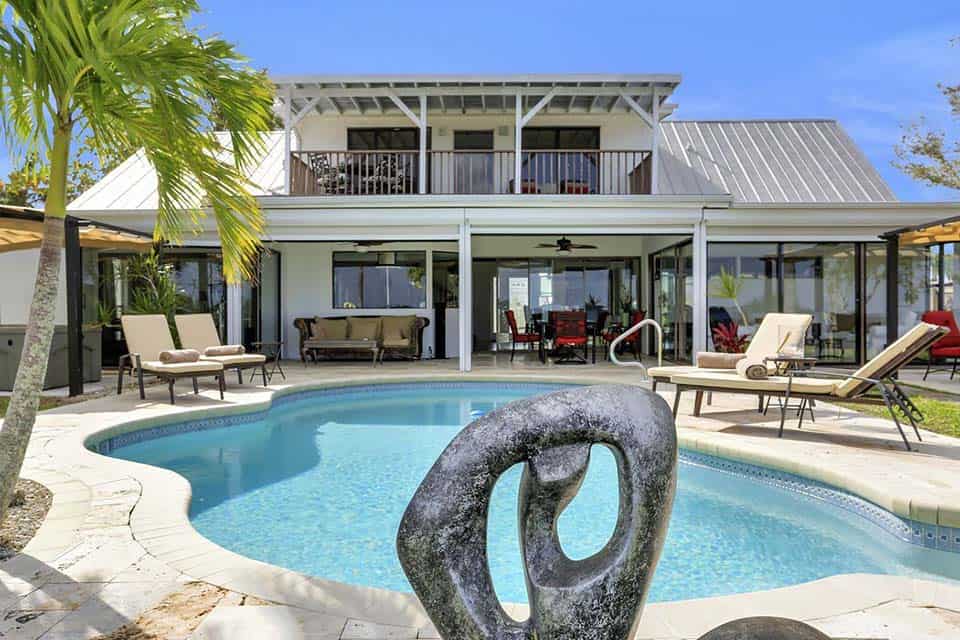 Why you should stay: Secluded indoor and outdoor living for the perfect Fort Myers vacation.
Location: Cape Coral
Sleeps: 6
Minimum stay: 7 nights
Rates from: $250/night
Enjoy a quiet location while being just minutes from shopping, dining and more with a stay at the riverfront The Island Hideaway. Start your day with a tasty coffee from the Nespresso machine, placed so you can gaze out at the amazing views from the kitchen while you wait for your coffee to brew. Afterward, look forward to plenty of fun in the sun, with a pool and complimentary use of kayaks and bikes.
While many guests simply enjoy their days hanging out around the pool and relaxing in the hot tub, be sure to spend time on the dock, where dolphins and other wildlife are frequently spotted. Because of the large lot – and well-places rows of palm trees – you won't see any other house when you relax in the pool or on the back deck.
Check Availability
7. Gorgeous Italian Estate
Why you should stay: Get the best of Italy at the beach at this Euro-inspired home.
Location: Fort Myers
Sleeps: 8
Minimum stay: 1 night
Rates from: $175/night
Live like a VIP with a stay in this 4,000-square-foot Italian estate that sits on more than a half acre. It comes with a nearly endless list of luxuries like a hot tub and massive lanai.  It's also in a perfect location close to all the sights, from beaches and golfing to shopping and dining.
The owners really paid attention to detail in this home, and the result is a magazine-worthy interior that'll have you snapping photos to recreate back at home. It's quite shocking that a home this beautiful starts at just $175 a night and is one of the most affordable airbnbs in Fort Myers, especially considering it sleeps eight guest. There is an extra fee to heat the pool and hot tub, so make sure to discuss that with the owners in advance if you plan on doing some serious soaking.
Check Availability
8. Beautiful San Carlos Home
Why you should stay: Roomy and affordable home that blends indoor and outdoor living.
Location: Fort Myers
Sleeps: 7
Minimum stay: 5 nights
Rates from: $200/night
This beautiful home comes with all you need and then some, so it's perfect if you're looking for a place where you can arrive and just take it easy for the rest of your stay. But if you do want to leave, it's close to nearby attractions, from beaches to dining and shopping. It has a screened-in pool, hot tub, and even an outdoor Smart TV with Roku.
But one of the best features of the home is the blend between the indoor and outdoor living space. Two garage-sized doors roll up to connect the pool and the lanai, which blends right into the main living areas. It almost feels like the pool (which has a hot tub, naturally) is part of the main living room.
"Was great to have the pool and lounge area right off the main living. There were beach towels, an umbrella, chairs, toys, and wagon to take to the beach!"
Check Availability
9. Luxury Waterfront Cape Coral Home
Why you should stay: Get the 'wow' factor while staying at one of the most affordable airbnbs in Fort Myers.
Location: Cape Coral
Sleeps: 8
Minimum stay: 1 night
Rates from: $190/night
This Cape Coral home sits along the canal, allowing you to relax in the heated pool and spa while watching the boaters go by – or allowing you to go join them. If you want to cast a line, you can fish right off the deck, where you can also drop in a kayak or paddleboard. It ticks all the boxes, with every amenity you could ever want, including a great price. This impressive home comes in to less than $25 per person per night if you fill every bed.
Guests who've stayed commonly use the word "wow" to describe it, often mentioning that "the pictures don't do it justice." You'll also get to use the home's cycles, and fortunately, Cape Coral is a very bike-able town. Be sure to book this airbnb before the owners realize they could raise their prices.
Check Availability
Plan Your For Fort Myers Trip
Find Your Next Getaway
Sign up for the Territory Supply Newsletter and join thousands of readers getting epic travel ideas every week.
---