Located in southwestern Florida, Fort Myers is a popular gateway to a series of picture-perfect islands like Sanibel and Captiva.
Sure, those islands both have lots to do on their own, but you can find all that (and more) by staying put in Fort Myers. It has beautiful, shell-strewn beaches with white sands and cobalt waters, but it also offers plenty to see and do of its own.
While Fort Myers hotels are some of the most expensive in the state, according to a MiamiHotels.org survey, you can often find much better values here by booking a private home. And some of the best airbnbs in Fort Myers are surprisingly affordable.
Whether you want to watch dolphins dance through the surf, witness manatees putting on impromptu performances for human audiences in the waterways, spend your days around a pool, relax on the beautiful sandy beaches, or find something else entirely, one of these fabulous airbnbs in Fort Myers will be perfect for your next sunny escape.
Related Read: 13 Incredible Airbnbs in Miami, Florida
1. Tropical Florida Mansion
Why you should stay: It's like having your own private resort – just look at that pool.
Location: Fort Myers
Sleeps: 10
Minimum stay: 3 nights
Rates from: $750/night
This home is a vacation destination unto itself, with a lagoon-style pool, waterfall spa, steam room, workout room, mesmerizing gulf views, and 100 feet of river frontage. You can even fish right from your own dock.
Enjoy breathtaking river and sunset views from nearly every vantage point in this 6,000-square-foot mansion. While while it has a fabulous kitchen and outdoor grill, you can request to have a private chef come to whip up a fantastic meal or serve breakfast in bed.
Check Availability
Related Read: 10 Best Cabin Rentals in Florida for a Relaxing Vacay
2. Mid-Century Getaway
Why you should stay: Rent your own tropical backyard oasis – and bring a dog, while you're at it.
Location: Fort Myers
Sleeps: 6
Minimum stay: 1 night
Rates from: $278/night
Located in the historic area of Fort Myers close to downtown and lots of restaurants, this mid-century home has a beautifully landscaped backyard that some say feels like a Caribbean vacation. It's totally fenced in, making it one of the best airbnbs in Fort Myers if you plan to travel with your furry best friend. It has a shaded patio area with a hammock and swing along with a gorgeous pool that's ideal for a morning dip or hanging out all afternoon.
While you'll probably be spending most of your time outside, the largest bedroom comes with a fabulous freestanding tub, perfect for a leisurely soak before bed to ensure a great night's sleep.
Check Availability
Related Read: 10 Unique Places to Stay in Florida for a Most Memorable Vacay
3. The River View 1008
Why you should stay: Relax in the water while enjoying amazing views of a much larger body of water.
Location: Cape Coral
Sleeps: 8
Minimum stay: 5 nights
Rates from: $279/night
Enjoy magnificent views looking out to the Caloosahatchee River, a pool, and opportunities for sighting dolphins, manatees, and stingrays by staying at this airbnb. Not only will you have lots to do outside and in the surrounding area, but fantastic amenities await inside, too, including big screen TVs and a game room, complete with a pool table and bar.
"Wonderful home right on the point. Perfect location if you like to get out on the water. We had a boat delivered and spent a couple of days out on the river. The game room was perfect for the teenage boys. I don't think we could have found a more perfect location."
Check Availability
Related Read: 9 Exciting Weekend Road Trips from Miami, Florida
4. The Island Hideaway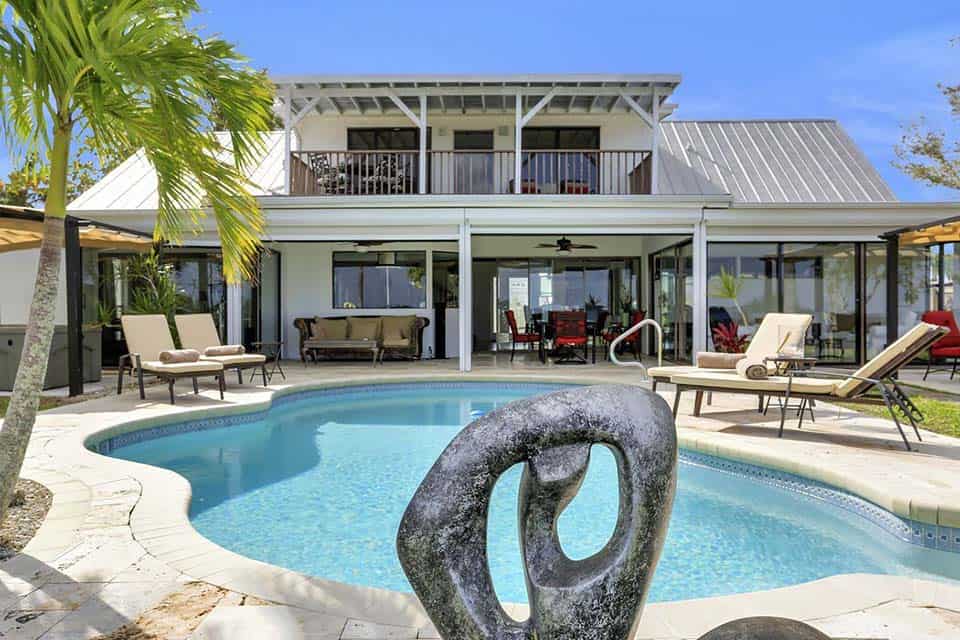 Why you should stay: Secluded indoor and outdoor living for the perfect Fort Myers vacation.
Location: Cape Coral
Sleeps: 6
Minimum stay: 7 nights
Rates from: $250/night
Enjoy a quiet location while being just minutes from shopping, dining and more with a stay at the riverfront The Island Hideaway. Start your day with a tasty coffee from the Nespresso machine, placed so you can gaze out at the amazing views from the kitchen while you wait for your coffee to brew. Afterward, look forward to plenty of fun in the sun, with a pool and complimentary use of kayaks and bikes.
While many guests simply enjoy their days hanging out around the pool and relaxing in the hot tub, be sure to spend time on the dock, where dolphins and other wildlife are frequently spotted. Because of the large lot – and well-places rows of palm trees – you won't see any other house when you relax in the pool or on the back deck.
Check Availability
Related Read: 8 Weekend Road Trips From Tampa, Florida
5. Beautiful San Carlos Home
Why you should stay: Roomy and affordable home that blends indoor and outdoor living.
Location: Fort Myers
Sleeps: 7
Minimum stay: 5 nights
Rates from: $200/night
This beautiful home comes with all you need and then some, so it's perfect if you're looking for a place where you can arrive and just take it easy for the rest of your stay. But if you do want to leave, it's close to nearby attractions, from beaches to dining and shopping. It has a screened-in pool, hot tub, and even an outdoor Smart TV with Roku.
But one of the best features of the home is the blend between the indoor and outdoor living space. Two garage-sized doors roll up to connect the pool and the lanai, which blends right into the main living areas. It almost feels like the pool (which has a hot tub, naturally) is part of the main living room.
"Was great to have the pool and lounge area right off the main living. There were beach towels, an umbrella, chairs, toys, and wagon to take to the beach!"
Check Availability
6. Luxury Waterfront Cape Coral Home
Why you should stay: Get the 'wow' factor while staying at one of the most affordable airbnbs in Fort Myers.
Location: Cape Coral
Sleeps: 12
Minimum stay: 1 night
Rates from: $599/night
This Cape Coral home sits along the canal, allowing you to relax poolside while enjoying the view. If you want to cast a line, you can fish right off the private dock, where you can also drop in a kayak or paddleboard. Inside, this property has plenty of wow-factor as well, with all the upgrades that makes for the ultimate luxe pad for kicking back or entertaining a group.
If you've got an active group in tow, Cape Coral is a very bike-able town. Bring your own bikes and hit the bike paths in the unbeatable Fort Myers weater.
Check Availability
Plan Your For Fort Myers Trip
Find Your Next Getaway
Get epic travel ideas delivered to your inbox with Weekend Wanderer, our newsletter inspiring more than 10,000 readers every week.
Was this article helpful?
---