We research, evaluate and select travel destinations based on a number of factors, including our writers' experience, user reviews and more. We may earn a commission when you book or purchase through our links. See our editorial policy to learn more.
Was this article helpful?
---
Welcome to Salt Lake City: the Crossroads of the West and the beating heart of the beloved Beehive State.
Unlike so many vacation destinations that thrive for a season or two before turning into a ghost town in the off-seasons, Salt Lake City is truly a year-round destination.
When the weather's warm from spring to fall, adventurous travelers will find countless hiking and backpacking trails a few minutes to the east in the rugged Wasatch Mountains.
Bring your swimsuit and you can spend a day on the water at one of several nearby lakes, where you can spend the afternoon water skiing, wake boarding, kayaking, or paddle boarding.
If you're looking for a slower, more relaxing way to unwind, bring your fishing gear and spend the morning fly fishing in blue ribbon fisheries up the canyons.
Of course, while Salt Lake City is a virtual playground over summer, the city is best known for its world-renowned ski resorts.
Whether you're a skier or snowboarder, spend a day on the slopes in Cottonwood Canyon or Park City and you'll quickly discover the truth behind Utah's claim of having "the best snow on earth."
Related read: The Ultimate Salt Lake City to Zion Road Trip Itinerary
Where to stay in Salt Lake City
Salt Lake City doesn't have many exciting hotels (you'll find those an hour east in Park City), so staying in an Airbnb is usually the way to go around here.
To that end, here's a quick list of our favorite Airbnb rentals in Salt Lake City and surrounding suburbs to jump-start your search for the perfect accommodations.
1. Chic Condo Near Convention Center
Why you should stay here: A five-star condo for the price of a three-star hotel.
Sleeps: 5
Minimum stay: 2 nights
Pets allowed: No
This chic condo is conveniently located in the heart of downtown Salt Lake City near the Salt Palace Convention Center, making it an excellent choice for convention attendees. You're not sacrificing any hotel amenities by staying here – visitors have full access to the building's clubhouse lounge, gym, and rooftop BBQ area.
The condo is beautifully decorated with earth tones and a neutral gray theme, making each room feel like a page out of a Pottery Barn catalog. The fully-stocked kitchen is small but more than sufficient for a party of five, and the gas stove top is a huge plus for home chefs who plan to cook more than eating out.
Check Availability — Airbnb
2. Timeless Mid-Century Home
Why you should stay here: Fantastic choice for families who plan to spend their trip on the slopes of Salt Lake's famous ski resorts.
Sleeps: 6
Minimum stay: 2 nights
Pets allowed: No
This timeless mid-century home may not look like much when you pull into the driveway, but step inside and you'll feel like you're walking into an episode of Property Brothers.
The interior is immaculately designed, with furniture and decor that honors the home's 1950s roots with a classy modern finish. We're especially fans of the retro open-wall fireplace in the main living area, though the kitchen takes the cake for best room in the house.
This Airbnb is south of Salt Lake City in Millcreek, so you'll be far-removed from the busy downtown area. It's an excellent choice for winter travelers who plan to hit the slopes at Brighton, Alta, or Solitude, as the house is conveniently located near the mouths of Big and Little Cottonwood Canyons.
Check Availability — Airbnb
3. Designer Home In Marmalade
Why you should stay here: Stunning designer home featured in several magazines and publications, including the New York Times.
Sleeps: 6
Minimum stay: 2 nights
Pets allowed: Yes
It's hard to find a good house to rent downtown, making this designer home in the Marmalade district a rare gem for discerning travelers.
You'll enjoy the seclusion that comes with having a private home all to yourself, the convenience of being within walking distance of downtown destinations, and the joy of being able to travel with your four-legged companion, as it's a dog-friendly property.
Words cannot adequately describe this property's designer furnishings and decor, so we highly suggest browsing through all of their photos on Airbnb to appreciate it for yourself.
From the Food Network-worthy kitchen to the resplendent living areas and resort-spa bathrooms, it's safe to say you'll be Facetiming your friends to show off your swanky accommodations.
The party doesn't stop when you step outside. You'll marvel at the ultra-modern architecture and expansive windows that bathe the interior in natural light, and if the weather is pleasant you'll certainly enjoy winding down in the secluded backyard porch with your good friends and an ice-cold drink.
Check Availability — Airbnb
Related Read: 10 Awesome Things to Do in Winter in Park City, Utah
4. Leafy Vistas Sanctuary
Why you should stay here: Enjoy easy access to the ski resorts up Big Cottonwood Canyon, then unwind after a long day on the slopes with a beautiful view of the Salt Lake Valley.
Sleeps: 9
Minimum stay: 3 nights
Pets allowed: No
Here's another property in the suburbs that's ideal for skiers and snowboarders. The Leafy Vistas Sanctuary sits right at the mouth of Big Cottonwood Canyon in Cottonwood Heights, putting you less than 15 minutes away from the exhilarating slopes of Brighton and Solitude.
With three bedrooms, five beds, and 2.5 bathrooms, the Leafy Vistas Sanctuary can accommodate up to nine guests, making it a prime choice for large groups of friends or extended family.
There's ample space for the whole crew to relax and unwind in this beautifully-furnished home, and the expansive kitchen and dining area make it a piece of cake to entertain (pun intended).
Check Availability — Airbnb
5. Under The Wasatch
Why you should stay here: A simply elegant home near Sugar House, the only SLC suburb with a nightlife that rivals the downtown district.
Sleeps: 6
Minimum stay: 2 nights
Pets allowed: Yes
Under the Wasatch is located in East Millcreek, a few minutes southeast of Salt Lake City near the mouth of Parley's Canyon.
It offers the best of both worlds for vacationers who plan to split their time between Salt Lake and Park City, and its proximity to the popular Sugar House area means you'll have easy access to delectable restaurants and fun nightlife activities.
With two bedrooms and sleeping accommodations for six, this home is a great choice for families. The furniture and decor are elegantly simple, making you feel comfortable and at-home without going over the top.
It's a bargain given the refined interior and convenient location, delivering an entire house to yourself for less than the cost of a four-star hotel room.
Check Availability — Airbnb
Related Read: 14 Amazing Things to Do in Summer in Park City, Utah
6. Designer Mountain Retreat
Why you should stay here: A stunning designer home built into the mountainside, delivering an over-the-top luxury experience with breathtaking valley views.
Sleeps: 10
Minimum stay: 3 nights
Pets allowed: No
If we were to crown a winner for the best Airbnb in Salt Lake City, this Designer Mountain Retreat would be a strong contender for the top prize. Its price point and 3-night minimum stay puts it outside the budget of the average traveler, but if you've got cash to burn, it's a hell of a way to spend your time in Salt Lake City.
Built by architect Guy Drier, this property delivers everything you'd expect from a magazine-worthy designer home. Floor-to-ceiling windows ensure you'll enjoy the scenery in every direction while bathing the interior in natural light.
Every room is elegantly appointed with comfortable furniture and tasteful decor, the bathrooms feel like you're stepping into a luxury spa, and the kitchen is enough to make a gourmet chef jealous.
Of course, once you get a look at the pool area you may wind up spending most of your time outside. Between floating in the cool water, lazing by the pool, and simply enjoying the rich mountain scenery, it's safe to say that summer stays will involve a lot of time around the pool.
Check Availability — Airbnb
7. Charming & Serene 1919 Escape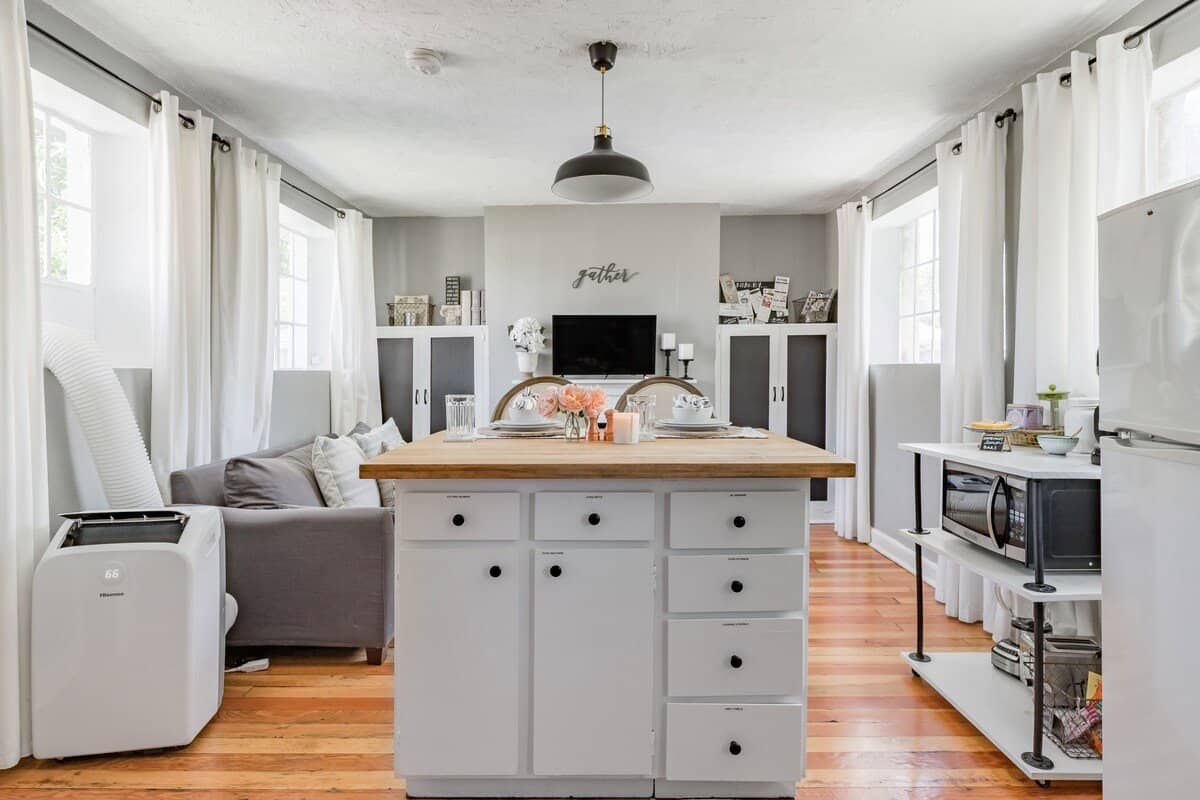 Why you should stay here: Budget-friendly guest house punches well above its price point with a classy interior, full kitchen, and a backyard for the kids to play in.
Sleeps: 4
Minimum stay: 1 night
Pets allowed: No
The charming & serene 1919 escape was built over a century ago, but you would never guess its age from inside the guest house. Step inside and you'll find yourself in a modern-farmhouse escape, replete with beautiful wood floors and cozy furniture.
The kitchen is small but more than sufficient to cook for a party of four. If you need more space to stretch your legs you can always head to the backyard to enjoy an alfresco meal under the gazebo while the kids play around in the grass.
Check Availability — Airbnb
8. 1906 Apartment
Why you should stay here: Modern-industrial interior is simultaneously rustic and refined, and the apartment is conveniently located in the heart of downtown.
Sleeps: 5
Minimum stay: 1 night
Pets allowed: No
It's hard to pinpoint this 1906 apartment's best feature. The downtown location is perfect for visitors who plan to spend most of their time in the city, but once you get a peek inside you may never want to leave the apartment.
This century-old apartment has been beautifully renovated into a modern retreat, mixing old and new with rustic brick walls, handsome wood floors, and classy furniture.
The full kitchen is stocked with everything you need to whip up your own meals, and the gas fireplace creates a fun ambiance to wind down in after a long day of sightseeing around the city.
Check Availability — Airbnb
The Best Activities Around Salt Lake City
Sign up for our free email to join thousands of readers getting epic travel, hiking, camping and gear ideas every week.
Was this article helpful?
---