---
Home to some of Colorado's most impressive mountain ranges and natural attractions, Colorado Springs is a perfect outdoor escape for families and couples.
Colorado Springs is a beautiful city that lies along the eastern edge of America's impressive Rocky Mountain Range. Located just a quick drive away from the city, the epic Garden of the Gods and Pikes Peak await you. Thousands of visitors stop by every year just to enjoy the unique rock formations and mountainous terrain in the area.
Not only is the city a fantastic family-friendly destination where kids can enjoy the Cheyenne Mountain Zoo and the Royal Gorge Route Railroad, but it's also a hiker's paradise with various levels and types of hiking trails around Colorado Springs.
There are so many stunning VRBO rentals in Colorado Springs awaiting you – and we're here to help you find the perfect one.
1. Euro-Style Cottage
Why you should stay: A clean and cozy home-away-from-home cottage oozing European charm.
Sleeps: 4
Minimum stay: 1 Night
Pets allowed: Yes
This clean and homey Euro-Style Cottage is a beautiful house located a short walk or drive away from downtown Colorado Springs. The host goes above and beyond to make you feel at home with a welcome snack and beverage at check-in. They also provide insightful resources for where to eat and what to do in the area.
The cottage itself has two bedrooms and a baby crib for up to four guests and an infant. There's only one bathroom, but the kitchen is fully stocked for those who enjoy cooking while on vacation. Your booking includes access to the onsite parking spot and the private yard with a picturesque pergola.
Check VRBO Availability
2. Old Colorado City Home
Why you should stay: A family-friendly Adobe retreat in the heart of Old Colorado City.
Sleeps: 6
Minimum stay: 2-3 Nights
Pets allowed: No
This warm and welcoming Adobe City Home sleeps up to six guests comfortably in its two-bedroom and two-bathroom layout. Complete with modern furnishings, a fully fenced yard, board games, and gas grill, this property has everything your family needs for a comfortable and pleasant stay in Colorado Springs.
This specific property even provides a 24/7 customer service contact number for any needs or questions you may have throughout your stay.
Its close proximity to the Manitou Cliff Dwellings and Garden of the Gods, both only a quick five-mile drive away from the home, makes it easy to enjoy the best of the surrounding area. We love that this vacation rental offers a quiet retreat in the middle of the bustling city.
Follow 'em: Instagram
Check VRBO Availability
3. Scandinavian Cottage
Why you should stay: Bright and airy Scandinavian style cottage with private outdoor pergola.
Sleeps: 4
Minimum stay: 1 Night
Pets allowed: Yes
For those seeking a peaceful retreat in Colorado Springs, the Scandinavian Cottage is a clean and highly rated option that visitors love. The natural light that spills into the home creates an inviting and cozy atmosphere. At the same time, the minimalistic and modern furnishings make it easy to relax and unwind after a busy day exploring.
Located only ½ block away from the cottage is a bus stop for a primary line that offers quick and easy access to public transportation around the city if needed. The property also offers a private parking spot for guests who have booked a rental car for their time in Colorado Springs. As a nice little touch to your stay, the hosts greet all guests with snacks, beverages, and coffee as a warm welcome when you arrive.
Check VRBO Availability
4. Cozy Cottage
Why you should stay: Quiet romantic cottage getaway for two, just steps from Cheyenne Canyon.
Sleeps: 2
Minimum stay: 1 Night
Pets allowed: No
A perfect stay for two, the Cozy Cottage in Old Colorado City is a romantic vacation rental on the outskirts of the city. You'll find peace and quiet in this clean and charming little home that's surrounded by wildlife and mountain trails.
The kitchen is fully equipped with everything you need for home-cooked meals, as well as a washer and dryer for your convenience. In the back of the home, there's a back patio with a small outdoor grill that guests enjoy using on warm and sunny days. This cottage is within walking distance to local cafes and the Broadmoor Hotel and is only a short 15-minute drive away from most attractions.
Check VRBO Availability
5. Mountain Vacation Home
Why you should stay: Stunning and unique modern mountain home overlooking Manitou Springs.
Sleeps: 6
Minimum stay: 1-7 Nights
Pets allowed: No
A Mountain Vacation Home perched above downtown Manitou Springs, this rental property is a stunning and unique home that was once owned by Frank Llyod Wrights' granddaughter. The eye for architectural detail can be found in every corner of the property from the unique open-concept design, floor to ceiling solar design windows and triangular rooftop.
As you step inside, you're immediately greeted with sweeping views of the Colorado mountain landscape and a glimpse of Pike's Peak. The three bedrooms and three baths in the home very comfortably accommodate up to six guests, and there are plenty of restaurants and shops that are just a short drive away.
Check VRBO Availability
6. Modern Vacation Retreat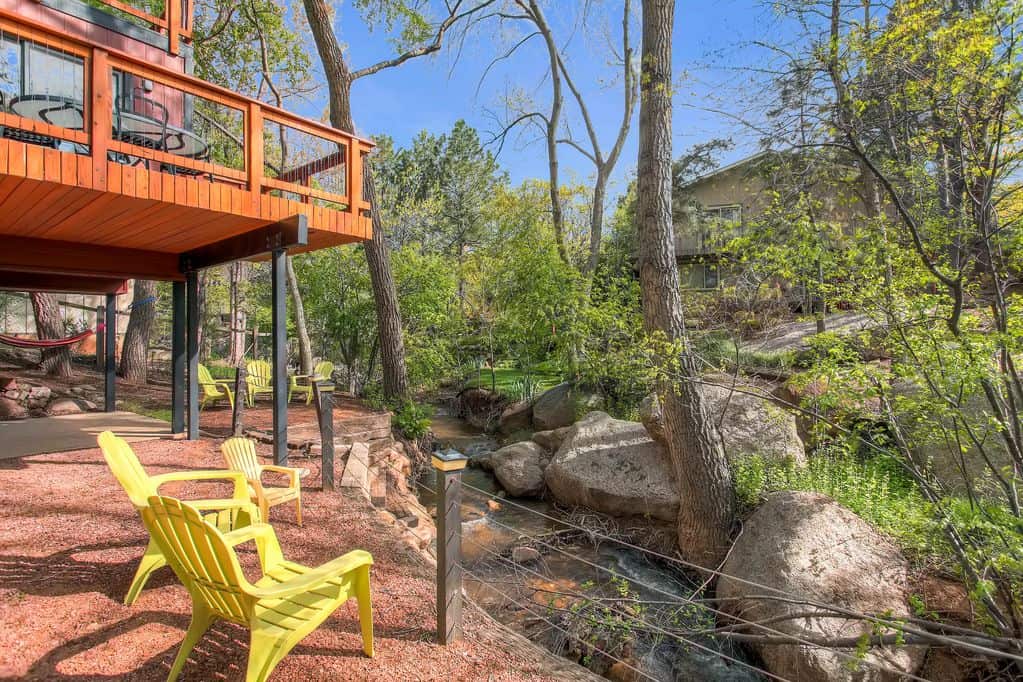 Why you should stay: Spacious modern home that's a secluded retreat just outside of the city.
Sleeps: 10
Minimum stay: 2-7 Nights
Pets allowed: No
Sitting stream-side amongst large cottonwood trees, this Modern Vacation Retreat is a quick two-minute drive to downtown Manitou Springs and ten-minute drive to Colorado Springs. The unique structure of the home and gorgeous windows that nearly cover the entire facade, make the home feel open and inviting.
This stay can sleep up to ten guests and features amenities perfect for a large family gathering. The commercial style kitchen is well equipped, and the living spaces feature a working fireplace, flatscreen TV, and foosball table. Outside are two beautiful balconies that jut off of the living room and master bedroom as well as ten outdoor Adirondack chairs and a hammock in the back. Your family has everything you need for a comfy stay!
Check VRBO Availability
7. The Mountain Modern
Why you should stay: A beautiful wooden house with fantastic and unobstructed views of Pikes Peak.
Sleeps: 10
Minimum stay: 2 Nights
Pets allowed: No
The Mountain Modern is a stunning mountain home that faces a large 6-acre family-friendly park and features open views of Pikes Peak. The large and spacious gourmet kitchen is the perfect space to host a family vacation or reunion. Outside, enjoy the sunken fireplace and backyard farm table that can accommodate a large dinner party.
This vacation rental has five bedrooms to comfortably sleep up to ten guests and is located a short ten-minute walk from the Garden of the Gods. When you're hungry, the best restaurants and cafes in Colorado Springs are only five minutes down the road.
Check VRBO Availability
8. Contemporary House
Why you should stay: 360° nature and mountain views from this contemporary home.
Sleeps: 9
Minimum stay: 3-7 Nights
Pets allowed: No
What makes this Contemporary House so special is not only the beautiful design and layout but also the incredible surrounding views. Enjoy seeing Pikes Peak and the Front Range in the front and unique rock formations and forest in the back. With its four bedrooms and three bathrooms, up to nine guests can enjoy the comfort of this home.
Inside, there are many cozy living spaces for you to spread out and relax on your vacation, not to mention the six-person hot tub, balcony and grill, and two other decks for outdoor festivities. Located on the outskirts of the city, the main attractions are about a ten to twenty-minute drive away, guaranteeing peace and serenity on your Colorado Springs vacation.
Check VRBO Availability
Explore More of Colorado
Sign up for our free email to join thousands of readers getting epic travel, hiking, camping and gear ideas every week.
---