Whether you're planning a romantic getaway or family vacation, California features an eclectic collection of unique vacation rentals that'll spice up any Golden State retreat.
From pristine beaches to scenic lakes, lush forests to magnificent mountains, and everything in between, California has it all. In short, whether you're a peak-bagging backpacker, surf-shredding beach bum, or wine-loving foodie, you'll find a spot on this list to add to your bucket list.
Booking an airbnb for your home base is the best way to upgrade any vacation from good to great. For an even more magical experience, consider taking a chance on a unique rental that's off the beaten path and guaranteed to deliver a story that you'll be telling your friends for years to come.
Related read: 12 Best Airbnb Rentals in Lake Arrowhead, California
1. The Cobb Haus
Why you should stay: Tranquil forest basecamp perfect for exploring Northern California.
Location: Cobb
Sleeps: 2
Minimum stay: 2 nights
Rates from: $119/night
The Cobb Haus' place atop our list is more impressive when you consider its before-and-after shots — a transformation featured in Dwell and Apartment Therapy. In just a few months, Airbnb hosts Hope and Tom remodeled a drab, outdated home into a cozy oasis in the woods of Cobb, California, two hours north of San Francisco.
A minimalistic design scheme only accentuates the cabin's best features: bright rooms, natural light and living spaces created for, well, living. If your idea of an Airbnb is to feel at home while you're away, the Cobb Haus delivers on all fronts.
Check Availability
Related read: 7 Awesome Weekend Road Trips from San Francisco
2. Sequoia Falls
Why you should stay: Modern riverside sanctuary close to Sequoia National Park.
Location: Three Rivers
Sleeps: 8
Minimum stay: 3 nights
Rates from: $856/night
If you've ever wanted to take your fam to a secluded riverside retreat — with quick access to a National Park — look no further than Sequoia Falls. Located right next to the shaded cascades of the Kaweah River, this high-desert property has quick access to alpine wonderland of Sequoia National Park.
Of course, you just want to kick back on the property, offering three acres of riparian paradise with numerous outdoor decks and seating areas, including a really awesome firepit with river views — you'll have direct access to the river too. Inside, the home's mountain modern decor is both hip and cozy, making it hard to decide if you want hang out in the house or head outdoors.
Check Availability
Related read: 7 Gorgeous Spots to See Fall Colors in California
3. Hi-Tech Hideaway on the Ocean
Why you should stay: Fresh and clean oceanfront views with incredible views of the Pacific. Need we say more?
Location: Solana Beach
Sleeps: 6
Minimum stay: 3 nights
Rates from: $779/night
Sometimes you just need a getaway where you can stare at unobstructed views of the ocean. Well, this modern home in Solana Beach has you covered. Located just 30 minutes north of downtown San Diego, this can serve as your home base for plenty of SoCal adventures, but you might just want to stay home and enjoy the view too.
Recently renovated with an ultra-clean and modern interior, you'll feel rejuvenated among the bright atmosphere. Big view windows in the common areas plus an oceanfront deck mean that at any given moment, you'll feel like the ocean is right there. And when you're ready to go dive in the water, you'll find a sea kayak and boogie boards waiting in the garage — the beach is only two minutes away.
Check Availability
Related read: 11 Best Resorts in California for Rest & Relaxation
4. The Bird's Nest Bungalow
Why you should stay: A romantic Japanese bungalow with a simple yet serene interior and stunning ocean views.
Location: Stinson Beach
Sleeps: 2
Minimum stay: 2 nights
Rates From: $195/night
Stinson Beach is a serene seaside town known for its smooth sand, calm surf, and miles of mountain trails. The scenic paradise is completely encompassed by the ocean and Mount Tamalpais State Park, providing visitors with adventure and views in every direction. It's just a short drive north of San Francisco, delivering the best of both worlds for urban explorers who prefer a quiet place to stay outside of the city.
You'll find the charming Bird's Nest Bungalow on a lush hillside facing Bolinas Bay. The Japanese-style bungalow features a simple yet well-appointed interior that's warm, soothing, and inviting. Enjoy the treetop ocean views from the comfort of your queen bed, or soak in the sunset from the wooden deck.
When you're ready to hit the beach, it's a short five minute walk to a pristine beach with three miles of sand. After a day of surfing and sandcastles, rinse off the sand in the outdoor shower and relax in the soaking tub on the deck.
Check Availability
5. Windansea Woods
Why you should stay: The quintessential San Diego airbnb experience.
Location: La Jolla
Sleeps: 4
Minimum stay: 4 nights
Rates from: $254/night
La Jolla Bike Path — once an old railroad line — cuts right by Windansea Woods, a chic bungalow set on the hillside overlooking La Jolla and the coast below. Host Trish dedicated more than a year to transforming the home into what's now one of the area's best Airbnb Plus rentals, both for its proximity to the water – a five-minute walk to Windansea Beach — and a warm, homey vibe that's just as appealing.
Inside, the Swedish fireplace is the bold focal point of a living space that's modern without feeling unwelcoming. But let's be real: guests don't come to La Jolla to hole up inside, which is why Trish crafted an outdoor haven highlighted by the hot tub, patio, and ocean-view terrace.
"The whole space is like something out of a fairytale: hummingbirds and flowers out every window, flooded with natural light, beautiful, private patio space, the list goes on," said Airbnb guest Ashley.
Check Availability
6. The Mushroom Dome Cabin
Why you should stay: A compact cabin with a geodesic dome perched amidst the trees.
Location: Aptos
Sleeps: 3
Minimum stay: 1 night
Rates from: $151/night
The Mushroom Dome Cabin is one of the most popular vacation rentals on Airbnb, so it shouldn't come as a surprise that the Superhost-managed property boasts more than 1,000 glowing reviews. It ain't the Four Seasons, but the cozy cabin will provide more peaceful seclusion and reconnection with nature than any five-star resort.
The Mushroom Dome Cabin sits on 10 acres of forested land, providing ample space to hike around, gaze up at the stars, or head to the beach. There's a queen-sized bed with a Casper mattress in the loft, and a sofa bed downstairs in the living area.
Guests will have access to a private bathroom with a shower and composting toilet. There's no kitchen, but you'll have access to a BBQ grill, mini-fridge, blender, French coffee press, electric water kettle, and toaster oven. Fresh water is available via the property's well, and the water is treated with an ozonator, UV light, and soft water filter.
Check Availability
7. Eco Luxury Farmhouse Oasis
Why you should stay: Luxe, resort-style Airbnb in Wine Country.
Location: Graton
Sleeps: 4
Minimum stay: 2 nights
Rates from: $306/night
Past guests of the Farmhouse Oasis wouldn't be surprised to see the posh rental on Condé Nast Traveler's list of airbnbs that feel like spas. That's just the vibe Airbnb hosts Trinette and Chris set out for, and judging by the rental's stellar reviews, they hit the mark.
Everything in the 900-square-foot Scandanavian-style cottage is designed for a comfortable, eco-friendly stay, including the sauna and solar-powered swimming pool. Inside, the home's decked out with environmentally friendly products like all-natural bedding, an eco-friendly mattress, and green cleaning supplies.
You won't want to leave, but if you do, you're a five-minute drive from some of West Sonoma's best food and drink, including spots like the Fern Bar, Crooked Goat Brewing, and Pax Winery & Tasting Room.
Check Availability
Related read: 11 Places that Get Snow in California to Fuel Your Winter Wanderlust
8. The Ocean View Treehouse
Why you should stay: A chic escape high above the trees with a serene interior and stellar ocean views
Location: Aptos
Sleeps: 6
Minimum stay: 1 night
Rates from: $725/night
Exalted by Sunset Magazine as a "chic escape," this luxury treehouse in Aptos knocks the socks off of your childhood treehouse. It's hard to say what steals the show here — the stunning interior, the fascinating architecture, or the jaw-dropping views.
The interior of this tranquil treehouse harnesses natural materials like wood and stone to set a calming, sanctuary-like tone that puts its guests at ease. The floor-to-ceiling windows provide ample natural light, and there's plenty of deck space to soak in the ocean view from a cozy hammock or lounge chair.
The treehouse sits on 1.5 acres of private land, affording plenty of privacy and room to roam. There are three state beaches nearby — New Brighton, Seacliff, and Rio Del Mar — and the property is a short distance from The Forest of Nisene Marks State Park.
For more treehouses in the U.S., check out 23 of the best treehouse Airbnb rentals.
Check Availability
9. Cabin Cabin Cabin
Why you should stay: A modern Joshua Tree home inspired by desert days of yore.
Location: Joshua Tree
Sleeps: 4
Minimum stay: 2 nights
Rates from: $177/night
You can't have a conversation about Joshua Tree's world-class Airbnb offerings without mentioning Kathrin and Brian of We Are In Our Element. The duo's varied creative experiences — art, music, real estate, fashion — eventually led to three of the area's most well-known Airbnb rentals, including Cabin Cabin Cabin.
A throwback to pioneer-era homes near Joshua Tree, Cabin Cabin Cabin embodies the desert-boho aesthetic that's made Joshua Tree a mecca of the social media age. Attention to detail in the home is obvious, but a look at the home's original condition brings a whole new level of appreciation for Kathrin and Brian's creative talents.
Check Availability
10. Dome In The Desert
Why you should stay: A geodesic dome with a modern bohemian interior set in a secluded desert landscape
Location: Joshua Tree
Sleeps: 2
Minimum stay: 1 night
Rates from: $229/night
The Dome in the Desert is undeniably quirky on the outside, but it's a designer dream home on the inside. The owner blends classic bohemian style with modern furnishings and a sprinkle of southwestern charm to create a truly unique living space that's as vibrant as the adventurous souls who make this their base camp for exploring Joshua Tree National Park.
The Dome in the Desert can accommodate up to four guests with two bedrooms and two beds — perfect for small families and couples. When you're not exploring the desert landscape at Joshua Tree National Park, you'll find antique books and games throughout the house that'll keep you entertained for hours.
Thanks to garnering praise from major publications like Esquire Magazine, Conde Nast Traveler, and Goop this property books out fast during peak travel seasons, so be sure to reserve your stay well in advance. See our in-depth profile of Dome in the Desert here.
Check Availability
11. Treehouse With Sierra Views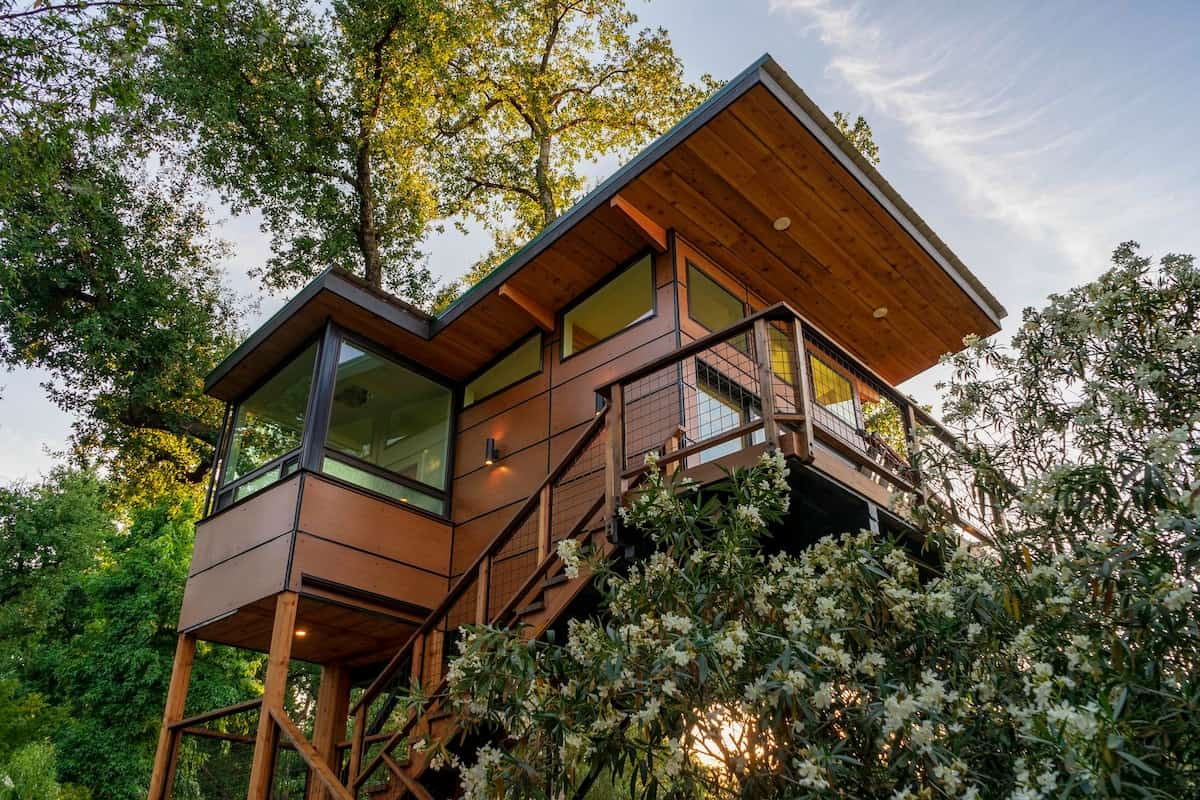 Why you should stay: Enjoy your perch high up in a modern treehouse, surrounded by gardens and mountain views.
Location: Visalia
Sleeps: 2
Minimum stay: 2 nights
Rates from: $225/night
For travelers looking for a unique treehouse stay with the amenities of a high-end home that's also within striking distance of the Sierra Nevada, this Visalia Airbnb is just right.
Sitting on a 2.5-acre property under a canopy of oak trees, you'll be treated to views of the High Sierra. Of course, the property is within an hour's drive of Kings Canyon National Park and an hour and a half drive from the big trees at Sequoia National Park.
Inside, you'll find sleek décor and modern furniture, plus big view windows so you can enjoy the vista no matter where you are. The huge sliding glass doors open up fully to let in the fresh air and perfect California weather.
This Airbnb is incredibly popular so be sure to snag your dates if you find them available.
Check Availability
12. Iconic 1974 Airstream
Why you should stay: Vibe out in this fully restored vintage Airstream sitting on an organic farm.
Location: Carpinteria
Sleeps: 2
Minimum stay: 2 nights
Rates from: $198/night
There's always something charming about a good farm stay, but this vintage caravan takes it to another level. The 33-foot renovated Airstream is surrounded by a five-acre organic farm — yes, you'll see chickens, horses, and mules. But of course the trailer itself is a masterpiece, with the metallic aluminum shell contrasted by leather and cowhide décor for true Old West vibes (here's reading on lost treasure in California while you lounge).
Attached to the Airstream you'll find a comfortable and shaded patio looking out over the nearby avocado orchard. And when you're not kicked back here, it's just a short drive to downtown Carpinteria where you can find a quaint collection of shops and restaurants — or dip your feet in the Pacific Ocean at Carpinteria State Beach.
Check Availability
Related read: 9 Amazing Glamping Spots Near Los Angeles
13. 436 Olancha
Why you should stay: Vacation like a movie star at this dreamy mid-century modern villa with incredible mountain views.
Location: Palm Springs
Sleeps: 10
Minimum stay: 2 nights
Pets allowed: $925/night
Nothing says California more than Hollywood. But when the movie stars need a weekend getaway, Palm Springs has always been a top spot. For the ultimate Palm Springs retreat — built by a Hollywood movie studio exec in 1948 — look no further than 436 Olancha.
Set among breathtaking views of the Mount San Jacinto foothills, this five-bedroom "compound" has three distinct houses steeped in lore (seriously, go read the profile on the airbnb listing, it's incredible), so there's plenty of room for everyone in your group to have their space. A classic mid-century design, the property is an architectural work of art, with plenty of clean lines, geometric shapes, and minimalist furniture.
Check Availability
14. Nordik Eskape
Why you should stay: Sleek Scandinavian-style cabin near some of Big Bear's best outdoor adventures.
Location: Big Bear
Sleeps: 4
Minimum stay: 1 night
Rates from: $242/night
Nordik Eskape is one of the highest rated airbnbs in California, and for good reason. Boasting immaculate decor, top-notch hosting, and an amazing mountain location, this should be at the top of your list when you need a weekend away from the city.
Fans of modern design will love the Scandinavian styling throughout, which still keeps in line with the mountain cabin theme — especially with the A-frame style view windows in the front room. There's plenty of outdoor space too, with a large deck, private master balcony, and even a hammock in the backyard.
Check Availability
Related read: 11 Epic Winter Camping Spots in California
Watch on YouTube
Explore California!
Join Weekend Wanderer to get epic ideas on where to travel, hike and explore across the country!
Was this article helpful?
---