---
REI's stores may be temporarily closed because of the COVID-19 outbreak, but you can still find plenty of great deals online with the REI Co-op Sale.
In these trying times, it's important to maintain some semblance of a normal, healthy lifestyle. Although we're experiencing unprecedented shutdowns and restrictions around the country and world, there are still windows to opt outside and enjoy the outdoors where it's safe and advisable to do so.
Whether you're squeezing in a close-to-home hike, camping in remote areas or stocking up for adventures later this year, REI's Co-op Sale is a great place to get your gear in order. Starting today, March 20, through April 6, you'll find thousands of deals on outdoor gear, apparel and more.
From now until March 27, you'll also receive free standard shipping on any order, no matter how much you spend.
Even better, if you're an REI member, you can get an extra 20% off one full-price item and 20% off one REI Outlet item with code MEMPERKS2020. If you haven't checked your REI dividend balance yet, here's where to start.
There's plenty to shop now, but check back on March 27 for even more deals.
Below, you'll find 21 of our favorite deals on outdoor gear and apparel. To see more, check out the entire sale here.
Outdoor Gear Deals
From March 20 to March 26, all REI Co-op goods and apparel are 25% off, and you'll find other killer deals on brands like Patagonia, The North Face, Outdoor Research, Smartwool and more.
REI Co-op Half Dome 2 Plus Tent
This 3-season shelter is a staple of REI's tent line and offers more than 35 square feet of floor area. It's hard to find a more spacious and affordable 2-person tent that won't weigh you down in the backcountry. For a bigger option, check out the Half Dome 4 Plus.
Shop Deal
REI Co-op Quarter Dome SL 2 Tent
If the Half Dome's a bit heavy for your travels, check out the Quarter Dome SL 2. With a packed weight under 3 pounds, it's perfect for backpacking and even with a partner, there's still room to move comfortably.
Shop Deal
REI Co-op Base Camp 4 Tent
For campgrounds and family trips, the Base Camp 4 offers a spacious shelter that's easy to set up and take down in minutes. And if you're like us and live somewhere like Arizona, it can easily do the job year-round.
Shop Deal
REI Co-op Quarter Dome Air Hammock
If you know us, you know we're fans of hammock camping, and REI's Quarter Dome Air is a great way to get off the ground and into the trees. Unlike traditional hammocks, the Quarter Dome Air offers a wide berth for easy laying and sleeping at almost any angle.
Shop Deal
REI Co-op Flash 22 Pack
We're no mathematicians, but a 22-liter capacity at 13-ounce weight checks everything we need in an ultralight day pack. It doesn't skimp on the features, either, making it one of the most versatile packs you'll find in this weight and size.
Shop Deal
REI Co-op Flash 18 Pack
For something lighter and smaller, the Flash 18's a perfect packable backpack. It's ideal for stowing in your main pack or carrying along in luggage so you don't have to bring a heavy pack on a small side trip.
Shop Deal
Osprey Poco AG Plus Child Carrier
Kids are hard. Hiking is hard. But trekking with the right child carrier can make all of it easier, the the Osprey Poco AG Plus does just that. It holds up to 48.5 pounds, so you'll have years of mileage before your kid has to fend for themselves on the trail.
Shop Deal
REI Co-op Kingdom Cot 3
Universally known as one of the more comfortable, plush camping cots on the market (here's our full Kingdom Cot 3 review).
Shop Deal
REI Co-op Flexlite Camp Chair
All it takes is one backpacking trip to know the value of a good chair in the backcountry. Enter the REI Co-op Flexlite chair: a 1-pound, 11-ounce seat that's easy to haul and setup on the spot.
Shop Deal
REI Co-op Magma Trail Quilt 30
The Magma Trail Quilt 30 is a comfy alternative to a traditional sleeping bag. It weighs just over a pound and attaches easily to a sleeping pad, like the one on sale below.
Shop Deal
REI Co-op Magma 15 Sleeping Bag
With 850-fill-power goose down, the Magma 15 offers REI's highest warmth-to-weight ratio. It's an affordable alternative to more expensive bags in this range.
Shop Deal
REI Co-op Siesta 30 Double Sleeping Bag
We named the Siesta 30 our Value Buy for the best double sleeping bags, and for good reason. Its no-frills synthetic fill keeps things warm without upping the price, and clocks in right at 6 pounds (regular length).
Shop Deal
REI Co-op Kid's Radiant 20 Sleeping Bag
Start 'em while they're young with the Radiant 20, an affordable 3-season sleeping bag that'll teach them the fundamentals of staying warm when the weather drops.
Shop Deal
REI Co-op Flash 3-Season Sleeping Pad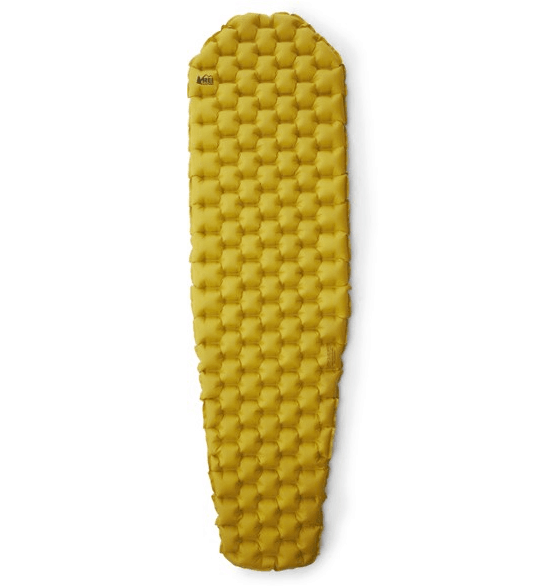 An insulated, lightweight sleeping pad you can blow up in less time than comparable pads, all under $90.
Shop Deal
Outdoor Apparel & Shoe Deals
REI Co-op Revelcloud II Jacket
Lightweight synthetic insulated jacket that works well in any season, and even packs into its own pocket for easy storage.
Shop Men's Deal
Shop Women's Deal
REI Co-op XeroDry GTX Jacket
We named this one of our favorite lightweight rain jackets – it's packable, lightweight and works well for hiking, traveling and anything in between.
Shop Men's Deal
Shop Women's Deal
REI Co-op Trailsmith Pants
These aren't hiking pants, and they're not work pants. They're somewhere in between, and we're all better off for it. A cotton-polyester-spandex blend makes them ideal for anything the day throws your way.
Shop Men's Deal
Shop Women's Deal
REI Co-op Men's Boxers
Our guide to the best hiking underwear includes REI's briefs, but don't sleep on their boxers. Their polyester-spandex design offers the perfect combo of flexibility, support and comfort all at once.
Shop Deal
REI Co-op Women's Active Bikini Underwear
Moisture-wicking and antimicrobial features make this underwear ideal for hiking, camping and other outdoor activities. "They are amazingly light weight, breathable, and fit perfectly," says one reviewer.
Shop Deal
Salomon Men's XA Pro 3D Trail-Running Shoes
When you need grip and traction without losing range of movement, Salomon has you covered. This is an REI Outlet deal, so when it's gone, it's gone for good.
Shop Deal
Salomon Women's XA Comp 8 CS WP Trail-Running Shoes
This moderately cushioned off-trail shoe offers a balance of flex and support against rugged surfaces – perfect for the trailrunner in training.
Shop Deal
This post is sponsored by REI – view their current Co-op Sale here. To learn more about our editorial policies, click here.
---