When you make a purchase through our links, we may earn commissions from Amazon, REI and other retailers. You can learn more about our editorial and affiliate policy here.
---
Their innovative designs and versatile reputations make Osprey's Daylite packs one of the most popular hiking daypacks on the market.
Praised for its functionality, the Osprey Daylite has quickly become a solid go-to all by its lonesome, though it's also able to attach to larger Osprey backpacks for added storage and carry options.
If you've been in the market for a new daypack, you've probably encountered this guy a time or two in your search. You've probably also noticed there's a newer version: the Daylite Plus.
With these options and more, you may have been wondering if it's better to ditch the earlier model for the new and improved version, or vice versa.
Curious ourselves, we decided to put the two up against one another and see how they compare. While similar in design, we found some intriguing differences which may have you choosing one over the other.
Osprey Daylite vs. Osprey Daylite Plus
Let's start with the OG, the Daylite. This lightweight daypack streamlines packability. Constructed from 210D ripstop nylon, it ditches all the overwhelming bells and whistles to provide precisely what you need: an easy-to-use pack.
This pack features a top loading main compartment for all your hefty gear, including a specialized pocket for a hydration bladder, or tablet if you prefer, and two side exterior mesh pockets. A smaller front organizational pocket keeps items like keys and cell phones from getting lost in the jumble.
Basically, it's a solid daypack for carrying the typical essentials on and off trail.
The Daylite Plus is similar in design. Constructed from the same 210D ripstop, it too offers an easy loading main compartment and a front pocket with a mesh organizer.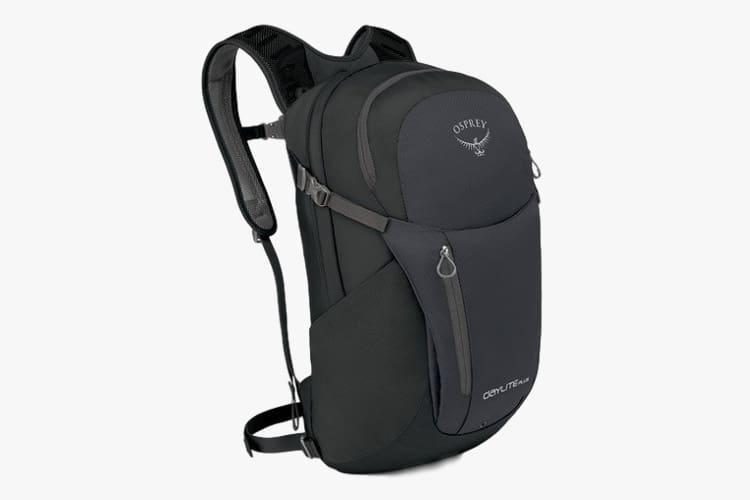 However, the Daylite Plus offers a few bonus features that you don't get with the Daylite. While still maintaining the same clean design as the original, the Daylite Plus one-ups it with a quick access shove-it front panel sporting a nifty slash pocket.
The Plus also features the hydration bladder/tablet pocket but updates it with padding for safer storage. And it does away with the side mesh in replacement with padded pockets.
With a larger carrying capacity, the Plus is the daypack answer for the adventurer who wants just a little bit more convenience and utility. To get a better handle on what features are best for you, take a look at our pack breakdown below.
Comfortability
Both packs are designed to even out the load's weight distribution while allowing for fluid body movement. To keep the packs from digging into your back, each features a die-cut foam back panel boosting comfort and maximizing air-flow.
However, only the Daylite Plus has the additional support of die-cut EVA foam padding on the harness. If you're maxing out the weight of your pack, this additional feature is a bonus.
Advantage: Daylite Plus
Storage Capacity
The biggest difference you'll notice with these two is storage capacity. The Daylite clocks in at a reasonable 13-liter capacity. where the Plus is beefed up to 20 liters.
While the bigger is better mentality applies in some places, it's not always true for packs. If all you need to carry around is some water, a rain jacket, and a handful of snacks, then you're highly unlikely to need the extra storage.
On the other hand — for those following the "be prepared" motto — you'll appreciate how the Plus can carry all your daily essentials and then some. Should your spontaneous impulses kick-in on your planned adventure, you'll be ready for it.
Advantage: depends on your capacity needs
Packability
The beauty of the Daylite and Daylite Plus is the minimal design that keeps packing a breeze. Whether items are small or large, there's a place for everything and it's all easy to access.
The Daylite Plus' shove-it pocket, however, gives it another star on the packing scale. If you need to quickly grab your rain jacket or start to overheat and need to stash a layer you can do so without having to reorganize everything you so carefully packed inside.
The one drawback of both packs are the side pockets. While it's an appreciated feature for other gear, that water bottle may have difficulty staying put. If you're going to use either pack, it's worth filling up a hydration reservoir and stuffing it inside.
Advantage: Daylite Plus
Versatility
Both Daylite versions can latch onto other compatible Osprey packs or act as stand-alone daypacks. The Plus is obviously a bit more versatile in design because of its added features and capacity increase.
While we adore a minimalist approach, it comes with limitations. With the added shove-it pocket, front zippered slash pocket, and higher load capacity, the Plus is typically considered the more versatile of the two.
Advantage: Daylite Plus
Which Daylite is Right for You?

The real question is: what are you using the pack for?
If you're the type to go ultra-light and have a less-is-more attitude, the Daylite is the better option. It's ideal for shorter day hikes, romping around town, and carrying the bare necessities where the day's journey takes you. It's also a tad cheaper, which can be a factor for many hikers.
Meanwhile, if you like to keep your options open or predict you'll be carrying more than just your share of gear, you'll want to lean toward the Daylite Plus. It's better for day hikes requiring more gear and situations where quick stashing is in order.
Either way, both the Osprey Daylite and Osprey Daylite Plus are quality daypacks worth the investment and backed by the company's All Mighty Guarantee, so you're covered in the event either one doesn't fit your adventuring needs.
Check Current Price for the Osprey Daylite:
Amazon
REI
Check Current Price for the Osprey Daylite Plus:
Amazon
REI
We Love Comparisons
At Territory Supply, we love comparing products and brands. Check our sweet comparison articles like Black Diamond Spot vs. Storm, Alltrails vs. Gaia, and Keen vs. Merrell.
---