The hiking near Asheville, North Carolina is purely sublime.
When I was living near Asheville, I was spoiled rotten with easy access to Western North Carolina's best trails. Working just two miles outside of Pisgah National Forest, the forest became my playground with Asheville's best trails a mere car ride away.
To hike here is truly to be in a forest-lover's paradise. Home to the highest peak in the Appalachians and unfathomable landscapes, the hikes near Asheville offer postcard-worthy vistas and simply stunning scenery.
Lush temperate rainforest, panoramic views, rocky balds, and waterfalls galore are only a handful of reasons to make the trek out to this neck of the woods.
Expect crowds over the summer and plenty of rain, though the thunderstorms are a nice way to beat the heat after a long day on the trail.
Don't like hiking in the rain? Wait about ten minutes and the weather will change.
If you're the type to avoid crowds, try hiking early in the day or over winter. It may be cold, but this is often the most peaceful and serene time to be out on the trail.
Whatever your adventure or skill level may be, Asheville has something in store for you. When you're ready to hit the trail, here's a list of the best hikes in the surrounding area.
1. Mount Mitchell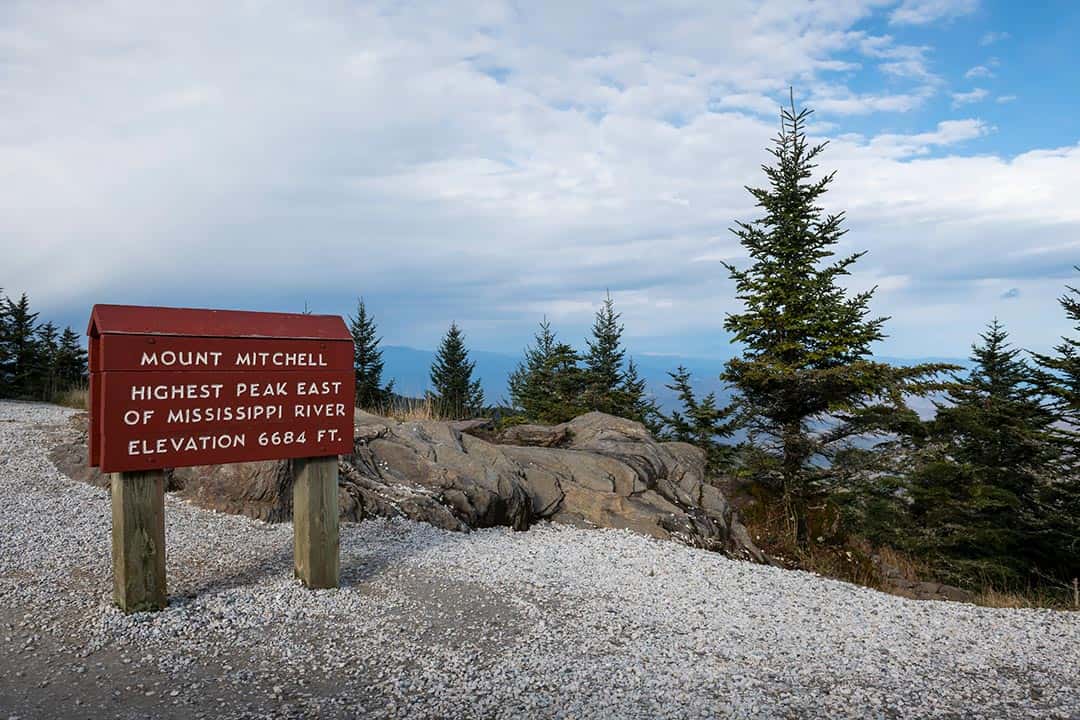 Why you should go: A heart-pumping hike to the highest peak in the Appalachians, with an easy shortcut for a less intense hike.
Distance: 12 miles
Elevation Gain: 3,600 feet
Difficulty: Hard
Mount Mitchell is the highest peak east of the Mississippi, unsurprisingly delivering an astounding view for those who can reach the summit. It's a grueling trek to the top, but like most challenging hikes it's well-worth the effort for the mountaintop vistas.
As you make your strenuous ascent, you'll know you're gaining elevation as you notice the trees around you change. From mixed hardwood to spruce and Fraser fir, you'll trek along this old-growth forest until you reach your final destination.
If you find this hike to be too challenging, you're in luck — you can also access the summit of Mount Mitchell via the quick-and-easy Summit Trail. This trail (more of a short walk, really) is a 280-yard paved path that will take you right to the summit.
Fair warning: this area draws in quite the crowd, so try to get here early or visit in the off-season.
Related Read: 6 Cool Campervan Rentals in Nashville, Tennessee
2. Black Balsam Knob
View this post on Instagram
Why you should go: A scenic trail winding through fresh Balsam fir, a mountain meadow, and rocky balds with a breathless alpine view at 6,214 feet.
Distance: 1.5 miles
Elevation Gain: 350 feet
Difficulty: Easy
South of Asheville just off of the Blue Ridge Parkway is Black Balsam Knob. Take a stroll along this trail and you'll feel like you're on top of the world.
Breathe in the fresh scent of Balsam fir, then depart the grove for a high meadow filled with wildflowers. If you get the feeling that you're in for a wild view, you're spot on.
Atop the treeless summit, you'll be in the presence of some astounding rocky balds with a sweeping alpine view as far as the eye can see. This right here is what the Southern Appalachians is all about.
If you still want more after this hike, head on over to Sam Knob nearby.
Related Read: 10 Incredible Glamping Spots Near Asheville, North Carolina
3. Triple Falls Trail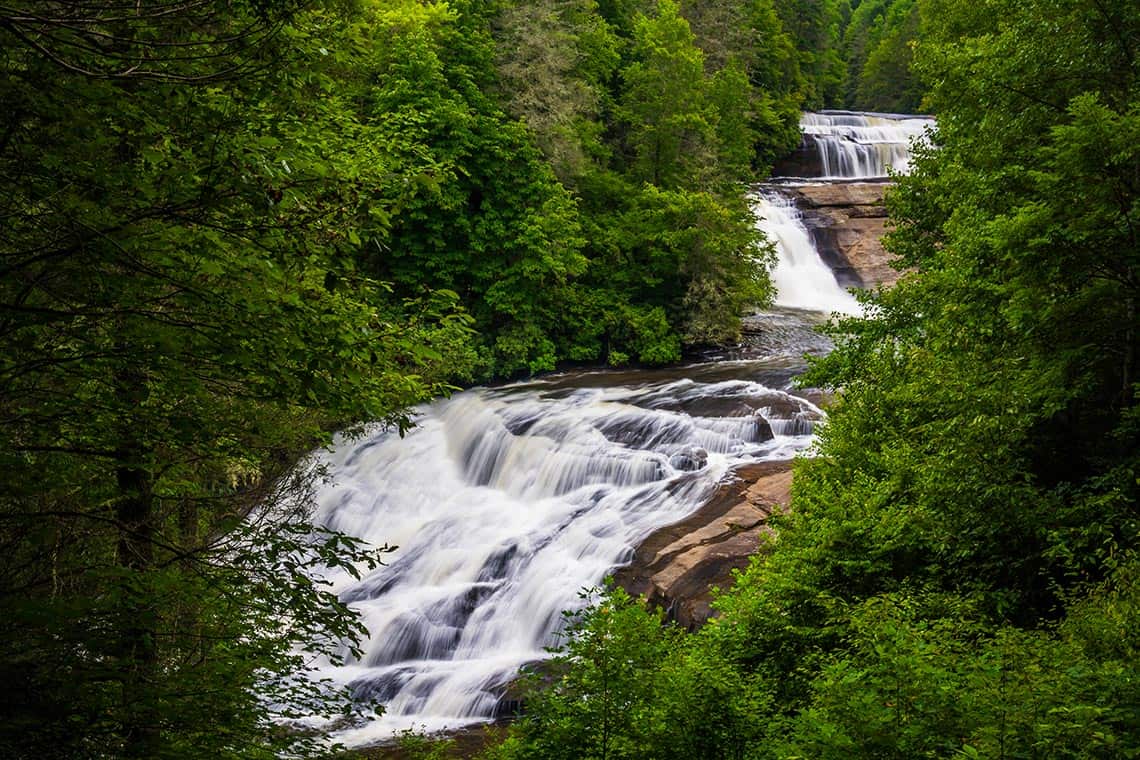 Why you should go: A short trip to a cascading waterfall featured in The Last of the Mohicans.
Distance: 1 mile
Elevation Gain: 120 feet
Difficulty: Easy
Transylvania County is about an hour south of Asheville and known for its plethora of waterfalls. A trip to this scenic landscape would be utterly incomplete without a stop at Triple Falls.
Triple Falls Trail is by far the most popular and accessible trail in DuPont State Recreational Forest. While this may lead some to steer clear and avoid the crowds, a visit to the waterfall will quickly convince you it's worth sharing the view.
Three sections of this waterfall plummet down a 120 foot rock face, which can be viewed from the trail above or experienced from below. Watch your step, though, as the area around the falls is slippery and climbing is prohibited for good reason.
After appreciating the falls you can continue your journey on one of DuPont's many trails, where more waterfalls and enchanting lakes await.
Related Read: 10 Unique Places to Stay in North Carolina
4. Graveyard Fields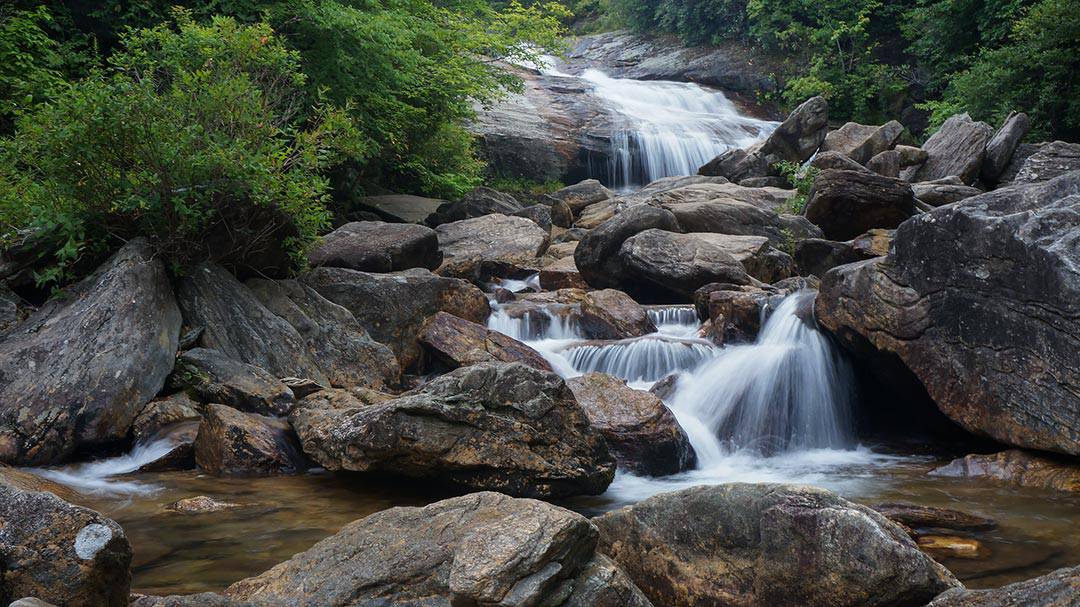 Why you should go: Spend the day relaxing in the pool of a refreshing waterfall.
Distance: 3.2 miles
Elevation Gain: 450 feet
Difficulty: Moderate
Graveyard Fields is a popular trail located south of Asheville off the Blue Ridge Parkway. Here, hikers will find a healthy dose of water and lush foliage that's guaranteed to rejuvenate your spirit.
Bring a picnic and plan on spending the afternoon at the waterfall. It's a good idea to bring a map, too, as the trail out to the falls can be confusing at certain parts.
Confusing navigation aside, the trip to the waterfall is well-worth the effort. Fed by the Yellowstone Prong, the water source of this fall is cool and crystal clear. Take a dip in the refreshing swimming hole and enjoy your stay.
When you've had your fill, celebrate your return and raise a glass to the trail with an ice-cold Graveyard Fields Blueberry Coffee Porter from the taproom at Boojum Brewing Company.
Related Read: 8 Incredible Glamping Spots Near Gatlinburg, Tennessee
5. Craggy Pinnacle Trail
View this post on Instagram
Why you should go: A short family-friendly hike just outside of Asheville with a jaw-dropping 360-degree view.
Distance: 1.4 miles
Elevation Gain: 250 feet
Difficulty: Easy
The scenic Blue Ridge Parkway is beautiful beyond words. Should you find yourself driving this route through Asheville, get out and stretch your legs at the Craggy Pinnacle Trail.
Located about a half-hour drive from Asheville, the trip to the top of Craggy Pinnacle is a short and easy hike.
Saunter among the gnarled trees and Catawba rhododendrons as you leisurely follow the path. Once you reach 5,900 feet, you can bask in the sprawling mountain views.
When the season is right, this area is bursting in color with the rhododendrons and wildflowers in bloom. In the summertime, there's even a chance for a foraged snack as you wander past thickets of blueberries.
Related Read: 11 Most Beautiful Swimming Holes in North Carolina
6. Art Loeb Trail
View this post on Instagram
Why you should go: A dose of peak-bagging wilderness therapy for backpackers.
Distance: 30.1 miles
Elevation Gain: 8,250 feet
Difficulty: Hard
For those in need of some forest therapy, take a few days to complete the Art Loeb Trail. Named after the Carolina Mountain Club activist, this trail will take you about two to three days to complete.
Bagging peaks and walking ridgelines, the Art Loeb trail is considered to be one of the most challenging hikes in the area. Black Balsam Knob and Tennant Mountain are just a couple peaks you'll traverse on the journey.
To complete this trail, you'll want to shuttle cars at the end. Otherwise, it's a long trek back.
Related Read: 10 Can't-Miss Glamping Sites Near Great Smoky Mountains National Park
7. Linville Falls via Plunge Basin Trail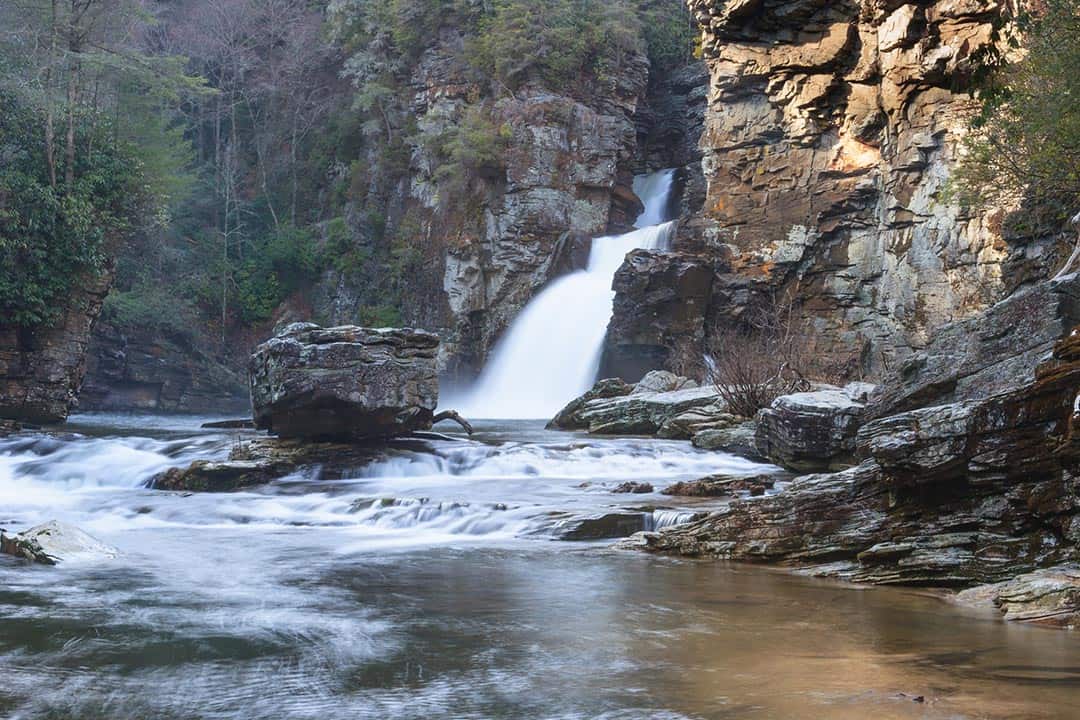 Why you should go: A postcard-worthy waterfall plunging through rugged cliffs.
Distance: 1.7 miles
Elevation Gain: 520 feet
Difficulty: Moderate
The trip out to the Linville Gorge will cost you a bit over an hour's drive from Asheville, but it's worth the gas. While there are many worthy trails to venture on here, you shouldn't pass up the Linville Falls.
Starting from the visitor center, the trail out to Linville Falls passes through a forest of various tree species including hemlock, oak, and birch.
When you hear the powerful roar of water pouring out of mouth of the waterfall, you know you're close.
Once there, hikers will be dazzled with the striking image of the three-tiered waterfall plummeting down to the gorge below. Watch as the water churns and continues it's journey, carving out a path through the rugged towering cliffs.
While you're here, consider making the trek out to Table Rock and Hawksbill Mountain for a full day of hiking adventures.
8. Looking Glass Rock
View this post on Instagram
Why you should go: A mountain vista atop an iconic rock formation in the temperate rainforest.
Distance: 6.4 miles
Elevation Gain: 1,650 feet
Difficulty: Hard
Some views must be earned, and such is the case with the iconic Looking Glass Rock. Located south of Asheville in Pisgah National Forest, the Looking Glass Rock Trail is a hearty but worthy climb.
On the way to the top, you'll weave through switchback after switchback of open forest filled with mountain laurel and rhododendrons.
After a little over 1,500 feet in elevation gain, you'll come across a massive exposed rock face called Looking Glass Rock. Gaze off into the distance and take in this grand view — you've earned it.
This is a very popular out-and-back hike, so arrive early if you want to find parking. Also, while you're in the area check out Cat Gap Loop and the picture perfect Looking Glass Falls.
Related Read: 9 Gorgeous & Secluded Cabin Rentals in Kentucky
9. Mount Pisgah Trail
View this post on Instagram
Why you should go: Vast views of Western North Carolina's forested landscape.
Distance: 1.6 miles
Elevation Gain: 700 feet
Difficulty: Moderate
The land upon which Mount Pisgah rests was once owned by the Vanderbilt family before being sold to the government. Now, the mountain is part of the Blue Ridge Parkway.
The 5,721 foot summit can be accessed via the out-and-back Mount Pisgah Trail. You won't find any trees at the top, but you will find a bald with the WLOS-TV tower on top. While it may not be the most sightly image, the rest of the 360 degree views are stunning.
On clear day, see if you can spot out Mount Mitchell and Craggy Mountains. The vast and wild view looking out is worth the ascent.
10. Max Patch Loop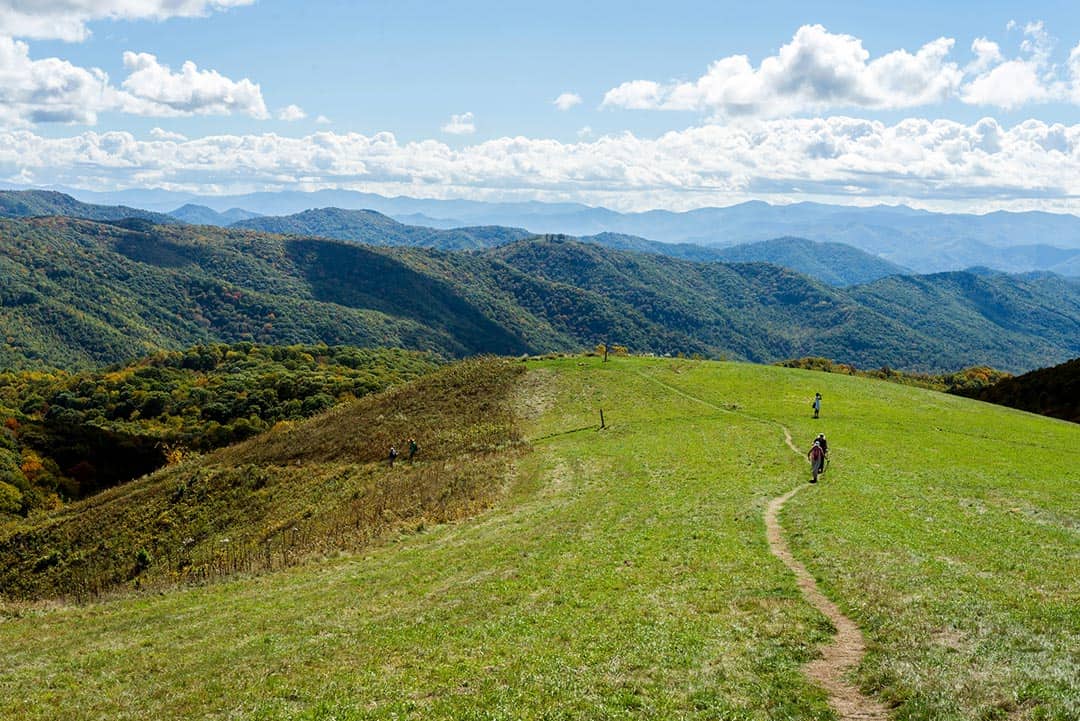 Why you should go: A grassy bald with sprawling mountain views on an iconic section of the Appalachian Trail.
Distance: 1.5 miles
Elevation Gain: 300 feet
Difficulty: Easy
For those looking for a taste of the famous Appalachian Trail, you can experience a sampling of the AT right here in Asheville at the Max Patch section.
On the Max Patch Loop, the AT winds through a grassy bald with 360 degree views at 4,629 feet. On a clear day, you can see the Great Smokies off in the distance.
Bring your camera and hang out for an afternoon. Weather permitting, the Max Patch section is a nice place to take a meadow nap.
Related Read: 14 Best Hikes Near Chattanooga, Tennessee
11. Craven Gap Section of Mountain to Sea Trail
View this post on Instagram
Why you should go: A pleasant stroll through a forested section of the Mountain to Sea Trail where President Obama hiked.
Distance: 2.5 miles
Elevation Gain: 350 feet
Difficulty: Easy
The Mountain to Sea Trail stretches across 1,200 miles from the Great Smokey Mountains to the Outer Banks. While it would take a well-planned backpacking trip to complete, you can easily knock out a section of it near Asheville at Craven Gap.
Only 15-minutes from the heart of downtown, Craven Gap is an easy 2.5-mile hike. As you effortlessly jaunt along the mostly level path, you'll come across a few small streams flowing across the forest floor.
Peaceful and well maintained, Craven Gap is a breath of fresh air and well worth a visit. Don't believe us? Ask the Obamas — they hiked here back in 2010.
If your legs are still itching for a stretch, visit the Rattlesnake Lodge Trail next.
12. Lookout Mountain
View this post on Instagram
Why you should go: A quick and steep hike to the top of two summits.
Distance: 1.1 miles
Elevation Gain: 623 feet
Difficulty: Moderate
Travel 20 miles east of Asheville and you'll reach the Lookout Mountain trailhead. Albeit short, the journey up to this summit is a steep one.
Before you reach the top, take note there are two summits at Little Lookout and Big Lookout.
Many hikers peak at Little Lookout, which is little more than half a mile up the trail and rocky at that. Continue your journey a bit further and you'll be standing atop the 3,760 foot summit of Big Lookout.
Lookout Mountain is a solid hike for a quick burn and generous reward.
Related Read: 11 Exciting & Unique Places to Stay in Tennessee
13. Carolina Mountain Trail
View this post on Instagram
Why you should go: A peaceful stroll through three types of forest.
Distance: 2.2 miles
Elevation Gain: 193 feet
Difficulty: Easy
The North Carolina Arboretum is a great place to explore in Asheville. Offering 10 miles of trails, you can easily turn this trip into a full day of hiking.
If you find yourself limited on time, put the Carolina Mountain Trail at the top of the list. This trail highlights native trees and takes you through three types of forest.
Keep your ears open and you'll hear the sound of Bent Creek flowing by the trail.
A kid- and dog-friendly adventure, the Carolina Mountain Trail is a good spot to bring the family for an easy day of exploring.
Explore Appalachia
Get epic travel ideas delivered to your inbox with Weekend Wanderer, our newsletter inspiring more than 10,000 readers every week.
Was this article helpful?
---