Territory Supply is reader-supported and may earn a commission when you book or purchase using our links. Learn more about our editorial policies here.
---
Known for its big cities and bustling lifestyle, Ontario's natural beauty often gets overlooked. But if you're ready to kick back and reconnect with nature, there are plenty of picturesque glamping and dome camping destinations tucked away in the Province.
Offering all the benefits of sleeping under the stars without having to rough it too much (unless you want to), glamping is currently having a moment across Ontario — and for good reason.
With plenty of scenic national parks like Bruce Peninsula and the Georgian Bay Islands, plus incredible ski resorts and epic mountain biking trails, there are plenty of ways to spend time in the great outdoors in and around Ontario. And fortunately, many of the best places to glamp in Ontario are mere minutes away from trailheads and park entrances.
These 12 incredible glamping destinations in Ontario are a great places to stay for a unique adventure in the great outdoors. All rates are listed in U.S. dollars.
Related: 12 Dreamy Places to Glamp in British Columbia, Canada 
1. The Woodland Retreat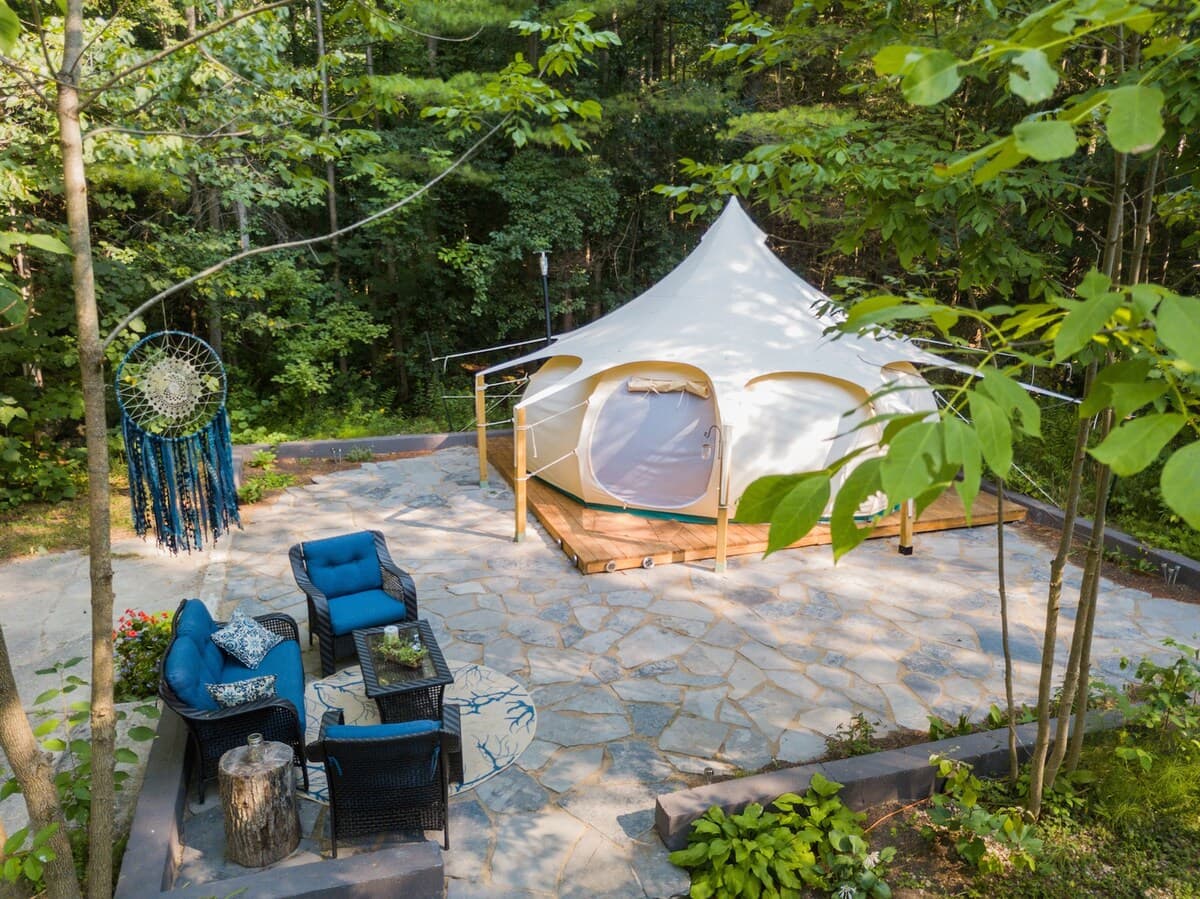 Why you should stay: An eco-retreat located in the heart of the Niagara ridgeline.
Nearest town: Meaford
Sleeps: 2
Minimum stay: 2 nights
Rates from: $184/night
Tucked away in pine and ash forest is the sustainable and peaceful Lotus tent retreat. With plenty of creature comforts from a plush queen-sized bed to a deluxe outdoor kitchen, this glamping location requires little set up but offers maximum enjoyment.
Explore the stunning Georgian Bay and its surrounding waterfalls, hiking trails, and charming countryside towns. After a long day of exploring, wash off in the outdoor shower, then cozy up by the fire pit for a night of stargazing. There's a great outdoor living area and plenty of room for some morning (or sunset) yoga.
Check Availability
Related Read: 12 Best Cabin Rentals in British Columbia for a Great North Getaway
2. Forest Yurt
Why you should stay: A forested yurt with just the basics — and a great starting price.
Nearest town: Madoc
Sleeps: 2
Minimum stay: 2 nights
Rates from: $88/night
Take in a rainbow-hued sunrise from the comfort of a private yurt oasis, just a quick drive from Madoc. Start your morning with an indulgent breakfast from the comfort of a covered terrace, or perhaps enjoy a morning yoga session in the shade. This is one of the more rustic places to glamp in Ontario, but it's also one of the most affordable. And if you're staying for more than two nights you're welcome to shower in the owners' home.
Just a hop, skip, and a jump from the local cheese factory, it's easy to take a walk to sample some fresh ice cream or pick up lunch to go. In the winter, the only source of heat is a wood-fire stove, but if you do want to stay, complimentary snowshoes are available so you can explore the trails on the property before cozying up back in the yurt by the stove.
Check Availability
3. Secret Treehouse Hideaway
Why you should stay: Take to the sky in this one-of-a-kind treehouse in the woods.
Nearest town: Port Perry
Sleeps: 2
Minimum stay: 2 nights
Rates from: $312/night
Ever dreamed of living out your childhood fantasy of sleeping in a treehouse? Well, now is your chance at this incredible treehouse built into the natural wooded landscape of Port Perry. Just one hour from the hustle and bustle of downtown Toronto, the secluded escape is near swimming ponds and incredible hiking trails and comes with a fire pit for evenings under the stars.
With 300 acres to explore, you can try your hand (feet?) at trail running, cross-country skiing, or mountain biking for a heart-racing adventure. Offering everything you could ever need for an escape in the woods, the treehouse comes fully stocked with a BBQ, an ice maker, a full kitchen, and an indoor fireplace. There's also another airbnb on the property that can sleep another four guests – the Log Cabin. 
Check Availability
4. Blue Mountain Geodome
Why you should stay: A geodesic dome with epic views from the wall-to-wall windows.
Nearest town: Collingwood
Sleeps: 2
Minimum stay: 1 night
Rates from: $132/night
For a unique home base on your next ski vacation, why not stay in an eco-conscious geodome for the ultimate glamping experience? Just steps away from the Blue Mountains, you can skip the fancy resort and save some money but sleeping inside this cool dome instead.
Inside, guests will find bohemian-style hammocks and swings to kick back in style. Enjoy a small, but mighty kitchenette to whip up meals using the fresh vegetables on the property, or venture into town to try a farm-to-table restaurant or to try one of the hip wine bars or breweries.
Check Availability
5. ReLive Yellow Yurt
Why you should stay: Forget about hipster glamping – this is a chance to connect with the earth for a few days.
Nearest town: Princeville
Sleeps: 3
Minimum stay: 2 nights
Rates from: $1626/night
Cozy up in an  authentic Mongolian Yurt decked out with all the offerings of home. Featuring everything from solar power to an indoor fireplace to a lux wood-burning sauna, this yurt leaves little to be desired. You'll enjoy living large in a tiny home while being surrounded by pristine nature and undeveloped surroundings.
Access the nearby ATV and snowmobile trails for a fun day of play, or enjoy a nature walk on the property with access to three reforested areas, wetlands, an apple orchard, and even the Saugeen River. As a bonus, this is one of the best dog-friendly places to glamp in Ontario – just send them a message if you want to bring your pup during your stay (but be aware that there's wildlife a' plenty in the area.)
Check Availability
6. Ahoy Sailor Camper Trailer
Why you should stay: Get some seriously nautical vibes without having to step foot near water.
Nearest town: Orillia
Sleeps: 3
Minimum stay: 1 night
Rates from: $63/night
Looking for a fun, quirky, and economical getaway? This tiny camper trailer packs a serious punch with a playful nautical theme throughout the home. Offering free setup at popular McRae Provincial Park, you'll have full access to stunning nature trails, a picturesque beachfront for swimming, boat rentals, and a well-loved ice cream shop.
As a bonus, there are plenty of unique packages offered, like the outdoor games package, including corn hole boards, bocce ball, croquet, and ring toss for plenty of fun in the sun. It's definitely one of the most affordable places to glamp near Ontario, but you may have to pay separate campsite fees, depending on where you want it parked. The owners can help you figure it all out.
Check Availability
7. The Elmbrook Yurt
Why you should stay: A four-season yurt near the region's wine trail.
Nearest town: Prince Edward County
Sleeps: 2
Minimum stay: 2 nights
Rates from: $154/night
Located just a few minutes from downtown Picton, this unique farmstead yurt offers an incredible alternative to the luxury hotels and B&B in this popular winery destination. With over 40 wineries and 13 breweries in the area, you'll have no shortage of options for where to while away the day.
Fully insulated and heated for the winter and equipped with air conditioning for the summer, this stay is built to be comfortable year-round. Pop open a bottle of locally P.E.C. wine to enjoy on the deck or nestle by the outdoor gas fireplace overlooking the pond to wind down for the evening. When your eyes start getting heavy (either because of a long hike or, hey, maybe because of the wine), retreat to the hotel-quality, queen-sized bed to drift off to sleep against the soundtrack of crickets.
Check Availability
8. Paradise Island Glamping
Why you should stay: A romantic stream-front hideaway on a secret island.
Nearest town: Holland Centre
Sleeps: 2
Minimum stay: 2 nights
Rates from: $225/night
Hidden away on a small island is this lux and relaxing private getaway, purpose-built for those who prefer the "glam" part of glamping. Follow a winding path and cross a small bridge to reach your woodland retreat, where you can snuggle up in a hotel-style king bed (with plush sheets, naturally.)
On a summer day, soak in the nearby river then wash off in the "open-to-the-sky" cedar-lined hot shower. Grab a good book and curl up in the shaded hammock or settle in next to the fire pit to enjoy an evening cocktail (or both.)
Check Availability
9. Yurt It Up North
Why you should stay: Overlook pristine Lake Superior from the comfort of your bed.
Nearest town: Rossport
Sleeps: 4
Minimum stay: 2 nights
Rates from: $111/night
For a deluxe yurt experience, look no further than this private oasis nestled on one of Ontario's great lakes. Ideal for a dreamy long weekend getaway, you can settle in on the gazebo with a glass of wine to watch the sunset over the water — yes, you get a totally separate private gazebo.
For dinner, put the grill master in your group to work at the BBQ. Afterward, a fire pit marshmallow-roasting session is in order. In the morning, start the day sweating out your overnight toxin build-up in the sauna (make sure to chug water first) before pulling out a map and deciding which trails to tackle that day.
Check Availability
10. Georgian Bay Backcountry Retreat
Why you should stay: A charming off-the-grid yurt on a creek.
Nearest town: Kimberley
Sleeps: 2
Minimum stay: 5 nights
Rates from: $1119/night
Kick back and relax in the on-site hammock for an afternoon nap at this off-the-grid glamping yurt. Next to the trickling waters of nearby Bill's Creek, guests can lounge around the fire pit or take to the water of Beaver River to enjoy a paddle on the host-provided kayaks.
For a farm-to-table breakfast, help yourself to the daily delivery of farm-fresh eggs and seasonal produce harvested form the on-site garden. At night, after having dinner at home or in one of the nearby small towns, you can drift off to sleep as you gaze up at the stars through the gorgeous central skylight.
Check Availability
11. Great White North Yurt
Why you should stay: A double yurt on a working farm with plenty of space to roam.
Nearest town: Powassan
Sleeps: 5
Minimum stay: 1 night
Rates from: $79/night
Cozy up in an all-seasons yurt on this 100-acre working heritage farm in remote Northern Ontario. Offering two conjoined rooms (a rarity in the world of yurts), you'll have plenty of space to spread out. It's one of the best places to glamp in Ontario for a family with small kids as there's no shortage of areas where they can frolic and explore.
You'll find over 50 acres of hiking and snowshoeing trails to explore on property, though you can also take the kids to visit the farm animals. At night, be sure to make time to take in the unparalleled night sky views – there's minimal light pollution in the area. You can also rent snowshoes from the owners for $10 a pair in the winter.
Check Availability
12. Whispering Springs Glamping Getaway
Why you should stay: A boho-chic back-to-nature glamping experience.
Nearest town: Cobourg
Sleeps: 2+
Minimum stay: 2 nights
Rates from: $156/night ($199 CAD)
Known as Ontario's premier glamping getaway,  Whispering Springs is more of a glamping resort than a campsite. Offering complete all-inclusive packages, guests get access to amenities like a saltwater pool and hot tub, an outdoor gym, lawn games, and a volleyball court.
You can upgrade your stay into a completely stress-free wilderness getaway with a gourmet picnic experience, on-site wine tasting and, yes, even breakfast delivered straight to your log-framed safari tent.
Check Availability
Follow 'em: @whispering_springs
Find Your Next Adventure
Sign up for Weekend Wanderer to join thousands of readers getting epic travel and airbnb ideas every week.
---