Calling to the hearts of adventurers around the world, Canada's province of British Columbia tops the travel wishlist for many an outdoor enthusiast.
With ample activities to keep busy from fly fishing and glacier climbing to mountain biking and horseback riding, there's an activity to jumpstart a new hobby for everyone who visits western Canada.
Something else they excel at in BC? Living off the grid for a truly epic lifestyle — and often truly epic dwellings, too. Whether you have your heart set on sleeping in a geodome next to the ocean, a one-of-a-kind treehouse, a luxury first-class resort, or an eclectic airstream, there's a glamping option for that.
But sleeping in nature doesn't have to mean roughing it, and that's why these places to glamp in British Columbia offer the best of both worlds. You get the beauty of being near nature, often near BC's best hikes, without having to forgo a hot bath or gourmet dinner.
Pair your sense of adventure with all the creature comforts of home with any one of these incredible places to glamp in British Columbia. You're sure to not be disappointed — scout's honor!
Related Read: 8 Stylish Ottawa Airbnbs to Book this Year
1. Owl's Perch Treehouse
Why you should stay: Views from the Salish Sea to the mountains of Washington state.
Nearest town: Sooke
Sleeps: 2
Minimum stay: 1 night
Rates from: $139/night
Raised 30 feet off the ground lies this a one of a kind treehouse, surrounded by towering maple and cedar trees. You'll need to climb almost 50 stairs to stand at eye-level with the verdant canopy, where the owners conveniently built a large platform deck.
Inside, climb a ladder to reach the loft bed and enjoy stunning views from the comfort of your bed. Located directly on the Galloping Goose Trail, there's no shortage of incredible hikes or biking loops available just steps outside your door for when you're ready to get the blood pumping.
Check Availability
2. The Hollow at Radius
Why you should stay: Hike to this truly remote, off-the-grid experience.
Nearest town: Radium Hot Springs
Sleeps: 3
Minimum stay: 2 nights
Rates from: $121/night
For a backcountry retreat to reconnect with nature, look no further than Radius, a hike-in, hike-out yurt retreat near Radium Hot Springs. On your walk in, enjoy the peaceful stillness of the forest and the stunning scenery surrounding the yurt site.
Grab your furry friends (who are always welcome!) and hit the trails – this is one of the best places to glamp in British Columbia if you're planning to explore on foot. At the home, you'll have a wood-burning stove to keep toasty and plenty of firewood for cooler nights, as well as rustic wooden bunk beds for a cozy sleep out in nature.
Check Availability
Related Read: 6 Charming Airbnbs In & Around Quebec City, Quebec
3. PADMA Yurt
Why you should stay: A fully sustainable, timber-frame yurt.
Nearest town: Whaletown
Sleeps: 2
Minimum stay: 14 nights
Rates from: $74/night
Looking for the ultimate city escape? PADMA is an incredible handmade yurt, featuring a wrap-around deck on a mossy bluff. The little-know Cortes Island is a great place to find true peace and tranquility and offers some of the most spectacular ocean, mountain, and sunset views of anywhere in BC. Its one of the most affordable places to glamp in British Columbia, especially considering you get to sleep under the stars thanks to the rounded skylight.
Spend the day at one of the many secret lagoons and beaches collecting oysters for a dinner cookout – don't forget to harvest some of the organic vegetables grown on the property for a healthy accompanying side dish.
Check Availability
4. 1970 Airstream Overlander
Why you should stay: The closest accommodation to the famed Joffre Lakes.
Nearest town: Mount Currie
Sleeps: 2
Minimum stay: 2 nights
Rates from: $146/night
In the Pemberton district, this funky, eclectic airstream is located in the heart of BC's tourism hub. It's just a short drive to many of the main attractions like Whistler or Lower Joffre Creek, and even natural hot springs. This is far and away the best place to glamp in British Columbia if you plan to day hike in Joffre Lakes Provincial Park since the park gets extremely busy in the summer – the closer to it you can stay, the better.
The restored 1970 Airstream Overlander offers all the modern conveniences one would want while glamping, including a fairy-light-lined cedar gazebo that lights up during happy hour and plenty of space.
Check Availability
Related Read: The 8 Best Campervan Rentals in Vancouver, British Columbia
5. Tin Poppy Travel Trailer
Why you should stay: Solar-powered travel trailer surrounded by gorgeous hills and lookouts.
Nearest town: Salmon Arm
Sleeps: 6
Minimum stay: 2 nights
Rates from: $156/night
For a truly once-in-a-lifetime glamping experience, visit the Tin Poppy, a solar powered post and beam structure built around a 1953 Caravan.
Decked out with a gas fireplace, Wi-Fi, and plenty of sleeping space, this is one of the most budget-friendly places to glamp for a family. Fitted for all four seasons, there are plenty of outdoor adventures nearby like mountain biking, birding, cross-country skiing, and hiking and trail running.
Check Availability
6. Salt Spring Island Staycation
Why you should stay: Delight in a steam sesh inside the wood-fired sauna.
Nearest town: Salt Spring Island
Sleeps: 4
Minimum stay: 2 nights
Rates from: $119/night
Tucked away in a wooded area next to a picturesque pond is where you'll find the spacious bell tent. Located on Salt Spring Island, you can stretch out on the deck for a morning meditation, take a refreshing dip to kick off the day, or hang out in the covered loungers all morning.
For some family fun, try out the children's kayaks, badminton set, slack-line, or bocce ball court. At night, cook up a full meal using the fully stocked outdoor kitchen or roast up some good ol' fashioned hot dogs on the modern BBQ grill.
Check Availability
7. Clayoquot Wilderness Lodge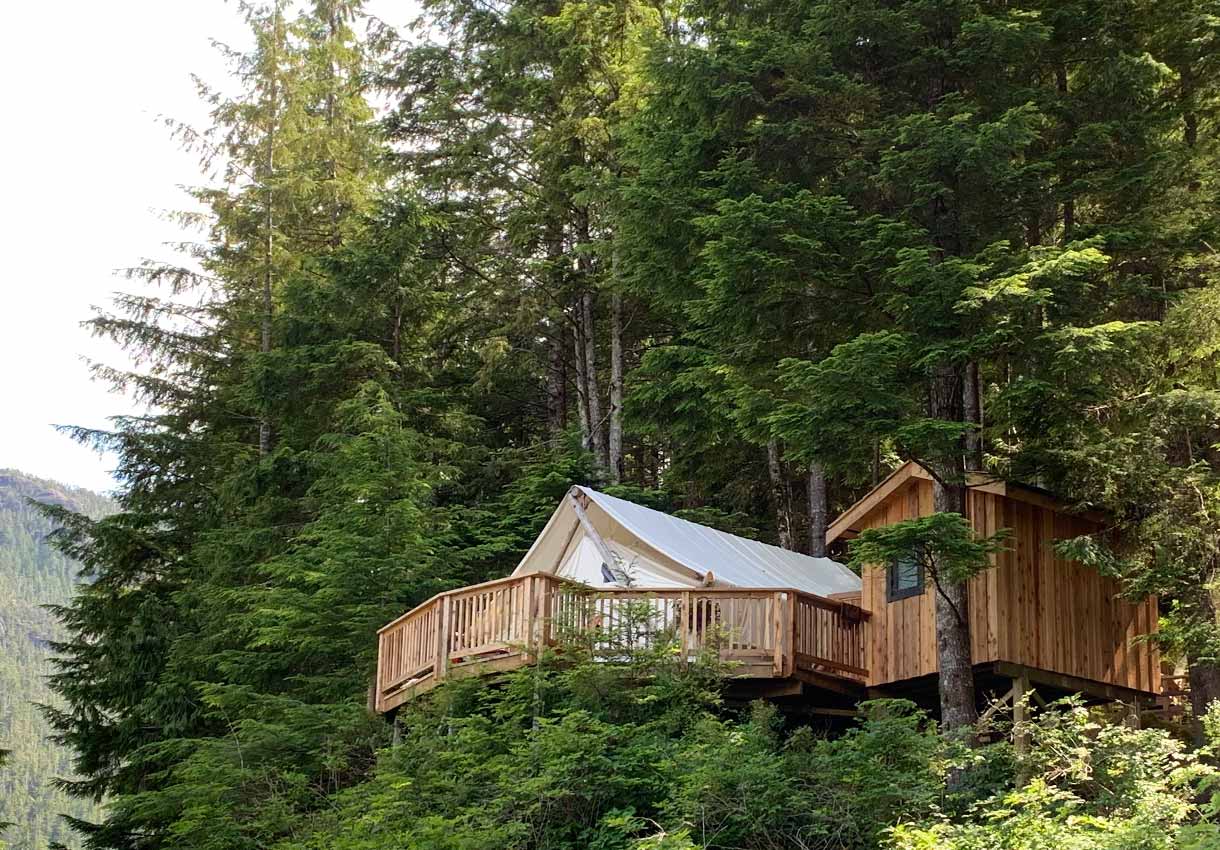 Why you should stay: Ruggedly luxurious lodge accessible only by sea plane.
Nearest town: Tofino
Sleeps: 4+
Minimum stay: 3 nights
Rates from: $1,102 per person, per night ($1400 CAD)
For the utmost in a luxurious glamping experience, camp out at Vancouver Island's celebrated outpost of Clayoquot Wilderness Lodge. From generous safari-style tents to renowned sustainable dining to an international fine wine list, there isn't much that the Clayoquot Wilderness team hasn't thought of.
Take to the clouds on a bespoke helicopter tour over the Clayoquot Sound region or try your hand at canyoneering into a glacier-fed waterfall channel for a truly memorable experience. If you'd rather kick back and relax, the world-renowned spa has you covered. It's definitely one of the more expensive places to glamp in British Columbia (or anywhere in Canada, for that matter), but it comes with a lot more than "just" a tent.
Follow 'em: @clayoquotwildernesslodge
Check Availability
8. Firvale Wilderness Camp
Why you should stay: A domed wilderness camp in the Great Bear Rainforest.
Nearest town: Tofino
Sleeps: 2
Minimum stay: 3 nights
Rates from: $229/night
With nothing around for miles and miles, guests are flown in to kick off their adventure at Firvale Wilderness Camp. Settle into one of three unique geodesic domes, which offer different ranges of luxury. The camp offers packages for couples on their honeymoon, bunk beds for families, or a single travel dome for when you need to do your own "Into the Wild"-type of thing for a few days.
The resort teamed up with some of the best tour operators in the area, so you're sure to keep active with a full day exploring rainforest waterfalls, fishing, or hiking on a bear-watching trip. For something extra special, hop on a sailboat to get up close and personal to the massive glaciers of Monarch Ice Field.
Follow 'em: @firvale_wilderness_camp
Check Availability
Find Your Next Adventure
Sign up for Weekend Wanderer to join thousands of readers getting epic travel and airbnb ideas every week!
---