No matter how big or small, there's a gift out there just waiting to light up the face of the camper in your life.
Whether you yourself are an experienced camper or everything you know about camping comes from a Bear Grylls episode, it's helpful to have a bit of advice when you're trying to find the perfect gift.
As avid campers, we've tried and tested a whole range of gear and are constantly searching for unique finds that pique the interest of like-minded outdoor enthusiasts. After scouring through all the camping must-haves and wants, as well as our personal wish lists, we narrowed it down to the best of the best.
There's a gift for every camper on our list, from casual weekenders to avid backcountry explorers. Whether you're looking for an affordable gift or a premium upgrade, we've got you covered with 26 top picks that are sure to please.
Gifts under $20
Venture Cards
Camping and cards go hand-in-hand. Why settle for a boring deck when you can get a camp card set featuring hand-drawn designs from the talented Christian Watson?
Check Current Price
Food for the Sole Meal
Sporks and flashlights are all fine and dandy, but if you're tired of run-of-the-mill camping gifts, then it's time to think outside the box.
Take advice from our writer Arthur McMahon and go with some yummy provisions from Food For the Sole. The Coconut Rice and Cuban Black Beans have our mouths watering already.
Check Amazon Price
Stanley Adventure Stacking Vacuum Pint
Coffee, beer, whiskey, or water, it helps to have a reusable cup around camp.
And one that can fit a whole pint? Even better.
Check Amazon Price
Sufferfest FKT Pale Ale
Speaking of beer, San Francisco brewery Sufferfest Beer Company has created a beer that will not only relax you but provide much needed sustenance at the same time.
Brewed with sea salt and black currants, FKT (Fastest Known Time) mixes electrolytes with nutrients to refuel you after a long day of camping.
Check Current Price
Lodge Cast Iron Skillet
No camping trip is complete without a hearty breakfast cooking up in a durable Lodge Cast Iron Skillet. Can you smell the bacon?
Check Amazon Price
Ultimate Survival Technologies FlexWare Sink
Under normal circumstances, we wouldn't recommend gifting a dish tub. But in the case of camping, any camper would be delighted to receive this convenient collapsible 8.5-liter FlexWare Sink.
Check Amazon Price
Jackery Mini
The Jackery Mini is the smallest, most compact portable charger on the market. Breathing new life into a dead phone battery has never been easier, and you can get one full charge off this packable power bank.
Check Amazon Price
Black Diamond Moji Lantern
The ultralight and compact Black Diamond Moji Lantern gives you 70 hours of ambient light perfect for the campsite.
Check Amazon Price
Zippo Windproof Lighter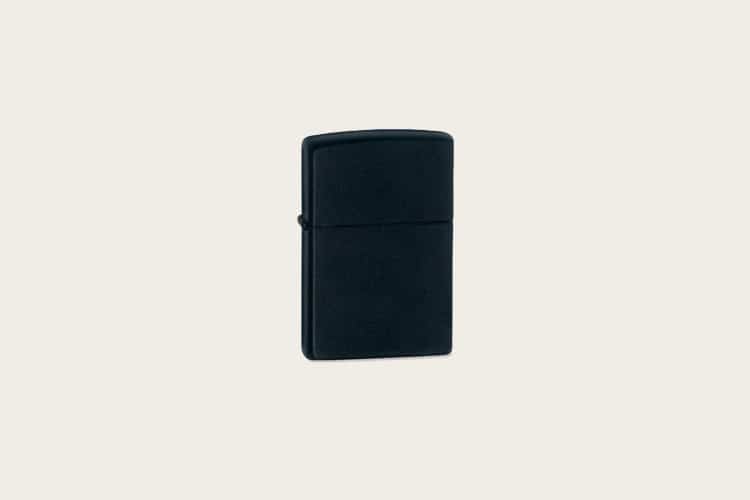 Any camper who's ever tried to light a match in the wind will be elated about this windproof lighter.
Check Amazon Price
Gifts under $50
Coffee Gator French Press
If there's no coffee, you might as well go home. Score major points with the Coffee Gator French Press. Recommended by our coffee guru and writer Mac Misseldine, this coffee maker is easy to use, keeps coffee piping hot, and produces 34-ounces in a single brew.
Check Amazon Price
United by Blue Enamel Mug
There's something about old-school enamel mugs that make camping coffee just taste better. Especially when it's got a fun design like this one by United By Blue.
United By Blue picks up a pound of trash for every product sold, so you'll be doing the world a solid when you purchase one of these awesome enamel mugs.
Check Amazon Price
Coleman Gas Portable Stove
The Coleman Gas Stove is a timeless classic that's a go-to for car camping. Featuring two burners and a hot flame, this stove makes as many meals as it does memories.
Check Amazon Price
Black Diamond Spot325
From dinner prep to late camp arrivals, a trusty headlamp is hands down a camping essential. For us, this means the Black Diamond Spot325. Waterproof and powerful, this headlamp has earned its place as one of the best headlamps we've tested over the years.
Check Amazon Price
Anker Soundcore
Get the party going with the Anker Soundcore. Waterproof and Bluetooth-ready, this portable speaker boasts a whopping 24-hours worth of tunes so you can dance from sunrise to sunset.
Check Amazon Price
Ranger Station Balsam Fir Candle
The alluring smell of campfire is only a match away with the Balsam Fir Candle. Light the wick and fill your home with the intoxicating earthy-scents of Frasier Fir, balsam, pine and juniper.
Check Amazon Price
Bramble Camp Towel
This nifty quick-drying camp towel dries off your contours and packs down super light. We're particularly drawn to the Burnt Red pattern inspired by the Southwest.
Check Current Price
Hydro Flask National Parks Edition
From reducing single-use plastic to keeping water ice cold on a hot day, there are plenty of reason to invest in an insulated water bottle.
Thanks to the cool design and support of the National Parks Foundation, these limited edition Hydro Flasks just gave us another two reasons.
Check Current Price
Gifts under $100
Kelty Discovery Lowdown Chair
The Kelty Discovery Lowdown Chair features super comfy plush fabric that's insulated and puncture resistant. It's also foldable, making it easy to pack and even easier to set up.
Check Amazon Price
ENO National Park Foundation DoubleNest Hammock
Hanging around camp just got elevated to a whole new level with the Eno DoubleNest Hammock. Bonus points for the National Park Foundation Edition which donates $10 per hammock sold to preserve our grand parks.
Check REI Price
National Parks Pass
Speaking of the National Parks Foundation, a National Parks Pass is always a thoughtful gift.
Good for one year, the pass grants access to over 2,000 federally owned recreation sites including National Parks, Nationals Forests, and National Monuments.
Check Current Price
REI Passage 2
For the car camping couple, the REI Co-op Passage 2 Tent is a solid home away from home. This affordable tent features dual doors, storage pockets, adjustable ceiling vents, plenty of vestibule storage space, and a comfortable floor layout.
Check REI Price
Gifts over $200
YETI Tundra 45
Every camper needs a durable cooler, and nothing says "I love you" more than a YETI Tundra 45. With incredible ice retention, bear-resistant locks, a 26-can capacity, and virtually indestructible construction, it's a gift that will literally last a lifetime.
Check Amazon Price
Pendleton Roll-up Blanket
For the camper who has everything, the Pendleton Roll-Up Blanket is sure to impress.
Lakeside picnic or chilly night, this wool American made adventure blanket has a removable weather-resistant waxed cotton backing and comes with a convenient carrying handle.
Check Amazon Price
Solo Stove Bonfire
Bring the campfire with you anywhere you go with the Solo Stove Bonfire. We've tried and tested this portable fire pit and we can say without a doubt it's worth every penny.
Check Amazon Price
Traveler Guitar Camper CX-10
The only thing missing from a campfire circle with tasty grub and a flask of whiskey being passed around is the strumming of an acoustic guitar.
For this, take our founder Dustin Christensen's recommendation and go with this traveler guitar. It's a compact version of a full sized acoustic guitar with the same performance, so you can pack down lighter without making a sacrifice.
Check Huckberry Price
Maxtrax Recovery Boards
Maxtrax are a must for any camping trip where the going gets tough. Snow, mud, sand, or otherwise, if the road beneath you grips the wheels like quicksand, slide these puppies underneath and you'll be free as a bird in no time.
Check Amazon Price
Gear Up!
For more recommendations on camping, take a look at the 12 Best Camping Hammocks, 7 Best Camping Cots, and 8 Best Portable Power Options for Camping.
Be sure to follow us on Instagram and tag your adventures using #findyourterritory to win free sticker packs given away each month.