Embark on a cross country tour with the 50 coolest Airbnbs in the U.S. and see which is best in your state.
Super hosts and extraordinary Airbnbs are increasingly becoming a fun and exciting way to experience a new destination. When done right, they can offer guests fantastic all-in-one trips that are attractions in their own right!
But what makes an Airbnb "cool"? While there's no one single answer, the most wished for Airbnbs are usually bursting with unique architectural elements and thoughtful touches all while tucked away in a beautiful location.
Thankfully we know where to find the best of the best. If you've been daydreaming about your next trip, these 50 coolest Airbnbs in the U.S. will inspire you to start planning your next adventure.
Related Read: The 15 Coolest Airbnbs with Pools in the United States
1. Wanderlust Treehouse
The Wanderlust Treehouse is a whimsical Airbnb situated on a vast 40 acre, lakeside property an hour north of Birmingham.
During your stay, fall asleep 15 feet above the ground and enjoy access to outdoor showers, an elevated balcony with a grill, and a paddleboat.
Follow 'em: @FireflyTreehouses
2. Hemlock Mountain House
Striking mountain peaks and forested views greet you at the Hemlock Mountain house, a recently updated three-bedroom on the outskirts of Anchorage.
This Airbnb is conveniently within walking distance to the city's popular Flattop Trailhead and a short drive to the incredible Chugach State Park.
3. Sedona Sanctuary
Find ultimate relaxation at this Sedona sanctuary, a historic brick home designed by notable architect Bob McIntyre set amongst a backdrop of epic red rocks.
Be sure to indulge in the home's five star amenities that include a cedar sauna, hot tub, steam room, and a heated saltwater pool.
4. Titan Ranch
Once an Air Force nuclear base, the Titan Ranch is an exciting industrial vacation rental housed in an old launch control center about 25 minutes from Conway.
Today, it's been updated with luxury features that include a fireplace in the bathroom and a home theater, all lit up by atmospheric neon lights.
Follow 'em: @TitanRanch
5. Sol to Soul
Emerging from a sea of boulders, the Sol to Soul is a futuristic two-bedroom nestled on a sprawling 10-acre property about 40 minutes north of Palm Springs.
Come for the incredible architecture, but stay for the magical stargazing in the rustic cowboy soaking tub.
Follow 'em: @SolToSoulHouse
6. The Cliff House
The Cliff House is a stunning cabin built into the face of a canyon, with exposed red rock acting as an all natural accent wall inside. All around this modern home, unobstructed views of the desert landscape offer a quiet retreat and a fantastic jumping-off point to see the Mesa Verde Monument and the Canyons of the Ancients National Monument.
7. The River Barn
A rustic exterior greets you at the River Barn, but one step inside, and you'll be swept away by the elegant exposed wooden beams and wood-burning fireplace.
Connecticut's coolest Airbnb is in the charming village of Essex, just two hours from both NYC and Boston.
Follow 'em: @RiverBarnCT
8. The LV Home
Ideally located near the pleasant Rehoboth Beach, the LV Home is constructed with modern aesthetics and features a heated saltwater pool.
When you're not spending your time at the beach, the private fenced-in yard features hammocks and ample seating around the pool.
Related Read: 11 Daringly Black Houses You Can Rent on Airbnb
9. Treehouse at Danville
There's no shortage of unique features at the Treehouse at Danville, an 18-foot yurt outfitted with multiple decks and an outdoor shower suspended amongst the treetops.
As if that's not enough, the tree trunk elevator, ground-level tiki bar, hot tub, and bohemian interior are sure to impress.
Related Read: 9 of the Best Airbnbs in Fort Myers, Florida
10. Trinity Treehouse
The Trinity Treehouse is a gorgeous natural oasis handcrafted with love, just 25-minutes from Atlanta.
Key features include the warm and wooden interior, numerous outdoor balconies, and convenient access to the beautiful Davidson-Arabia Mountain Nature Preserve that borders the property.
Follow 'em: @Trinity.Treehouse
11. Kūono at Volcano
Exquisite architecture and the peaceful privacy of native Ohia trees welcome guests to the Kūono at Volcano, one of Hawaii's best Airbnbs.
After an exciting day exploring the nearby Volcano National Park, relax on the incredible lanai equipped with a cedar hot tub and electric fire pit.
12. Röra Haus
Get away from it all at the secluded Röra Haus, an airy A-frame with floor-to-ceiling windows that fill the space with natural light and look out onto a peaceful forest.
This two-bedroom, mid-century modern cabin has an outdoor fire pit and is an hour north of Boise, up thrilling, winding mountain roads.
Follow 'em: @RoraHaus
13. Emil Bach House
The Emil Bach House is an architectural wonder designed by the notable Frank Lloyd Wright that's steeped in his trademark Prairie style.
This spacious and historic home is on the north side of Chicago and features a screened-in porch, numerous balconies, and a lovely Japanese Tea House surrounded by fragrant gardens.
Follow 'em: @EmilBachHouse
14. Plāhaus
Plāhaus offers guests a fresh take on a classic cabin trip in a rustic meets industrial space in the woods.
Excellent mountain bike trails and the outdoor attractions of Brown County State Park are easily accessible from this homey space.
Follow 'em: @plahaus.vacation.home
15. Des Moines Home
Mere minutes from downtown is this lovely Des Moines home with an eye-catching turret and a spacious yard.
Inside, bright white surfaces and natural wooden elements marry with the contrasting pops of black to create a stylish and comfy experience.
Related Read: The 12 Best & Most Unique Airbnbs in Kansas
16. Graham's Treehouse
Relive your childhood dreams with a stay in Graham's Treehouse.
This cozy cabin sits on its perch between three trees with access to an outdoor shower and a shared hot tub just a quick drive from Leavenworth.
Follow 'em: @HiddenValleyWildernessRetreat
17. Contemporary Home
Lush bluegrass and panoramic views of the idyllic countryside surround this contemporary home, located not far from the lively streets of Lexington.
Inside, tall ceilings and high-end furnishings create an upscale place to relax. The 20-acre yard has an in-ground swimming pool that provides a perfect place to soak up some Kentucky sunshine.
Related Read: 13 Vacation Rentals with Indoor Pools Across the U.S.
18. Tensas Tower
The Tensas Tower is three-stories of eye-catching decor nestled along the scenic Teche Bayou. Have fun spotting art pieces in the surrounding sculpture garden from any of the three outdoor seating areas.
This condo is also within walking distance to the best restaurants and shops of downtown New Iberia.
Follow 'em: @TensasTower
Related Read: 9 of the Best Airbnbs in Louisiana for an Amazing Bayou Getaway
19. The Modern Lakehouse
Pops of turquoise and trendy decor make a statement at southern Maine's Modern Lakehouse, found on the sandy shores of Hogan Pond.
The hosts ensure guests have a fantastic time and have furnished the Airbnb with an indoor bar, foosball table, kayaks, and a relaxing hot tub.
20. Cove Point Lighthouse
Take in peaceful views of the Chesapeake Bay from one of Maryland's longest continuously operated lighthouses at the Cove Point Lighthouse.
The Airbnb is actually in the old lighthouse keepers' house, right beside the tower and is a designated historic landmark that dates back to 1828.
Related Read: 11 Best Airbnbs in Maryland for a Great East Coast Getaway
21. Berkshires Glass Treehouse
Explore the Berkshires in style at this stunning octagonal glass treehouse that ticks the boxes for one of the coolest Airbnbs in the U.S.
Outfitted with exposed beams, a cherry red fireplace, walls of windows, and a well-appointed deck, this incredible rental shouldn't be missed!
Related Read: 10 of the Best Airbnbs in Boston, Massachusetts
22. The Eppstein House
Frank Lloyd Wright made his mark on the Midwest, and the Eppstein House is another exceptional rental that memorializes his talent.
Built into the side of a hill just outside of Kalamazoo, this mid-century modern treasure is bursting with character and upscale touches in a quiet locale.
Related Read: 9 of the Best Cabin Rentals in Michigan
23. Agua Norte Cabin
Disconnect in the beauty of Grand Marais at the Agua Norte Cabin, an inviting tiny home with sweeping views of Lake Superior.
Whether you're most excited to unwind in the wood-burning sauna or marvel at the twinkling stars and seasonal northern lights, you're guaranteed to have a lovely time here.
Follow 'em: @AguaNorteMN
24. The Retreat at Turkey Lake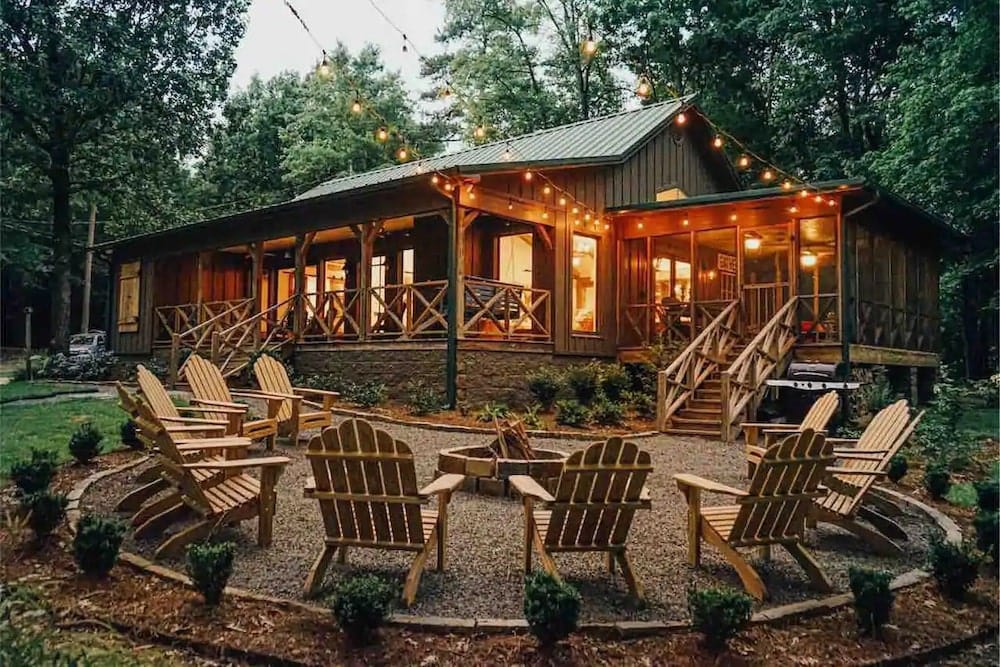 The Retreat at Turkey Lake offers guests the comfort of thoughtful amenities like a complimentary coffee bar, with the coziness of upscale cabin decor for a classic trip in the woods.
Nestled in the hills of northern Mississippi, spend time with loved ones around the campfire or out exploring nearby historical towns like Oxford and Tupelo.
Related Read: 9 Best Airbnbs in Mississippi For a Unique Southern Vacation
25. The Silo
Housed in a repurposed grain bin, The Silo oozes farmhouse chic with its reclaimed materials and outdoor rustic soaking tub.
The property is an hour from St. Louis and features a two-level deck with swings, a netted hammock, and a fire pit.
Related Read: 9 Amazing Treehouse Rentals in Missouri You'll Love
26. The Nook
The nook emanates classic Scandinavian design and minimalism while also boasting dramatic features such as floor-to-ceiling chalet windows and an eye-catching fireplace.
This lovely Airbnb for six sits next door to the famous Whitefish Mountain Resort, where visitors come from all over to ski, hike, and mountain bike.
Related Read: 10 Gorgeous Airbnbs Near Glacier National Park, Montana
27. Gorgeous Tiny House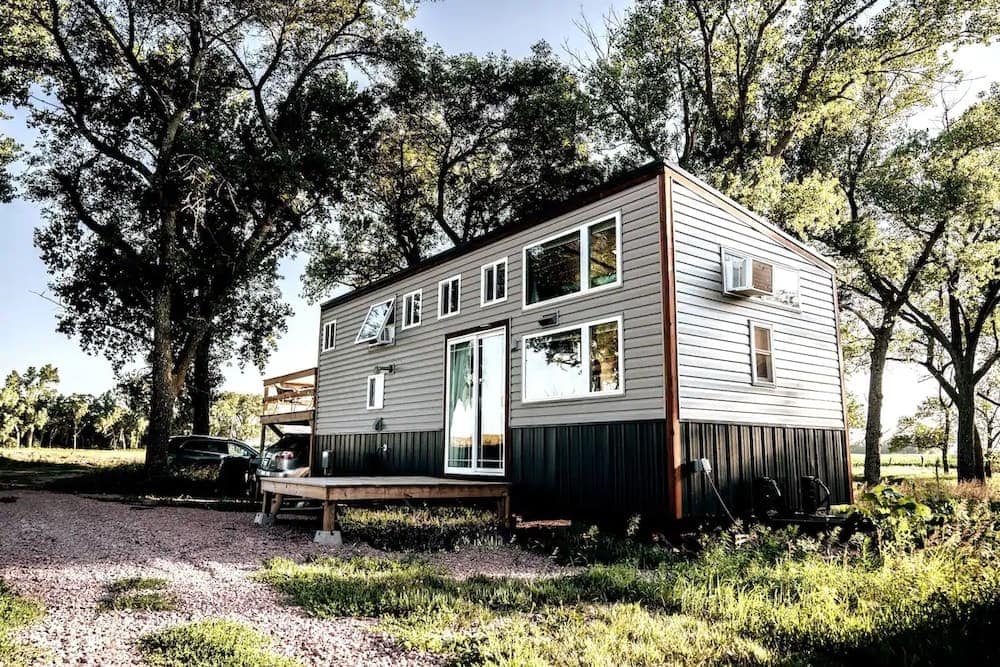 See for yourself why everyone is excited about tiny living at this gorgeous tiny home in the rural countryside south of Sioux Falls.
It features an expertly optimized and beautifully decorated interior as well as 80 acres of hilly property equipped with two decks, a hot tub, and a firepit.
Related Read: 10 Best Airbnbs in Nebraska for a Midwestern Getaway
28. Desert Gold
Find complete solitude at Desert Gold, an artfully designed Airbnb in the middle of the Nevada High Desert.
This unique home has two separate modules connected by a central deck with a hot tub and is just 20 miles from Death Valley National Park.
Related Read: 8 Amazing Las Vegas Airbnbs for an Unforgettable Sin City Vacation
29. Luxury Solar House
This luxury home is powered by the sun and boasts a cozy open floor plan and exciting amenities like a pool table and wet bar.
However, the epic views of the White Mountains from the two decks is the true star of the show at this New Hampshire Airbnb.
Related Read: 10 Luxurious Glamping Spots in New Hampshire
30. The Wave
The Wave is a snazzy mid-century modern home filled with natural light, eclectic art, and big personality.
The undulating roof and floor-to-ceiling windows highlight the beauty of the surrounding forest for a peaceful escape not far from Lambertville.
Related Read: 10 Best Cabin Rentals in New Jersey for a Quick Getaway to the Woods
31. Modern Taos House
Outdoor adventure and luxury await you at the Modern Taos House, an eco-friendly desert oasis that is solar-powered and runs off rainwater.
This classic space is also perfectly placed near the Carson National Forest, popular Taos Ski Valley, and the Rio Grande River.
Follow 'em: @ModernTaosHouse
32. Willow Treehouse
Southeastern New York's off-the-grid Willow Treehouse has gained attention for its unique architecture and remote locale.
The property features a swimming pond and a wood-burning hot tub for a magical stay in nature.
Follow 'em: @TreehouseWillow
33. The Cozy Owl Cabin
The Cozy Owl Cabin is an Airbnb Plus A-Frame cabin that exudes storybook charm.
Situated in the Blue Ridge Mountains, guests can unwind amidst the woodsy meets artsy decor not far from the historic town of Boone and fantastic hiking trails of the region.
Follow 'em: @cozy_owl_cabin
34. Apple Creek Cottage
Relish in slow living at the Apple Creek Cottage, a modern farmhouse vacation rental on a hobby farm that's home to free-range chickens, fluffy alpacas, and an idyllic red barn.
Farm fresh eggs and a lovely space complete with a backyard deck welcome you to the outskirts of Bismarck.
Related Read: 12 Best & Most Unique Airbnbs in North Dakota
35. The Ledge@LostCavern
The Ledge@LostCavern is a striking glass cabin that fuses sleek industrial design with natural elements to create an exceptional stay.
Sitting atop a 50-foot tall cavern not far from Hocking Hills, the property's forested caves and waterfalls are best enjoyed from the hot tub or while curled up next to the fireplace.
Follow 'em: @Lost_Cavern
36. The Modern
The Modern is a custom dwelling on a secluded and forested plot outside of Broken Bow that embodies the contemporary spirit.
The home's ultra-modern decor is paired with a spacious deck featuring a hot tub and rocks a distinctive floor plan that is sure to leave a lasting impression.
Related Read: 11 Best Cabin Rentals in Oklahoma for the Ultimate Getaway
37. The Cozy Lookout Tower
The Cozy Lookout Tower is fashioned after Forest Service fire lookouts and offers guests three levels of homey living space near Smith Rock State Park.
The property features an RV hookup and a bubbling hot tub on a sprawling five-acres with views of the Cascade Mountains.
Related Read: 10 Best & Most Unique Airbnbs on the Oregon Coast
38. Modern Firetower Chalet
This modern firetower chalet is a two-story getaway that boasts an upper-level wraparound balcony overlooking the Susquehanna Valley.
Spend your days exploring the hiking trails of the 60-acre farm, cuddled next to the fire pit, or wandering the vibrant city streets of Bloomsburg, just two minutes away by car.
Related Read: 11 Luxury Cabin Rentals in Pennsylvania for a Pampered Vacation
39. Capt. Carl Houseboat
Fall asleep to gentle waves in Newport Harbor aboard the Capt. Carl houseboat, a recently updated Airbnb equipped with a full galley kitchen and three separate decks.
Guests appreciate the close proximity to city streets and the kayaks provided by the hosts.
Related Read: The 9 Best Rhode Island Airbnbs for a Coastal Retreat
40. Fripp Island House
Wake up to lush marshland and wildlife sightings at the Fripp Island house. Its circular floor plan, great wide windows, and beachy interior set the scene for a lovely visit to this private barrier island.
Guests are free to use the bikes and beach chairs on the property to maximize their fun.
Related Read: 9 Gorgeous South Carolina Treehouse Rentals
41. Deep Snow
Deep Snow offers a fantastic home base to experience the best of the Black Hills National Forest and is aptly named for its winter wonderland transformation once the snow begins to fall.
During your stay, relax in the hot tub, explore the local trails, or plan a ski trip to the Terry Peak Ski Area.
Related Read: 8 Great South Dakota Glamping Spots, from Budget to Lux
42. The Sassafras
The Sassafras is an elegant earth house with curved archways and two glass entryways built atop an old quarry site.
From the home, a marvelous vantage point overlooking a pond, waterfall, and well-manicured landscaping makes you feel transported to a secret garden.
Related Read: 8 Best Resorts in Tennessee for Every Traveler
43. The Live Oak
The Live Oak is a bohemian-styled cabin elevated amongst a cluster of oak trees not far from the historic streets of downtown Fredericksburg.
Exceptional amenities include a rounded book nook, an open-air soaking tub and shower, and an all-glass garage door that opens to the home's balcony where a hammock and Palo Alto Creek views wow.
Related Read: 10 Unique Hotels in Texas, Including a Jail House
44. The Guardian Angel
Utah's coolest Airbnb is a tiny house with cherry red accents dubbed The Guardian Angel.
Brimming with delightful amenities that include a hot tub, fire pit, and countless considerate details like complimentary firewood, toiletries, coffee, and tea, it's an ideal place to stay for a trip to Zion National Park, located 15-minutes away.
Follow 'em: @ZionsTinyOasis
45. Kingsley Grist Mill
As you arrive at the Kingsley Grist Mill, the idyllic covered bridge entrance and a cascading waterfall of the Grist River are the first things to catch your eye.
Designated as a national historic site, this quaint Vermont bed and breakfast also comes equipped with riverside decks and tethered tubes for a nice float on the passing water.
Related Read: 10 Supremely Secluded Cabin Rentals in Vermont
46. All the Comforts of Home
All the Comforts of Home is a hobbit house nestled in the Blue Ridge Mountains filled with imaginative decor that whisks you away to a magical realm.
The bewitching interior aside, the hosts also offer exciting workshops where guests can try their hand at blacksmithing or making a wizard's staff.
Related read: 11 Best West Virginia Airbnbs for a Unique Country Getaway
47. The Leavenworth Treefort
The Leavenworth Treefort is a sleek and eco-friendly Airbnb immersed in the pristine wilderness of Washington's stunning Enchantments region.
It also boasts a spacious rooftop deck, a Tesla or E.V. car charger, and expansive windows that bring sunshine and views inside.
Related Read: 9 Best Pet-Friendly Cabin Rentals in Washington
48. Tiny Escape
Although dubbed a Tiny Escape, the hosts have artfully crafted the space to feel anything but, with its big windows, skylight and lofted lounge space.
In the yard, enjoy a spa experience in the barrel-shaped dry sauna or dine al fresco taking in the panoramic mountain views from the furnished deck.
Related Read: 8 Adventurous Treehouse Rentals in West Virginia
49. Modern Lake House
Disconnect in Wisconsin's Northwoods at this modern lake house situated between the Eau Claire Lakes not far from the fantastic attractions of Hayward.
It's hard not to fall for the Scandinavian-inspired emphasis on coziness,  the quiet natural surroundings, and the fun extras that include kayaks in this remote cabin.
Related Read: 9 Cozy Cabins in Northern Wisconsin For Your Next Trip Up North
50. Sunset Haven
Venture to Cody's Sunset Haven for a quiet escape to the wide-open spaces of one of Wyoming's best places to visit!
This newly built two bedroom sits on 11 acres of lush grass and has an expansive patio space with a gorgeous wooden pergola and a fire pit for nightly s'mores and stargazing. The beloved sights of Yellowstone are just 50 miles away.
Related Read: The 11 Best Airbnbs Near Grand Teton National Park
More Amazing Getaways
Get epic travel ideas delivered to your inbox with Weekend Wanderer, our newsletter inspiring more than 10,000 readers every week.
---