We research, evaluate and select travel destinations based on a number of factors, including our writers' experience, user reviews and more. We may earn a commission when you book or purchase through our links. See our editorial policy to learn more.
Was this article helpful?
---
Alabama might not immediately come to mind as a vacation destination, but perhaps it should.
The state's wooded valleys, tranquil lakes, winding rivers, and lesser-known white-sand Gulf Coast beaches give Alabama plenty to brag about.
And if you're interested in American Civil Rights history, country music, southern cooking, or even space history, add a trip to Montgomery, Huntsville, and Birmingham to round out your itinerary. It's quite an outdoorsy state, so it may be worth deciding what activities top your list before deciding if you'd rather be on the edge of a national forest, in a historic neighborhood of a city, or steps away from the Gulf of Mexico.
Browsing the list below of the best and most unique Airbnbs in Alabama should help make the process a little easier – but after a few days, you'll probably already be planning your second trip.
Related: 12 Fantastic Glamping Destinations in Georgia
1. T-Town Treehouse
Why you should stay: A pint-sized dose of cuteness and comfort minutes from downtown.
Nearest town: Tuscaloosa
Sleeps: 4
Minimum stay: 1 night
Rates from: $169/night
Are you looking for a rustic retreat with modern necessities and a homey vibe? This T-Town treehouse is great for a weekend getaway or a longer vacation to unplug and recharge. The tiny treehouse has a loft bedroom and a back deck tucked in the woods, so you have plenty of choices for where you want to kick back and relax.
And though you might feel like you're miles and miles into the woods, you're just a few minutes from Lake Tuscaloosa. You can easily plan a day out hiking or fishing and stop off at one of the nearby restaurants to grab a bite to eat before heading back to your forest haven.
"Great and unique place. 15 minutes to the University and downtown. Really cool minimalistic style."
Check Availability
2. Madison Home
Why you should stay: Style, comfort, and HGTV-fame, all in a convenient location.
Nearest town: Madison
Sleeps: 8
Minimum stay: 2 nights
Rates from: $175/night
This chic home's big claim to fame is a cameo on HGTV. But don't settle for watching HGTV reruns – book a stay at this decked-to-the-nines home to experience relaxation and luxury at its finest. You'll love kicking back in the spacious and inviting living room with cathedral ceilings, or retreating to the well-furnished primary bedroom for a few hours of R&R.
This is one of the best Airbnbs in Alabama if you plan to hang out in hip downtown Madison, where you have your pick of local cuisine ranging from BBQ to sushi to fine dining highlighting the best southern cooking. And since Madison is in the Tennessee River Valley, it's just a short drive to great hiking and biking trails around Huntsville. Or you can head out for a day out on the water at Wheeler Lake or along the Tennessee River. There's plenty to do.
Check Availability
3. Case Rock Cabin
Why you should stay: The perfect off-the-grid cabin to reboot, relax, and hug a tree or two.
Nearest town: Kimberly
Sleeps: 6
Minimum stay: 2 nights
Rates from: $129/night
This remote tiny home packs a lot into 400 square feet. Thoughtfully designed and pet-friendly, this cabin is the perfect getaway if you're looking for a place to unplug and unwind. The cabin is off-the-grid, so you should come prepared for only basic amenities.
But thanks to the outdoor fire pit and large deck with river views, you can settle right in and enjoy getting back to nature; you won't even care about not having Wi-Fi. This is also one of the most dog-friendly Airbnbs in Alabama since there's no pet fee – and let's be honest, your dogs will love playing in the woods as much as you do .
The cabin is on a 105-acre eco-retreat and goat farm where you can enjoy hiking and fishing along the Locust Fork River. Bring an inner tube or kayak for a trip down the river in the summer months.
Check Availability
Follow 'em: @caserockcabin
4. Crane Hill Treehouse
Why you should stay: A rustic and romantic escape with a solid side helping of woodsy wonder.
Nearest town: Crane Hill
Sleeps: 2
Minimum stay: 1 night
Rates from: $350/night
It's hard to find a much better place to spend the night than this beautifully crafted treehouse on 40 acres of secluded woods. Ideal for couples looking for a weekend getaway or a special retreat, this treehouse is centrally located about an hour away from both Birmingham and Huntsville.
And while the proximity to nearby big towns is a plus, you may find you don't want to stray too far. With nature trails, a two-acre lake, and a small paddle boat at your disposal on the property, plus hiking, waterfalls, and horseback riding nearby, you'll have plenty to fill your vacation without ever stepping foot in a city.
Check Availability
5. Smith Lake Showhome
Why you should stay: Jaw-dropping architecture with windows and lakefront views for days.
Nearest town: Lewis Smith Lake
Sleeps: 14
Minimum stay: 2 nights
Rates from: $316/night
Book a stay at this Frank Loyd Wright-inspired home for modern opulence and breath-taking scenery. Big enough for the whole family plus a few friends, this large lakefront home also has a yard and boat dock. Bring your boat, canoe, kayak, or stand-up paddleboard to enjoy a day on the water swimming, fishing, or sunbathing before returning to this fantastic retreat.
And while the whole house is beautifully finished, the pièce de résistance is the floor-to-ceiling glass wall that spans the entire back of the house, giving you stunning lake views. And with the large ground-level patio and raised deck, there's really not a bad seat in the house.
"This home will awe you with its beauty and good vibes. The light is amazing through the tall windows. The view will soothe your soul."
Check Availability
Related Read: 12 Scenic Weekend Road Trips from Memphis, Tennessee
6. The Bank – Vault Side
Why you should stay: A heist-worthy accommodation where you wouldn't mind spending five to ten.
Nearest town: New Market
Sleeps: 4
Minimum stay: 1 night
Rates from: $149/night
If you love any movies where the good (or bad) guys break into the bank vault, this one-of-a-kind stay is sure to be the highlight of your vacation. The fully renovated 1926 bank is now one of the most alluring Airbnbs in Alabama. But you won't forget you're in a historic bank building, thanks to authentic touches like the original tin ceilings and the bank's original vault, since converted into a cozy (and secure) dining area.
Though the town of New Market itself is small, it has a lovely historic area that's worth a walk. And if you're looking for something more urban, you're 15 miles from Huntsville. You're also near the trails at Monte Sano State Park or kayak rentals near the scenic Flint River.
Check Availability
7. The North Point at Little Point Clear
Why you should stay: A dreamy private suite a short pedal away from the water.
Nearest town: Fairhope
Sleeps: 2
Minimum stay: 2 nights
Rates from: $168/night
The North Point at Little Point Clear is a charming private queen suite whose most notable feature might be the stunning blue wood floors, although you'll also love the cozy bedroom, tidy kitchen, and comfortable lounge area. And if you feel up for exploring the grounds of the newly renovated Boutique Hotel, you can head outside to put up your feet on the outdoor deck or next to the fire pit to soak up the scenery.
Located a short bike ride – complimentary beach cruisers included with your stay – away from all the shops and dining of downtown Fairhope, this suite is in the perfect location to enjoy the Mobile Bay waterfront. You're just minutes away from beaches, restaurants, shops, and the Eastern Shore Trail, which is a great place to catch a sunset over the water.
Check Availability
8. Pike Road A-Frame
Why you should stay: A Sears mail-order home with a five-star yard at a one-star price.
Nearest town: Pike Road
Sleeps: 6
Minimum stay: 1 night
Rates from: $101/night
This quaint A-frame is actually a vintage 1955 Sears and Roebuck kit house. Though recently remodeled, it maintains all the fun and flavor of a DIY mail-order home. And if you think that a catalog-ordered house might be a bit too generic, the cozy and rustic interior of this A-frame has plenty of personality to prove you wrong. It's also one of the more affordable Airbnbs in Alabama considering it can sleep three couples.
The real gem of this property, though, might be its outdoor space. Set on a large and private wooded lot, you and your dogs (who are welcome) will have the run of the yard.
Choose between a game of tetherball or horseshoes, enjoy a relaxing swing in the trees, or light up a fire on the grill or fire pit for some added ambiance. And if you need to head into town, you're only a short drive from malls, movies, and dining in nearby Montgomery.
Check Availability
9. Crystal Towers Condominium
Why you should stay: Three – yes, three – pools. And a beach.
Location: Gulf Shores
Sleeps: 6
Minimum stay: 2 nights
Rates from: $106/night
What's not to love about a high-rise condo with a balcony view of the Gulf? This condo provides all the comforts of home along with all the amenities of a luxury resort.
Along with the minimalist, cozy condo, you'll get access to a recreation center, an indoor pool, and two outdoor pools, one of which has a lazy river next to the beach. If you have young kids who love water activities, this place is sure to be a slam dunk.
And for those looking to take advantage of all the Gulf Coast has to offer, you can walk from the condo to the beach. Or head up the road to nearby Gulf State Park for beaches, trails, a pier, and even a zip line over the dunes. Nature lovers will enjoy a trip up the coast to Bon Secour National Wildlife Refuge for a chance to spot sea turtles, migratory birds, and other wildlife.
Check Availability
10. Storybook Castle BnB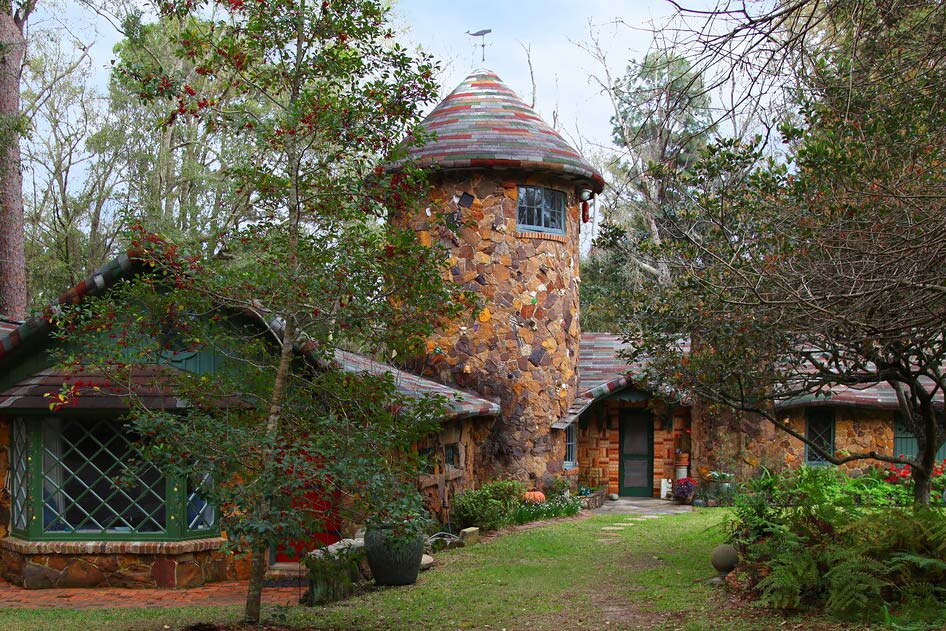 Why you should stay: Escape to a fairytale castle.
Location: Fairhope
Sleeps: 3
Minimum stay: 2 nights
Rates from: $94/night
This cozy studio suite is located in Sheldon Castle, a registered Baldwin County historic home. It has all the charm of a medieval castle combined with the modern amenities of a bed and breakfast. You'll enjoy wandering the scenic grounds and gardens and checking out the moat at Mosher Castle next door.
If you want to return to reality (which you might not), this private escape is a short walk from downtown Fairhope, with dining, shopping, and the nearby Eastern Shore Art Center.
"Expect to have a wonderful, relaxed time. The atmosphere was fun and full of whimsy and the room was spacious and immaculate."
Check Availability
Find Your Next Amazing Stay
9 Best Airbnbs in Louisiana for an Amazing Bayou Getaway
[/icon_conte
Get epic travel ideas delivered to your inbox with Weekend Wanderer, our newsletter inspiring more than 10,000 readers every week.
Was this article helpful?
---