Maryland might be one of the smaller states, and of its multiple nicknames, "America in Miniature," is the one that says the most.
This state offers a little bit of everything, from sandy beaches along its eastern shores and a 40-mile stretch of the Appalachian Trail to the elegant towns near D.C. and the charming streets of Annapolis — pack your boat shoes! You can stand in the place that inspired Francis Scott Key to pen the national anthem at the Fort McHenry National Monument, and see a copy of the original poem at the Maryland Historical Society Museum.
Of course, as the state symbol, trying Maryland's blue crabs is a must. And no matter where you go, expect to find a shaker of Old Bay seasoning on every table — and yes, it goes on just about everything.
Some of the best airbnbs in Maryland are in historic homes while others are high-end condos just steps from the D.C Metro system, making it easy to explore everything from the Smithsonian to trendy Georgetown. Before you book your trip to Maryland, check out the awesome airbnbs rounded up below.
Related Read: 11 Cozy & Natural Glamping Destinations in Virginia
1. The Yellow Door Brickhouse
Why you should stay: Walk to the Inner Harbor or catch a Ravens or Os game.
Location: Baltimore
Sleeps: 5
Minimum stay: 2 nights
Rates from: $99/night
Enjoy affordability and location at this two-bedroom townhouse. It's near the Raven's Stadium, as well the beautiful Camden Yards stadium, where the Orioles play — don't forget to scream "OH" during the national anthem if you go to a game. The home is also very close to the Inner Harbor, so you can hit up the impressive Baltimore Aquarium, the Maryland Science Center, or even Ripley's Believe it or Not during your stay
Inside, the home is stylishly decorated and owned by a host reviewers say is super helpful. You'll also get a Smart TV with streaming, a washer and dryer, and a modern kitchen with high-end appliances. It's a great price for two bedrooms in Baltimore.
Check Availability
Related Read: 12 Weekend Road Trips From Washington, D.C.
2. Abington Farm
Why you should stay: Escape the hustle and bustle with a stay in Maryland's horse country.
Location: Crownsville
Sleeps: 4
Minimum stay: 2 nights
Rates from: $175/night
While Abington Farm is only about 20 minutes from downtown Annapolis, and an equal drive from wineries, beaches and fine dining, it feels like it's worlds away from the city. It's an idyllic setting; horses and geese roam the gorgeous grounds and you'll have a front row seat from the porch along — plus a relaxing hammock.
The area is perfect for cycling with plenty of country roads nearby. It's only a guest suite in a much larger home, but it gives you a taste of Maryland elegance, with a huge front porch and roomy lawn (and farm animals, of course!)
Check Availability
Related Read: What to See on a New York to Washington, D.C. Road Trip 
3. The Original Hob
Why you should stay: Fall asleep to the sounds of the creek in this quaint slice of Heaven.
Location: Oakland
Sleeps: 2
Minimum stay: 2 nights
Rates from: $140/night
The perfect spot for a mountain getaway, the Original Hob is an adorable hobbit-like space filled with character and personality. It's also one of the best dog-friendly airbnbs in Maryland as it has a great dog-friendly play area and two resident dogs who are always happy to come say hi to your pup.
Start the morning by sipping your coffee on the deck before head out to take advantage of the miles and miles of hiking trails nearby, as well as a few waterfalls. Or stick around, hanging out by the creek, cozying up to the outdoor fire pit while gazing up at the stars. Prepare to fall asleep to the relaxing sounds of water. If you're traveling with more than one other person, you may also want to rent the modern cabin next door.
Check Availability
4. Artsy, Historic Rowhouse
Why you should stay: An upscale pandemic getaway for a big family.
Location: Baltimore
Sleeps: 8
Minimum stay: 2 nights
Rates from: $269/night
Enjoy a mix of modern and historic by booking this 1840s townhome filled with splashes of color that create an inviting, cheery atmosphere. Spread over three stories, it offers a ton of space inside and out, including patios and a rooftop terrace with a 360-degree view of the city.
In addition to its many great features, this home is in a prime spot within walking distance to the Canton and Fells Point neighborhoods, and loads of restaurants, including many great takeout options. If you're an early morning riser, take advantage of being just steps from harbor for a peaceful, scenic walk with few others around.
Check Availability
5. Midcentury Living Home
Why you should stay: A cool spot near the metro in the D.C. 'burbs.
Location: Silver Spring
Sleeps: 4+
Minimum stay: 3 nights
Rates from: $225/night
Staying in D.C. can be extremely pricey and noisy, but this magnificent mid-century modern home offers a stay close to the action at a relatively affordable price. Silver Spring is on the Metro Line so it's easy to get into the city, and you'll have the upscale restaurants and entertainment of Chevy Chase, Bethesda, and Georgetown nearby, too.
Guests are impressed with its design, calling it a "true dream home," and an "amazing architectural space," although the highlight for many is the elegant spa-like bath, with a soaker tub and roomy steam room. And it can suit a variety of groups. It comfortably sleeps four, but can be arranged to accommodate four adults and two children, or a fifth adult.
Check Availability
6. Tiny House by the River
Why you should stay: The perfect tiny house near the Maryland-Pennsylvania border.
Location: Monkton
Sleeps: 2
Minimum stay: 2 nights
Rates from: $150/night
While this is technically a tiny house, you won't feel cramped. The home feels fairly roomy and has a light color scheme and big windows to keep it feeling light and airy. Just a short stroll down a path from the backyard is the Gunpowder River for refreshing swims, kayaking, and tubing during the warmer months of the year. And you're not very far from Prettyboy Reservoir and Rocks State Park, both of which have trails and picnic areas.
If you're up for crossing state lines, you'll be pretty close to historical Gettysburg, too. And when you're ready to wet your whistle, head to Monkton's popular Inverness Brewery for a pint.
Check Availability
7. Firefly Cottage
Why you should stay: Storybook cottage with a beautiful garden close to great hikes.
Location: Keymar
Sleeps: 4
Minimum stay: 2 nights
Rates from: $135/night
This cottage was converted from an 1850s schoolhouse to create an airbnb with plenty of historic character. Bring some groceries (Keymar isn't really a town) and plan to back and relax, digging into a good book in a place that feels like something out of a storybook. There's a fabulous front porch with rocking chairs that look out on the beautifully landscaped cottage garden. In the evening, gather around the outdoor fire pit or cozy up to the wood-burning fireplace with a glass of wine.
If you want to get active, fuel up with an espresso (there's an espresso maker in the kitchen) then hit the hiking trails in Cunningham Falls State Park and Catoctin Mountain Park, each less than 20 minutes away. It's also petty close to Frederick, which used to be a sleepy little farm town but has sense evolved into one of D.C.'s most affordable (if a bit far) small-town suburbs. The downtown area is rather charming, especially if you like thrifting and coffee shops.
Check Availability
8. Condo Houseboat
Why you should stay: Waterfront views literally on the water.
Location: Annapolis
Sleeps: 4
Minimum stay: 3 nights
Rates from: $389/night
This condo houseboat will definitely fit the bill for those who want something different than the usual home or apartment stay. You'll be sleeping in a houseboat on a boat lift suspended above the water, swaying a bit with the wind. While you might think it would make things awkward, guests say the gentle rocking of the boat is the perfect way to fall asleep.
You'll have plenty of natural light with an open floor plan and a roomy deck off the living room. Hang out in the sun, kick up your feet, and wave at the boats passing by during the afternoon, then watch the sun set over the water. You've even pretty close to a beach, which should come in handy if you stay in the heat of summer.
Check Availability
9. 1813 Historical Farmhouse
Why you should stay: Ideal farm stay for large families and groups with lots to do on site.
Location: Knoxville
Sleeps: 12
Minimum stay: 2 nights
Rates from: $349/night
Truthfully, Knoxville is kind of in the middle of nowhere. But that also means it has some of the state's best outdoor recreation nearby, and this beautiful 200-year-old farmhouse is a great place to stay to explore it all. It even has resident chickens, plus walking trails, creeks, and ponds. Look forward to swinging on the wrap-around porch or al fresco dining on the huge back patio. This great rental sleeps a dozen guests, making it one of the best airbnbs in Maryland for a large group.
The inside is just as impressive, and guests note it's sparkling clean with all you need for a comfortable stay, including a washer and dryer. There's a butterfly garden just outside the kitchen, and inside you'll find books and games for the kids as well as dog treats, towels and a bowl for your canine — who is more than welcome here. While Knoxville may be a bit sleepy, it's less than 10 minutes to Harper's Ferry, WV, which is quickly becoming one of the East Coast's premier towns for outdoor recreation.
Check Availability
10. Rumbley Cottage
Why you should stay: Peace and quiet on the Tangier Sound.
Location: Westover
Sleeps: 6
Minimum stay: 3 nights
Rates from: $249/night
Unlike Maryland beach destinations popular for loud parties and letting loose — cough, Ocean City, cough — Tangier Sound makes for a much more peaceful beach getaway. And Rumbley Cottage is the perfect place to stay for people who simply want a low-key stay in nature with views of the wetlands and Manokin River. It's ideal for watching the nesting ospreys along the shoreline, sunset viewing, or just hanging out on the front porch.
While you can use your hotspot as the signal is strong for cell service, there is no Wi-Fi, providing a great spot to disconnect. It's on the eastern shore of Maryland, the large peninsula separated from the rest of the state by the Chesapeake Bay.
Check Availability
11. Fells Point Bar Studio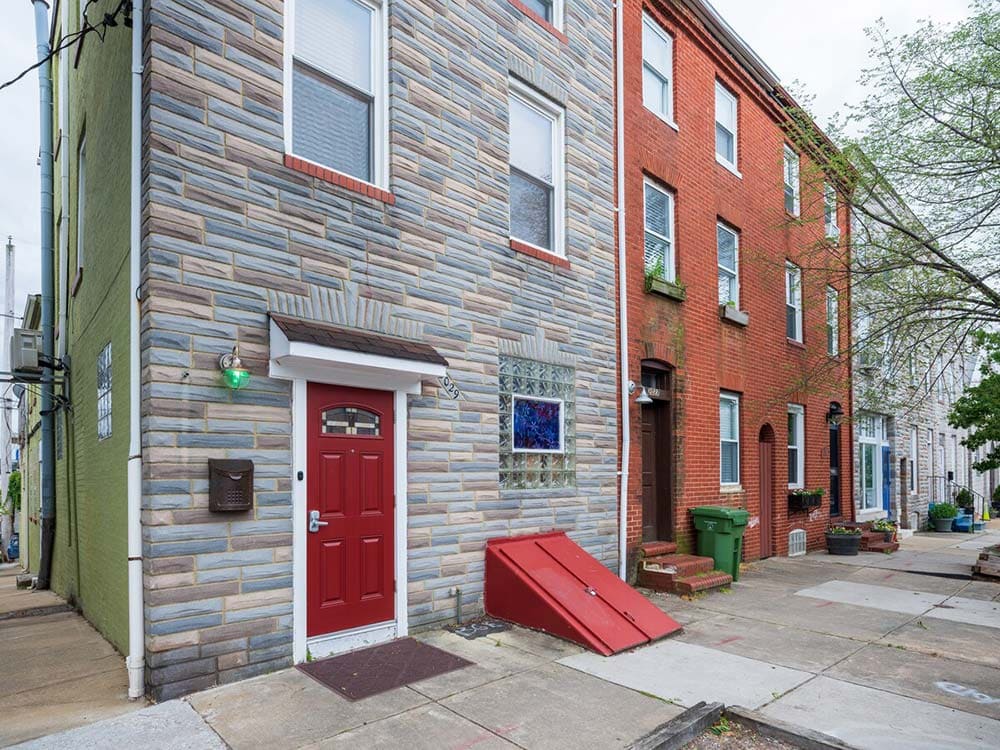 Why you should stay: A bargain price to overnight in one of Baltimore's coolest neighborhoods.
Location: Baltimore
Sleeps: 2
Minimum stay: 1 night
Rates from: $59/night
As the name belies, this studio is located in Fells Point, a historic neighborhood near the harbor that dates back to 1763. Today, Fells Point has cobblestone streets lined with trendy taverns and pubs (many of which have live music regularly) along with seafood eateries serving plenty of crab. Tucked in between are record stores, galleries, and plenty of international cuisine — ramen, anyone?
After your exploits, you'll appreciate coming back to the comfortable space. It's one of the more affordable airbnbs in Maryland, especially near downtown Baltimore, which is quickly catching up price-wise to the rest of the East Coast's cities.
Check Availability
Explore More of the East Coast
Sign up for Weekend Wanderer, our free email newsletter where thousands of readers get epic travel and airbnb ideas every week.
---