Territory Supply is reader-supported and may earn a commission when you book or purchase using our links. Learn more about our editorial policies here.
---
With sugar-sand shorelines and calm bays, Traverse City is an up-north destination any time of year — and these homes put you in the heart of it all.
Sure, the bays and inland lakes attract boaters and fisherman, but it's not just its location on Lake Michigan and proximity to Sleeping Bear Dunes National Lakeshore that makes Traverse City a popular getaway.
The area's glacier-sculpted landscape also boasts miles of integrated trail systems for hiking and mountain biking, championship golf courses, and fertile soils that grow the region's famous cherries. In the winter, snowmobile trails criss-cross through the landscape and world-class cross country skiing awaits.
While there are plenty of outdoor activities in this four-season playground, the town has plenty of attractions to wind (or wine) down after a day outdoors. Winery tours on the Old Mission Peninsula and the Leelanau Peninsula welcome travelers for tastings while quaint shops in the downtown district scratch the shopping itch.
However you're spending your time, you can find a blend of chic, historical, and modern airbnbs in Traverse City to call home as you explore this gem of the Midwest.
1. Wren House
Why you should stay here: A secluded escape close to town.
Sleeps: 6
Minimum stay: 3 nights
Rates from: $376/night
This restored historic farmhouse is as photogenic as it is comfortable. Timeless antiques that nod to the home's history blend with mid-century modern decor for a quaint, boho feel that welcomes you back after a day of exploring. Your gateway to adventure is the Leelanau Trail system, with over 17 miles of trails that wind around Traverse City and the bay. It'll be just steps from your door.
Surrounded by conservancy land, the property makes you feel worlds away, though downtown is only about a 10-minute drive. Forage for strawberries, asparagus, and morel mushrooms (a Michigan delicacy) on the property and cook up a meal in the full and spacious kitchen. Be sure to read up on Michigan mushroom foraging in advance.
Follow 'em: @WrenHousetc
Check Availability
Related Read: 9 Amazing Places to See Fall Colors in Michigan
2. The Box Loft
Why you should stay here: Unique, historical building within walking distance to great bars & restaurants.
Sleeps: 4
Minimum stay: 2 nights
Rates from: $474/night
In the historic district of Traverse City by the Boardman River, this former cigar factory was reimagined with rustic-meets-luxurious elements that do justice to the building's history. Almost 100 years old, the building wore many hats until finally being converted into a comfortable escape.
High-end appliances, extravagant furnishings, and an open-floor concept are just the beginning. High ceilings and huge windows give the space a sense of grandeur while also allowing in sunlight and giving you clear views of town. It's an Airbnb Plus property, so it does cost a bit more than your average Traverse City airbnb.
"The Loft exceeded all of our expectations. We really enjoyed all the thoughtful, unique touches throughout. The heated floors in the master bathroom were a great bonus!"
Check Availability
Additional Read: 10 Best Weekend Road Trips From Detroit, Michigan
3. Martin House
Why you should stay here: An interior designer's dream near beaches, trails, and downtown.
Sleeps: 6
Minimum stay: 4 nights
Rates from: $338/night
This renovated 1900s farmhouse is on the Leelanau Trail and is only a four-mile bike ride from downtown Traverse City. Though appointed with modern comforts, touches like vintage artwork, a soaking tub in the largest bedroom, and screened-in sun porch make the space quaint and comfortable. Outside, a fire pit, flower garden, wooden swing, and hammock await. It's a historical home managed by the same owners as the nearby Wren House.
Follow 'em: @Martinhousetc
Related Read: 10 Secluded Cabin Rentals in Amazing Michigan
4. Remodeled Historic Condo
Why you should stay here: A newly updated three-bedroom condo in an old state hospital.
Sleeps: 6
Minimum stay: 2 nights
Rates from: $169/night
If the spiral staircase, plush velvet couch, and exposed brick walls don't have you booking this place for your next day, maybe the location will. This remodeled historic condo is located in Traverse City's old state hospital. Now a designated historic site, the building complex is home to shops, restaurants, and 480 acres of gardens and trails for hiking, biking, snowshoeing, and cross country skiing. And it's all right outside your front door.
"Great place to stay with plenty of room for a small family as well. With so much located within the small community, there really is no reason to leave. It was the perfect weekend getaway."
Check Availability
5. Hygge on Front
Why you should stay here: Downtown location meets cozy interiors.
Sleeps: 4
Minimum stay: 2 nights
Rates from: $140/night
Clean, neutral tones and boho furnishings await in this chic modern condo a five minute walk from downtown Traverse City. The thoughtful decor has a western vibe (complete with cacti), but it's not just the decor that's welcoming: plush couches and queen beds ensure your stay is a comfortable one.
The condo's central location has you within walking distance to public beach access, popular restaurants, shopping, and bars. Old Mission Peninsula is only a short drive away for wine tasting, visiting the lighthouse, or relaxing on the beach. It'd also one of the best-priced airbnbs in Traverse City considering the great location.
Check Availability
6. TC Capri 316
Why you should stay here: Super-modern condo at a good price.
Sleeps: 4
Minimum stay: 2 nights
Rates from: $145/night
If you're planning on spending time outside or on the town and don't need your airbnb to have historical vibes, check out this modern newly built condo. It has a heated mattress pad, a full kitchen with Keurig coffee maker, tall ceilings, plentiful windows, and all the comforts of home to relax and unwind between adventures. The condo's convenient location downtown means you can ditch the car and walk to all of the town's attractions.
Just across the street is the Old Town Playhouse, and close by are breweries, popular restaurants, and public beach access to keep you close to all the action.
Check Availability
7. Luxury Lodge
Why you should stay here: Large, charming house perfect for you and a dozen friends.
Sleeps: 14
Minimum stay: 3 nights
Rates from: $600/night
If you're looking for a luxury escape with "Up North" charm for you and a large group, look no further than this spacious cabin in the woods. Wake up to views of both bays, the town, and Old Mission Peninsula out of its large windows. Chefs will love the gourmet kitchen for whipping up delicious meals while everyone else takes their turn playing pool.
Outside, a large deck and fire pits keep everyone entertained in the evenings. And the lodge's close proximity to all that Traverse City has to offer (you're only six minutes from downtown) will ensure you never run out of things to do. It's definitely one of the pricier places airbnbs in Traverse City, but it's a great group getaway if everyone chips in.
Check Availability
8. Modern West Bay Cabin
Why you should stay here: Modern A-frame cabin with a private beach.
Sleeps: 8
Minimum stay: 4 nights
Rates from: $350/night
You'll find this modern A-frame cabin on the Leelanau Peninsula and surrounded by wineries, cideries, and vineyards (and conveniently between the town of Suttons Bay and Traverse City.) Vaulted ceilings and plenty of windows make the interior bright with natural light and offer views of West Bay.
Just across the street is your own private beach on the bay, complete with an outdoor shower, bonfire pit, and kayaks with life jackets for you to use. The cabin itself boasts a unique bed configuration to allow eight people to sleep comfortably so you can bring along all the friends so no one has to miss out on the fun. With a private beach and a few good friends, it's the perfect place for a laid-back and long-awaited group travel weekend.
Check Availability
9. Hygge Up North Cabin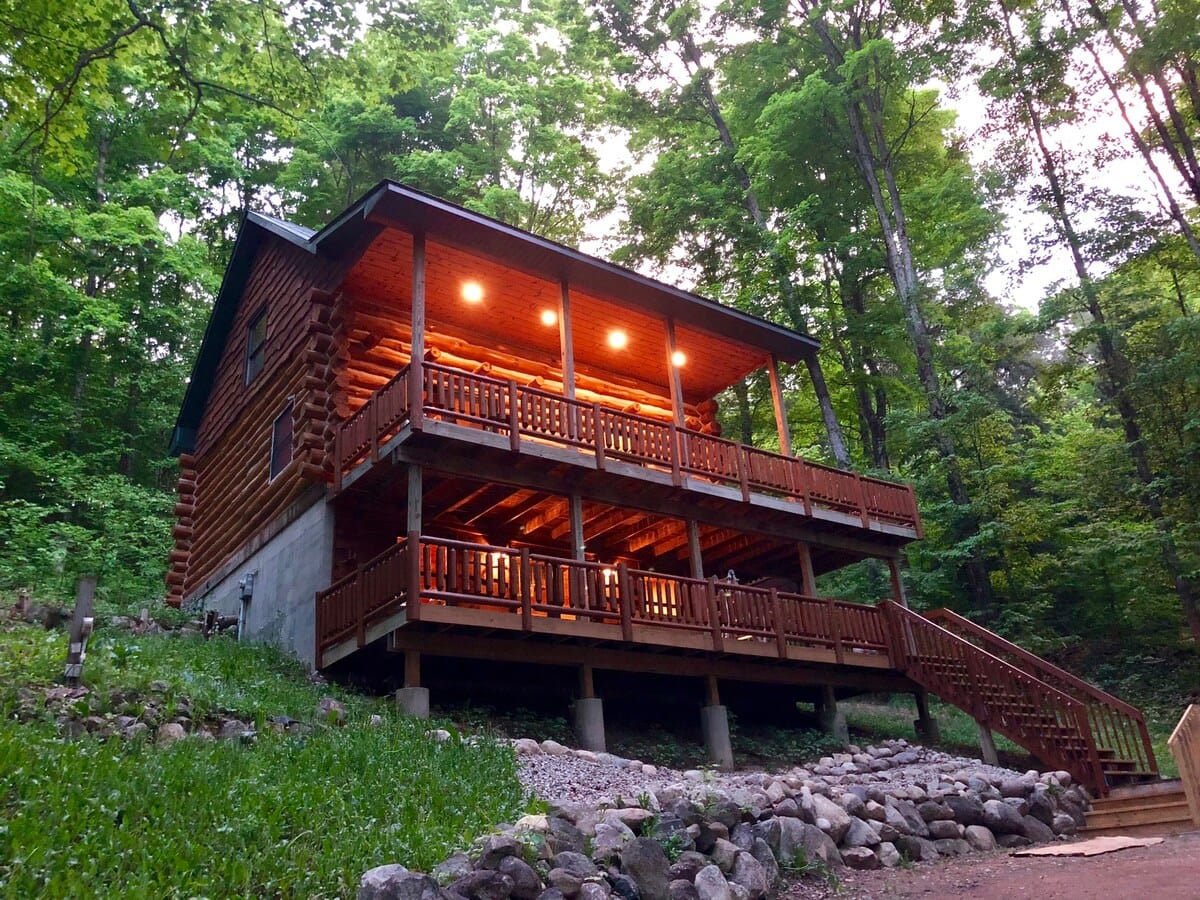 Why you should stay here: Retreat to comfort and coziness in the hills just outside town.
Sleeps: 4
Minimum stay: 2 nights
Rates from: $250/night
For a retreat away from it all, look no further than the Hygge Up North Cabin. Thanks to the fish-towel rods, black bear throw pillows, and all-natural wood construction, the cabin definitely hits off on those "Up North" vibes. The cabin is just as practical as it is cozy with a modern and stocked kitchen, spiral staircase, reading cove, fireplace, old-fashioned claw foot tub. The owner's purposely designed the place to be cozy and comforting, making it a great choice for a getaway after an objectively stressful year.
The cabin sits on two wooded acres and has spacious decks for you to drink in the forest and the views (or a local Michigan brew.) At the base of the Leelanau Peninsula, you'll be about halfway between Traverse City and Sleeping Bear Dunes National Lakeshore and close to plenty of places to explore.
Follow 'em: @hyggeupnorth
Check Availability
Related Read: 7 Magical Treehouse Rentals in Michigan
10. J2 Farm Guesthouse
Why you should stay here: Idyllic farmstay in the countryside where you can even help milk the cows.
Sleeps: 4
Minimum stay: 4 nights
Rates from: $145/night
Situated a 15-minute drive from both Sleeping Bear Dunes National Lakeshore and Traverse City is this idyllic farmstay. A bit off the beaten path, you'll be disturbed by no cars and no traffic. You'll probably just hear the chatter of the 45-acre farm with goats, cows, and chickens. You can even help with farm tasks like milking the cows and collecting eggs, if you want.
The private guesthouse where you'll stay has its own entrance. Though cozy and small, it still checks the boxes for all the amenities needed for your stay thanks to the galley kitchen and extra loft sleeping space. And the starting price is solid for four guests.
Follow 'em: @cedarnorthtc
Check Availability
11. The Burrow at Little Red Homestead
Why you should stay here: At-home comforts meet resort getaway amenities.
Sleeps: 2
Minimum stay: 2 nights
Rates from: $240/night
This woodshop-turned-modern-farmhouse is centrally located between Traverse City and Sleeping Bear Dunes National Lakeshore. You'll have easy access to hiking trails, wine tastings, and everything else the area has to offer.
But if you opt to stay in, the property's communal hot tub, fire pit, garden dining area, and hammock will keep you occupied. Open the large barn doors from the living area to the private patio (a feature from the building's early days) for some fresh air, make dinner in the stocked kitchen, or snuggle in with plush bedding in the queen sized bed.
Check Availability
Explore Michigan and Beyond
Sign up for Weekend Wanderer to join thousands of readers getting epic travel ideas every week!
---