Toronto is a refreshing blend of urban city and vast green expanse.
The "city within a park" is built up of singular neighborhoods each with their own distinct vibe, filled with local cafes, vintage markets, and craft breweries. And the city continues to assert itself as the modern, metropolis destination that it is, with endless options for urban airbnbs in Toronto guaranteed to wow even the most discerning travelers.
Often lovingly referred to as Toronah, T-dot, or The Six by the locals, the city remains the most populated city in Canada with approximately 6.1 million people. It also holds the title for the fourth-largest city in North America — take that, Chicago (# 5.)
Visitors and locals alike are spoiled for choice with hundreds of lauded restaurants spread across the city ranging from Italian, Mexican, Indian, Vietnamese and yes, even Canadian fare. For shopping, options range from 1950's vintage to haute couture Chanel to the popular big box stores. And nature? From sprawling outdoor gardens to some of the world's largest urban parks and incredible walking trails, there is truly something for everyone.
Considering a trip or staycation? You won't want to miss the chance to stay at one of these unique urban airbnbs in Toronto to make your trip to Canada extra awesome.
Related read: 50 Coolest Airbnbs in the U.S. for a Great American Adventure
1. Yorkville Heritage Victorian Brownstone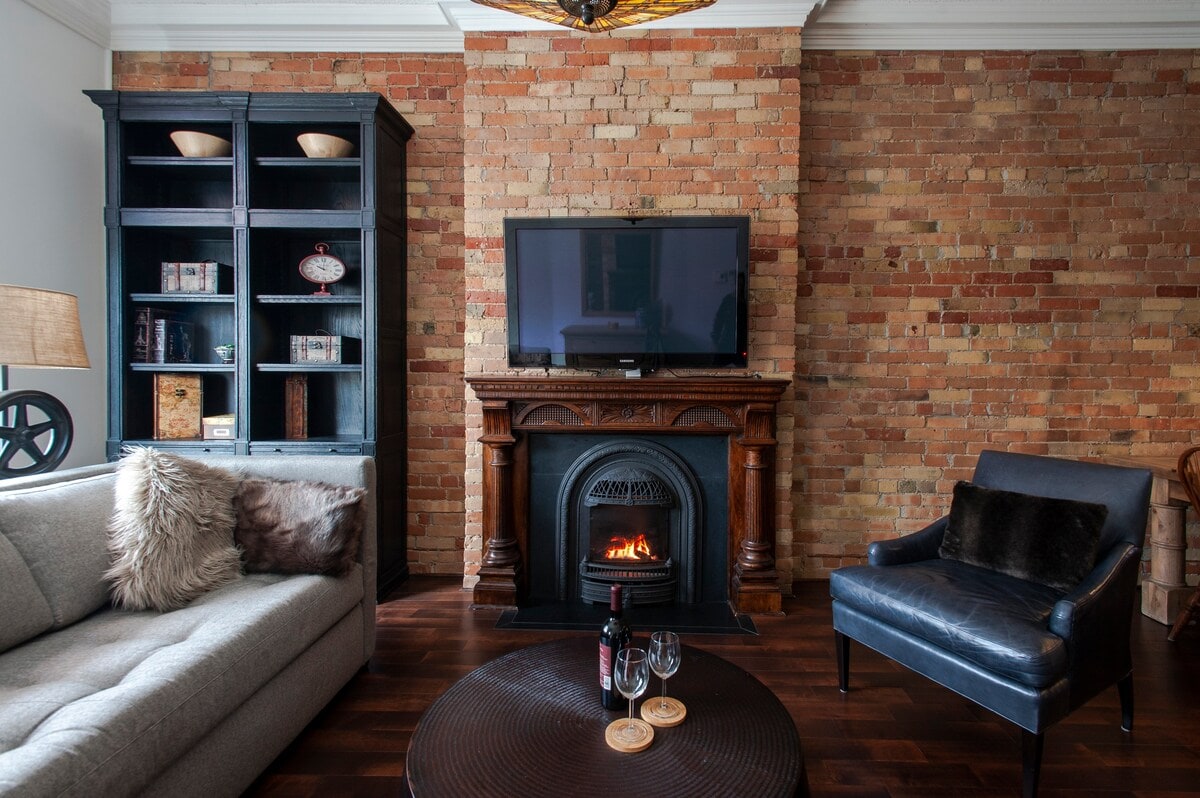 Why you should stay: Yorkville brownstone near lux shopping Bloor St. and plenty of famed restaurants.
Sleeps: 4
Minimum stay: 5 nights
Rates from: $241/night
Wander past the storefronts of Chanel, Prada, and Gucci on the way to this stunning Victorian Brownstone. Once inside, you'll marvel at the high ceilings, exposed brick, and stained glass that add character to this charming and stately home.
Aside from some of the best shopping in the city, enjoy easy walking access to some of Toronto's highlights like Casa Loma and The Royal Ontario Museum. At night, snuggle up next to the gas fireplace with wine in hand, then hop into the king-sized bed to enjoy hotel-quality sheets for a deep slumber.
Check Availability
2. Room with a (CN Tower) View
Why you should stay: Sip coffee on the private rooftop deck while admiring sunrise views of CN Tower.
Sleeps: 8
Minimum stay: 5 nights
Rates from: $246/night
Just a hop, skip, and a jump away from famed Trinity Bellwoods Park, this cozy home provides easy access to some of the best bars, restaurants, and little boutiques the city has to offer.
Styled in a soothing neutral palette, the home offers a respite from the busy city with an L-shaped couch to melt into after a long day of sightseeing. For families, the house provides an ideal home base, with a crib, toys, and plenty of space available to sprawl out. It's a good price for airbnbs in Toronto considering you get four bedrooms and that rooftop patio all to yourself.
Check Availability
3. 1870s Classic Row House
Why you should stay: The devil is in the details at this stunning row house near the St. Lawrence Market.
Sleeps: 4
Minimum stay: 3 nights
Rates from: $393/night
This 1870s row home is nestled away in the historic Distillery District. Once home to a large whiskey distillery, the area is now a famed pedestrian-only area with indie restaurants, bars, and boutiques. And good news for sloe-loving hipsters: it's getting back to its roots with a new gin distillery coming soon to the neighborhood.
The interior of the home offers all the amenities of a plush hotel with the comforts of home. Tastefully decorated in Restoration Hardware decor and sleek stylings, interior-design lovers will appreciate the penchant for details. It's not one of the cheapest airbnbs in Toronto, but the location is unbeatable.
Check Availability
4. Trinity Bellwoods Mid-Century Airbnb
Why you should stay: You'll leave bursting with decor ideas from this recently renovated Victorian home.
Sleeps: 4
Minimum stay: 2 nights
Rates from: $158/night
Brimming with playful patterns and bold color, it's hard not to leave inspired to redecorate after visiting this cheery Trinity Bellwoods retreat. The walls are decorated with tasteful art from local artists and lush green plants add a pop of color to the mid-century vibe.
The park just across the street often hosts summer music festivals and plenty of Instagram-worthy restaurants line the street for an afternoon patio hang-out session. It's a good spot for two couples traveling together who plan to spend time out on the town – the price is pretty reasonable, so you can spring for a fancy cocktail or two with dinner.
Check Availability
5. Condo in the Clouds
Why you should stay: Why stay on ground level when you could stay 60 floors into the sky?
Sleeps: 3
Minimum stay: 1 night
Rates from: $126/night
Kick back in this VIP-style condo to enjoy wall-to-wall window views over the bustling lakeshore below. The compact space is expertly designed to maximize small-space living and provides an ideal hideaway from the city. And it even has views of the famous CN Tower.
Offering free parking (a rare commodity in the city), you can explore the city on two wheels using the bike share program or jump on the streetcar to explore the busy downtown core without the hassle of constantly looking for a parking spot. At the end of a long day, make time to hang out in the on-property pool and hot tub to completely unwind.
Check Availability
6. Classic Edwardian Abode
Why you should stay: The feel of a lux garden cabin while being just minutes from downtown.
Sleeps: 8
Minimum stay: 1 night
Rates from: $375/ night
Tucked away in Toronto's west side downtown core, this gorgeous classic Edwardian home is one dreamy base camp for a weekend of exploration. The home embraces natural light with floor-to-ceiling windows that give guests perfect views of sunrise and sunset.
Styled with modern decor and with heated floors throughout, you'll hardly have a reason to venture out (aside form all the offerings of Toronto, of course.) The hosts have lived in the area for more than three decades so they can provide plenty of info on the coolest and most authentic places to eat and drink.
Check Availability
7. Entertainment District Bungalow
Why you should stay: Spacious three-story home near Toronto's best nightlife.
Sleeps: 16
Minimum stay: 2 nights
Rates from: $602/night
Enjoy a slow start to the morning sipping on complimentary coffee in the modern and fully equipped kitchen, then cozy up to the fireplace to enjoy a good book and the scent of crackling wood (and your coffee, of course.) With not one but eight bedrooms available, this downtown retreat provides easy access to Toronto's nightlife in the Entertainment District.
In just a few minutes, guests will find themselves in the heart of the city with plenty of bars, lauded restaurants, and breweries within walking distance for a night of bar hopping. For those more interested in being immersed in nature, the property backs onto the larger Toronto ravine with plenty of walking and biking trails.
Check Availability
8. Secluded Toronto Island Cottage
Why you should stay: Charming Toronto Island cottage near picturesque beaches.
Sleeps: 4
Minimum stay: 2 nights
Rates from: $319/night
Hop on the Toronto Island Ferry to escape the crowds of the city and take in the fresh, salty air on Toronto Island. This lakeside cottage is fully equipped with everything you could possibly need for your stay. It's a great spot for people who like to stretch their legs and spend time outdoors as the island is car-free. And your yard has stunning views of the Toronto skyline.
With three beaches to choose from (Centre Island Beach, Ward's Island Beach, and Hanlan's Point Beach), there are plenty of options for when you want to take a refreshing dip, lay in the sun, or lounge with a great book. Enjoy the few on-island restaurants for some delicious BBQ fare, take the ferry into Toronto, or head back to the cottage to whip up a light dinner in the small but functional kitchen.
Check Availability
9. Panoramic Skyline Condo
Why you should stay: Live like a rockstar at a "guy who works the merchandise table" price.
Sleeps: 6
Minimum stay: 2 nights
Rates from: $220/night
While this luxury two-bedroom condo has space for three couples, it would make for one dreamy romantic getaway (or staycation.) Watch the sunrise over the lakeshore from the roomiest bedroom or enjoy breakfast on the expansive terrace overlooking the sights and sounds of the city.
The condo is on the 30th floor, so the views are unbeatable. You can cook a meal together for a date night in, taking advantage of the floor-to-ceiling windows that run the length of the kitchen and living room. Considering how lux this place feels, it's surprising that it's one of the affordable airbnbs in Toronto. New Yorkers, put it on the top of your weekend getaway list.
Check Availability
Explore Canada
Get epic travel ideas delivered to your inbox with Weekend Wanderer, our newsletter inspiring more than 10,000 readers every week.
---