We research, evaluate and select travel destinations based on a number of factors, including our writers' experience, user reviews and more. We may earn a commission when you book or purchase through our links. See our editorial policy to learn more.
---
Just 70 miles south of Boston, the hooked-shaped peninsula known as Cape Cod is home to miles and miles of undeveloped beaches and dunes, along with charming towns with museums, art galleries, seafood restaurants, and fantastic boutiques.
If you like lighthouses, you'll love the Cape, as there are 14 of them here. In fact, it has more than any other county in the entire United States (according to CapeCod.com, at least).
And if you like the beach, that's a no-brainer, since it's loaded with beaches for surfing, sunbathing, playing with your pup, or strolling for shells. Fortunately, there are no shortage of airbnbs on Cape Cod, so whether you're after an affordable weekend getaway or a luxurious month at the shore, you'll find the perfect place to stay.
Related Read: 13 Best Airbnbs to Rent in Portsmouth, New Hampshire
1. Cozy Coastal Cottage
Why you should stay: Swim in the Nantucket Sound's warm waters: you'll be just steps from the beach.
Sleeps: 2
Minimum stay: 1 night
Rates from: $145/night
In the quiet beach community of Yarmouth, this cozy coastal cottage is the ideal base for enjoying days spent walking or biking on scenic trails, splashing in the waves, and relaxing while watching the boats on the water. You'll be able to sip your morning coffee on the deck while watching the sun come up over the ocean and enjoy swimming off Colonial Acres Beach, just steps away from the home.
Your host provides a binder with ideas for activities and the best places to dine (with menus). The home has all the essentials and then some, like room-darkening shades so the early morning summer sunshine won't wake you before you're ready. It's one of the best airbnbs on Cape Cod if you want that classic "summer on the Cape" feel during your stay.
Check Availability
2. Contemporary Cape House
Why you should stay: Fab amenities for a summer or winter vacation.
Sleeps: 8
Minimum stay: 4 nights
Rates from: $250/night
This extra-spacious home is made even more spacious feeling with cathedral ceilings — and it comes with some very enticing outdoor living spaces, too. Enjoy cooking out on the Weber gas grill, dining al fresco, or just relaxing on the comfortable Adirondack chairs on the back deck. And if you're out all day swimming in the nearby pond or ocean and bay beaches, you can rinse off in the outdoor shower before jumping in the hot tub for a sunset soak.
This is one of the best airbnbs in Cape Cod for winter vacations, too: the hot tub is even more enticing during the chilly months, and you'll have an indoor fireplace to keep everyone toasty. There are also plenty of entertainment options when inclement weather hits, like a Roku TV with Netflix, YouTube TV, and super-fast Wi-Fi.
Check Availability
Related Read: Top 10 East Coast Vacation Spots You Never Considered (But Should!)
3. Family-Friendly Home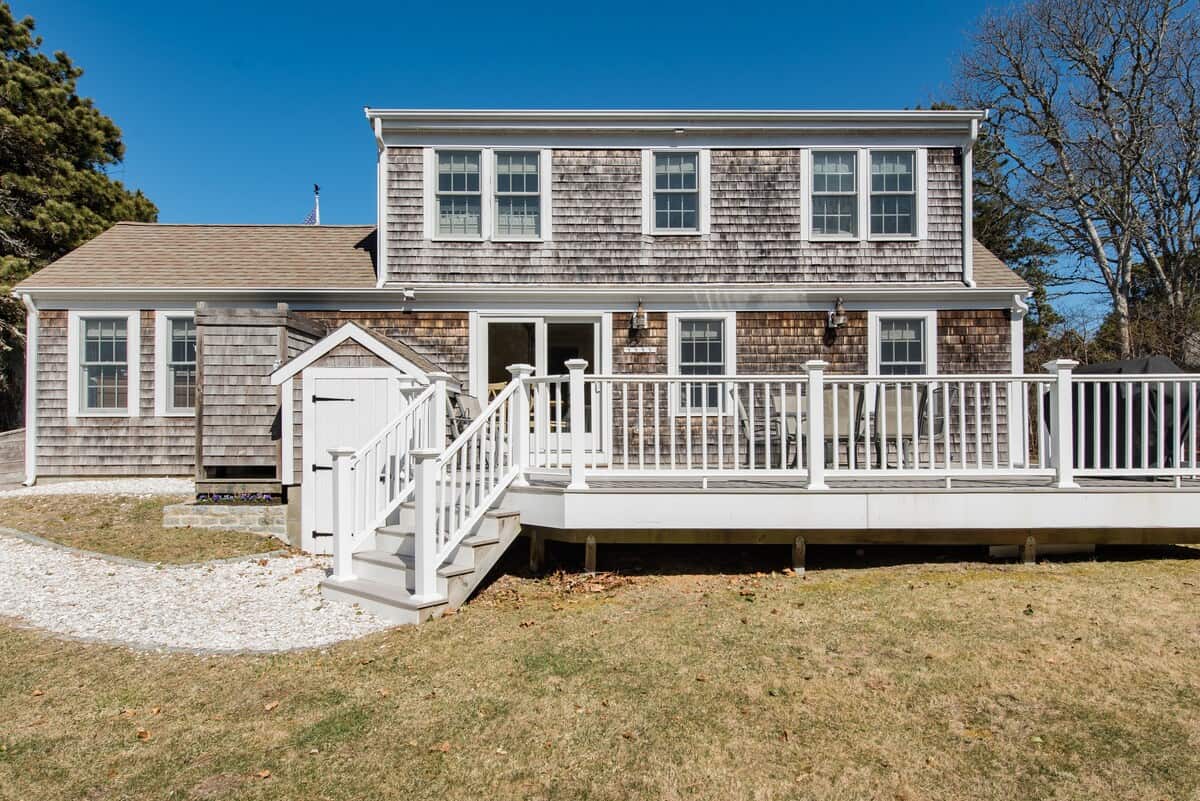 Why you should stay: The perfect home for a family vacation at the beach.
Sleeps: 8
Minimum stay: 2 nights
Rates from: $425/night
Located in an oceanside neighborhood, this family-friendly home is less than a 10-minute walk to a mile-long sandy beach; a stroll through the dunes will bring you to an old lighthouse and a secluded stretch of sand. The hosts describe the home as the "perfect mix of beach and cozy," so you'll have everything you need for an idyllic getaway, from beach gear to board and lawn games to a high chair for the little ones.
Guests also rave about the friendly, responsive hosts who happily provide insider tips, and the comfortable beds to ensure a refreshing sleep. One of the rooms has bunks, which makes for a perfect kid's room while adults get the other two.
Check Availability
Related Read: 12 Magical Glamping Destinations in New England
4. Slate House
Why you should stay: Get excited, nature lovers: it's a lux home with a grassy creekside lawn.
Sleeps: 9
Minimum stay: 2 nights
Rates from: $360/night
The Slate House is a waterfront oasis on Frost Fish Creek, with panoramic views from nearly every room. It's also within walking distance to small dog-friendly beach — and since the home is also dog-friendly, you won't have to leave your furry best friend at home. The grassy lawn next to the creek is beyond lovely, so don't be surprised if you end up spending every evening outside listening to the crickets and frogs. Though the starting price looks intimidating, it's actually one of the more affordable airbnbs on Cape Cod if you split the cost between nine guests.
"We had a great week at Slate House. Wonderful to have the view of the creek every morning and evening! Love the screened porch – so pleasant to sit outside."
Check Availability
5. Dennis Cottage
Why you should stay: Storybook charms and a lake view in the heart of the Cape.
Sleeps: 4
Minimum stay: 7 nights
Rates from: $400/night
This lovely cottage boasts a picturesque view of Scargo Lake that you can wake up to every morning. It's in the town of Dennis, in the heart of the Cape, near world-class beaches on Nantucket Sound and Cape Cod Bay along with outstanding restaurants. For an upscale meal, don't mis Fin, a restaurant serving sustainable seafood dishes and eclectic wines in a historical home, while Scargo Cafe offers delicious casual bites in a colonial setting.
A few of the standout details you're sure to love include kayaks for complimentary use out on the lake, a deck with a gorgeous water view, and European-style spa bathrooms with heated towel racks. As soon as you step onto the property, you'll understand why it was featured in The Boston Globe Magazine.
Check Availability
Related Read: 10 of the Best Airbnbs in Boston, Massachusetts
6. Oceanfront Beach Home
Why you should stay: Sleep literally on the dunes, steps from the bay for summer beach days.
Sleeps: 10
Minimum stay: 2 nights
Rates from: $425/night
This East Sandwich beach home is practically on the water, tucked into the sand dunes along the bay side of the Cape. Relax with 360-degree views of Cape Cod Bay and Scorton Creek. And in the summer, you can enjoy swimming just steps from your door, though falling asleep to the sound of the waves is a pleasure you can enjoy year-round.  Many airbnbs on Cape Cod are near the ocean, but you could literally throw a rock from your porch and have it land in the water.
Guests rave about the comfy beds, fabulous amenities, up-to-date decor, and lots of special little touches that ensure an ideal beach getaway.
Check Availability
7. Quiet Townhome
Why you should stay: Fabulous outdoor spaces just a short walk from Commercial Street.
Sleeps: 4
Minimum stay: 1 night
Rates from: $350/night
This townhome is near the center of all the action in Provincetown, just a five-minute walk to the restaurants and bars along Commercial Street. But because it's set a few blocks back, it's in a quiet setting perfect for relaxing and making sure everyone gets a good night's sleep. It's a great choice for travelers who want to experience the Cape's small-town charm since you'll be close to beautiful beaches, the colorful downtown area with its grand mansions, art galleries, book stores, seafood shacks, and fudge shops, just to name a few.
A perfect spot for couples or any group traveling together seeking privacy, its two bedrooms are on different floors and there plenty of outdoor living spaces, including a front porch and two decks. Enjoy afternoon cocktails together, or find your own peaceful spot to unwind.
Check Availability
8. Pond-Facing Eastham Home
Why you should stay: Secluded oasis with an on-site concierge just minutes from the beach.
Sleeps: 9
Minimum stay: 3 nights
Rates from: $499/night
One of two homes on a 2.3-acre estate, this traditional cottage-style retreat is spread across 3,000 square feet, providing plenty of room for the whole family — and then some. The highlight, at least during the warmer months, is the semi-private sand-bottom pond with a floating dock that's ideal for swimming. Plan to spend most evenings gathering around the fire pit for evening chats and s'more making.
It's one of the pricier airbnbs on Cape Cod for sure, but you can't beat those views. And you get access to an onsite caretaker who can help with everything from changing light bulbs to making dinner plans.
"The house is very clean, stylish, well laid out, and the location is fantastic – on a pond, right on the rail trail, and close to both the national seashore and first encounter beach."
Check Availability
9. Serene House in Truro
Why you should stay: A cute home with handmade art just a short walk from town.
Sleeps: 5
Minimum stay: 7 nights
Rates from: $293/night
Enjoy a peaceful getaway in this beautifully decorated house with spectacular gardens and a fabulous outdoor deck for relaxing while watching visiting hummingbirds. It's in Truro, home to the Highland Light, which is the oldest and tallest lighthouse on the Cape.
From the home, there's a hiking trail that leads to the ocean, or you can walk to town in about 10 or 15 minutes. Head out on a morning stroll to grab breakfast at one of the town's cute cafes, then head back to the home to lounge in the hammock or soak up the sun on the back deck. Inside, the house has lots of character and impressive artwork.
Check Availability
10. Orleans Bayside Home
Why you should stay: A comfortable home on a quiet street near a fantastic bay beach.
Sleeps: 5
Minimum stay: 2 nights
Rates from: $343/night
This comfortable home sits on a quiet dead-end road in the small town or Orleans, founded way back by the pilgrims in the 1600s. Today, the focus in Orleans is mostly on the beach, rather than mass tourism, so it still has a very laid-back, New-England feel. From this home, it's a short walk to town and just over a mile to popular Skaket Beach on the bay side of Orleans. That beach is known for its fine, soft sands and warm water for summer swimming; it's a great spot for long strolls on the flats at low tide.
The house has an open layout with views of the trees from every window, while the living room with a fireplace provides a cozy spot to relax after a day of exploring.
Check Availability
Related Read: 10 Chill Romantic Getaways in Massachusetts
Plan Your Cape Cod Trip
Plan Your Next Adventure
Sign up for our free email to join thousands of readers getting epic travel and Airbnb ideas every week!
---