Territory Supply is reader-supported and may earn a commission when you book or purchase using our links. Learn more about our editorial policies here.
---
Take social distancing to the next level with a secluded cabin getaway in Colorado.
The Centennial State's mountains, plains, deserts and canyons add up to more than 100,000 square miles of land and no shortage of wide open spaces. The hard part? Deciding exactly how far away you wanna get.
Whether you're looking for a basecamp for your scenic drives, unforgettable hikes or simply unwinding for the weekend, here are 13 secluded cabin rentals in Colorado to help escape the crowds this year.
1. 54-Acre Cabin Retreat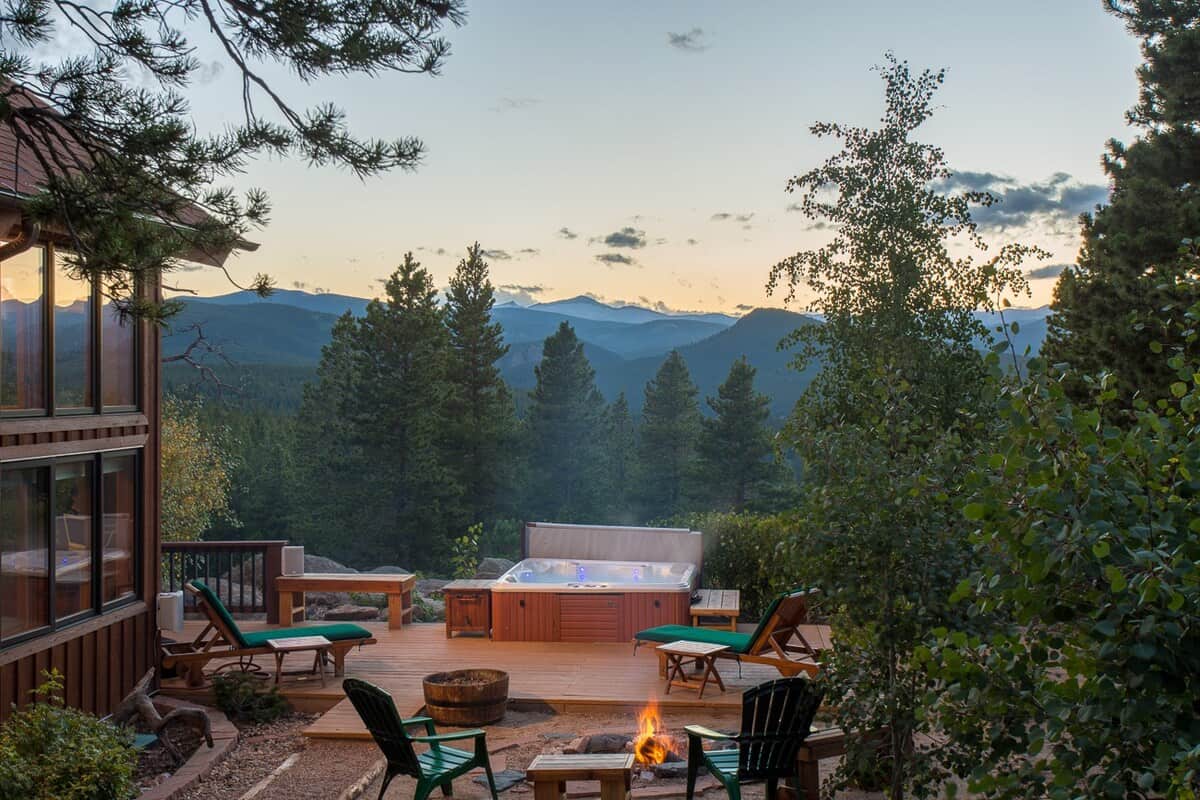 Why you should stay: The poster child of secluded Colorado cabins.
Sleeps: 2
Minimum stay: 3 nights
Pets allowed: Yes
Enter through the private gate at this cabin rental and you'll be transported onto 54 acres of pure seclusion. The ideal spot to take it all in is the backyard garden, a tranquil space framed by boulders and epic mountain views. Inside's no joke, either: a hot tub, private theater and views in every room means there's no bad place to spend your time.
"Basically like having a state park to yourself," said Airbnb guest Kyle, "but instead of an RV or a tent, you get a decked out house to come home to."
When you do manage to leave the house, there's nearby hiking in Nederland or Gross Reservoir, or head west for skiing at Eldora Mountain.
Check Availability
2. Private Mountain Cabin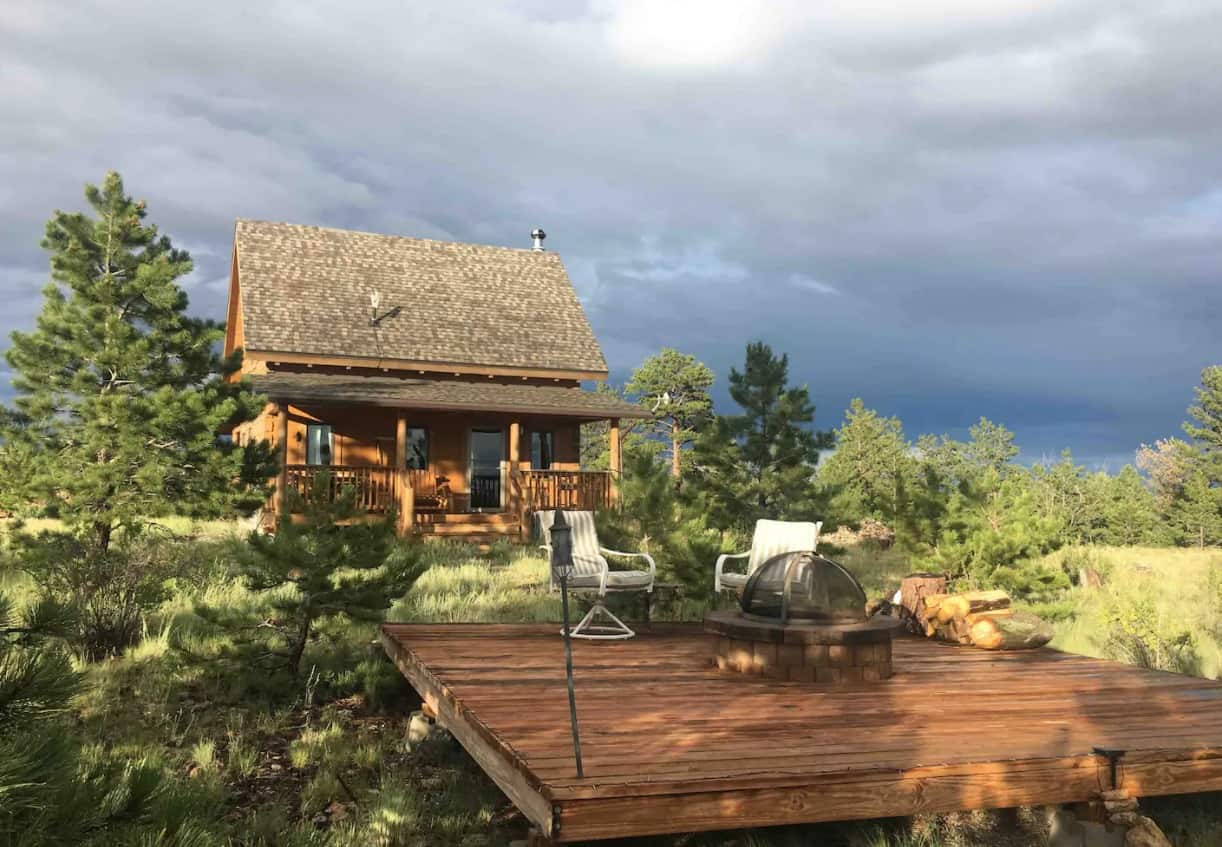 Why you should stay: True seclusion at one of Airbnb's best-reviewed cabin rentals.
Sleeps: 3
Minimum stay: 2 nights
Pets allowed: Yes
This private cabin's located just south of Hartsel, nicknamed the "Heart of Colorado" because of its promixity to the center of the state. Seven acres of land at 10,000 feet make this cabin one of the most popular secluded getaways in Colorado – especially for those who've experienced its magic before.
"Second time staying at this cabin," said guest Adriane. "Absolute treasure and a great way to spend my husband's birthday. Hope to visit again next year."
There's a detached deck with fire pit, nearby sunroom with hammock and couch, and mountain views to last a lifetime. And the views don't end when night falls: stargaze from the outdoor hot tub, or stay warm inside with the living room telescope.
Check Availability
3. Off-Grid A-Frame
Why you should stay: Dark nights in a low-impact cabin miles from the nearest streetlight.
Sleeps: 4
Minimum stay: 2 nights
Pets allowed: No
This solar- and wind-powered A-frame cabin is located near Westcliffe and Silvercliff, Colorado's first Dark Sky Community and home to Smokey Jack Observatory. Cell reception is bad, amenities are minimal and the hosts advise against staying if you need creature comforts – all of which make this one of the most popular secluded cabin rentals in Colorado.
When you're not stargazing, you'll enjoy the cabin's funky decor, board games and wood-burning stove, the home's main heat source. You'll reach the cabin after seven miles of dirt road, so it is secluded, though there's a neighbor nearby that provides free-range organic eggs when available.
Check Availability
4. Moose Haven Cabin
Why you should stay: Simple, no-frills living near pristine Colorado wilderness.
Sleeps: 5
Minimum stay: 2 night
Pets allowed: Yes
Moose Haven is one of several cabins at 22 West, a collection of unique accommodations just east of Mount Zirkel Wilderness. Private trails snake through the grounds, and it's a quick jaunt west to Rainbow Lakes Trail for a more challenging trek.
Back at basecamp, Moose Haven's all about the basics: there's no running water, but a composting bathroom and shower are located nearby. "The cabin was so unique and secluded," said Airbnb guest Caleb. "Highly recommend this to anyone who's up for a memorable adventure!"
Check Availability
5. Vinemesa Cabin
Why you should stay: Unique cabin setting made cozy by natural light and great mountain views.
Sleeps: 6
Minimum stay: 3 nights
Pets allowed: Yes
You'll find Vinemesa Cabin on two acres of quiet land in Beulah Valley, a peaceful area backed by the Wet Mountains southwest of Pueblo. It's a bright and airy two-bedroom home not far from Pueblo Mountain Park, a 611-acre outdoor playground of sorts, and within walking distance of downtown Beulah. The grounds are home to wildlife and a meandering stream, so even if you don't leave the area, there's more than enough to explore.
Check Availability
6. Secluded Cabin on Stream
Why you should stay: Rustic-meets-luxury in a quiet Westcreek community.
Sleeps: 10
Minimum stay: 3 nights
Pets allowed: No
Enjoy lake views of J O Hill Reservoir from the deck of this beautiful log cabin north of Woodland Park. The home's three acres include plenty of greenery, a stream, and access to nearby ATV trails. Inside, you'll find immaculately designed finishing touches, and luxuries like a wet bar and sauna.
"Beautiful spacious home with a gorgeous lake view," said Airbnb guest Lori. "The sunrise over the mountains while enjoying coffee on the roomy deck was lovely!"
Check Availability
7. Fawn Cabin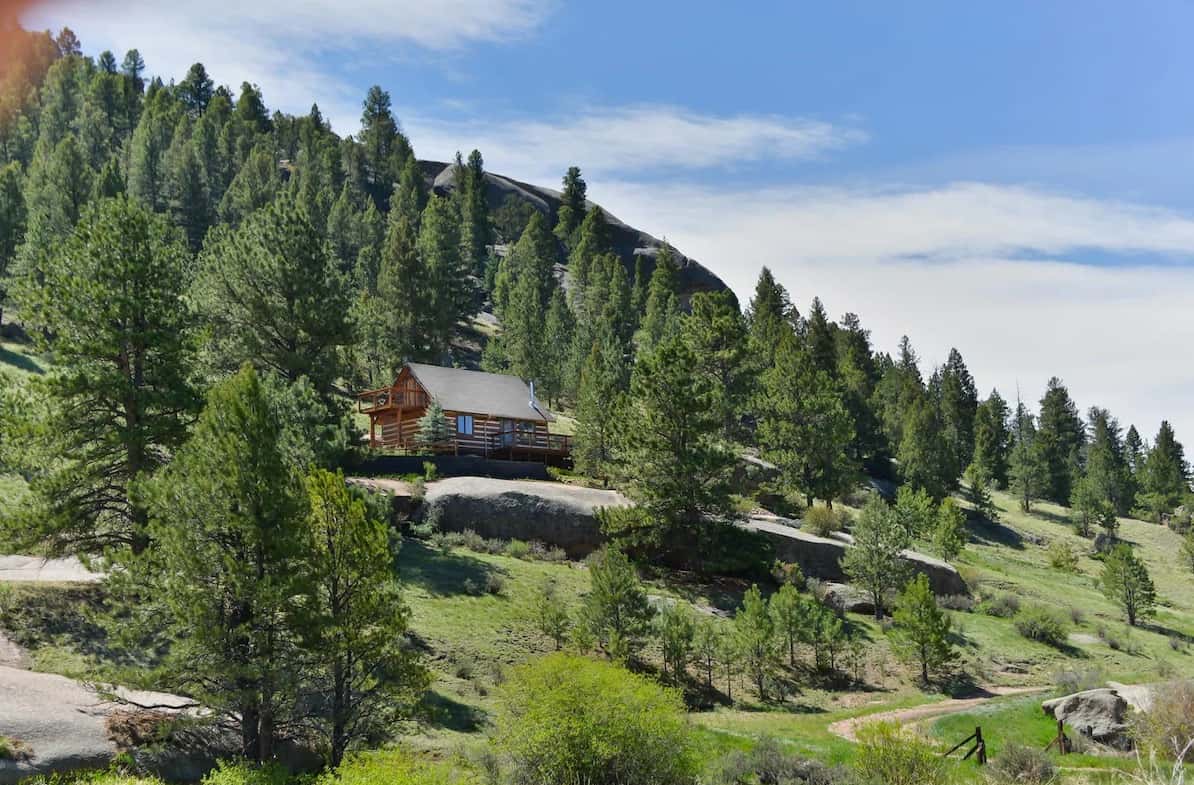 Why you should stay: Secluded but centrally located cabin west of Colorado Springs.
Sleeps: 4
Minimum stay: 2 nights
Pets allowed: No
Fawn Cabin's hillside location affords sweeping views of the surrounding valley, best taken in by the hot tub and deck areas. Rock formations and boulders are scattered throughout the property's five acres, where you can spot wildlife or enjoy the area's slow-moving brook.
If you're looking to explore the region, Fawn Cabin's where you want to be: head north for Pikes Peak and Florissant Fossil Beds National Monument, or south for Cripple Creek and its historical attractions.
Check Availability
8. Canyon Hideout Cabin
Why you should stay: A hiker's dream cabin in the Four Corners region.
Sleeps: 2
Minimum stay: 2 nights
Pets allowed: No
The only real concern with staying at Canyon Hideout Cabin, according to Airbnb host Mark?
"You may have wished you stayed longer."
It's easy to understand why: the property runs up to Canyons of the Ancient National Monument, a sprawling preserve with a higher density of archaeological sites (6,350+) than anywhere else in the country. Eight cliff dwellings are accessible within 45 minutes of hiking from the cabin, with countless trails and side canyons to explore.
The home's surrounded by a grassy enclosure, a stark contrast to the desert-red backdrop. When you're done hiking for the day, throw back a drink from a rocky outcrop overlooking the property.
Check Availability
9. Thoreau's Cabin
Why you should stay: Storybook cabin bordering the Uncompahgre Wilderness.
Sleeps: 6
Minimum stay: 3 nights
Pets allowed: Yes
Head out from Lake City along Engineer Pass Road and you'll eventually come across Thoreau's Cabin, a breathtaking home overlooking Henson Creek. A stroll across the suspension bridge puts you at the door to one of Colorado's most unique secluded cabin rentals, one that Airbnb host Chris says "occupied my dreams for years before I found it."
Views of the San Juans — including Dolly Varden Mountain — are as impressive as you'd expect, and the lack of WiFi and cell service make the choice to be outside even easier.
Check Availability
10. Secluded Getaway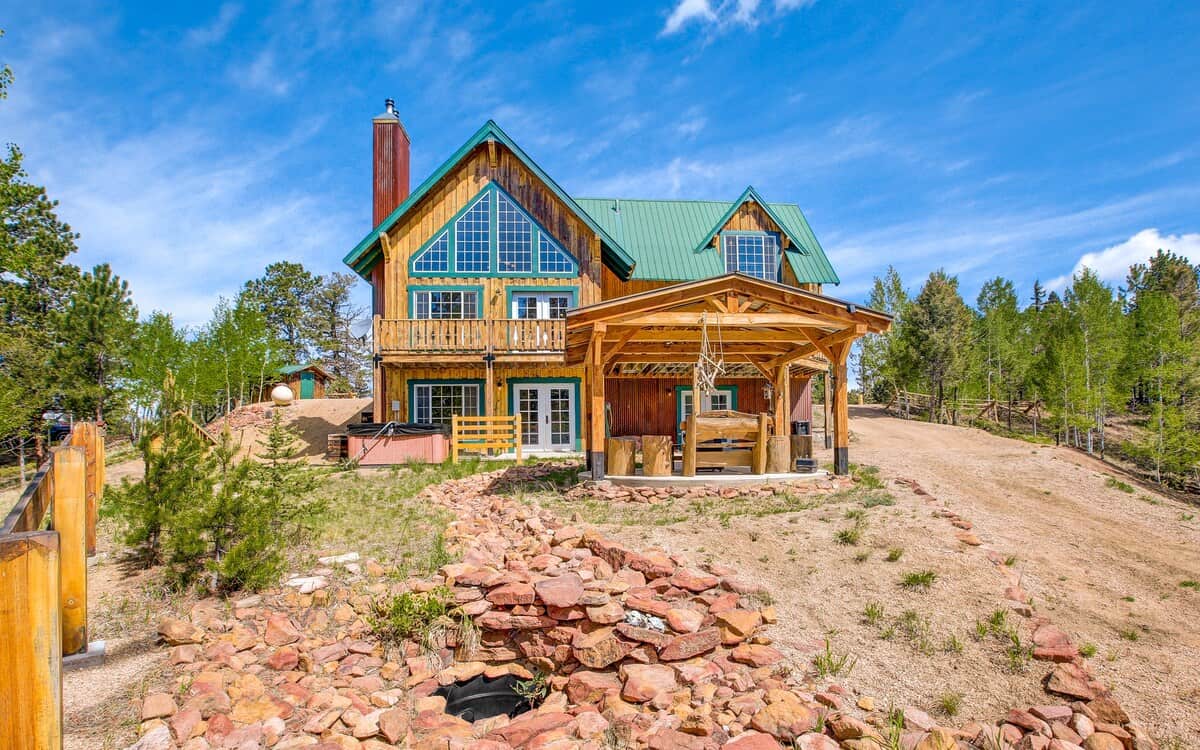 Why you should stay: Off-the-beaten-path rental for memorable family vacations.
Sleeps: 8
Minimum stay: 3 nights
Pets allowed: No
There's no cell service at this farmhouse-style cabin just north of Divide, so you'll want your phone's directions ready to go before heading off the highway. But that's where the inconveniences end: the cabin itself has strong WiFi and no lack of things to do, day or night.
A walking trail from the driveway leads out to an observation deck, and more challenging hikes beckon nearby (Barr Trail isn't far). After long days outside, enjoy the cabin's hot tub, family games and cozy spaces to unwind. The cabin's made from wood cut down on the property and more than one guest claims the pictures don't do the home justice.
Check Availability
11. Granby Cabin
Why you should stay: Custom-built cabin with spectacular views less than two hours from Denver.
Sleeps: 6
Minimum stay: 2 nights
Pets allowed: No
Guests of the Granby Cabin have sweeping views of Granby and Grand Elk Golf Club from the wraparound deck at 9,000 feet. The home's 40 acres are an ideal place to soak in fall colors, and winter stays aren't complete without a stop at nearby ski resort Granby Ranch. The rest of the year's perfect for exploring the property's winding hiking and mountain biking trails.
"The home sits high on the mountainside and the views are unbelievable," said Airbnb guest Stephen. "Very private and secluded, perfect to get away and unwind."
Check Availability
12. Cascade Mountain Retreat
Why you should stay: Gorgeous log cabin that's not always easy to get to — and that's a good thing.
Sleeps: 8
Minimum stay: 2 nights
Pets allowed: No
In winter, the one-mile dirt road leading to this stunning cabin is only plowed when seven inches of snow accumulates, and guests are required to have 4-wheel-drive vehicles and snowchains.
That makes it a perfect "get there and stay there" kind of cabin, though if you do leave, you're not far from Colorado Springs and nearby attractions like Manitou Cliff Dwellings. The cabin's on nine acres of forest and meadow, and a wraparound deck skirting most of the home offers views in all directions.
Check Availability
13. The Hygge Chalet and Sauna
Why you should stay: Scandinavian-inspired A-frame on 3.5 acres in Grant, Colorado.
Sleeps: 4
Minimum stay: 3 nights
Pets allowed: No
The Danish concept of coziness runs deep in the Hygge Chalet & Sauna, a 1,400-square-foot cabin located just one hour from downtown Denver. Though there are neighbors in the area, the cabin's situated on several acres of wooded land that makes it feel more secluded than it is.
The cabin's flanked by a traditional Finnish steam sauna and two peaceful decks. Inside, the home's open floor plan maximizes living space and thoughtful decor brings the hygge vibes to life — just another reason it was featured in Condé Nast Traveler.
Check Availability
Explore Colorado!
Sign up for our newsletter to join thousands of readers getting epic travel, hiking, and camping ideas every week.
---